Getty Images
Not all on the Baltimore sideline were actually watching the point after touchdown with the score 24-23, New Orleans, and 24 seconds left in the fourth quarter. Many were happy the game was going to overtime barring a Drew Brees miracle. And so when the PAT was booted—THUMP—and the crowd got quiet, a few guys wondered, Why's it so quiet?
Then a coach hollered: "ONSIDE KICK! ONSIDE KICK TEAM!"
Then everyone knew. Justin Tucker, 28, the most accurate kicker in NFL history, missed his first extra point since he was a 16-year-old kid in Austin, Texas. Maybe the 14-mph wind pushed it wide right; he's not sure. But the game died right there. Instead of going into overtime against one of football's best teams, the Ravens lost on the missed PAT. No matter how many teammates told him they loved him Tucker knew one thing: The game was his fault. And when something's Justin Tucker's fault, he owns it.
After the game, in the quiet Ravens' locker room, Tucker approached VP of public relations Chad Steele and asked quietly: "Hey, can I do the podium?" Usually, coach John Harbaugh and quarterback Joe Flacco appeared at the post-game podium in front of a room of reporters. In a case like this, reporters would see Tucker at his locker. But he knew the size of this moment, and he knew there'd be a demand.
"I want to face it," Tucker told Steele.
---
Ten stories to tell today:
1. Deshaun Watson of the first-place Texans is on a tour bus on I-10, probably in east Texas (if you're reading this early in the morning in Eastern or Central time). He's traveling by road so as to not aggravate his bruised lungs and ribs by air pressure changes in flight.
2. Best comeback of Cam Newton's pro life? I'd say so, beating the defending champs on their field with fourth-quarter drives of 80, 87 and 69 yards in the last quarter at Philly.
3. Blake Bortles, benched, burns. "The first thing we've got to do is stop turning the damn ball over," Jacksonville coach Doug Marrone said after Cody Kessler finished a bad loss to Houston.
4. Philly-Jax (9:30 a.m. ET Sunday, from Wembley Stadium) looked like a terrific London game a month ago. Now both teams are 3-4 (a combined 1-5 in their last three weeks), and the loser next Sunday might have to go 7-1 to make the playoffs.
5. In the blue corner, Eric Reid of the Kaepernick party. And in the green corner, Malcolm Jenkins of the Players Coalition. They met without gloves Sunday, and it was ugly.
6. The Rams aren't very happy with their stadium partners, the Chargers.
7. Mike Vrabel set the football world aflame by going for the win with his two-point try in London. Right move? Yes—but it's complicated.
8. The NFL blew the Vontaze Burfict discipline. Big time.
9. Speaking of bad calls, not a fan of the big call that set Dallas back and made a tough field goal try tougher—and, as it turned out, a shtoinker.
10. The Chiefs have 76 points in the last six quarters, and they could have piled on more but Andy Reid had pity on the soul of Marvin Lewis on Sunday night.
Let's finish the story of the standup kicker first.
In 2007, as a 17-year-old high school senior in Texas, Justin Tucker was 40-for-40 on his extra-point tries. From 2008 through 2011, at the University of Texas, Tucker was 71-for-71. And as the sun was setting in Baltimore on Sunday, Tucker, as an NFL kicker from 2012 to 2018, was 245-for-245 in professional regular-season and playoff games.
So, basically since Tucker began shaving, he had jogged onto the field 356 times and never missed a PAT.
No one can quite explain what happened, or how it happened, that Tucker, the most accurate kicker in NFL history, on a blustery evening in downtown Baltimore, missed his first PAT since his junior year in high school. "No idea," one of the rush men on the Saints' field-goal team, Taysom Hill, told me afterward. "I didn't see anything weird. I'm just as shocked as everybody else."
When Tucker got to the podium, he didn't know either. "I'll have to look at it. I can't tell you exactly what happened … I felt when the ball came off my foot, I hit it just how I wanted to."
It looked like a gust of wind blew it sideways at precisely the wrong time. Two previous kicks caught the wind, but both made it through the yellow posts. So neither of those cost Baltimore the game. The fact that this one did made Tucker face the music. He said from the podium: "If I was ever going to teach my son or any young person about accountability, I felt it was important that I stand up and answer any question you might have."
I don't often write about kickers at the top of my column. I might be able to count on one finger when I have. But the incredulity of never missing a PAT since before Tucker went to his Junior Prom is part of it. The other part is something Tucker told me recently for "The Peter King Podcast." He's not much for excuses. He was raised that way.
"My grandfather told me in high school, when I had a chance to play for my varsity football team … he said, 'Justin, I'm just gonna tell you one thing. Just kick the damn ball!' In all sincerity, those are some of the best words of advice that I'd ever received. And keeping it as simple as, 'Just kick the damn ball' makes a lot of those problems just disappear."
When you look at your stat line, I asked, and see you've made more than 90 percent of your field goals, and you're two percentage points ahead of anybody else who's ever kicked a ball in an NFL game, what do you think?
"I'm just trying to make the next one."
Ravens at Panthers, 1 o'clock Sunday. Not much more Tucker can do, except make the next one.
Imagine the surprise of those people in Baton Rouge
The starting quarterback of the Houston Texans, Deshaun Watson, walked into Fleming's in Baton Rouge for a late dinner Friday night, four hours into his 13.5-hour trip from Houston to Jacksonville on Interstate 10. The team didn't want to risk aggravating painful lung/rib injuries. So he bused with two drivers, a Texans trainer, a team security official, and director of sports performance Luke Richesson, watching some tape, some TV, getting stretched, and sleeping. They arrived at their Jacksonville hotel at 9 a.m. Saturday. "I felt good today, so I guess it was the right call," he said. (He also bused home Sunday night and Monday morning.)
The Texans have a short week before facing Miami on Thursday night. Assuming Watson does not re-aggravate the chest area, he should be back on the Texans charter for the 1,000-mile trip to Denver in 12 days. I asked Watson what changed between the 0-3 Texans and the Texans on the current four-game win streak. "We're battle-tested," he said. "Never count us out. I like the detail work we're doing on both sides of the ball. There's a great trust between the guys on this team."
'We can make one of those runs' 
So said Greg Olsen after Carolina's 21-17 comeback win over the Eagles, who, by the way, don't appear primed to make one of those run themselves. But Cam Newton, playing fast and bold, led three long drives and completed a vital fourth-and-10 pass to Torrey Smith to keep hope alive. Newton capped the comeback by hitting a wide-open Olsen with 1:22 left for the win. When the game was over, I asked Olsen about the long embrace and moment he and Newton shared on the sideline, and it prodded a memory from his deep recesses, and showed the value of playing together for a long time. Olsen arrived in in Carolina in a trade with Chicago in 2011; Newton arrived in the first round that year. "We did this same thing back in 2013, at Miami," Olsen said.
I checked it. Carolina 20, Miami 16, in 2013, on a one-yard Newton-to-Olsen touchdown late. "It was a little bit different scheme, but we were in heavy personnel, I was on the right of the formation, I leaked out and Cam hit me for the game-winner. Today, we're inside the 2, and when we are, we've traditionally been such a good running team inside the 2 that they have to respect that part of our game. But on my side, I've got to sell [a block] and not let the end grab you; I think I was up against 55 [Brandon Graham]. Yeah, Graham. You've got to make sure you take your time and let the play develop. I hit Graham a little and leaked out, and the ball was right there."
Amazing memory of the play in 2013. I went back to look on NFL GamePass early this morning. Brendan Graham was the foe this week, Cameron Wake five years ago … and precisely the same play, all the way down to the two backs and the play-action. "Cam and I have been through a lot,'' Olsen said. "I've been lucky to play with him this long. That was just an unbelievable moment, coming here, in such a big game."
Jags should make a hard run at Eli Manning
It probably wouldn't work. But with the trading deadline a week away, and the Giants out of contention, what would the Jags have to throw at the Giants to give them pause? A second-round pick and a warm body or two? The Giants can't throw Kyle Lauletta and Alex Tanney out there for nine games, could they? It's all probably a phony dream, but Jacksonville should be looking at quarterback alternatives this week.
Jacksonville can say what it wants about Blake Bortles, but after watching his last three games (the last two putrid losses to Dallas and Houston), whatever trust he built up internally is gone. With the flawed Jags totally toothless on offense, Doug Marrone has to decide now who starts against the Eagles in Week 8, and how he can hide the shortcomings of whoever it is. Bortles said he has "no idea" if he's starting this week, and Marrone said Bortles "was pissed" when he got yanked Sunday. If Bortles really doesn't understand, he's tone-deaf. Jacksonville's season is on the brink, right now. It amazing to think they could struggle to make the playoffs.
All sorts of subplots in London this week
Combined current record of the final four teams from last year: 15-12-1. Without the 5-2 Patriots, the other three are a .500 group. It'll be odd for the Jags to step foot in the country the natives believe will eventually be the team's home turf. Also odd for Jacksonville owner Shad Khan to have a team playing in a stadium (Wembley) he just dropped his bid to buy. (Dropped, but Khan's attempt to buy England's prize venue might not be dead.) This is the NFL's last game in London this season, and the first time a defending Super Bowl champ has appeared here. You can be sure there won't be much pomp, and very little circumstance, for two teams essentially playing a pre-playoff playoff game.
More London: Vrabel's costly decision
When I saw the end of the Titans-Chargers game in London, I felt it was a story ripe for debate. The situation: 35 seconds left in the fourth quarter … Tennessee just scored to make it 20-19, and Titans coach Mike Vrabel puts up two fingers on the sidelines—he's going for two, and the win, instead of playing it safe and going for the PAT and playing for overtime. Tennessee lines up, and Marcus Mariota throws an incomplete pass. But Chargers corner Casey Hayward gets called for defensive holding. Now Tennessee is at the 1. Vrabel is resolute. Two again. Mariota lines up under center. Empty backfield, with Dion Lewis in motion. The Chargers set up in a five-across defense, about a yard deep in the end zone, and the Titans send five out. Mariota chooses to try wideout Taywan Taylor crossing the back of the end zone, over the hands of safety Adrian Phillips, and Phillips tips it away.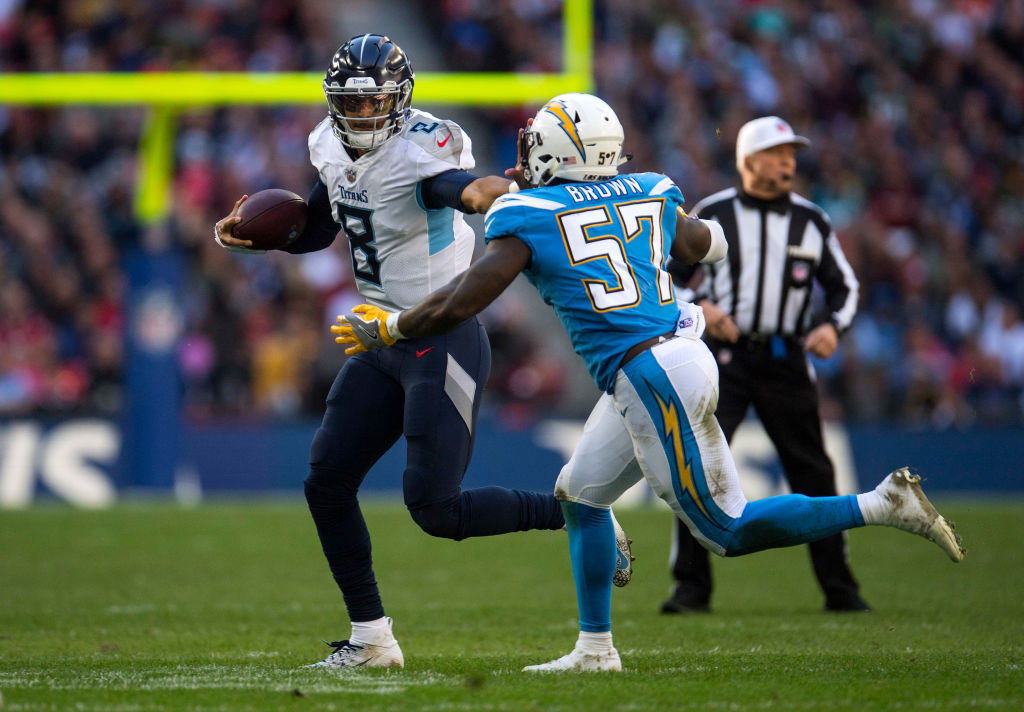 Pro Football Focus gave the Titans a 47.2 percent chance to convert from the 2, rising to 58.4 percent from the 1. However, here is one big mitigating factor in favor of running here, particularly with a good mobile quarterback like Mariota: Since 2013, quarterbacks running on fourth-and-two or less in the Red Zone have converted on 79 percent of their attempts. So putting Mariota on the run and either throwing to an open man or finding a crease to try to dive through would have been the play here. Or maybe even the Brady/Brees quarterback sneak. I wouldn't have favored that over the Mariota rollout, because the ball was one yard away, probably too far for a sneak.
Los Angeles stadium drama
The Chargers are going to sell incredibly reasonable tickets for the L.A. market, but that's not making everyone happy. The way this new stadium works: The Rams sell tickets separately from the Chargers. Rams owner Stan Kroenke foots the bill to build the place (about $3.1 billion), and owner Dean Spanos of the Chargers forks over all personal seat license fees to Kroenke. Spanos announced last week that the upper deck in the new Rams/Chargers stadium, opening in 2020, will have $100 personal-seat licenses per seat, plus tickets ranging from $50 to $90 per game. In today's economy, that is stunningly reasonable. But Kroenke, I am told, never thought the PSL fees the Chargers would announce would be so low. The Rams were thinking the Chargers' contribution to the stadium through PSL fees would be near $400 million. Now the Rams think they'll be lucky to see $150 million out of Charger PSLs. That could mean another big chunk for Kroenke to pay. "The math in the stadium is starting to erode," said one official with knowledge of both team's financial dealings.
Look at it this way. Say you want to buy one season ticket with a PSL in a prime section in the upper deck for each team. For the Rams, that could cost $5,000 for the PSL and $120 per ticket per game for the 10-game season. Initial investment for year one for a Rams seat: $6,200. Initial investment for a Chargers seat, including the PSL and the ticket cost at $90 per seat: $1,000. Let's say you're not a Rams fan, but you're an NFL fan. You say, "I can get a pair or tickets to the new stadium, including PSLs, in a good spot of the upper deck for $2,000 for the season?" The Chargers, in this scenario, could actually take business away from the Rams because their upper-deck tickets will be in some cases one-sixth the cost. It's going to be very interesting to see how this plays out—and to see if the Chargers, even with these advantages, can come close to selling out their games in 2020.
The Reid-Jenkins story is sad
Eric Reid of the Panthers and Malcolm Jenkins of the Eagles, both activists for better treatment of minority citizens in America, had to be separated before their game Sunday. Jenkins approached Reid before the game, the two men had words, Jenkins walked away, and Reid got wide-eyed and enraged while he was being held back. Early in the game, Reid took a cheap shot at Eagles quarterback Carson Wentz, tackling him after he'd clearly handed off, and Reid got called for unnecessary roughness; Zach Ertz of the Eagles went after Reid and got the same flag, and the penalties offset.
Translating all of this: After Colin Kaepernick (and others) kneeled and demonstrated during the anthem, some players—the Players Coalition—chose to meet with league officials and partner with them in a league-funded attempt (almost $90 million over seven years) to fund work by players in the area of sentencing reform and other social-justice work. Reid thought the Players Coalition sold out Kaepernick, who is still out of football in large part because of his political activism, and he called the coalition "an NFL-funded subversion group." For players using their days off to go on police ride-alongs to calm tensions in some cities, or traveling to lobby their state legislators, imagine how it would feel to get belittled like that. And after Sunday's game, Reid said Jenkins "sold us out."
There's not much common ground there, it would seem. Except this is what Jenkins said after the game, while he was being ripped to shreds by Reid in a locker room down the hall under Lincoln financial Field: "Eric Reid is someone I'm rooting for [and] I'm very proud of—putting his livelihood on the line to fight for those who don't have voices." On Sunday, Jenkins seemed the bigger man though Reid was on the winning team.
Bad call, bad time
For the last four-and-a-half seasons, Dallas long-snapper L.P. Ladouceur has snapped the ball for PATs and field goals the same way, with the front of the ball moving forward almost imperceptibly a quarter-second before he snaps. He'd never been penalized in those four-and-a-half years. But Sunday, with the Cowboys trailing Washington 20-17 and lining up for a 47-yard field goal to try to send the game to overtime, the officials called a "snap infraction," and penalized Dallas five yards. Trying a 52-yard field goal, Dallas kicker Brett Maher was long enough … but it faded slightly left in the last few yards and clanged off the left upright.
On NBC, Hall of Fame coach Tony Dungy called the penalty "horrible." I'm with Dungy. Almost every long-snapper (and most centers too) move the ball ever-so-slightly when they're about to snap it. That call's never made, and to make it after LaDouceur has been snapping that way for years is just wrong. Maher could well have missed a 47-yarder too. But that's not the point. The point is that a dumb call was made on the last play of the game when it shouldn't have been made.
In appreciation of Andy Reid 
Reid won his 200th game (regular season and postseason) Sunday night, Kansas City's 45-10 rout of the Bengals. At 60, he is now ninth on the league's all-time wins list, due to pass Dan Reeves (201) and, likely, Marty Schottenheimer (205) later this year. If things really keep humming into January, Chuck Noll (209) is in range. Passing Noll would put Reid sixth all-time. And with Reid still loving his coaching life, I doubt he'll give it up anytime soon.
No man does everything by himself, and Reid got a nice base (led by Eric Berry, Justin Houston) left by former GM Scott Pioli, and had a good partner in John Dorsey for four-plus years; Dorsey picked Patrick Mahomes, Kareem Hunt and Tyreek Hill in his last two drafts. Reid has been the guiding force and teacher, first for Alex Smith and now for Mahomes, who breaks a new touchdown record almost every week.
Reid has to win in the playoffs; he's never won a Super Bowl, and his last two Chiefs team have suffered crushing home losses in January. You get the feeling this year's team, if it stays healthy, will be different. Part of that is Reid's imagination, and his refusal to do things the way he used to do them just because that's the way he's done them. With a quarterback who can out-duel anyone in the league, Reid might finally have the partner to help him hoist the Lombardi … and help him climb the list of the winningest coaches ever.
If the Bengals are not going to discipline linebacker Vontaze Burfict seriously—and they continue to bring him back time after time, cheap shot after cheap shot, so clearly they have no intention whatsoever of reining him in—and if the Ben Roethlisberger story about Burfict threatening JuJu Smith-Schuster on the field eight days ago is true, the league absolutely should have acted with more than a fine. After Burfict wobbled Antonio Brown with an elbow to the helmet, Roethlisberger said Burfict pointed at Smith-Schuster and said, "You're next." Burfict has already been suspended three times in the last three years, and he needed to be suspended from the game, again, for multiple weeks.
The NFL needed to have some stones about Burfict. Fining him half a game check, $122,000, is a slap on the wrist for what appeared to be a deliberate intent to injure when Burfict elbowed a defenseless Brown in the head. The NFL thinks it can puff its chest out and say, We fined the guy $122,000. We sent a warning shot across the bow here. Nonsense. Nothing gets through to Burfict. He's a serial cheap-shot artist.
When Burfict does this, he needs to be taken off the field, for multiple games. I don't care if there's going to be a knock-down fight with the union over it. This is about principle. To spend millions and to mandate for the first time ever that players must wear models of helmets approved by stringent NFL/NFLPA codes, and then allow Burfict to stay on the field after what he did and (apparently) said? What about the next time? Does any thinking person believe Burfict will never do this again? In a time of great concern about head injuries, the NFL is playing with fire here, allowing the dirtiest player in football to get away with a sanction of half a game check.
I keep thinking of the playoff hit by Burfict on Brown in January 2016. That's when a defenseless Brown was blasted by Burfict coming across the middle; Brown fell to the ground almost limply, his limbs flailing helplessly. And when I saw those replays last week, time after time, of the new Burfict hit on Brown, this occurred to me: None of these suspensions or fines has taught Burfict a thing. So who's next? Who gets the next Burfict cheap shot? The blood of the next egregious hit by Burfict will be on the hands of the league office.
On the sporting calendar Sunday in southern California, you'll find these six major-league games in six hours, provided there is not a World Series sweep:
12:30 p.m., Los Angeles. Hockey: Rangers at Kings.
1:25 p.m., Los Angeles. Football: Packers at Rams.
1:30 p.m., Carson. Soccer: Dynamo at Galaxy.
5 p.m., Anaheim. Hockey: Sharks at Ducks.
5:09 p.m., Los Angeles. Baseball: Red Sox at Dodgers (Game 5, if necessary).
6:30 p.m., Los Angeles. Basketball: Wizards at Clippers.
Former San Francisco owner Eddie DeBartolo, 32 years old when the Niners drafted Dwight Clark in 1979, became close friends with Clark and was with him at the time of his death from ALS in June. A statue of Clark's historic winning fingertip TD catch in the 1981 NFC Championship was unveiled at the Niners stadium Sunday. He's one of the most popular players in franchise history.
DeBartolo on the life lessons Clark taught him:
"What I learned from Dwight, mostly? Humility. Dignity. And another word comes to mind: gentleman.
"When he and Joe [Montana] were drafted in 1979, we were close in age, which is odd for a relationship between owner and players. Joe and I were 10 years apart. We became like the Three Amigos. Dwight was a little different. He was a southern gentleman from North Carolina. He loved life. He loved football. I spent a lot of time with his parents. I did some business with his dad's bank in North Carolina. Just a great family. You could tell where he got his approach to life.
"Great receiver, obviously, but a great blocker too. He loved to get it on with the safeties and the corners. But he was also a very compassionate person. As time went by, and he got a little more recognition, it never went to his head. He would always be remembered for 'The Catch,' but when [coach] Bill [Walsh] ran that play, it was designed to go to Freddie Solomon. The field that day was slippery, with turf coming up, and when Freddie came off the line, he slipped. He couldn't regain his balance. He finally did. But Dwight got the ball. Dwight said, 'If that field was in good condition, maybe nobody would ever know who I was.'
"He was humble about it. Even back then, and later on, down the road, there were signings. Maybe him and Joe would go to Vegas for signings. He never went out and took advantage of that moment. It started the 49er dynasty, but he never talked about it, bragged about it.
"Believe me, I was with him in good times and terrible times, and he never changed. He never blamed anybody for his illness. He knew with ALS, he had no chance. It was a life-ending situation. But his last days were tougher on everybody else. When he wasn't real bad, he was in a wheelchair, still able to hold a cup, fed by feeding tube. He knew what to expect. He didn't say, 'Why did this happen to me? Why me?' He didn't like it, but he accepted it. I sat with him in his living room in Montana as the end drew near. We talked about money from the NFL that would help his widow and his children. Never pity. Never.
RELATED: Read about Chris Doleman's battle with brain cancer
"We marveled at how he died with total dignity. At the end, he told me, 'It's been such a great life.' He was the man I'd met when he was in his early twenties. Same guy. Humble. A gentleman. I don't know how many times he said, 'I love you' to me, and to those close to him. Maybe the day before he died, the last time he could talk, he said he couldn't say it enough.
"That's what we all learned from him—love. Love for his family, his friends, his dogs even. He loved what he did. He loved being a football player. He loved being a friend. Dwight just really loved his life.
"Remember the old Readers Digest feature, 'My Most Unforgettable Character?' Dwight was that for me."
Offensive Players of the Week
Cam Newton, quarterback, Carolina. Newton hasn't had many better quarters in his football career. With the Panthers trailing after a miserable first three quarters of offensive football at the reigning Super Bowl champions, Newton drove the team 80 yards to the first touchdown, 87 yards to the second touchdown, and 69 yards to the third touchdown, finishing the rally with a one-yard touchdown strike to old reliable Greg Olsen leaking out of the backfield. A tremendous performance by Newton when the Panthers were desperate for it.
Frank Ragnow, left guard, Detroit. You know why Kerryon Johnson had that 71-yard run in Miami on Sunday, the longest run for the Lions in seven years? A perfectly played, perfectly executed pulling block from Ragnow. The rookie from Arkansas stepped from his left guard slot, ran in front of the quarterback/running back in the backfield, stepped into a hole around right tackle, and erased tackling machine Kiko Alonso, the Miami linebacker. Johnson, starting from his nine-yard line, sprinted all the way to the Miami 20 before getting knocked out of bounds, running through the void created by that block. Later, Ragnow had a key block on defensive Robert Quinn on a two-yard touchdown burst by LaGarrette Blount. After a tough start through two games, Ragnow, a first-round pick last April, has been solid for the Lions—and never better than he was Sunday.
Defensive Players of the Week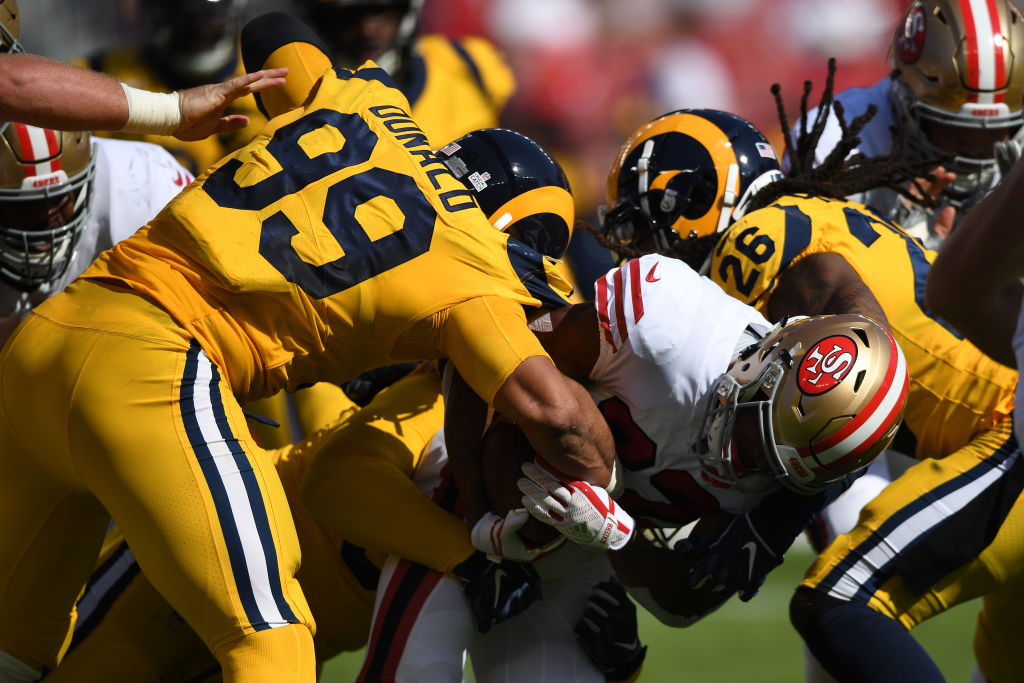 Aaron Donald, defensive tackle, Los Angeles Rams. Looked like Donald was playing against a juco team Sunday at Levi's Stadium, but it was a real NFL unit. (Though the Niners are battered a bit.) Donald had a stat line he might have three or four times in a career: nine tackles, 4 sacks (for 29 yards), two other tackles for loss, one more quarterback hit, a forced fumble, a fumble recovered. If there was ever any doubt about the size of Donald's contract, doubt it no more. He's worth it. All of it.
Von Miller, outside linebacker, Denver. His play cashed the check that his mouth wrote. After saying during the week his Broncos would kick the Cards' heinie, he played his best game of the year, albeit against a supremely flawed offensive team. Two sacks, two more quarterback hits, two forced fumbles, a fumble recovery. The 45-10 Denver win was not that close.
Melvin Ingram, defensive end, Los Angeles Chargers. The somnambulant Titans offense can usually be relied on for one thing—not throwing a pick in the red zone. Sunday was Marcus Mariota's 48th NFL game, and he'd never thrown a red-zone interception in his first 47.25. That run ended late in the second quarter, the Chargers up 10-6 and Tennessee driving for its customary field goal. Ingram deflected his second pass of the half, and this one fell into the hands of Denzel Perryman for a drive-killing interception. On Tennessee's first series of the second half, Ingram caught Mariota for a six-yard sack. Imagine the Charger pass-rush when Joey Bosa comes back from his season-long foot injury, probably Nov. 4 against Seattle.
Darius Leonard, linebacker, Indianapolis. Colts 37, Bills 5. Leonard, playing very much like the Defensive Rookie of the Year (round two, South Carolina State), had 17 tackles and a fumble recovery. Such good instincts, and such an easy transition from mid-level college football to the highest level of the game.  
Special Teams Player of the Week
Chandler Catanzaro, kicker, Tampa Bay. Seriously: I just block-saved the "Chandler Catanzaro goat entry" and inserted it here and wrote a new top! Tampa coach Dirk Koetter trusted the well-traveled Catanzaro to try a 59-yard field goal on fourth-and-15 from the Cleveland 41 more than he trusted Jameis Winston to convert. I would have too. And with 1:55 left in overtime (Cleveland's fourth OT game out of seven games this fall), Catanzaro got a perfect snap and spot and booted the 59-yarder comfortably inside the right upright with maybe three yards to spare. His missed extra point early (it scraped the right upright) enabled Cleveland to work its way back to forge a 23-23 tie. But the Bucs got in position to win with an eminently makeable 40-yard field goal with four seconds left. Again, Catanzaro pushed it right. The final outcome saved his bacon.
Dont'a Hightower, linebacker, New England. After playing a vital role in the Patriots knocking the Chiefs from the unbeaten ranks last week, Hightower made the play of the day for New England midway through the third quarter at Chicago. Hightower, playing on the punt-rush team on the defensive line, steamrolled his man—tight end Ben Braunecker (Harvard man, by the way)—and smothered the Pat O'Donnell punt. In the ensuing mayhem, Kyle Van Noy picked it up for New England and returned it for a touchdown, giving the Patriots a 31-24 lead. Textbook example of a brute-strength bull-rush on the punt, and knowing exactly where the block point was on the punt. That's the first time the Bears have had a punt blocked and returned for a touchdown by an opponent in 31 years.
Coaches of the Week
Ken Whisenhunt, offensive coordinator, Los Angeles Chargers. The Chargers designed this game plan so well. Whisenhunt obviously knew of the Titans' tendency in the secondary to try to shut down many of the intermediate routes. On the first series of each half, Whisenhunt threw deep routes at the Titans and caught them flat-footed both times. First it was veteran Logan Ryan, burned by Tyrell Williams for a 75-yard TD. Then young safety Kendrick Lewis got way behind Mike Williams for an easy 55-yard TD. Good game-planning, excellent execution by Philip Rivers.
Tom McMahon, special teams coordinator, Denver. Not that the Broncos needed much of an edge against football's feeblest offense (Arizona's), but the kicking game gave it to them. McMahon has designed a perfect kickoff play to pin foes behind their 25, where they'd get it on touchbacks. Brandon McManus does a high pop-up kick landing inside the five-yard line, and by the time it's received, the kick-coverage team has enough time to pin the receiving team back. Against the Cards, Denver did this five times, and pinned Arizona at its 17, 16, 14, 21 and 13-yard line. Good design by McMahon (a Montanan whose coaching career began at Carroll College in Helena), good execution by McManus and his 10 friends on the kickoff unit. 
Goat of the Week
Blake Bortles, quarterback, Jacksonville. Got yanked in the third quarter against Houston at home, putting up zero points on six series (four punts, two lost fumbles) as the Jags stumbled to a 20-0 deficit to the Texans, in a game for first place in the AFC South. The very ugly details that led to the benching: In the Jags' three-game losing streak, Bortles has had 30 offensive possessions, with a 55-percent completion rate, three touchdown drives, eight turnovers (five interceptions, three lost fumbles), and 13 punts.
I
"He sold us out."
—Carolina safety and staunch Kaepernick supporter Eric Reid, on Philadelphia safety Malcolm Jenkins, one of the two heads of the NFL's Players Coalition, after their contentious meeting on the field in Philadelphia on Sunday. To simplify: Reid thinks Jenkins got into bed with the NFL by taking more than $80 million from the league to help players with social-justice issues.
II
"That's bad football, not taking this game to overtime, for Mike Vrabel. They won this second half, so why take that risk of going for two? Now you lose the ballgame."
—CBS color man Bruce Arians, on Tennessee coach Mike Vrabel going for the win instead of playing for overtime—and failing to convert the two-point conversion—with 31 seconds left in London on Sunday. Chargers 20, Titans 19.
III
"I really don't like water. You get that stomach feeling. It's all slushy."
—Odell Beckham Jr., who has been prone to dehydration as a pro.
That stomach feeling, all slushy. Is that the feeling you get when you drink any liquid? Or is that just water?
IV
"To say, 'Everything will get better when we move into the big new stadium,' is like saying, 'My wife and I will stop bickering as soon as we have kids.'"
—Sam Farmer of the Los Angeles Times, after the Chargers announced a seating plan with 26,000 low-cost tickets with PSLs of only $100 per seat—far below what the market was expected to be for seats at the new stadium they will share with the Rams in Los Angeles beginning in 2020. Good sign for fans, these low-cost seats. Bad sign for a franchise that hoped the move would bring newfound riches.
V
"He will not be spoken about in this locker room."
—New England coach Bill Belichick, to his team, after Aaron Hernandez was arrested in connection with the murder of Odin Lloyd in 2013, according to then-Patriot Dane Fletcher. The information was contained in the information-packed Boston Globe Spotlight Team series on the life and death of the former Patriots tight end.
VI
"Microsoft would never have happened without Paul Allen."
—Bill Gates, paying tribute to his friend and Microsoft co-founder Allen, the Seahawks' owner, after he died of lymphoma last week.
I'm no fantasy football expert, and if you've followed me over the years, you know I stink at the game. But I'd guess if your league drafted sometime around the middle of August, Le'Veon Bell would have been a top-three pick, even with him holding out, and Leonard Fournette a top-10 pick.
Undrafted Minnesota fullback C.J. Ham of Augustana College in Sioux Falls, S.D., would not have been drafted. At all. Anywhere.
Through seven weeks, Bell (still a holdout) and Fournette (bugged by a bad hamstring since opening day) have totaled 9.0 fantasy points.
Ham, in Week 3, totaled 9.7 points against Buffalo. 
One last tale from my trip to San Francisco last week for the birth of my granddaughter Hazel: One morning when the baby was still in the nursery, the hospital aide in charge of birth certificates came into the room. She'd been doing the birth certificates for most births at the hospital for 13 years.
"What are the most interesting names you've put on birth certificates?" I asked.
I think she'd been waiting for this question for about 12.5 years.
One woman, giving birth to her ninth child—and final one, she stressed—wanted to name the baby Da'Last. She got talked out of it.
Two stories with Asian couples who did not speak English but wanted to bestow American names on their children. One wanted to name the son Hymen; that got changed to Edward when they learned their original name might cause the young boy some consternation later in life. The other couple wanted to name the son Movies, because, as they explained, they loved watching movies together. That couple got talked into Jack, because they both liked Jack Nicholson.
Here's a good one: A police officer and his wife picked an interesting middle name for their newborn daughter.
Crimefighter.
That one stuck.
I
Mike McCoy, dismissed as Cardinals offensive coordinator after a terrible offensive showing by Arizona on Thursday night, has been fired three times in 22 months by western NFL franchises: on New Year's Day 2017 (head coach, then-San Diego Chargers), Nov. 20, 2017 (offensive coordinator, Denver) and Oct. 19, 2018 (Arizona).
II
The Chargers bunked at the Ritz-Carlton Hotel in Cleveland for six nights in and around their games in Cleveland (eight days ago) and on Sunday in London. The team won in Cleveland, then stayed over Sunday night through Thursday mid-day before flying to England to play Tennessee.
Interesting sleep pattern promoted by coach Anthony Lynn for the trip. As with many coaches, Lynn has been told to emphasize adequate sleep with his players, and he was also told that it's smart to have players try to gradually adjust to the time change between Pacific Time (Los Angeles), Eastern Time (Cleveland) and London time, which is five hours earlier than Eastern Time. So the 2:30 p.m. London time game was actually 9:30 a.m. ET and 6:30 a.m. on the West Coast. That's why team doctors presented Lynn with a sleep plan after consultation with sleep specialists, and he encouraged his players to use it. So on this trip's itinerary, he recommended this for his players at the hotel in Cleveland:
Tuesday—6:30 a.m. wakeup, 10 p.m. bed.
Wednesday—6 a.m. wakeup, 9:30 p.m. bed.
Thursday—5:30 a.m. wakeup (6 a.m. morning meetings at hotel). The team charter left Cleveland at 7:35 p.m. ET, and players were encouraged to sleep as much as they could on the 7-hour, 45-minute flight.
Friday, Saturday—Players were encouraged to sleep by 11 p.m. London time and be up by 7 a.m.
Does this stuff work? More and more players I speak with extol the virtues of sleep. Adam Vinatieri and Marshal Yanda think a consistent sleep pattern is vital to their football longevity. "Sleep is my PED," Yanda told me a few weeks ago. "I'm usually asleep by 9:30, every night."
III
Keep this in mind with the trading deadline eight days away. Not including compensatory picks, which will hand extra draft choices in the third round and below to teams that lost major free-agents (New England likely will get a third-rounder for Nate Solder, for instance), here are teams with extra picks in the first four rounds of the 2019 draft that may come into play in the coming days.
Round 1: Oakland, Green Bay.
Round 2: Philadelphia, New England, Kansas City, Indianapolis, Houston.
Round 3: Cleveland, New York Jets.
Round 4: Buffalo.
I
II
III
IV
Five weeks in the books after tonight, and here's my MVP ballot today:
1. Patrick Mahomes, QB, Kansas City. Last week: 1. The 23-year-old phenom moved to 3-0 at home last night by beating Cincinnati. That's a small part of why he's here. He's been a road horse. Week 1: Four TDs to outduel Philip Rivers and the Chargers in Los Angeles. Week 2: Six TDs to outduel Ben Roethlisberger in Pittsburgh. Week 4: Complete a Favre-ian pass left-handed in a huge spot and beat the Broncos in Denver. Week 6: After a sluggish first half, throws four second-half TDs and loses to Tom Brady and the Pats as time expires 43-40. So, 3-1 on the road, against Rivers, Roethlisberger, Keenum and Brady … and in the loss, he put up 40.
2. Todd Gurley, RB, Los Angeles Rams. Last week: not ranked. I am sold, FMIA mob. I have switched from Jared Goff in this top five to Gurley. That could change down the road; we'll see. Both have been hugely important to the Rams' league-best start. A couple of reasons: Gurley has double the number of touchdowns from scrimmage (14) of any other player in football, and we're nearly at the season's midpoint. Three more touchdowns Sunday at Santa Clara. He's got a 67-yard lead in the rushing race, over Ezekiel Elliott. And he's the primary reason why the Rams are 7-0 while the rest of the division is stumbling along at 5-15 collectively.
3. Drew Brees, QB, New Orleans. Last week: 2. Brees entered Sunday having beaten every team in the NFL except Baltimore; he'd been 0-3 against the Ravens. This was the kind of matchup you love to see: red-hot quarterback who should be past his prime playing like he's in his prime versus the best defense in football, coming off an 11-sack game in Nashville. The final: Brees (with the 500th TD pass of his career) 24, Baltimore (assist, Justin Tucker) 23.
4. Philip Rivers, QB, Los Angeles Chargers. Last week: 5. The Chargers have lost only to the two best teams (Rams, Chiefs) in football, and Rivers is second in rating and yards per attempt, third in TD passes and fifth in passing yards. The Chargers chose Rivers over Brees in 2006. Wouldn't it be wonderful if they battled for the MVP 12 years later?
5. Adam Thielen, WR, Minnesota. Last week: not ranked. It's a tribute to his consistent standout play that he has a stat line of 10 targets, nine receptions, 110 yards, a 34-yard touchdowns, and no one really notices. His average game this year: 9.6 catches, 117.4 yards, 12.3 yards per catch.
Dropped out: Jared Goff, QB, Rams; Khalil Mack, LB, Bears.
To comment on the column, or to say anything about anything, you can reach me by email.
Tribute to Paul Allen. From Bill H. of Bothell, Wash.: "Please help the fans outside the Pacific Northwest understand how much we owe Paul Allen. In 1996, with owner Ken Behring moving the team operations to Anaheim, we all knew it was the end of the line for the Seahawks. But Paul Allen stepped in and stabilized the franchise and turned the whole thing around. He was our champion and the insipid disease of cancer took him far too soon."
The reason people loved working for Paul Allen is that he left them alone to do the jobs he hired them to do. GM John Schneider always told me Allen would email him plenty about decisions the team made, and would never overrule him or Pete Carroll on anything. Allen's input was from a man who knew how to make smart business decisions, and when he had something smart to contribute, he did. When he didn't, he stayed out of the way. And Bill, you're right: "He saved that team from leaving Seattle." Those were the words of Matt Hasselbeck, the former Seahawk, on ESPN the other day.
I even answer your deep rules queries. From Twitter, @Garthonk, of St. Louis: "If a team receives the ball on the opening kick of overtime and has a drive that lasts [the full overtime period] and kicks a field goal as time expires, do they win? The other team never had the opportunity to possess the ball."
Weird quirk of the rules, Garthonk. Yes, the first team would win if it got the ball at the start of overtime and never allowed the other team a chance to possess. From Rule 16, Article 4 of the 2018 NFL Digest of Rules: "There shall be a maximum of one 10-minute [overtime] period, even if the second team has not had an opportunity to possess the ball or if its initial possession has not ended." The NFL was determined to have one overtime period last 10 minutes in the 256 regular-season games.
A Tannehill guy checks in. From Zach, of Gainesville, Ga.: "I'm a longtime Dolphins fan and I'm kind of surprised to read your argument against Ryan Tannehill. You say he's missed 20 of the past 25 games, which is true, but did you know he hadn't missed a single game up until his ACL injury two seasons ago? … If you're questioning his reliability based almost solely on how many games he's played, why not question Andrew Luck, who's not only missed 16 of the past 25 games but has a much more extensive injury history than Tannehill does?"
Good questions. Let me revise the stat now: Tannehill has missed 21 of the last 26 games, and there's no sure prediction about when he'll play again. It's not just the missed games; if this were Andrew Luck we were talking about, I'd give him much more of the benefit of the doubt, fairly or not, because of his prior résumé and the fact that the Colts have built their franchise around Luck. The Dolphins have not built their franchise around Tannehill, and I'd say that's fortunate for them after watching Tannehill spit the bit against the Patriots in the 38-7 loss and, a week later in the last 21 minutes at Cincinnati, being outscored 27-0 to lose, and finishing with these six drives: punt, pick-six, punt, strip-sack/fumble/returned for touchdown, interception, clock expires. Miami has to make a decision on Tannehill after this season, so he has time to turn it around. I'm dubious.

10 Things I Think I Think
30
1. I think these are my quick-hit thoughts of Week 7:
a. When I turned on Rams-Niners, I thought I'd stumbled on a new channel, The Satirical Food Network. THERE WERE 11 MUSTARD BOTTLES RUNNING AROUND ON THE FIELD!
b. Most dominant player in football today: Aaron Donald.
c. And Corey Littleton, kick-blocker … He's not bad either. Four career blocked punts for the Rams' third-year linebacker now.
d. There is no question the first possession of Saints-Ravens was the strangest drive of this season: 20 plays, 71 yards, in 10:03, with no points scored … But do you know why it had more than a little significance for the Saints, aside from the no points? This was a quarter when the Ravens had the wind with them—and the Saints basically obliterated the time of possession in it. That's an edge.
e. I didn't know quite how to say this without prefacing it with MEA CULPA IN ALL CAPS, but Brock Osweiler made a couple of terrific throws against the Lions. His threaded 24-yard touchdown throw—rolling right, under pressure, to Danny Amendola—has to be one of the best he's ever made. He did it with six minutes left in the game, making it a one-score game.
f. I guess the agent for DeVante Parker is royally ticked off by the wideout's treatment there, and I guess Parker now will squarely be on the block prior to the trading deadline. "Something smells in Miami," said agent Jimmy Gould, who represents the benched Parker. Gould criticized coach Adam Gase for "attacking the health of my client." Parker has been slowed by a quad injury, though he practiced fully Friday.
g. I love the 9:30 a.m. ET football games. There are only two of them this year—Chargers-Titans yesterday, Eagles-Jags next Sunday—and I know the ratings are relatively grim, but the fourth Sunday window feels like found money, a surprise football bonus when you wake up on a couple of Sundays.
h. What in the world is Jameis Winston doing, holding the ball and holding the ball and holding the ball, on the verge of field-goal range late in overtime? He held it long enough to allow Myles Garrett to sack him. Just a dumb play.
i. Good effort by Mitchell Trubisky, including that crazy scramble all over the field for an eight-yard touchdown run. But Matt Nagy and Mark Helfrich have to drill into him over and over that he's forcing too many throws.
j. The throw Trubisky didn't force, but underthrew, was picked off by Jonathan Jones of the Patriots. It cost the Bears the game in the fourth quarter.
k. Last week: Tom Brady over the 10th pick in the 2017 draft (Patrick Mahomes), 43-40. Sunday: Tom Brady over the second pick in the 2017 draft (Trubisky), 31-24.
l. Chargers wideout Tyrell Williams the last two weeks: 7 catches, 236 yards, TD catches of 45 and 75, with a 33.7-yard average per catch.
m. Interesting day for New England's Cordarrelle Patterson, who handed the Bears one touchdown by fumbling a kickoff return, then got the seven points back by taking one to the house later in the first half.
n. Clutch catch of the day: Josh Gordon on a fourth down in Chicago territory, late in the first half, coming down with a contested catch for 23 yards, losing his helmet and getting whipsawed to the ground in the process. A great catch the Patriots had to have.
o. Number of Vikings games since they drafted Dalvin Cook: 25. Number of games Cook has played: 7.
p. Number of touchdowns for Cook in his last two college seasons: 40. Number of touchdowns for Cook in his first two pro seasons: 2.
q. This is hilarious: Sean McDermott called a timeout to ice Adam Vinatieri on a 36-yard field-goal try. McDermott was a sophomore at William & Mary when Vinatieri started kicking field goals in the NFL. (In fairness, Vinatieri made the field goal, though it shtoinked off the left upright and bounced through—but that's because the snap was poor and the hold was late.)
r. Remember that rule that took effect a few months ago (seems like a few years ago) that mandated a penalty when one player lowered his helmet and hit a foe with the helmet? It's gone now. Never called. Watch the hit inside of two minutes Sunday in Philadelphia, with linebacker Nigel Bradham hitting Cam Newton, helmet-to-helmet. Sure looked like it violated that ancient rule that has disappeared.
s. Lavonte David is hidden pretty significantly in Tampa Bay, but just watch him catch Baker Mayfield from behind you and rake the ball out of his grasp. Terrific play by a linebacker we don't regard highly enough.
t. Dumb Call of the Week: Miami, down 7-0 to Detroit, 1:09 left in the first quarter, third-and-10 at the Lions 42. Dolphins call an inside handoff in traffic to Kenyon Drake. Gain of one. Punt. At that point, Brock Osweiler was four-of-four. I mean, were the Dolphins intentionally trying to not score there? What possibly was the logic of that call?
u. I thought Sam Darnold was more prepared for prime time than he showed in the 37-17 home loss to the Vikings. Four turnovers. Not good.
v. Washington with a two-game lead in the loss column over Philadelphia and Dallas in the NFC East, with three winnable games coming up: at Giants, home with Atlanta, at Tampa Bay. Imagine Washington sitting at 7-2 in three weeks. It can happen.
w. I see Washington State coach Mike Leach had the flanker snap the ball to the quarterback in the game against Oregon on Saturday. Madness. But fun madness.
x. Congrats, Jets tackle Kelvin Beachum, for raising and donating money for 337,892 meals for the hungry in Texas, Pittsburgh, Florida and New York, the areas where he has lived and played as a football player. The hunger epidemic needs men like Beachum, and good for the NFLPA for recognizing his laudable work.
y. Pats have two home games (versus Aaron Rodgers and Kirk Cousins) between now and Dec. 22. Pretty odd, two home games in a 69-day span.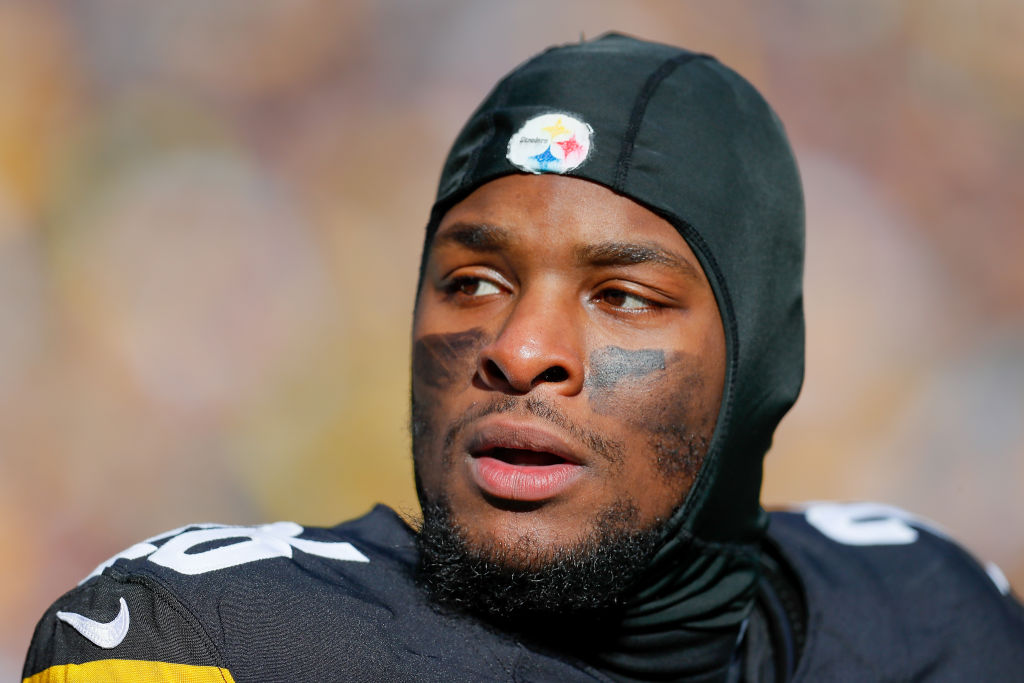 2. I think if I were Indianapolis GM Chris Ballard, I'd be tempted to go hard after Le'Veon Bell, but making a trade happen is going to be next to impossible. Even if the Colts could make a decent offer for Bell and pry him away from Pittsburgh, Indy can't sign him this season because the rules say a traded franchise-tag player has to play on that tag for the season. Without being able to sign him long-term this year, the Colts would have no leverage to sign him before the start of free-agency next March. Why would Bell do a deal without having the chance to see what the market is for his services? And the Colts, in that case, would likely franchise or transition-tag Bell, putting them right where the Steelers were this year.
Now, maybe Bell would take a deal with Indy before testing the market again next March. Maybe. But without any guarantee they could keep Bell beyond this year—at least without any guarantee they could keep him and he'd be happy in 2019 when possibly he'd be franchised again—it's not a risk Ballard should take. Particularly when the Colts are almost certainly not making a playoff run this year.
3. I think I've gotten into podcasts in the past couple of years, and I'm fired up at the prospect of the podcast by Tim Rohan of The MMQB (produced by Cadence 13) on the nine-year-old murder of Steve McNair—which seemed a little too easily solved in July 2009—in nine episodes. They drop weekly every Wednesday. I listened to the first episode Thursday, and it is fair to say I couldn't put it down. (Or I couldn't turn it off? Whatever. It's really good.)
The story begins with a former Nashville cop, dubious about the quick police judgment of a murder-suicide, taking on the case and becoming obsessed with it and investigating it himself. But the cop, Vincent Hill, is a dubious character himself, and you soon wonder if he's onto something or just full of it. Either way, Rohan's storytelling has begun to suck me in. Rohan will be on my podcast this week previewing it. This is one of those true-crime pods that aims not to solve the crime (police say McNair's young mistress shot him twice on each side of the chest, and once in each temple, then turned the gun on herself) but rather to present all of the evidence and let you decide what you think. The story unfolds with a backdrop of friends and family, some of whom just want the story to die and some who are skeptical it happened the way the cops say.
And there's the human side too, like this from Dr. Alvin Simpson, a former Alcon State professor and family friend of the McNairs: "I actually have had dreams, and I ask him, 'What happened?' And every time he starts to tell me, I wake up from the dream."
4. I think the more I watch Philip Rivers, even without a ring, the more I envision him with a bust in Canton one day.
5. I think if Terrelle Pryor was a team guy embraced by teammates, this probably would not have happened to him in the last 50 months:
• Cut by Seattle (Aug. 29, 2014)
• Cut by Kansas City (May 15, 2015)
• Cut by Cincinnati (June 18, 2015)
• Cleveland let walk in free agency (March 9, 2017)
• Washington let walk in free agency (March 10, 2018)
• Cut by the Jets (Oct. 20, 2018).
Set free by six teams in four years and two months … This is a man who caught 77 balls for Cleveland in 2016, and he'll be 30 next season. This is a man who beat Philip Rivers and Ben Roethlisberger in his short trial as Raiders quarterback in 2013, and, in his second life as a receiver, had 144 and 131-yard receiving games for the Browns in 2016. Is that all there is? Sad if so.
6. I think the best story of the week that you probably haven't heard about happened in Detroit and Buffalo, and it's the kind of overwhelming act of generosity that simply must not go unnoticed. On the day former Bills owner and lifelong Detroit resident Ralph Wilson would have turned 100—he died in 2014—his foundation gave $100 million each to park systems in Buffalo and in southeastern Michigan, near Detroit. The gift of $100 million is the largest piece of philanthropy in the history of western New York. The twin donations will help refurbish and establish more than 250 miles of trails and expansive parks, and will highlight things Wilson strongly believed in throughout his life: fitness, generosity, and life balance.
I remember seeing Wilson, in his later years, playing tennis at NFL meetings and walking near the hotels. He was a different person, and I say that respectfully—different in a good way. And now generations of people in western New York and southeastern Michigan will feel the jolt of that generosity. "Ralph was committed to exercise, staying active and enjoying life. It would make Ralph so happy to see people of all ages enjoying these enhanced parks and trails for years to come," his widow, Mary Wilson, said.
7. I think one of the best scenes in this year's "Hard Knocks" (actually it was reprised on a later show too) was business adviser/defensive end Carl Nassib stridently urging his teammates to be smart with their money. Nassib was the Gordon "Greed Is Good" Gekko of the Browns … until he wasn't there anymore. Cut at the end of camp, Nassib was claimed by the Bucs, and that paid off Sunday. His second sack doomed the Browns, as it turned out. With five minutes left in overtime, the Browns had third-and-eight from the Tampa 38, in lengthy field-goal range. Nassib, speed-rushing from Baker Mayfield's right, beat the tackle and leveled Mayfield for a seven-yard loss. The Browns punted, and Mayfield never touched the ball again.
8. I think every person who identifies himself or herself as part of the tribe known as the "12s" should give everlasting thanks to Paul Allen. Allen died of lymphoma last Monday at 65. To open the league meetings last Tuesday in New York, Roger Goodell praised Allen for keeping the team in the Pacific Northwest, for helping the league make technological strides, and for his contribution (monetary and otherwise) in health and safety for the league.
For anyone who loves the Seahawks, imagine how close they came in 1996 to moving to Anaheim. Actually, much of the franchise did move. And even though Allen did not love football the way he loved music or basketball, he did love Seattle. And so he stepped forward to buy the team … but only if the community would build a new stadium. Vowing to pay for a third of the new place, Allen watched as 51 percent of the state, just enough, voted to spend $300 million on a new football palace. So Allen put up probably $400 million all told for the franchise and his share of the franchise and stadium 21 years ago, and the Seahawks were solidified in a community that's become one of the most rabid fan bases and best franchises in football.
9. I think my favorite Allen story is … well, there are two. One: I never met him. He owned the Seahawks for the last 21 years, and he rarely came to league meetings, but I saw him a few times there, and at the party where Jerry Jones was feted for making the Pro Football Hall of Fame in Houston a couple of years ago, and in the locker room in New Jersey after the Seahawks won their Super Bowl at MetLife Stadium … but he was just a private guy who rarely engaged those on this side of the pen.
Two: I told you about Allen buying the team for $200 million, with another $130 million plus cost overruns invested in the new stadium … probably $400 million in all. Anyway, for all of that money, this is the only sort of #Me thing he did: He wanted a dedicated elevator with a dedicate private parking space near the elevator, and he wanted this elevator to be accessible only by him, and only for those he would designate to have access. I'm on board with that. If you pay $400 million for a team and stadium (in 1997 dollars), it seems fair to me to give you a rich person's toy like an elevator.
10. I think these are my other thoughts of the week:
a. Football Journalism of the Week: the six-part Aaron Hernandez series by the award-winning Spotlight Team of the Boston Globe. If you've got time to read only one of the six pieces, I'd recommend "A Killer in the Huddle," by Bob Hohler, with some information no one saw coming.
b. The Spotlight Team's discovery of a ton of text messages sent by and to Hernandez was particularly great work, with riveting finds like this from a close friend, Alexander Bradley, whom Hernandez grew to not trust. Bradley claimed Hernandez shot him at close range between the eyes and left him for dead, and 500 angry and threatening texts between the two ensued. Bradley wanted money to forget the near-rubout.
c. At one point, Bradley texted Hernandez: "Since u tried 2 end me I will end u if u don't do what u gotta do."
d. Journalism of the Week: Wesley Lowery (a proud Ohio Bobcat) and Dalton Bennett of the Washington Post, helping crack a cold-case murder in Richmond, Va., that had only one witness. Lowery and Bennett found Kenneth Moore, and he talked. Riveting. Here's a look into what happened to Kenneth Moore after the trial.
If someone was going to retaliate, it probably wouldn't be for at least a few months, right?
It took just two weeks. …
Moore had driven to Tiger Market, a convenience store with a kitchen that fries takeout chicken. He had just gotten back into his car, a bottle of Dr Pepper and a bag of salt and vinegar chips in his hands, when a brick smashed into his driver's side window.
Moore looked up and saw three men approaching his car with more bricks and sticks.
Some great reporting and writing, with a real-life view of what a witness to murder faces.
e. Dodgers-Red Sox. Cool World Series. I love Dodgers manager Dave Roberts, the savior for the Sox 14 Octobers ago, returning to Fenway Park on Tuesday for Game 1. My call: Sox in six.
f. Baseball Story of the Week: There were approximately 8,549 stories written on Game 4 of the ALCS, the Mookie-might-have-robbed-Altuve/ending-with-the-Benintendi-catch game, and the best piece of information by far (at least that I saw) came in the first three paragraphs of Jeff Passan's story of the Andrew Benintendi catch to cap it. I shan't spoil it. Please read.
g. "He took 1 ½ steps in." That's the second paragraph.
h. One of the things I value so much about reporting is the little things you find out, the things in the weeds that maybe others overlook but that you find fascinating. Classic example right here. Some of my most exciting moments in this business have been spent mining for things like that, and very occasionally finding them. They tell incredible stories.
i. By the way, that catch happened, by my watch, at 1:14 a.m. ET Thursday. Better baseball minds than mine would know far better, but this very well could have been the baseball game of the year, and certainly with the high stakes of it, it was the most dramatic. It happened on a weeknight, and it ended when some on the West Coast had already gone to bed. Rob Manfred: Starting a playoff baseball game at 8:39 p.m. means you expect it to go past midnight; in fact, every ALCS game would have ended after midnight with an 8:39 ET start. Please: 7:39. Actually, 7:15 would be better, but we'll take 7:39.
j. I need to understand this: Would advertisers rather have a game start at 4:39 p.m. on the West Coast, or finish after 1 a.m. on the East Coast? Since about three-quarters of all U.S. TVs are in Eastern and Central Time, I'm baffled that baseball games that often stretch past three-and-a-half hours are designed to finish well after midnight in places that advertisers—presumably—would most like their products to be seen.
k. Explanatory Story of the Week: Rustin Dodd of The Athletic with an unemotional, just-the-facts piece about the disputed Altuve/Betts/home run/fan interference/Joe West controversy of game four of the American League Championship Series. I still don't know what the right call on the field should have been by West, but I do know this, as Dodd concludes: There was not the sort of indisputable evidence on video review for the call to be overturned and the play to be ruled a home run.
l. Alex Bregman went 0-for-9 in the last two games of his season. Incredible.
m. Beernerdness: As we continue the Sober October theme (beerless for me, but certainly you do not have to suffer this ignominious fate), here is the second of your regional recommendations. Last week, Calgary. This week, Huntsville, Ala., from Chad E. of Huntsville. He writes:
"Huntsville is America's Space City and we have one of the largest number of per capita breweries with many led by current/former NASA engineers who moonlight making 'space-themed' beer. Two of the tastiest are Yellowhammer's T-Minus Tangerine Kolsch (Yellowhammer Brewing, Huntsville) and Straight to Ale Brewing's Laika Imperial Stout (Straight to Ale Brewing, Huntsville), named after Laika, the first Russian dog in space)."
Thanks, Chad. Great beer names at these breweries—"He Ain't Heffe" in particular—and I never knew the logical next profession after astronaut would be brewer. But I like it. The breweries:
• Yellowhammer: Craft Beer for a modern South.
• Straight to Ale: Southern born. Southern brewed.
Want to participate? Send me your favorite beer and a short review.
n. Someone's got to be the adult in the room and call BS on the Saudi "explanation" of its "investigation" into the "accidental" death of Washington Post columnist Jamal Khashoggi, who never emerged after a "meeting" with some Saudi "officials" in Turkey.
o. I doubt it will be the guy who cheered a Montana congressman for body-slamming a journalist last year. "He's my kind of guy," our president said of U.S. Rep. Greg Gianforte last Thursday in Montana. After the incident, Gianforte pleaded guilty to assault, apologized to reporter Ben Jacobs of the Guardian, donated $50,000 to the Committee to Protect Journalists, did community service and underwent treatment for anger management.
p. But that was a great job assaulting another human being! My kind of guy!
q. What is going on in this country? I mean, really? Who possibly supports this?
r. We saw "A Star is Born." Quick review: Some really inconceivable things marred it for me (such as a bizarre scene at the Grammys that never would happen in real life), but it was vivid and quite good. Lady Gaga was stupendous—she has an incredible voice, obviously, but she can really act. Bradley Cooper looked and sang the part of a declining star singer. Sam Elliott was one of the best supporting actors (as a big brother, in this case) in a movie that I've seen. Bravo. It's worth the $16, or whatever it'll cost you in your local theater.
s. That was Andrew Dice Clay? Lady Gaga's dad? Wow.
t. Rest in peace, Rich Tandler of NBC Sports Washington. He turned his life's passion—pro football in Washington—into his life's work. Gone too soon, at 63.
u. Sept. 8, 2018, West Lafayette, Ind.: Eastern Michigan 20, Purdue 19.
v. Oct. 20, 2018, West Lafayette, Ind.: Purdue 49, Ohio State 20. As one NFL GM told me Sunday: "Jeff Brohm can coach." That's the 47-year-old Purdue coach, the former backup quarterback for the Niners. 
Atlanta 38, New York Giants 34. Well, the Falcons get Grady Jarrett back. The rest of the defense is pretty much in tatters, which is why Eli Manning was inserted in fantasy football starting lineups nationwide over the weekend. I'll be tuning in tonight to see what Odell Beckham Jr. drinks, and what inanimate object he chooses on the sideline for his (motivational?) tantrum.
Today … Pittsburgh. Will Le'Veon Bell show up to collect his last 10 game checks of the year? Or to become trade bait? Though the rules are so restrictive it's unlikely he'll go anywhere.
Friday … Denver/Oakland. As the trade deadline looms (Tuesday, Oct. 30, 4 p.m. ET), it's right about here, on the weekend prior to the deadline, when teams start to get their ducks in a row if they want to make a deal. Demaryius Thomas might be a good candidate for a receiver-needy contender, and I'd surely rather have him than the Raiders' Amari Cooper.
Sunday … Los Angeles. The Packers play the Rams at the L.A. Coliseum for the first time in 40 years. Pat Haden outdueled David Whitehurst in their last Coliseum meeting, in 1978. Packer coach that day: Bart Starr. And of course, you remember Starr's star MVP turn in the most famous Packer trip ever to the 95-year-old stadium, Super Bowl I. Green Bay 35, Kansas City 10. Aaron Rodgers-Jared Goff will be fun, and perhaps even quite competitive. The Packers traipsing on the Coliseum turf will be very cool, regardless the outcome.
On the Vrabel call …
I am fine with the guts. Not
so much with the call.