LOS ANGELES — When you're undefeated, you need some luck along the way. The Rams' luck Sunday was Ty Montgomery, two yards deep in the end zone, choosing to run the ball out—instead of giving the ball to one of the best quarterbacks ever at his 25 with two minutes left, needing just a field goal to win. Montgomery fumbled. Rams recovered. Wisconsin threw a brick through its collective TV set. Game over.
But that's too simple. This game was actually a vivid illustration why the Rams, at 8-0, sit atop the NFL mountain approaching the midpoint of the NFL's 99th season. They will have contenders to the throne, contenders from New England and Kansas City and rising New Orleans (8-0 Rams at 6-1 Saints, next Sunday, 4:25 p.m. ET), and maybe even from Minnesota, Carolina, Washington or down the street; the Chargers seem pesky. It's a good illustration because of Todd Gurley, the friendly guy with the long dreads and skinny wire-framed glasses, who does everything right and fits in on a team with a smart young coach and unassuming young quarterback and a team that plays complementary football.
One tight game, two exemplary plays.
I always look for the plays that explain precisely why teams are what they are, and I found two in the Rams' locker room after the 29-27 victory.
One: Todd Gurley's 30-yard touchdown reception in the middle of the third quarter, which looked so ridiculously easy. How does the best back in football, the legit MVP candidate, go untouched out of the backfield, go untouched on a crossing route, and go untouched running all the way for a touchdown?
Two: The "Rolex Play," Gurley's 17-yard run with 65 seconds left, the one when he just stopped running and went down at the 4-yard line, much to the chagrin of Vegas and fantasy fiends alike. You've got to hear the Rolex story.
So … were you watching Sunday? What a tremendous game in a tremendous setting, the 95-year-old Coliseum with the classic peristyles, with a quarterback certain to go down in history waiting for one more shot to win that never came. And the atmosphere. When the Packers came out of the ancient tunnel where so many of the greats in football history have entered, it sounded like Lambeau West—truly, maybe louder than if this game had been at Lambeau Field. "I didn't really expect that in L.A., but that crowd was fantastic," Aaron Rodgers said. Sometimes, you're witnessing an event that's just different—and this was just different, and great. I'm sorry we didn't get to see another classic Rodgers late drive, but that's football. The dumb Montgomery play—it happens.
But that should not obscure what else we saw in the 29-27 L.A. victory. Namely this: The Rams are not going anywhere. They survived Sunday, but every great team has to survive on days when it's not at its best, or when the foe is really good. Look back at every champion, and you'll see a shaky win or two. There is no shame in edging Aaron Rodgers instead of dominating him.
On Sunday, two plays taught us so much about this team. A touchdown and an oddity. Understand those, and you go a long way toward understanding this team.
As the NFL reaches its midpoint, the 8-0 Rams and 7-1 Chiefs are the headliners. They meet three weeks from tonight, in Mexico City. We'll have time to blow out that story.
First, two plays. I want you to understand the Los Angeles Rams.
The Gurley Touchdown
The Rams have a jillion weapons in the passing game. Gurley is third in targets. Often, he feels first. He's so good out of the backfield that coach Sean McVay tries to get him the ball in space three or four times a game, and he uses the legal picks that so many teams use. When they work, they're things of beauty. When they don't, the ball might be incomplete, or the back might get waylaid coming out of the backfield.
"The key is Higbee," Gurley told me at his locker after the game. That's Tyler Higbee, the Rams' Bavaro-like 255-pound tight end. "Higbee's a beast."
On this play, Gurley is split left in the slot, and he runs out just past the line, then does a crosser to the right. The Packers' precocious inside linebacker, Blake Martinez, spies Gurley and makes a beeline for him. But here comes Higbee. All he wants to do is "accidentally" knock the Gurley cover guy off his course. Higbee puts an "accidental" shoulder into Martinez, and suddenly, Gurley is wide open. Martinez, who would have been hopelessly behind Gurley, now covers Higbee, hoping one of his mates sees the legal pick play.
Somebody get Gurley!
Nobody got Gurley.
McVay, afterward, didn't want to give away the store, but he did tell me, "That was by design." Of course it was. So many things the Rams do are by design, ghost-like maneuvers you don't see clearly but when they're over, you wonder, "How'd that happen?"
At his locker, Gurley was almost sheepish about it, like his coach. "Their guy [Martinez] was off me a little bit," Gurley said. "My job is just be patient and then go across, come underneath him. It was wide open. We were practicing this play for probably a month."
"A month?" I said.
"Yeah," he said. "Never called it once. Not in a game. Just in practice. In practice, our guys haven't been able to pick it up, not one time in practice. We're like, 'Yeah, this is gonna work.' "
"You mean the pick part of it?" I said.
"Yup," he said. "It's a natural pick. Higbee's the best. He's one of the best shift blockers in the league. He does a lot of great stuff that gets unnoticed on this team. He's our sixth offensive lineman and he's always doing great job in play action passes, everything. His work does not go unnoticed by his teammates—tell you that."
The team, the team, the team.
The Rolex Play
So we shouldn't go crazy in praising a player for getting down in-bounds and giving up a touchdown for the good of the team, when the clock can be run out. We won't. But it's worth pointing out because it illustrates a lot about how symphonic this team is, and how the players and coaches listen and learn.
In training camp, McVay works on special plays. Odd plays, plays that might come up once a year or maybe once in 10 years. Or never. In camp, McVay and the staff worked on the play they christened the "Rolex Play." Meaning this, as McVay told me: "Time is more important than the points. Time means everything there."
It's part of the McVay program. Each week, the special teams coach, John Fassel (the ultra-slim man's nickname is "Bones"), gathers plays from around the league—either good ideas on weird plays, or plays teams messed up by simply not using common sense. "Bones has a meeting every week where we compile situations, try to educate ourselves as coaches and our players on, If this happens, how do we handle it? Rolex was one of those. In Rolex, if we got a first down there, that was one of those get-down-in-bounds situations. As long as we hang onto the ball, they can't score. But we score, then they get the ball back."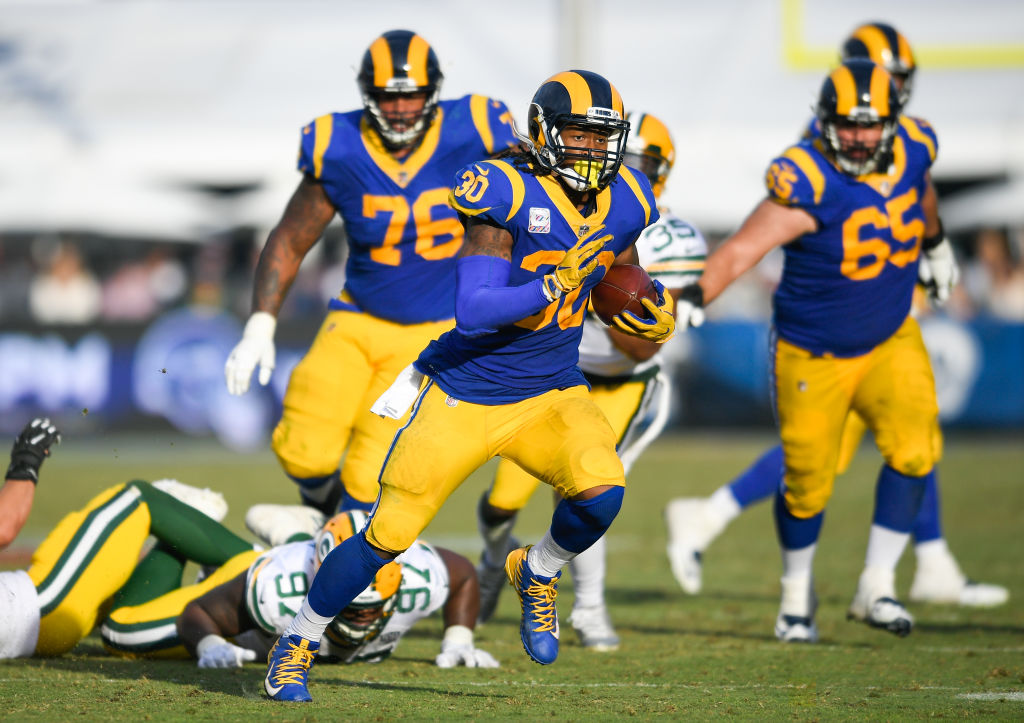 In the huddle, on third-and-10 with 65 seconds to play, multiple guys said one of three things: "Rolex," "Get down," and "Don't score." That, as guard Rodger Saffold told me, is a group of players who understand what's required there, all thinking in unison. Again: It's not stunningly smart. It's just sensible, and shows how unified and well-drilled the team is.
So McVay called the power sweep, pitched to Gurley. Classic power football. And it worked. From the 21, Gurley broke through the line and sprinted toward the goal line. "I could have walked into the end zone," Gurley said. "But we talked in the huddle about being situationally aware and just getting down and winning the game."
It almost looked like the Green Bay defensive back, vet Tramon Williams, tried to lift up Gurley and keep him going. Strange, unless you understand the story.
"They want the ball in 12's hands, of course," Gurley said. Aaron Rodgers, he means.
A Jared Goff kneeldown, and game over.
I said to Gurley: "You realize every fantasy player who has you on their team is screaming, "Score! Score!"
Players, many of them, hate the fantasy football pollution on the game. Gurley gave me a little bit of a snide look. He said: "They should be happy about all the performances I gave them in the weeks before. They need to be humbled as well."
So there.
"Lots to like about today," left tackle Andrew Whitworth said. "Honestly, this game showed a lot about how we're about team and family before it's about anything. The most special things the Rams have going on offensively is that some of their best players are really some of the most special people. Jared and Todd. Really, two special human beings as far as their humbleness, their attitudes, really just the way they come in every single day to work as hard as anybody else if not harder. We're in good hands with those guys."
They're in good hands, period. "Teams are testing us now, trying to figure out what to do to beat us, and they've got a lot of film to do that," Whitworth said. "It's a test for us, but …"
He trailed off. I can complete the sentence.
But they're passing the test.
Reasons why there are more trades than there used to be at the NFL trading deadline:
1. In 2012, the league moved the deadline from the Tuesday after Week 6 to the Tuesday after Week 8. More teams (Giants, Raiders, for instance this year) know they can punt the season with the deadline two weeks later.
2. GMs and club presidents are more aggressive than the last generation of traditional front-office people. Howie Roseman (Eagles), Les Snead (Rams), Chris Ballard (Colts), John Lynch (Niners), John Schneider (Seahawks), Bob Quinn (Lions) are young, and they're restless.
3. You can trade Compensatory Picks now; this is the second year it's been legal to do so. So there are, potentially, about 38 more draft choices that teams can move, or conditionally move. Why does this matter? The Patriots, for instance, have four regular picks in the first three rounds of the 2019 draft—but that doesn't include the additional two they're scheduled to receive for the losses of big-money free-agents Nate Solder and Malcolm Butler. So they know they have six picks in the top three rounds, which could make them more aggressive, say, for a cornerback this week.
4. Teams are living for today more than they used to. GMs have begun treating trading like baseball teams at the deadline—if they can solve a problem for the last nine weeks of the season, they're not as worried about 2019 and beyond. Witness Dallas with Amari Cooper. Witness Detroit with Snacks Harrison. Nothing in the future is promised. The Cowboys and Lions are driving for the playoffs this year; they'll worry about next year next year.
A few teams I'm hearing about:
• Denver could well be a seller—and wants to be, after falling to 3-5 on Sunday in Kansas City. Chief targets: wideout Demaryius Thomas, who turned 31 Thursday, could probably be had for a third-round pick, and defensive end Shane Ray and linebacker Brandon Marshall could move too. Less likely: cornerback Bradley Roby.
• The Rams, speaking of "baseball trades," want a pass-rusher. I hear defensive coordinator Wade Phillips is lukewarm on Denver's Ray (having coached him two years ago), and if the Jags make disappointing high first-round pick Dante Fowler Jr., available, the Rams would have interest. L.A. is unlikely to deal swing guard Jamon Brown for a late-round pick, though there's been interest. He's a low-cost insurance guy for the line.
• Oakland, which owns first-round picks from Dallas and Chicago as well as its own, could have three picks in the top 20 (let me guess: 3, 15, 18) and might not be done dealing. I would not be surprised to see pass-rusher Bruce Irvin moved, and the organization has soured on 2017 first-rounder Gareon Conley, the disappointing cornerback.
• The Giants could deal cornerback Janoris Jenkins, who still has some value despite inconsistent play and being owed $3.5 million for the rest of this year with an $11.15-million-salary-plus-roster-bonus deal next year, per Over The Cap. They'd like to keep their young offensive core together. Eli Manning? It makes too much sense to deal him to Jacksonville for a pittance in the wake of another poor performance by Blake Bortles on Sunday in London, but there's no indication Manning would waive his no-trade clause. 
• The Colts, showing life the last two games, would like to add a receiver. But I don't believe they will do anything to affect their draft status next April; picks are too important to GM Chris Ballard.
• San Francisco: Multiple reports say wide receiver Pierre Garcon could be dealt. It makes sense because the Niners will be all in on the 2019 draft and season. That is when Jimmy Garoppolo will be a factor again and this organization is all about building around their franchise quarterback, knee surgery and all.
This could be the end for Jameis Winston in Tampa Bay. I'm not saying it is, or it will be for sure. But this is the fourth season for Winston, and it's been a star-crossed time, and the 37-34 loss in Cincinnati was the perfect illustration of what's gone wrong on the field for Winston—and that's not including a thing about his multiple off-field issues.
Winston has a nagging problem that, in three-and-a-half years, hasn't gotten fixed. In fact, I'd argue his tendency to make high-risk, low-percentage throws has, if anything, gotten worse.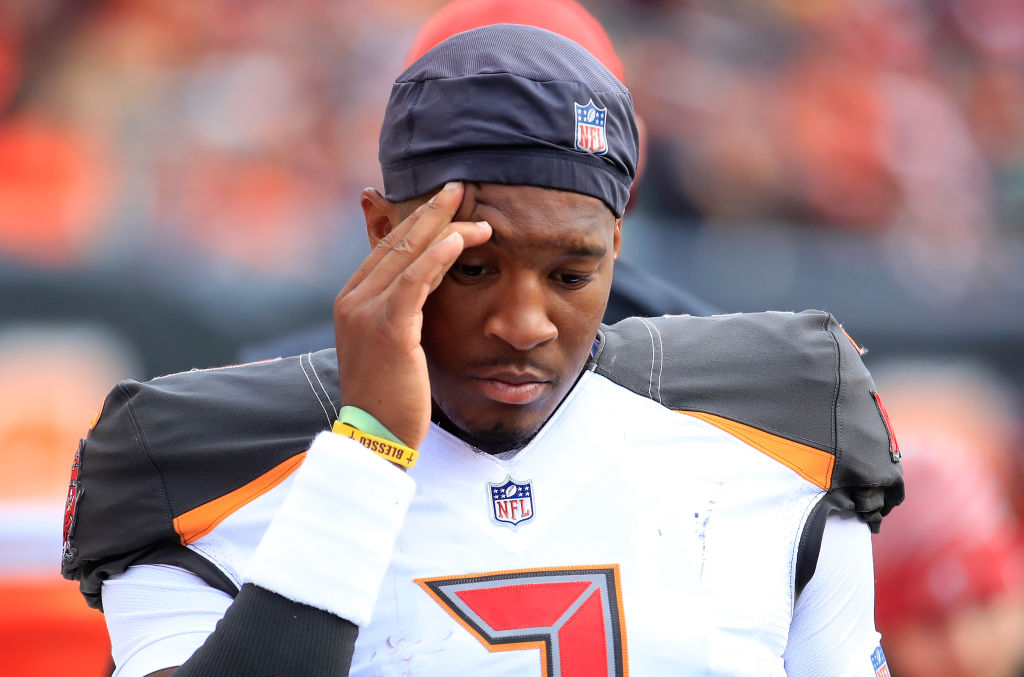 I will never forget going into Tampa the day after the first round in 2015. Bucs GM Jason Licht was desperate for a quarterback of the long-term future, and he, coach Lovie Smith and then-coordinator Dirk Koetter were smitten with Winston. They loved his arm, his quick-twitch brain after putting him on the whiteboard for a 45-minute session. The Bucs were far behind the other three teams in the division at quarterback, and they decided to live with his off-field issues (including sexual assault charge at Florida State) and picked him first overall in the draft.
In the weeks before the draft, Koetter had a long classroom session with Winston. They discussed his last year at FSU, when he threw 18 interceptions and had at least seven other passes dropped or missed by the opposition. Koetter pressed Winston about it, and Winston, according to Koetter, told him: "I'm not afraid of making any throw."
"You need to be," Koetter told Winston.
What the Bucs thought they were buying—a productive long-range passer with a solid arm and good game savvy—has turned into a dud. Koetter, now the head coach, yanked Winston after a four-interception performance. Backup Ryan Fitzpatrick entered the game at Cincinnati and played so well, rallying the Bucs to a late tie before losing, that it would be a surprise if Winston gets his job back—either this week or the rest of the year. In fact, this performance, on the heels of other bad ones, has to have the Bucs thinking they need to get another quarterback for the long haul.
Check this comparison of Winston to the vastly more efficient quarterbacks of his division. Interceptions, game by game, by NFC South quarterbacks in their last five games:
Drew Brees, Saints: 0, 0, 0, 0, 1.
Matt Ryan, Falcons: 0, 0, 0, 0, 0.
Cam Newton, Panthers: 0, 2, 1, 0, 0.
Jameis Winston, Bucs: 3, 2, 2, 2, 4.
The Bucs were down by 11 late in the third quarter, with the ball deep in their own territory. Winston spied wideout Adam Humphries downfield and threw it. Bengals safety Jessie Bates, streaking in from the left near Humphries, absolutely should have been seen by Winston. It figures Winston missed Bates. The pick-six was so easy. Koetter yanked Winston. After the game, Koetter wouldn't say who would quarterback the team this week at Carolina.
But he has virtually no choice. Winston has 54 picks in 49 career games. That's not a sustainable rate, unless you're throwing 45 touchdown passes a season. And for those who think, Fitzpatrick isn't the future; he shouldn't play, I would say the object of the game is to try to win as many games as you can. Coaches' jobs depend on that. There may be no saving Koetter's job anyway, but he can't keep putting out a guy who, lately, is throwing two or three interceptions every week.
"I feel like I give this team the best chance to win," Winston said in Cincinnati on Sunday. "But I have to back that up."
He may have to back it up as a backup, and not in Tampa Bay.
Adrian Peterson will not give up on the Emmitt Smith chase. Good for him, I say.
Since his third or fourth year in the league, Peterson, a big fan of football history, has fancied somehow, some way, breaking Emmitt Smith's all-time rushing record. Well, he's only 5,493 yards away, after the best game any rusher in football had Sunday (26 carries, 149 yards, one touchdown) in Washington's win over the Giants.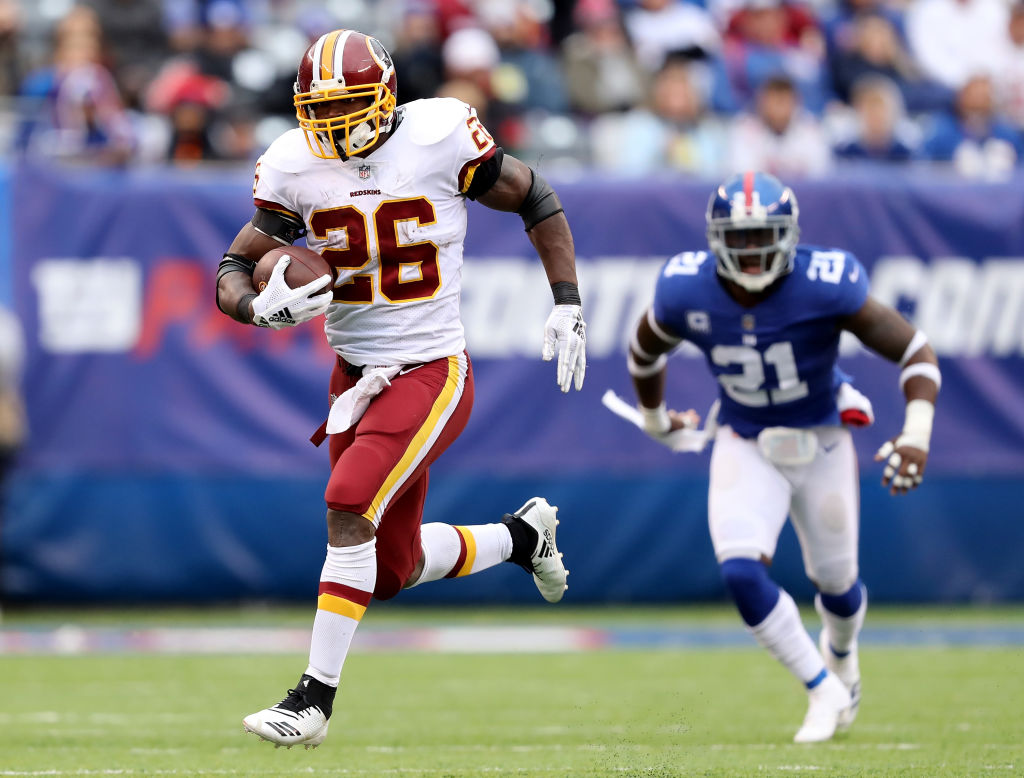 Peterson is 33. He is probably the only one who thinks he can play multiple more years, and play well. But he does. And when I asked him after Sunday's game if he thought it "ludicrous" that he could challenge Smith's record, he said over the phone from New Jersey: "It's not ludicrous at all. I still think I can string great years together. The way I view it is, I could have a 1,500-yard season, maybe a 2,000 season again. I believe in myself."
To do it, Peterson, minimum, would have to play 3.5 or 4.5 more seasons as a starting back. That's almost inconceivable. Not to him, though. On the day he passed Tony Dorsett into ninth place on the all-time rushing list (he has 12,863 yards; Smith, for the record, has 18,355), Peterson said he was playing at 75 or 80 percent, in part because of a shoulder injury he claims is healing by the week.
"I can see where the nagging injuries are slowing me down," he said. "But even at 75, 80 percent, I know I can find holes. Each week, my shoulder feels better. It's basically mind over matter. I'm getting better."
A 33-year-old back, not feeling his best, ran for the most yards of anyone in the league this weekend. After his 64-yard touchdown gallop put the game away Sunday, Peterson has as many rushes of 50 or more yards as Barry Sanders. It's an amazing run. For now, stay out of Peterson's way. He's got rehabbing to do, and a ghost to chase.
In the 99-year history of professional football, no man has scored more points than a humble South Dakotan who started his career 22 years ago by missing four of his first seven field-goal tries—and might very well have been whacked if he had one more bad game. Most of his 341 games since have been exemplary. That's why Indianapolis kicker Adam Vinatieri, 45, stands alone in history now, with 2,550 points. He passed Morten Andersen, who scored the last of his 2,544 points at age 47 in 2007.
Vinatieri broke the mark when he made a 25-yard field goal in the second quarter of the Colts' 42-28 win over Oakland. The game was momentarily stopped as teammates congratulated Vinatieri on the accomplishment. He finished the day 2-for-2 in field goals and 4-for-4 in extra points, another perfect day in a career full of them.
In honor of Vinatieri, I've come up with a quiz that I'm pretty confident the man himself would not score perfectly. Answers below in No. 10 of Ten Things I Think I Think.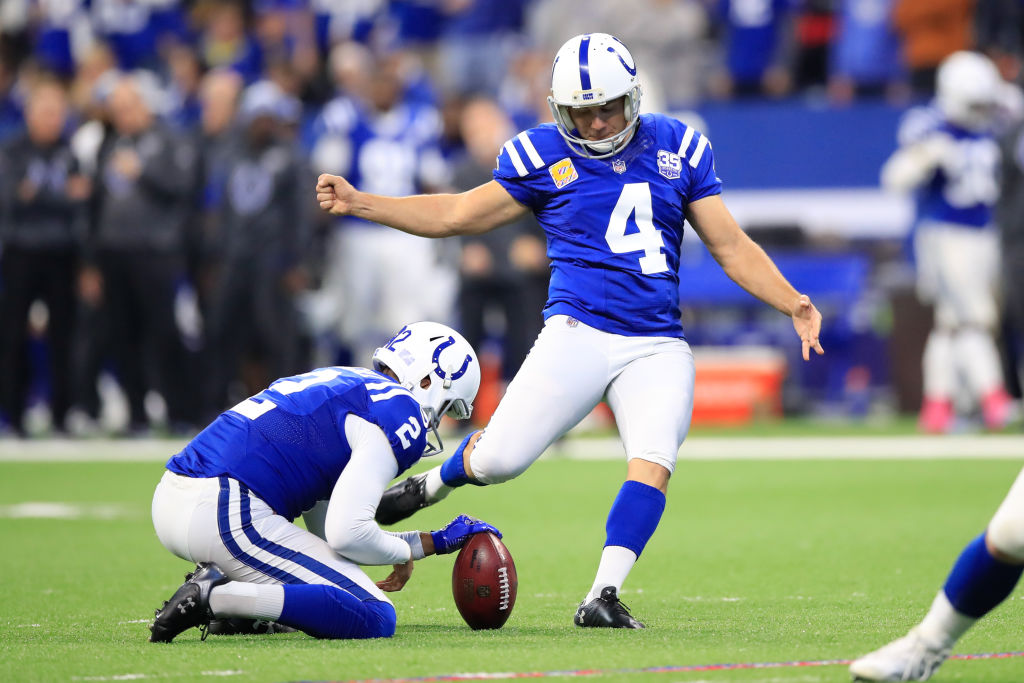 1. Which came first: the first game in the history of the Baltimore Ravens, or the first game in the NFL career of Adam Vinatieri?
2. Vinatieri started his career with four misses field goals and a missed PAT in his first three NFL games for the New England Patriots. Name his head coach then, the coach who said recently he was very close to replacing Vinatieri in September 1996.
3. Had the Patriots fired Vinatieri, what does he say now that he would have done with his life—assuming he wouldn't have gotten another kicking gig in the NFL?
4. What do Vinatieri, Mario Cristobal, Jake Delhomme, Kurt Warner and Jay Fiedler have in common?
5. How many yards was the snow-globe field goal against Oakland in the 2001 playoffs, the one that sent the game to overtime and led to the winning Vinatieri field goal and to the Patriots' first Super Bowl victory of the Belichick/Brady era?
6. What current NFL kicker, and his father, were inspired to seek out Vinatieri's personal kicking coach for kicking lessons after watching Vinatieri's performance in the 2001 playoffs, including that snowy kick?
7. In his first year with Indianapolis, 2006, Vinatieri had his only Colts postseason game with five field goals. Who did the Colts play that day, and what was the quarterback matchup?
8. In 2009, Vinatieri made a commercial for a candy bar. He was called "Nougatieri." What was the candy bar?
9. True or false: Vinatieri has a better field-goal percentage in his 40s than he had in his 20s.
10. Vinatieri has a hunting ranch/vacation spot in Missouri, about a five-hour drive from his home in Indianapolis. What is the place called?
Bonus question: How many of Vinatieri's 570 career field goals have been from 60 yards or longer?
Baltimore kicker Justin Tucker missed his first extra point in 12 years last week, and he went through a week of self-examination and tape study to try to figure out why his last-second PAT try against New Orleans veered crazily right. It could have been a wind gust. It could have been something slightly mechanical.
Tucker on what he learned from failing:
"So I went to dinner with my wife and some friends after the game, and then, when I went home, I watched the broadcast copy and then the team copy of the kick. And I've seen the video maybe 100 times during the week. Purely from a football analysis standpoint, there is not much I can tell you. When the ball came off my foot, I felt it was going right down the middle and it just, it just …
"… didn't.
"It is very hard to pinpoint exactly what happened, or even two or three things. I mean, I looked at it a hundred times, looking for something, anything. It just didn't go in, and we didn't win the game, largely because of that, and I've got to accept it.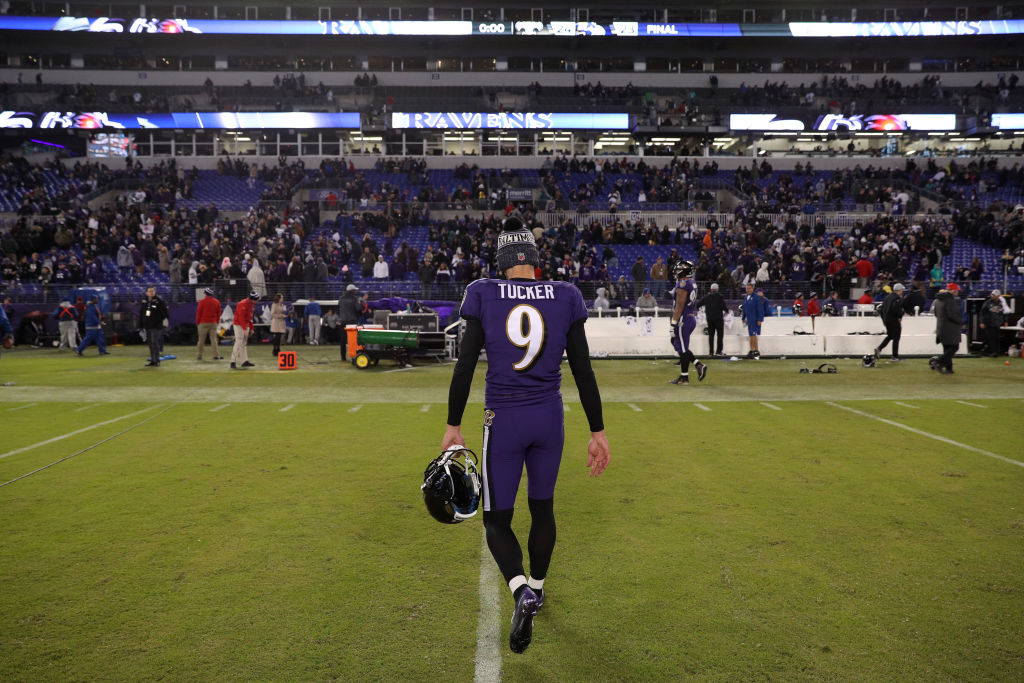 "I'm still learning from the experience, as we're talking right now. If I had to put it into something short and sweet, I am incredibly thankful for the relationships with teammates and coaches here in Baltimore. The outpouring of support was almost unsettling. I was expecting it to be … people real quiet around me, acting real concerned, but it's just been normal and supportive. As vicious a place as social media can be, Ravens fans and football fans have been really cool. If I have learned anything, it's so good having good people around me on this team and to be able to fall back on those relationships.
"I've had kicks in my career I have wanted back before. There was a 41-yarder from the left hash I missed my rookie year at Heinz Field in Pittsburgh. This one just happened to be a bigger kick. But my grandfather told me in high school, 'Justin, just kick the damn ball.' That's all that matters. No excuses. That's what I've learned about kicking, and that's what I'm gonna do. I'm just gonna keep kicking the damn ball."
Related: He's the Houston Texans' most important defender
Offensive Players of the Week
Adrian Peterson, running back, Washington. It helped the Giants traded their best run defender, Snacks Harrison, the week before Sunday's game. But let's not minimize the meaning of Peterson to this game and to the Washington run of success that's propelled the team to first place in the NFC East. His 26 carries, a performance out of the good ol' days, for a Week-8 high of 149 yards, included a 64-yard touchdown sprint to put the game out of reach. Not bad for a 33-year-old guy who was supposed to be finished.
Deshaun Watson, quarterback, Houston. When you have more touchdown passes than incompletions, it's been a good day. Against Miami, Watson was 16 of 20 for 239 yards, with five TDs, no picks and a 156.0 rating. (How exactly is that not a perfect 158.3 rating?) He crammed his five touchdown passes—from 13, 2, 73, 49 and 2 yards—into 38 minutes of the Texans' rout of the Dolphins.
Defensive Player of the Week
J.J. Watt, defensive end, Houston. OK. It's eight games now. We needed time to see if Watt, who missed 24 of 32 games in the last two years, could get back to premier status at age 29. We've seen enough. In a five-play first-quarter span Thursday night against Miami, Watt burst through the line and knocked down a Brock Osweiler pass, destroyed right tackle Ju'Wuan James on his way to a sack of Osweiler (while being held/mugged by James; penalty declined), pressured Osweiler into an incompletion on fourth-and-a-foot, and stopped Frank Gore for a two-yard loss in the backfield. Watt is 29. He is decidedly not finished. Entering play Sunday, his eight sacks tied him for the league lead.
Special Teams Players of the Week
Sam Shields, cornerback, and Johnny Hekker, kicker, Los Angeles Rams. Reunion day for Shields, who was such a force for Green Bay from 2010-16. Remember his two picks and a sack in the 2010 NFC title game, the win over Chicago that propelled the Packers to the Super Bowl? Against his old team Sunday, after hugging Aaron Rodgers pregame, Shields caught a fake-punt pass from Hekker to extend a second-quarter drive, then downed a Hekker punt inside the Packer 1 that led to a safety and the Rams first points of the day. Great day for Shields and, as usual, for Hekker.
Josh Lambo, kicker, Jacksonville. While the Jags' offense continues to sputter, Lambo continued to be consistently good. In a 24-18 loss to Philadelphia, he hit all four field goals—from 50, 57 (career-best), 33 and 24 yards. Lambo is perfect on 24 kicks this year—12 field goals, 12 PATs.
Michael Dickson, punter, Seattle. The Aussie rookie did have four punts for a 49.5-yard average (47.5-yard net), but he's on this list because of his fake punt inside of three minutes left at Detroit and the Seahawks trying to run out the clock with a 28-14 lead. Dickson took the snap on fourth-and-eight in his own end zone and ran for nine yards. That's a gutty play by Dickson and Seattle.
Coach of the Week
Mike Devlin, offensive line coach, Houston. I've thought all along that the performance of a porous offensive line is what will crush the Texans' chance to play well into January. Just two weeks ago, Houston survived against a bad Bills team despite Deshaun Watson getting sacked seven times. But credit Devlin, and a settled offensive line—with Greg Mancz replacing Zach Fulton at right guard the last two weeks—for steadying the ship. Stat of the night in Houston's rout of Miami: Sacks/Sack yardage: 0/0. In the last two weeks, Watson has been sacked once, and the Texans have steamrolled Jacksonville and Miami for 329 rushing yards.
Goats of the Week
Ty Montgomery, kick returner, Green Bay. Does Montgomery know who Green Bay's quarterback is? With his team trailing by two and under three minutes to play, all Montgomery needed to do was to take a knee after receiving a Ram kickoff in the end zone. Instead, Montgomery inexplicably ran it out—disobeying  got hammered and coughed up the football. Rams recovered. And Aaron Rogers and the offense never had the chance to finish off the upset.
Jameis Winston, quarterback, Tampa Bay. In the game that well could be his Waterloo as the Bucs' long-term quarterback, Winston had his fifth straight multiple-interception game, throwing four in the 37-34 loss to Cincinnati. It'll be a surprise if Ryan Fitzpatrick does not re-take the starting job this week when the Bucs face Carolina in Charlotte.
I
"We're about to win this (expletive) game, that's what he said. Excuse my French. (But) that's what he said."
—Cardinals offensive lineman D.J. Humphries, on what quarterback Josh Rosen told his teammates in the huddle prior to driving them to the winning score in Arizona's 18-15 win over San Francisco. 
II
"They call me Big Balls Dickson."
—Seahawks punter Michael Dickson, after running a fake punt—that started in his end zone—for nine yards and a first down late in the 28-14 win over Detroit.
III
"This is where I'm at."
—Odell Beckham Jr., asked after another Giant loss Sunday if he wants to play for the Giants after Sunday's loss to Washington.
IV
"We must stand against Anti-Semitism and hate crimes of any kind."
—Steelers president Art Rooney II after the killing of 11 worshipers in a Pittsburgh synagogue Saturday.
V
"I understand game times can be difficult. It's hard when games finish late. By the same token, when you start games at 5 Eastern, it's the middle of the workday in L.A. That's not quite right either."
—MLB commissioner Rob Manfred.
That's not quite fair. In fact, it is absurd. It's purposely mis-stated to obfuscate an issue Manfred knows baseball is vulnerable. Who is suggesting starting the games at 5 in the afternoon on the East Coast? No one that I've heard or read. Sensible start times would be more like 7:09 p.m. ET instead of the 8:09 p.m. ET first pitch the FOX has been using, mostly, in the World Series. According to Showbuzz Daily, 47.4 percent of the American TV households are in Eastern Time, and 17.1 percent in Pacific Time. Baseball, and its advertisers, and FOX, have decided it's better for the ratings (and the future of the game, with so many easterners deciding they're not staying up past midnight on weeknights) to advantage the West Coast audience, which is 36 percent the size of the East Coast audience. I don't get it.
Average time of the last five Super Bowls (usually the longest game of the year): 3 hours, 39 minutes. Double that, and it's 7 hours, 18 minutes.
Time of World Series Game 3: 7 hours, 20 minutes.
Eight weeks in the books after tonight. Here's my MVP ballot approaching midseason:
1. Patrick Mahomes, QB, Kansas City. Last week: 1. It almost become ho-hum when Mahomes puts up 30 points, four touchdown passes, 303 passing yards. As Mahomes goes, so go Chiefs.
2. Todd Gurley, RB, L.A. Rams. Last week: 2. Thirty-two touches, 195 yards, and the offense of the 8-0 flows through him. I saw it for myself.
3. Drew Brees, QB, New Orleans. Last week: 3. Threw for just 120 yards, but he did slay the Viking dragon after the nightmare of last January.
4. Philip Rivers, QB, L.A. Chargers. Last week: 4. So Rivers (who had a bye Sunday) is in the race this year with the Chargers contending at 5-2, and he'll be in the race as long as he plays great and the Chargers win. He'll need some of the top guys to slip, and he'll need a great day in Week 13 (at Pittsburgh) or Week 15 (at Kansas City). Or both.
5. Adam Thielen, WR, Minnesota. Last week: 5. Still had a 103-yard, one-TD night on a bitter evening for the Vikes.
I
After Week 4 in the AFC South:
The Texans are 4-0.
The rest of the division is 2-9.
II
Tom Brady wore a T-shirt to his weekly press conference the other day with one word on the front:
PLIABILITY.
III
Tyreek Hill plans to dress as a sumo wrestler for Halloween.
So I had an interesting Friday night. I had tickets to Game 4 of the World Series on Saturday night, the day before Rams-Packers, and with a Nor'easter due in New York late Friday night, I switched my flight from Saturday morning (when it could have been delayed or canceled) to a Friday connection, taking off at 6 p.m. from LaGuardia through Atlanta to Los Angeles. I theorized I'd be able to see Game 3 on the planes and during the layover.
Off we went, New York to Atlanta, and as the plane descended and landed into Georgia, Dodgers pitcher Walker Buehler struck out the side in the top of the first. About 8:25 p.m. ET.
I went to the Delta lounge near my gate, A19, and watched the game for about 45 minutes. I left the lounge to catch my 10:05 p.m. flight about 9:25. Bottom of the fourth. Dodgers, 1-0.
Boarded Delta 1128 for the 4 hour, 35-minute flight to LAX. Uh-oh. SERVICE NOT AVAILABLE. That's what the TVs said. No internet either. Packed flight, a little delay, taxi, and by the time Don Banks, my lifeline to the game, texts last, the game is through six. Dodgers, 1-0.
Maybe 90 minutes into the flight, the pilot gets on to say it's 1-1 after eight.
I slept.
Maybe two hours after the 1-1 announcement, the pilot says it's the 13th, and the Red Sox are ahead 3-2. (Well, it was 2-1 in the middle of the 13th, but same difference.)
We land at LAX—strangely, in an absolute pea soup of a fog, the kind of fog where you don't see the runway until you bounce off it—after four-and-a-half hours in the air. I turn on my phone. Bottom 15. Tied at 2.
I catch up with Banks and my editor of this column, Dom Bonvissuto (big Dodger guy), who was at the game with 8-year-old son Jude and left in the 13th (sound-asleep child). I get off the plane, and a closed bar has the game on. Top 16. Nathan Eovaldi is up. Whaaaaaat? Strikes out looking.
I get on the car rental bus. It's maybe 11:55 p.m. PT. By the time we get to Hertz, David Freese ends the bottom of the 16th by striking out and it's after 3 a.m. on the East Coast. This Eovaldi.
I rent a Maxima. Find Charlie Steiner on the Dodger Radio Network. Bottom 17. "Maybe Turner can end this," Steiner says. Nope. Strikeout swinging. This Eovaldi.
LAX Airport Marriott. I pause at the bar TV in the lobby. Big crowd there. Rally for the Sox in the top of the 18th. Sandy Leon walks! But the rally dies as I'm checking in and craning my neck to see the TV. On my phone on the way to room 5102, I see the Red Sox are not making a pitching change. A seventh inning for Eovaldi, who was supposed to start Game 4 and who'd pitched shutout eighth innings in Game 1 and Game 2. This Eovaldi.
I turn on the TV and luckily the FOX station is the second one up the chain. Eovaldi's got Max Muncy 3-1. Foul ball on Eovaldi's 95th pitch. Foul ball on Eovaldi's 96th pitch. Count's full.
Home run on Eovaldi's 97th pitch.
I salute you, Max Muncy. You'll go down in the pantheon, Nathan Eovaldi. You are incredible.
The game that started for me on the descent into Atlanta Hartsfield, continued in the Delta Lounge in Atlanta, blacked out through Georgia, Alabama, Mississippi, Arkansas, southern Oklahoma, the Texas panhandle, New Mexico, Arizona, and southern California, then continued in the Delta terminal at LAX, then on my smart phone on the Hertz shuttle bus, then into the lobby of the LAX Marriott … ended in room 5102 with the last three pitches of a 561-pitch, 18-inning, 7-hour, 20-minute game, a game I suppose people will be talking about for a while.
So how did your Friday night go?
You may know my opinion about Amari Cooper, the receiver Dallas acquired from Oakland. (It's not that high.) But I asked a more analytic entity, Pro Football Focus, for its opinion. The facts, as PFF sees it:
• One of the PFF's big metrics for receivers is yards per route run, which is a player's receiving yards divided by the number of routes he's run. Cooper was 46th last year and is 53rd this year. His drop rate last year (percentage of catchable balls dropped) was 17.2 percent last year, fifth highest in the league, and is 8.3 percent this year, 29th highest.
• PFF also charts separation by receivers. That he's been very good on—he had what PFF deemed significant separation on 62.2 percent of the routes he ran last year, and he's at 80.0 percent this year. His 2018 number is second in the league.
That last metric potentially comes into play in Dallas because of this: He has a consistently high grade among all quarterbacks when throwing to open receivers. So that could propel Cooper to better results in Dallas than he had the last year and a half in Oakland. There certainly will be pressure on him to produce more than he did in Oakland.
A PFF Elite subscription gives you access to performance metrics the pros use.
I
II
III
IV
V
To comment on the column, or to say anything about anything, you can reach me by email.
An important issue in Tampa, suddenly. From Mike M.: "Does Dirk Koetter lose the locker room in Tampa Bay if he stays with [Jameis] Winston at quarterback?"
Interesting question, Mike. My gut feeling is Koetter will make a switch—I mean, why wouldn't he, particularly with a competent backup like Ryan Fitzpatrick?—but the locker room is important here. The players know at 3-4 they've still got a pulse, and to go back to a turnover machine like Winston, I think, would be a death blow to Koetter's grip on the team. For this simple reason: How can you tell your locker room you're playing the best guy, and there are consequences for failing, when you won't bench a guy who's thrown 10 picks in four games? So it's beginning to look a lot like FitzMagic.
A police officer checks in on the Reid-Jenkins dustup, and Reid ripping Jenkins as a "sellout." From John C., of Albany, N.Y.: "As a police officer for over 20 years, the incident between Eric Reid and Malcolm Jenkins has bothered me. I think it's because it feels like it was an argument between a faction on one side that wants to unite (Jenkins) and a faction on the other that wants to divide (Reid). Jenkins and others, including the Players Coalition, know that to combat any problems that exist between the community and the police some sort of outreach needs to take place. That is why, as an officer, I appreciate the attempts at that outreach and [players'] committing to ride-alongs with police officers in minority and disenfranchised communities, in an effort to catch a glimpse of what goes into community policing. Kudos to Mr. Jenkins for taking the high road and to him and the others for their continued efforts in bridging the gap between the community and the police that serves them."
Agreed, John. (Sorry I had to cut your eloquent letter down so much). I admire Reid for his loyalty to the cause and to his friend, Colin Kaepernick. But consistently demeaning Jenkins and the Players Coalition for the efforts they've made to build bridges and fight for causes like sentencing reform, evidently because they've taken millions from the league to help, leaves me with the impression that Reid would rather the Coalition not exist, and these players do nothing. I don't get it. It's very small on Reid's part.
Tough decision of Hall of Fame QBs. From Derek R., of Fife, Scotland: "Living in Scotland, not far from St. Andrews, my sporting life has mostly revolved around our football (soccer) and golf. After 40 years of obsession, I started taking an interest in U.S. sports. As for the observation you made regarding Philip Rivers and the Hall of Fame, it made me wonder if more than a quarter of the current starting QBs could be destined for Canton. I assume Brady, Brees and Rodgers are cast-iron guarantees, while Roethlisberger and Eli Manning must have strong cases. Rivers and Ryan seem to post impressive stats. Then there are the young guns like Goff, Wentz and Mahomes, who seem to have a bright future. Am I being silly? Or is this a golden generation of quarterbacks?"
Thanks for the email, Derek. Love your country; love St. Andrews. I think you're basically conflating two generations of quarterbacks, not one. Think about it: If you're drafted 17 years apart, and you're 18 years apart in age (this is the story of Tom Brady and Patrick Mahomes), that's two different eras of quarterbacks, really. The only reason we think of them as being in the same "class" of quarterbacks is that they are on the field now (we just saw them play two weeks ago), at a time when quarterbacks are playing into their forties, and continuing to play well.
Even with the longer careers of some passers, I'm not sure it's all that different from other times in history. In 1973, seven future Hall of Famers were starting quarterbacks in a 26-team league: Bradshaw, Dawson, Griese, Namath, Stabler, Staubach, Tarkenton … and Blanda, Jurgensen and Unitas were still in the league as backups. And 25 years ago, in 1993, there were Aikman, Favre, Elway, Marino, Kelly, Moon, Montana and Young—eight in a 28-team league. It is a golden age now, but I do think there have been others.
10 Things I Think I Think
20
1. I think these are my quick-hit thoughts on Week 8:
a. I'm sorry to have not seen much at all of the Saints' revenge trip to Minnesota on Sunday night. But what really struck me was what a different game the Saints had to play to win, with just 120 yards passing.
b. Drew Brees put it best: "We came in with a pretty elaborate game plan. And then based on what we're seeing, we narrow it down and find our bread and butter. Today, we were really able to control the ball on the ground." Odd, seeing that the Saints only ran for 106 yards. It's a strange day when a Sean Payton team gains 270 yards, scores 30 points and wins by 10 on the road.
c. The Giants have lost 21 of 25. The Browns have lost 22 of 25. What team would you rather be right now?
d. The Browns and Steelers are incapable of playing an aesthetically pleasing game.
e. In a 73-second span, the Steelers had defensive pass interference, defensive holding and defensive pass interference called on them.
f. This is a good barometer of a grim football game: The first play run from inside the red zone in Jets-Bears happened one hour and 53 minutes into the game.
g. Philly rookie cornerback Avonte Maddox dropped in the draft to the fourth round, I presume because he's 5-foot-9. But he's feisty and a good cover guy, and plays nothing like a rookie.
h. Another good rookie corner? Green Bay first-rounder Jaire Alexander. He looked really good against a really good Rams receiving corps.
i. What an instinctive throw, the Russell Wilson-to-Tyler Lockett touchdown for Seattle at Detroit. He lofted it to the exact spot a well-covered Lockett was going to be.
j. Have I mentioned Tarik Cohen is the new Darren Sproles? Oh, only about 165 times, you say? I say it again after his 70-yard catch-and-run touchdown against the Jets.
k. What a simple, smart, productive, inexpensive pickup running back Alex Collins was for Baltimore. Look at his first-quarter touchdown run at Carolina—makes people miss, fast enough … plus he's got the Irish Dancer celebration.
l. Yikes. First three possessions for Carson Wentz: lost fumble when he held onto the ball too long in the pocket; interception when he lofted a ball into the end zone with either of two Jags picking it off; throwing a ball off the chest of Jags rookie cornerback Quenton Meeks—and I mean, it's totally bizarre how Meeks didn't intercept that ball.
m. Wentz is pressing. His protection isn't the same as last year, and he's pressing.
n. Good arm, Danny Amendola.
o. Always interesting to hear people on TV call the JAG-wars the JAG-wires. There is no "wire" in "uar."
p. Excellent call, CBS broadcaster Andrew Catalon, on this throwback to the classic Billy Madison quote:
q. This Hue Jackson-Todd Haley situation is growing stranger by the minute. Cleveland, by the way, has a bye in Week 11.
r. Josh Rosen, that was some mustard you put on that throw for the go-ahead touchdown. And a heckuva catch by Christian Kirk too. Good win for a young team.
2. I think the key numbers for the Colts in their unexpectedly prolific 42-28 win at the Raiders were these: zero sacks, 222 rushing yards. Now it's not all on Andrew Luck to evade the rush and produce all the offense himself.
3. I think for Blake Bortles to act like the victim, in the midst of a three-game losing streak with eight turnovers and a 60.0 passer rating, is incredible. (He sounded like a victim to NFL Network the other day.) Bortles is right: He's a quarterback punching bag for the media. But pick a time other than when you're playing so lousy. Jags, by the way, have scored six points, total, in the last four first halves—and they came on two field goals, from 50 and 57 yards. "He's inconsistent," Kurt Warner said on the NFL Network telecast of Eagles-Jags. "It's hard to build a franchise around a guy who doesn't give you the same thing every time out."
4. I think in defending the trade for Amari Cooper, Cowboys VP Stephen Jones did exactly what I would not have done: blow Cooper's horn and stress that he's a number one receiver. He's not. Since opening day 2017, 64 NFL players have more catches that Cooper; 43 receivers have more yards. A number one receiver does not catch 70 balls in 1.5 seasons. That's what Cooper has done. But Jones felt like he had to defend trading a first-round pick for Cooper (and he did need to defend it), and said on the "Ben and Skin Show" in Dallas:
"We feel like he's a No. 1 receiver. He's going to be put in there right away and certainly will be given opportunities right away, a lot of them."
So what does that do? When the Cowboys next get on the field—next Monday against Tennessee—what will the line of questioning be if Cooper doesn't catch six balls for 115 yards and a touchdown? I can tell you: What happened to Cooper tonight? Why didn't Dak target Cooper more?
Now, I don't love the trade, but I don't hate it either. The NFC East is winnable, and the Cowboys might have found the receiver piece they've been missing. But by trading a one for Cooper, and by Jones calling him a number one receiver, despite all evidence to the contrary, the team has put a bullseye on his back. What would I have said? "We'll see. That's why they play the games. We think very highly of him, and now we will get him up to speed to contribute right away."
5. I think this gem from my friend Pete Thamel of Yahoo made me pay attention the other day: Watch for Purdue coach Jeff Brohm as an NFL coaching candidate in January. Thamel thinks he's Doug Pederson II.
6. I think no team has a tougher five-game stretch this year than this 29-day march of madness for the 3-3-1 Packers, which includes four road games in three time zones and a midweek journey to the land of cacophany:
Sunday, Oct. 28, at Los Angeles: Rams (8-0) 29, Packers 27.
Sunday, Nov. 4, at Foxboro: Packers at Patriots (6-2).
Sunday, Nov. 11, vs. Miami: Dolphins (4-4) visit Packers.
Thursday, Nov. 15, at Seattle: Packers at 4-3 Seahawks. A 1,900-mile trip on a short week. The NFL really knows how to hurt a team.
Sunday, Nov. 25, at Minnesota: Packers at 4-3-1 Vikings. Roadie at a big rival.
7. I think there are many bad things about Thursday night football. But if you win on Thursday, and if you've got a bye soon to follow, and it's midseason, a Week 8 Thursday night game can be gold. Think of this. The Texans played and won Thursday night against Miami, and the reward for playing tired and beat up was this: one game in the next 23 days. (The slate: Thursday game, then at Denver 10 days later, then the bye, then a game on Nov. 18.) That is one valuable midseason oasis.
8. I think the incredible coincidence of three true-crime NFL-related podcasts coming out in the same month—the Boston Globe's Aaron Hernandez pod, the murder-of-Steve McNair series by Tim Rohan of The MMQB, and the Charlotte Observer/McClatchy Studios on the contract killing overseen by former Panther Rae Carruth—should not make you shy away from any. I strongly encourage you to invest time in them.
I've now listened to two episodes of "Fall of a Titan,'' on McNair (I wrote about it last week), and have heard the first two shows in the "Carruth" series. (I've not heard the Hernandez pod yet.) Great job done by Observer columnist Scott Fowler on this pod. It's engrossing, particularly episode two: "A journey into the mind of a hitman." Particularly interesting: Fowler visited the hitman, Van Brett Watkins, in prison, and he told Fowler: "I won't forgive Rae Carruth. I want him dead." Three questions with Fowler on the Carruth story, and his podcast:
FMIA: You describe in great detail in the podcast what it was like walking into the prison in Raleigh to see Van Brett Watkins. What was that like?
Fowler: "Remember the scene in 'Silence of the Lambs,' when Jodie Foster first met Hannibal Lector? I was glad for the double pane of bulletproof glass—I'll just say that. I just tried to keep him talking. It was pretty chilling when he said about Rae, 'I want him dead.' When he said that, he was staring a hole right through me. Sort of surreal. I walked out of the prison and I was kind of woozy."
FMIA: The story is obviously depressing—Carruth paying someone to murder his pregnant girlfriend because he doesn't want the child. But you've found some good in Cherica Adams' mother caring for the handicapped son.
Fowler: "I know it gives you some of the worst of the human condition, with the murder of a 24-year-old woman in the prime of her life, with such a promising life. But I hope it also gives you some of the best of the human condition too, with the courage of her mother and the optimism of her son Chancellor."
FMIA: Why all the true crime football podcasts now? What's that say for the future of the business, if anything?
Fowler: "It's an amazing coincidence, to see all three come out at the same time. I just think podcasting is another way to tell stories. I've heard some podcasts—Dirty John, from a guy at the Los Angeles Times, and S-town, which was phenomenal—and I thought, 'Gosh, I'd like to try that.' I know the story so well. I've covered it for almost 20 years. And there is something about hearing the voices of the people involved. You can read the last documented words of Cherica Adams on paper, but it's another thing to hear the chilling 911 call with her voice. It's gripping."
9. I think I'm not sure the in-season firing of down judge Hugo Cruz by the NFL is all that outrageous. As officiating site Football Zebras reported, it's the first in-season firing of an official in at least the last 50 years. I talked to the site's founder, Ben Austro, and he called the move "a complete shock. This is unprecedented."
I can't get too outraged about this. There are missed calls, and then there is the call Cruz blew in Week 6 that cost the Browns seven points. There must be consequences for horrendous calls. Cleveland has been jobbed on a couple of huge calls this year—this one and a flawed replay overturn that had a big effect on the Browns' overtime loss at Oakland in Week 4.
10. I think these are my other thoughts of the week:
a. Op-ed of the Week: by Bari Weiss for the New York Times, on the slaughter of 11 innocent people in Squirrel Hill, the neighborhood in Pittsburgh where Mr. Rogers used to live, and where Mike Tomlin lives now, on Saturday.
b. Weiss: "Squirrel Hill, I am certain, will continue to live by the values that the Jews have sustained for more than 2,000 years. They can never be gunned down."
c. The murderer shot and killed a 97-year-old woman. That, you need to know, and let it sink in.
d. No, major league baseball should not abandon extra innings, or modify baseball overtime. Game 3 of the World Series will be discussed for decades. It'll be Game 6 of the '86 Series for a new generation—even though I doubt much of that new generation saw it.
e. Story of the Week: "He won Powerball's $314 million jackpot. It ruined his life," a story from the Washington Post from 2005—but applicable today after that $1.5-billion Powerball jackpot got won—about how a man named Jack Whittaker won the biggest pile of money imaginable, and how it wrecked everything in his wake, including the granddaughter who was the most important person in his life.
f. I don't get why lotteries aren't capped. Why not give the winner, say, a max of $20 million, and spread the wealth to scores of people instead of letting it wash over one person? Most people, certainly, are incapable of knowing what to do with a lump sum of $113 million, as Jack Whittaker was. Heck, he'd have been incapable of handling $5 million. But read that story. What a waste of money and human life. Spread it around.
g. Baseball Story of the Week: Tim Brown of Yahoo, about the capriciousness of Game 3.
h. "Let me finish it," Nathan Eovaldi said to Boston manager Alex Cora before going out for his seventh inning of relief. Legendary stuff.
i. Facebook Post of the Week: From a grieving bookstore owner in Maine, on his friend and benefactor Paul Allen.
j. Maggie Gray: I have your back and support you wholeheartedly, for what it's worth. Hang in. Be tough. I know you are.
k. Gray is the former SI TV host who went to WFAN in New York to do drive-time radio, and pulverized Knicks/Rangers owner James Dolan on the air. Dolan responded by banning all Knicks and Rangers players and employees from appearing on any WFAN shows.
l. Lots of people are watching to see if WFAN, which has been a bastion of male hosts forever, responds. The WFAN bosses cannot bend to Dolan.
m. Radio Story of the Week: There's a lot going on in the world, to be sure. But there is one American city, Flint, Mich., with a water problem that will not go away, as NPR's Ari Shapiro eloquently reports here.
n. Coffeenerdness: The NFL Network studio sent along some coffee as part of a promotion for its hosts, with Rich Eisen and Co., all having their own blends. I ground some beans and tried two of them—the Eisen blend and the Michael Irvin blend. Irvin will not be pleased to know his coffee is some weak stuff. But the Eisen roast is pretty good—semi-dark and rich. Thanks, Rich.
o. Beernerdness: As Sober October winds down for me, here's a recommendation from a Nutmeg Stater now living in Houston, Rob G. (formerly of Connecticut):
"I was wondering if you've explored the amazing, evolving beer trail in your home state of Connecticut? Powder Hollow Brewing, Broad Brook Brewing, Connecticut Valley Brewing, Back East Brewing, Thomas Hooker Brewing, Hanging Hills Brewing, Hog River Brewing—all within about 10 miles of your hometown, Enfield. Back East (Back East Beer, Bloomfield, Conn.) has the best beer I've had all year, Ice Cream Man IPA. Not bitter. Full of great citrusy and fruity flavors. Goes down as smoothly as its namesake. The Northeast has become the Germany of the U.S."
Great Beernerdness entry, Rob. Thanks. I have had Broad Brook and Powder Hollow products and am bullish on both.
p. For those interested in Peter King history, I played many, many, many Little League baseball games in Powder Hollow, a tree-lined bowl of ballfields in Enfield. And so I have enjoyed the beer Powder Hollow Brewing brews the couple of times I've had them. Like I'm drinking nostalgia.
q. Enjoyed Game 4 of the World Series (obviously). I wonder if there's ever been a World Series game in which all six relievers for a team, the Dodgers in this case, allowed runs. Two-and-two-thirds innings pitched, eight runs allowed. Yikes.
r. I cannot remember a tableau as pristinely beautiful as the one I experienced in the second-to-last row of the top deck on the third-base side at Dodger Stadium on Saturday. That's a bucket-list sight, people.
s. It was part-fun, part-torture to have to mostly ignore the World Series on Sunday night while writing this column in the Coliseum press box. Man, talk about first-world problems. Thanks for a fun ride, Sox. I'll catch up on it this week.
t. This next note is hard.
u. A few words about the family of Dan Pompei, who has covered the NFL nobly for decades; he's one of those in this business whose stories, every one, are must-reads for me. Dan's daughter Anna, 21, died last week, and her death struck those of us who know Dan well like a head-on crash.
Dan and his wife Colette are everything that's good in this world, as parents and people. He is earnest, helpful to all he meets, a person of great and abiding faith, and so dedicated to getting everything correct that he writes and says. He's everything a journalist should be. He is also everything a person should be. In the past few days, I have had two GMs, a coach, and four or five people in the media ask about Dan, because he has touched them the way he has touched me.
Now I want him to know—and I told him this Saturday—how many people truly care about him and his family, and are sending him so many prayers and wishes of genuine support. When you have children, obviously, you think they'll outlive you, and part of your existence every day is seeing to it that you help guide them into great and rewarding lives. When one dies before his or her time, I simply cannot imagine how gutted the parents must feel. All I can say is that there's a cadre of people, in the game and on the outside in our business, who send Dan and Colette and the family their best. We love you, Dan. Godspeed to Anna.
v. Answers to the Adam Vinatieri quiz:
1. The Ravens first game. But close. Very close. They happened on the same day. At 1 p.m. on Sept. 1, 1996, the Ravens played their first game ever, a victory over Oakland. At 4 p.m. that day, Vinatieri kicked his first game for the Patriots, at Miami.
2. Bill Parcells.
3. "I think I'd have gone to medical school," Vinatieri told me last spring. After a college internship at South Dakota State in cardiac rehab, he dreamed of one day being a cardiologist and doing open-heart surgery.
4. They played for the Amsterdam Admirals of the World League.
5. 45.
6. Baltimore's Justin Tucker, the most accurate field-goal kicker in NFL history.
7. The Colts beat Baltimore 15-6 that day. The quarterbacks: Peyton Manning and Steve McNair.
8. Snickers.
9. True, and it's not close. This might be the most amazing thing about his career: He is a .892 kicker since turning 40, and he was a .819 kicker before age 30.
10. The Record Breaking Ranch.
Bonus: Zero.
New England 17, Buffalo 9. I should have picked 28-3—that's Tom Brady's record against the western New Yorkers in his career. Interesting series. Week 1 2003, at Orchard Park: Buffalo 31, New England 0 … Week 17 2003, at Foxboro: New England 31, Buffalo 0. I call tonight's game fairly close because the crowd in Orchard Park is a factor on Monday nights (translation: the crowd there will be out of its mind) and the crowd in Orchard Park treats games against the Patriots the way Yankee fans treat games against the Red Sox. Also, I strongly recommend buying Labatt's stock when the market opens today. There will be drinking. It shall commence about 7:15 this morning. "The party starts early and goes late there," noted that local teetotaler, Rob Gronkowski.
Tuesday … Trading deadline. For reasons I explained last week, I don't see a Le'Veon Bell deal for Pittsburgh without a willing partner, desperate to pay something real knowing Bell might be employed for only three months.
Thursday … Santa Clara, Calif. Raiders-Niners. Remember in April, when this looked like one of the best games of the gem-filled FOX Thursday night slate? Now no Garoppolo, no Mack, a diminished Gruden … and two teams with one win apiece playing out the string.
Sunday … Foxboro. Packers at Patriots. Aaron Rodgers, 34, has never played a game in Foxboro. In 2010, the last time Green Bay played at New England, Rodgers missed the game after suffering a concussion the previous week. So this will be the only Aaron Rodgers-Tom Brady matchup ever in New England, and it's quite possibly the last time they'll ever face each other. Sad, really, that two men who will go down as all-time greats could play each other only twice in their lives.
Good Pack day, in all.
But there are no moral wins.
Lord! Take a knee, Ty!