Getty Images
When the door to the Rams' locker room slammed shut late Sunday afternoon, there were three people not accustomed to being there among the players, coaches and football staffers. In the middle, as usual, was coach Sean McVay. On this day, he talked emotionally about the 36-31 win over Seattle. But he saved his most genuine, heartfelt words for people who are foreign to headlines.
McVay said he was giving out four game balls.
"Sophie Luoto and Kristen Lee!" McVay tossed each a ball.
"Bruce Warwick and Kate Kost!" McVay tossed Warwick a ball. (Kost, in Colorado preparing the Rams' trip to practice there this week, in advance of their game in Mexico City next week, will get hers this week.)
All four work in football administration and operations for the Rams. When approximately 90 Rams players and staffers were evacuated from their California homes because of the wildfires that came within three miles of their workplace in Thousand Oaks (northwest of Los Angeles), Luoto and the crew found lodging for them (sometimes two or three lodgings, because hotel after hotel in the area got evacuated too), reunited families, found a Saturday practice facility, and kept the train moving. In the end, no one cares about your problems in the NFL. The ref was going to flip the coin at 1:20 Sunday afternoon, and the Seahawks were going to be ready, and you'd better be too.
"Somehow, we got ready," Rams tackle and leader Andrew Whitworth said Sunday evening. "Pretty amazing, to be able to win a football game in circumstances like this."
Circumstances like this.
Thursday morning, about 4:10. The cellphone on Whitworth's night table kept vibrating. He picked it up to text from two former Bengals teammates, including NFL Players Association president Eric Winston. Like: Are you okay? Can't believe what happened? Whitworth had no clue what happened, but he checked online and found there'd been a shooting at a Thousand Oaks nightclub. The place was four miles from the Rams' training facility. There were deaths and injuries, perhaps many of each. Whitworth and his wife stayed up, trying to figure out what it all meant, particularly for their four children and school. And for what they could do to help whatever this latest mass shooting left in its wake.
Thursday, 10:35 a.m. McVay and Whitworth spoke to the team about being good community members in a time of crisis. Whitworth was at LSU when Katrina hit the Gulf Coast and said to his teammates, "Do something.You'll never regret trying to help in a tragedy."
Thursday, about 1 p.m. Before going out to practice, Whitworth decided to put his money where his emotion was. He called his wife, Melissa, and said he wanted to donate his gamecheck, about $60,000 after taxes, to a fund established to help the victims of the shootings, and their families. "I'm in," Melissa Whitworth said. "One hundred percent."
Thursday, about 3 p.m. At practice, two separate mega-fires popped up, visible for the players and coaches to see. "Those are pretty close," Whitworth said. They were about three miles away from the practice facility, as it turned out. In a few hours, firefighters would dig a trench across the street from the Rams' facility, the kind of trench that gets dug when firefighters are trying to stop a wildfire from advancing. Before Whitworth left for the day, he learned the 101 freeway, which he uses to get to and from his home in nearby Sherwood, was partially shut down. But he got home, as did most of his teammates.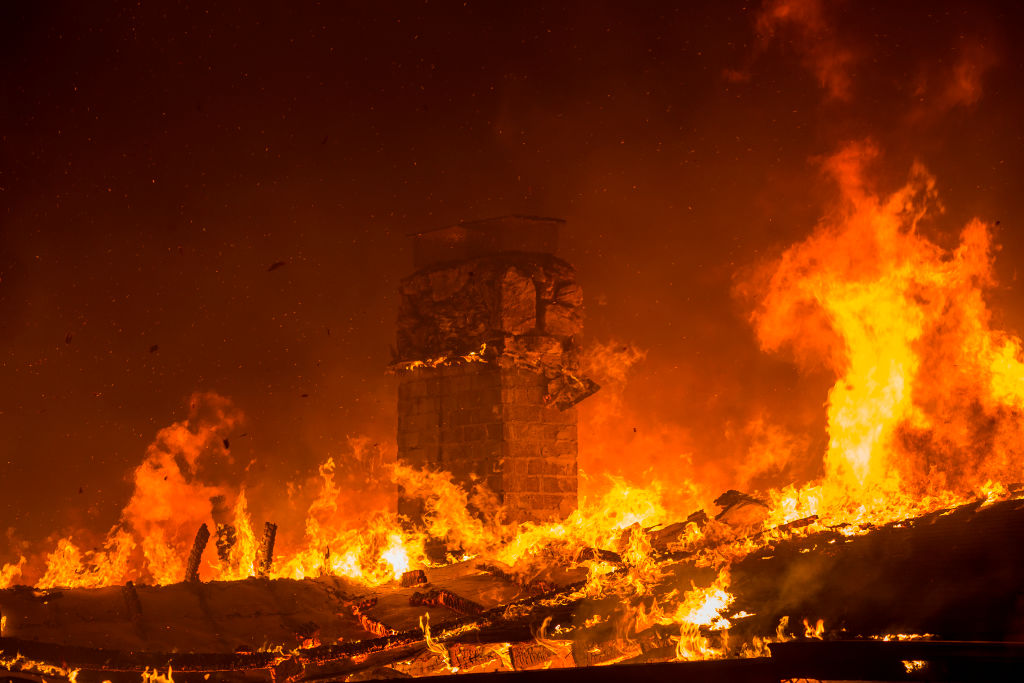 Friday, 2 a.m. Whitworth woke up in his bedroom, the smell of acrid smoke everywhere. "We need to go," he told his wife. But wait. His friend and teammate, center John Sullivan, lived in the same neighborhood. "We can't leave them," Whitworth said, and he went to bang on the Sullivans' door. The two families quickly packed. The Whitworths piled their kids in one of their cars and headed south, to Los Angeles. By 4:15, they were in a hotel in Beverly Hills, not knowing if they'd ever see their house again.
The Rams canceled everything Friday, customarily one of their two biggest practice days. Hard to work when no one can think about football. The players and coaches either packed or tensely awaited word whether to evacuate or sat in hotels, nervously watching fires eat up acres by the minute.
"Friday," Whitworth said, "was a day of horror."
One more story. "My story, I'm sure, is one of a hundred stories," said the Rams' senior director of communications, Artis Twyman. His community was evacuated, and he called Luoto, the manager of football administration, for help finding lodging for he, his wife, and their two children. She found a hotel in nearby Agoura Hills that seemed safe. "At 3:30 in the morning," Twyman said, "someone's beating at our door, telling us we have to get out, the fire is close." So he called Luoto. She found them a hotel 45 minutes south, in Marina Del Rey. Never made it. Freeway closed. Twyman called back. She said they'd have to go north, to Santa Barbara, about an hour away. She booked the Twymans into a hotel there. Finally, at 6 a.m., they could sleep. "She was instrumental in doing things like that for family after family," Twyman said.
"People sprang into action, leading with their hearts," Rams vice president Kevin Demoff said Sunday. "Think of how much happened in such a short period of time. You go from 7 a.m. Thursday, trying to figure a way to help rebuild our community after the shooting. By 3 p.m., you're wondering if you're even going to have a community. Two gut punches, one hours after the other."
Rams 36, Seattle 31. The Rams who could go home did, but at least half the organization went to hotels scattered around Los Angeles to see what would happen next. The team is supposed to leave for Colorado today at 4 p.m., and a week of practice there in advance of the mega-Monday-nighter against the Chiefs. Pretty big deal, the teams tied for the best record in football at 9-1, playing in Mexico City. The Rams are going to Colorado Springs because it is 6,035 feet above sea level; Mexico City is 7,382. The Rams want to get accustomed to playing in the thin air.
What to expect? Well, the trip was still on as of 11 p.m. ET Sunday. But what form it will take, and who is going, and lots of the details stuff … TBD.
"I don't know what I'm going to do," Whitworth said. "I got four kids and a wife who need me right now. Will they be in school? Will they have school? Will our house make it? Should I take them all with me to Colorado? I just don't know. It's a little stressful."
A little? In advance of the game of the year, the Rams might have survived the adversity of the year.
We'll get to more of Week 10 in a moment, but let's start where I was Sunday: Kansas City, where it was very much a mixed bag.
If this is as bad as it gets for the Chiefs, winning by 12 points on a day when the offensive line was a sieve, throw a parade. Phenom quarterback Patrick Mahomes was sacked five times, knocked around all day, and the Cards had five more tackles for loss. This will be a long week for left tackle Eric Fisher, who was abused by Arizona's Chandler Jones, and it may have started during the game. The coaching staff, tight end Travis Kelce implied, lit into the offense during the 26-14 win. "From what the coaches were expressing out there," Kelce told me, "the way we played was just unacceptable. We say that because we've been able to roll on just about everyone we've played."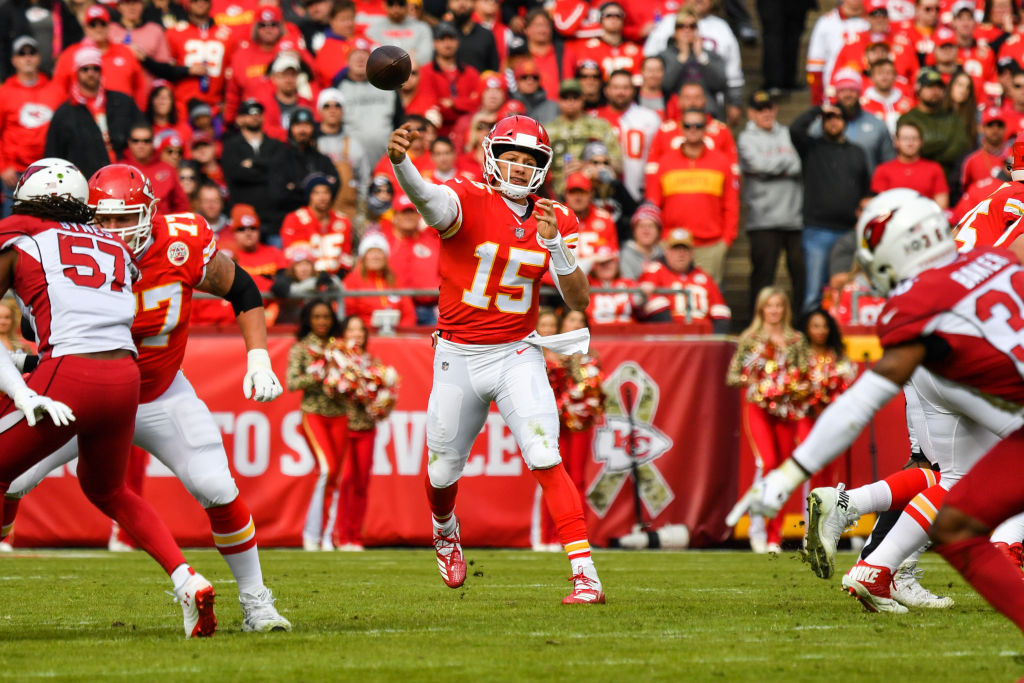 As a team, the Chiefs should be happy that the Cardinals gambled by sending extra rushers, and got home pretty consistently. Instead of playing max coverage, Arizona pressured Mahomes … and it worked some, and Mahomes burned the Cards some. After the game, I sat in coach Andy Reid's office, and he preferred to look at the glass half-full. "Today, Patrick learned a ton off a few of the different looks that he got," Reid said. "The one neat thing about him is that you might fool him once, but you normally don't fool him twice."
My takeaway from watching this team over the last two months was reinforced on the first drive of the day. Seventy-five yards, three plays, 56 seconds … Chiefs 7, Cards 0. It looked like it'd be 52-10. A football field is 53.5 yards wide, and the Chiefs use about 53 of those yards. On this first touchdown, it was a great illustration of stretching the defense from boundary to boundary. Then, for Mahomes, he picks the defensive poison.
On this play, Kareem Hunt motioned out of the backfield wide to the right boundary. Wideout Chris Conley was inside Hunt about six yards closer to the formation, and Tyreek Hill snug to the formation in the right slot. Tight end Demetrius Harris was flanked left, and wideout Demarcus Robinson split wide left, near the boundary. Five receivers, probably 48 yards apart. The Cards countered with a two-deep-safety look, but think how difficult it is. The safety on the offensive right, Tre Boston, had to figure out among three routes—a deep corner by Hunt, a medium in-cut by Conley, or a deep post by Hill, one of the fastest men in football—whom to cover. Once Hill got past his coverman, corner Brandon Williams, Mahomes lofted the ball up the middle of the field, and Williams, with the ball in the air, was already motioning to the safety, like, Where are you! And the safety had to be countering, You try to account for three guys at once—with two of them being sub-4.4 guys! The 37-yard touchdown looked too easy. Mahomes has had a lot of those this year.
"This offense is going to be remembered years from now," Conley told me. "The weapons we have, the quarterback with that incredible vision. I'm pretty thankful to be a part of it."
One last thing: Watching Mahomes, it's interesting to see how many different ways he finds to throw. Rarely do you see the same throw twice in a row. He's throwing overhand, or three-quarters, or frenzied/sidearm, or shovel. I saw his dad, Pat Mahomes, the longtime major-league pitcher, after the game and asked him where that came from.
"Baseball, I think," said the elder Mahomes, wearing a MAHOMES Chiefs jersey. "Those are the kinds of throws, all different, he'd make playing shortstop. That's one of the reasons I think kids should play more than one sport. It can help you be more versatile."
So the Chiefs didn't have a great day. But the Patriots got kayoed by the Titans, so Kansas City enters the last six games with a two-game lead for home field—and the benefit of a Week 12 bye. The Chiefs know the Patriots could well be their foe sometime in January, and they'd love if Tom Brady had to play in Decibelville, in a sea of red, against a young passer who can make the throws Alex Smith could not.
So much else happened Sunday:
• Do not judge the wounded Patriots on this one week. It's not odd for a Belichick disciple to beat the master at his own games, as I'll show you. But the Tennessee rout is worrisome for New England because without Rob Gronkowski and without a strong running game, it can be grim. If Gronk stays wounded for a few more weeks, New England could suffer a pretty ignominious event, and that is losing the first-round bye that they've enjoyed for an NFL record eight straight Januaries.
I found it interesting that Tennessee didn't just beat the Pats. They dominated them. Similar storylines of Belichick disciples who left the nest (after playing or coaching for him), and their first games coaching against him:
Oct. 11, 2009: Denver (and Josh McDaniels) 20, New England 17.
Sept. 23, 2018: Detroit (and Matt Patricia) 26, New England 10.
Nov. 11, 2018: Tennessee (and Mike Vrabel) 34, New England 10.
• There isn't a better team than New Orleans right now. This is easily the Saints' best team since the 2009 Super Bowl champion. That year, the Saints won their first 13 games and scored 35 or more points in seven of them. This year, the Saints have won eight of their first nine and eclipsed 35 points five times. Stunningly, Drew Brees seems significantly better. Think how great Brees was in the Saints' Super Bowl run. This year, he's 7 percent more accurate, has a passer rating 14 points higher, and with seven games left might be in the driver's seat for his first MVP award. I think he's got a better back, Alvin Kamara, than he had in 2009, and a better and more explosive receiver in Mike Thomas than the Saints had in 2009. Plus, the marriage between Brees and Sean Payton is so strong. Payton knows what to call. Brees knows what to ask for during the week. As Tom Brady and Josh McDaniels can finish each other's sentences, so too can Brees anticipate Payton's play calls and moods.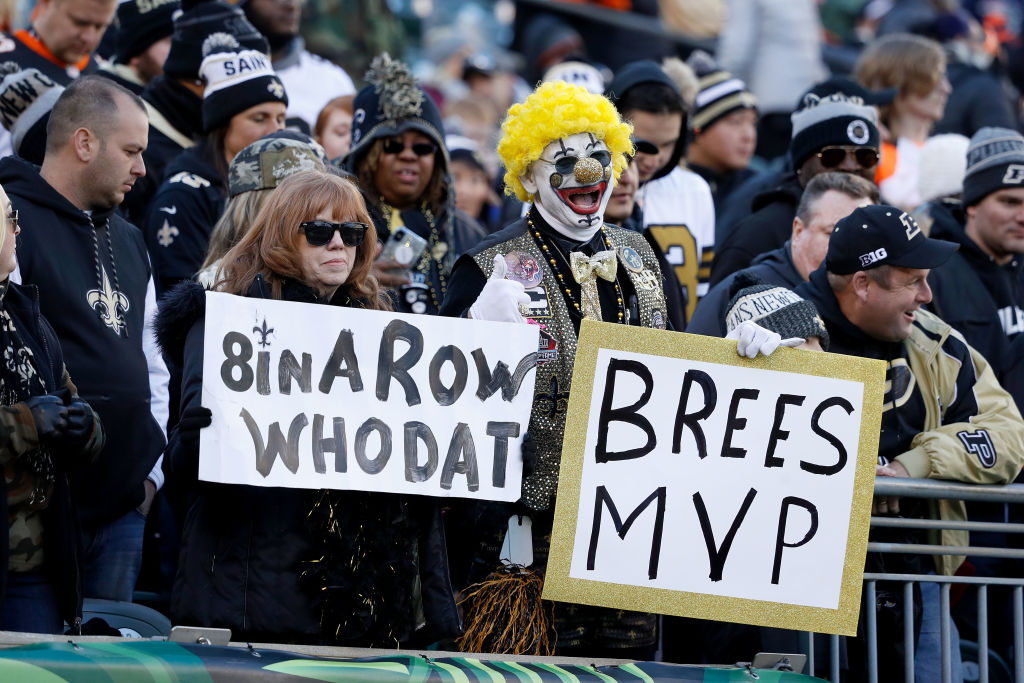 The real difference, though, is that the Saints finally are stout up front on defense. They're almost a yard better against the run than in 2009 (2018: 3.7 yards per carry; 2009: 4.5 yards), and if you've got the opposition in second-and-eight far more than second-and-four, it sets the stage for the kind of aggressive defense that coordinator Dennis Allen likes to use.
With 4-5 Philadelphia coming to New Orleans this week and prepping its final Hail Mary for the 2018 playoffs, Payton won't have to worry about his team sleeping on the Eagles. And then the Saints just have to hope that Kansas City can beat the Rams and give New Orleans some breathing room for NFC home-field.
• Matt's moment. I always found Matt Barkley to be an earnest team guy, not quite good enough to hang onto an NFL roster spot. And if he never has another day like Sunday—the 41-10 rout of the Jets that left him grinning from ear to ear 45 minutes after the game—they can never take away from him the fact that he started in a big-league game and won decisively under ridiculous circumstances.
Those circumstances: Barkley had been a Bill for only 11 days before Sunday, and hadn't played in the league for almost two calendar years. "I knew that I can play in this league," Barkley said. "I feel like I was made to play football and this was just an example of doing what I was made to do."
Buffalo has its bye this week. There's no reason to hurry Josh Allen back from his elbow injury in this lost (3-7) season. I'd see if Barkley has one more gem in him when the Bills return home in 13 days to play Jacksonville. Buffalo fans would shower love on Barkley if he starts.
• So you want to get to know Philip Rivers? Listen to him. He's a guest on my current "The Peter King Podcast" episode. A few times over the years, when asked what Rivers is like, I've answered: He's the guy you meet once every five years on a long airplane trip, and by the time you get off, you feel like you've known him for 10 years.The dude can talk—and I find his energy contagious. Not to mention that now, a month shy of his 37th birthday, he's playing the best football of his NFL life. The Chargers beat up the Triple-A Raiders 20-6 Sunday, and Rivers continued toward his first real chance to be a major playoff factor since the Chargers lost to the 17-0 Patriots in the AFC title game 12 years ago. Nuggets from our conversation:
• On leadership: "When people ask me, 'How do you want to be remembered? What's most important to you?' That I was a teammate. I love that part of it. Being one of the guys, it's the best."
• On being coached in high school in Decatur, Ala., by his father: "I think from my dad, it was the little things. If you're gonna do something, do it all the way. If you're gonna mow the grass, do it right. You don't cut corners. We're gonna dump the bag after about every third or fourth strip. Not gonna blow the grass everywhere. From a football standpoint, there's an element of just that toughness. And that will to win that he coached his players and that's him as a man. He washed the laundry as a head coach. Made sure the jerseys were in the washer and everybody had a ride home before we went home. Little things like that. He cared about every guy. I think guys that didn't even play would tell you they had a great experience playing for him."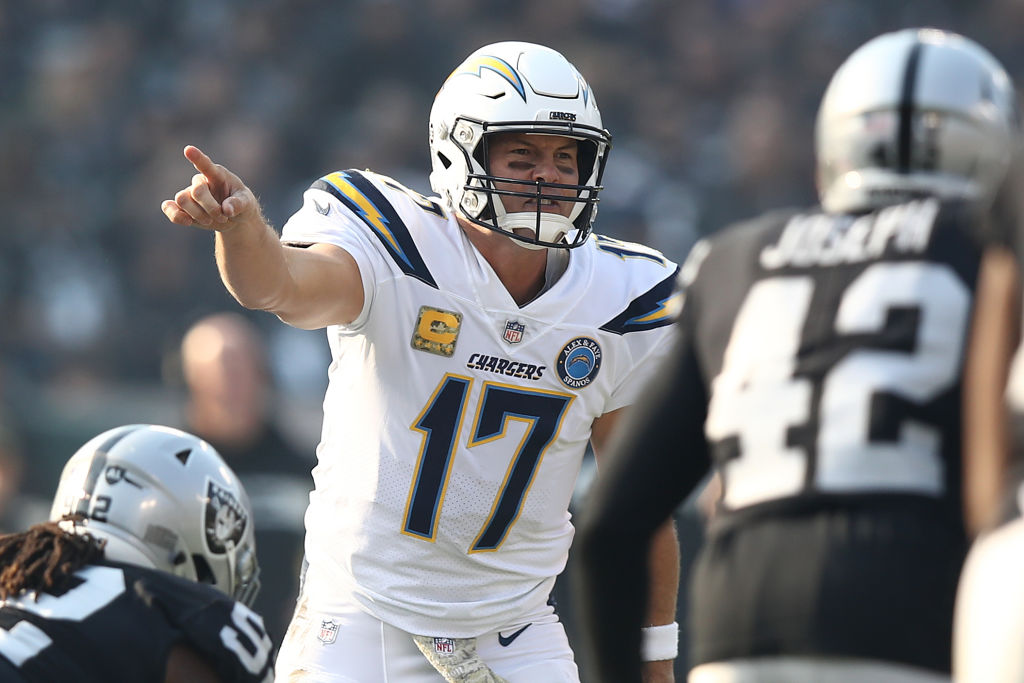 • On his 160-mile round-trip from home in San Diego to the Charger practice facility in Orange County, in a van outfitted with a video system so he wouldn't have wasted time on his commute: "I did some research on it. I drove it a few times. I really wanted to exhaust it, not just make a hasty decision. It has … exceeded expectations, how smooth it's worked out. [The van] is an extended quarterback room. Because 5 to 6:30 p.m., whatever it is, I'd be sitting in that QB room. Now it's the same, I just happen to be on the I-5 South. Get home about the same time. I've been able to keep my same work routine. I used to get in at 6 a.m. Now I leave at 6 a.m. because I'm getting in the quarterback room in my driveway. If I was in year seven or eight, would we have done it this way? Probably not. But when you spent 14 years in a community and your family and your children are a little older, it just makes sense. I'm thankful that it's worked out the way it has."
• On playing in the AFC title game in Foxboro 12 years ago with an ACL torn the previous week at Indianapolis: "I was just torn up. I was like, I can't believe we're right here on the cusp of having the chance to go to the Super Bowl. And I might not be able to go. I remember [coach] Norv Turner telling me—you know, you get the news about the ACL and it's like you're not going to play—and Norv just said, 'Hey don't worry, you're gonna be at a bunch of these games. You're gonna be at a bunch of AFC Championships.' As you know, we haven't been back. Haven't been back, that was 11 years ago. But … talking to my mom, she said you know St. Sebastian; not to get too deep here but St. Sebastian's feast day in the Catholic church is on January 20. And he's the patron saint for athletes. I have a great affection for St. Sebastian. Immediately, I was like what? I got chills. I still get chills telling you about it right now. I thought well, shoot! I'll be able to play! Just like that, I thought maybe I will be able to play. I went through a range of emotions. It was up and down, up and down all week. Rehab. I slept in the knee machine that straightens and bends it, straightens and bends it. It was crazy, the physical rehab I went through. It was beyond me and beyond toughness that allowed me to play that Sunday. I didn't have a shot for pain, and I didn't have pain in that game. And that was six days after a scope for a meniscus surgery and just pretty much removing the ACL. There's been a lot spoken about that game over the last decade. I certainly didn't do it for any credit at all. I wanted to, if I could be out there with 'em I wanted to be out there with 'em and give it one chance to see if we could make it to the big game. We didn't get it done. It was a heckuva memory for sure."
• On learning to accept the possibility that he may not win a Super Bowl in his career: "I had a coach tell me—John Ramsdale, quarterback coach, he was with the Rams those years they won it—he said if your sole happiness is based on whether you win a Super Bowl or not, then you got a chance to be a miserable person. And it's true! Thirty-one of us aren't gonna win it every year. That doesn't mean you don't fight like crazy to get it done, but that can't be the only thing out there because you got a chance to be pretty miserable."
• Four nuggets about Chiefs at Rams on Monday (now being played in L.A.):
1. Raul Allegre, the former NFL kicker now working for ESPN Deportes, was born in Mexico. This matchup, he said, was received poorly because there aren't big fan bases for the Chiefs or Rams, and it didn't sell out right away (and is now a moot point). But he said the atmosphere in the city the night of the game would've be like a World Cup game. "Everyone's beyond excited," he said. But poor field conditions made this game impossible to play in Mexico City.
2. The Rams were scheduled to work in Colorado Springs, at altitude, for a week beginning Tuesday, because Mexico City (where the game was originally to be played) is 1.3 miles above sea level. The Chiefs studied that and chose to stay in Kansas City for the week before making the 3.5-hour flight Sunday. Coach Andy Reid told me, "The elevation's the elevation. I'm sure the Rams are gonna work at elevation. We're not. I don't think it becomes an issue. We did our homework on that this past offseason. It doesn't really matter. It doesn't matter if it's in the parking lot of the CVS."
3. The Chiefs will fly home directly after the game, arriving around 5 a.m. Central Time to start their bye week. The Rams, after a Tuesday rescheduling of the game, got to stay in Los Angeles. That avoided a huge travel headache that would've involved a curfew for the customs office at Los Angeles International Airport. The Rams didn't anticipate making it home in time to go through customs late Monday night.
4. Huge advantage for each team to have a Week 12 bye. The two teams will have byes on the weekend of Nov. 25, and if they get one of the top two seeds in the playoffs, they could each have another bye five weeks later. Washington and Carolina had their byes in September, and likely won't have byes at all if they make the playoffs. Ask those teams about the difference between a bye in Week 4 and in Week 12.
Steelers running back Le'Veon Bell must report to the team by Tuesday at 4 p.m. to ensure he gets a credited year of service, which would enable him to be a free agent in March at age 27. As Adam Schefter reported Saturday night, Bell is not expected to report, meaning he would not play football at all in 2018 and would head into free agency in March hoping to make up the $14.5 million he lost by not playing under the franchise tag in 2018. UPDATE: He did not report.
This seems like a bad decision to me. There is this take out there that if Bell gets a contract with at least $45 million in guarantees that—because the Steelers' last offer included a reported $30-million guaranteed—Bell would be justified in giving up this year's money. Wrong. Most guaranteed money in Bell's contract would likely be in the first two years of his next deal. Because a team is extremely unlikely to sign a guy to a gigantic contract and then cut him after one year, the guarantee is mostly a formality unless huge money is included in year three or after. So if Bell gets $45 million guaranteed and, say, $40 million is guaranteed in the first two years, did he really win by surrendering $14.5 million this year? Put another way: How much money could Bell have made in 2018, 2019 and 2020, which I would call his prime earning years (26, 27 and 28 years old)?
By not playing this year: Zero this year, plus about $45 million in his next two years. Total: $45 million, unless of course Bell were to find a desperate team with huge cap room (Jets? Colts?) to overpay for the player and the position.
By playing with the franchise tag, then becoming a free agent in 2019: $14.5 million this year, plus about $45 million in his next two years, assuming he would have exited this year healthy. (Which must be factored.) Total: $59.5 million.
Bell could argue that because he is the best receiving back in football, he should be paid like a receiver. Faulty. Average rushes per NFL game: 19.8. Average receptions: 5.0.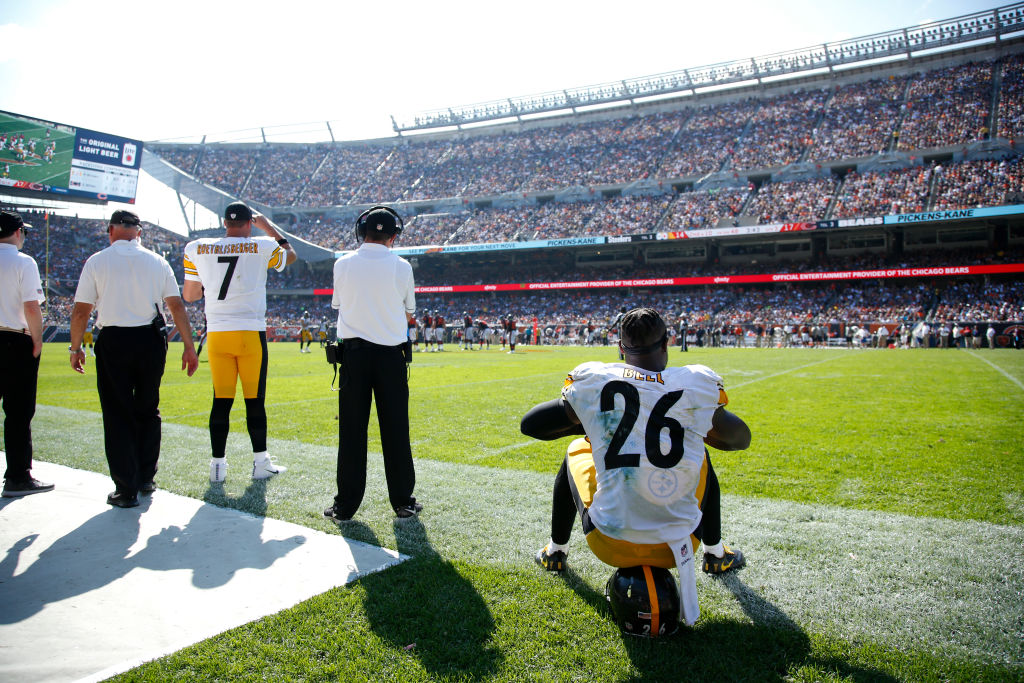 Even if he loses that argument, Bell would argue, I am sure, that by not getting beat up this year, he'll be better positioned to make that money back in 2021 (at 29) and beyond. Maybe he will. And maybe in three years he'll be able to say, "I told you so." He'll point to Adrian Peterson and Frank Gore as evidence that you can still play productively after 30. True, but those guys are playing, basically, for the minimum at 33 (Peterson) and 35 (Gore) this year. It's a big gamble. And we haven't even talked about the market for running backs. Should a team desperate for a great back pay one $18 million a year? Or just draft one? In 2017, the eventual NFL Offensive Rookie of the Year, Alvin Kamara, was picked 67th overall, and the 2017 NFL rushing champ, Kareem Hunt, was picked 86th overall. So there's a lot of gambling being done here.
I'm not optimistic for Bell. Someone who has experience in negotiating major NFL contracts, whose opinion I trust implicitly in contract matters, told me Sunday: "He can't ever get back $14.5 million. We're not talking a couple million. That's some serious, life-changing money."
Washington quarterback Alex Smith, on being a teammate, on the perils of being the first pick in the draft, and on Patrick Mahomes:
"I've learned you get patted on the back for just being a good teammate. I learned about being a teammate from a lot of different guys over the years. Like Shaun Hill. I think when I got hurt early in my career in San Francisco, Shaun had to step in to play, and watching Shaun play and prepare, I learned a lot. We were good buddies. He and I competed. The year after that it was an open competition. Shaun and I competed directly against each other for the job and I remember Shaun and I talking a lot about the fact that it didn't have to be the way the media was trying to make it. It didn't have to be me versus him. We didn't have to get sucked into that cliché. That it could be different. That we could compete our butts off against each other and that we were going to, and that nothing would ever bleed into the locker room. There would never be an undercutting of each other.
"I learned a lot from that when the Niners drafted Kaep [Colin Kaepernick]. People wanted to make it about him vs. me … I finally came to the realization that our trajectories weren't set against each other. My trajectory, what I could control about that, he didn't affect that. I knew that if I played winning football, there'd be a place for me somewhere. That's all I was worried about and being a good teammate.
"So I'd had a lot of experience in this when we drafted Pat in Kansas City. I remember the first phone call I ever had with him when we drafted him. I said right off the bat, 'You'll never have to worry about me ever undercutting you.' I think it took him off guard. But I just wanted to make that very clear.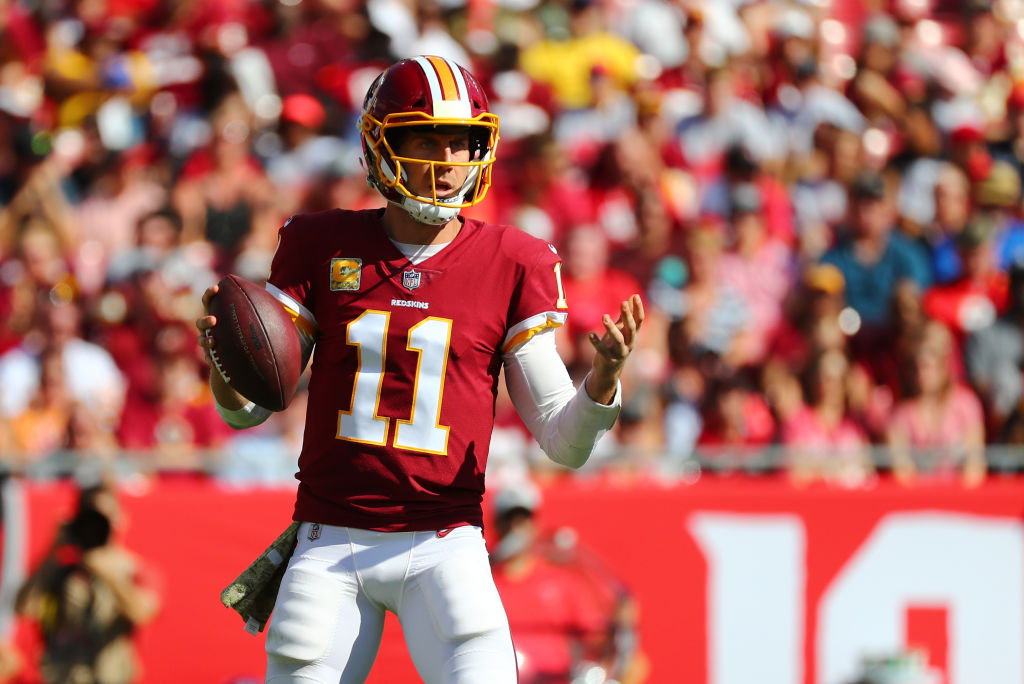 "I knew if I played winning football, there'd be a place for me. Pat and I, neither of us picked this. Neither of us decided on this. Why would I ever take it out on him? I wasn't gonna let that narrative come into our locker room, come into the QB room. And then the other thing was, I feel like if you show respect you get respect. Pat came in immediately and was a good teammate. So why would I not be a good teammate?
"I do feel like my career and life … I learned so much from my five years in Kansas City with Andy Reid. I'm forever changed because of it. Thankful for it. The way it ended [being traded after two straight opening-game playoff losses], I still feel like I do have a lot to prove.
"Coming to a new team, a veteran team, and catching up on the fly when most of the guys know the offense, it's hard. You're sprinting to catch up with everybody else. Every Sunday, every week you're trying to find a way to win. And then within that, let's just keep taking steps every single week. That process has to continue in-season.
"One of the things I've learned from all my experiences, going back to being the first pick, is how you just gotta keep going. Day after day. Have a bad game, just play your way through it. I think I carried a lot of weight for a lot of years because of it, though.
"I had a lot of anxiety for a few years there, especially after my rookie year. I dug a big hole. You just battle with that bust label for a lot of years.
"It took me a few years to get over that and to be completely removed from that. There's no easy way. There's nothing anybody can say to you. It wasn't till years down the line that I'm like, I'm free of that now. It probably took me four or five years though to get over that and get through that. But yeah, it ate away at me for quite a while as a young player."
Offensive Players of the Week
Nick Chubb and Baker Mayfield, running back/quarterback, Cleveland. Chubb gave the Browns reason to deal Carlos Hyde to the Jags before the deadline, and he showed it Sunday in the stunner over Atlanta. Chubb for Cleveland: 20 carries, 176 yards, with a touchdown gallop of 92 yards. Hyde for Jacksonville: three carries, five yards. Ouch. Mayfield (17 of 20, 216 yards, three touchdowns, no picks, 151.2 rating) looks better every Sunday, and the skeptics over the short quarterback going number one overall are pretty deep in the woodwork this morning.
Andrew Luck, quarterback, Indianapolis. So this is getting very interesting. Three straight wins—over Oakland, Buffalo and now Jacksonville—scoring 37, 42 and 29 points, without being sacked, and with completion rates over 70 percent in each game. Andrew Luck is back. The Colts are 4-5, and here come the Titans into Lucas Oil next Sunday.
Ezekiel Elliott, running back, Dallas. This could have been Zack Martin, too, for his superb blocking on so many snaps in the second half when he was playing with a sore knee. But Elliott was magnificent throughout, rushing for 151 yards and a touchdown on 19 carries, and catching six balls for 36 yards and another touchdown. Elliott is the kind of backbone back the Cowboys need to keep feeding. He gives them the best chance to catch and pass vulnerable Washington in the NFC East.
Matt Barkley, quarterback, Buffalo. It's weird to even type those words. "Matt Barkley, quarterback, Buffalo." Barkley was gone. His NFL career was kaput. The only reason he started Sunday was because of injuries to the 1 (Josh Allen) and 2 (Derek Anderson), and the badness of the 3 (Nathan Peterman). Quarterbacks will have better days than Barkley (15 of 25, 232 yards, two TDs, one interception), but there won't be many who win a road game with a heretofore hopeless offense after being on the team for less than two weeks.
Ben Roethlisberger, quarterback, Pittsburgh. The Steelers have had an offensive renaissance—without Le'Veon Bell. As has happened for the past 15 seasons, the offense revolved around Roethlisberger in an unexpected rout, 52-21, over the Panthers. With James Connor having a quiet night, Roethlisberger threw touchdown passes to five different receivers and had the first five-touchdown, no-interception, perfect-passer-rating game of his illustrious career. Prettiest throw of the night: his dropped-into-the-bucket piece of perfection to Antonio Brown, which Brown turned into a 53-yard touchdown.
Defensive Players of the Week
Wesley Woodyard, linebacker, Tennessee. Could give this to any number of Titans defenders, who frustrated a very good Patriots offense on Sunday. Woodyard had 10 tackles and 1.5 sacks of Tom Brady, who was under constant pressure from Tennessee. The Titans blitzed early and often, hitting Brady six times and forcing several errant throws. The ultimate hat-tip from the Patriots was when they removed Brady in the fourth quarter to get him out of harms way with the game out of reach.
Chandler Jones, defensive end, Arizona. Good to be out on the road and see players shine whom I don't normally see in person. Jones, who has more sacks than any player in football since opening day 2016 (36.5, to Von Miller's 32.5), buried Patrick Mahomes twice in the first half at Kansas City. Jones and his mates shattered Mahomes' year-long sense of security in the pocket with a five-sack day. Jones comes hard every snap, and he can win a bull-rush or beat you wide. Impressive day for an impressive player, even in a loss.
Leighton Vander Esch, linebacker, Dallas. The stat line was very good for the rookie in his 10th NFL game—13 tackles, one interception—but as Cris Collinsworth harped on late in the 27-20 Dallas victory, it was Vander Esch's tackle of Eagles back Corey Clement, evading two Philly blockers, for a five-yard loss at the two-minute warning that was the key play late in the Dallas win.
Vince Williams, linebacker, Pittsburgh. When the Steelers lost Ryan Shazier with his spinal injury last December, they struggled to replace his sideline-to-sideline impact, and gave up 28 points per game down the stretch. That's down to 23.2 this year, and Pittsburgh held the explosive Panthers to 21 this week, in part due to the big plays of Williams, one of Shazier's best friends. Williams returned a Cam Newton interception for a 17-yard touchdown, and on the next series, nailed Newton for an eight-yard sack.
Coach of the Week
Mike Tomlin, coach, Pittsburgh. On the occasion of Tomlin's 200th game as Steelers head coach (regular and postseason games included) Thursday night, a 52-21 victory over Carolina, it is worth noting that:
• Tomlin is 6-2-1 while battling the ghost and weekly will-he-show-up-or-won't-he distraction of Le'Veon Bell, and making sure it doesn't disrupt his team. It hasn't.
• Tomlin hasn't had a losing season in his 11 full seasons, and Pittsburgh needs only two wins in the last seven games to ensure making that 12-for-12.
• The Steelers, of course, have had three coaches in the last 49 seasons. The winning percentages of each: Chuck Noll .572 (in 366 games), Bill Cowher .619 (in 261 games), Tomlin .656 (in 200 games).
• In regular-season games since 2016, only Bill Belichick has a better record than Tomlin. Belichick is 35-7 since opening day 2016. Tomlin is 30-10-1. Andy Reid is 31-11. No NFC coach has more than 26 wins in that span. 
Brian Daboll, offensive coordinator, Bills. Talk about a coach under fire. Daboll's offense has been south of pathetic. Points scored in the Bills' four-game losing streak: 33. Points scored Sunday: 41. When you're in the middle of a crisis, you've got to resort to desperate measures, which Daboll did. He designed a pass to left tackle Dion Dawkins, and it worked, going for a 7-yard touchdown, and it actually broke up the route of the Jets. Daboll's imagination went a long way in this game.
Goat of the Week
Eagles fans, Philadelphia. For booing the Eagles off the field at halftime in Week 10. It hasn't been the season you'd want in Philly. And you're losing to the Cowboys, toothlessly, 13-3. But booing the crap out of the team that delivered a stirring Super Bowl win nine months ago? Bush league.
New leader in my MVP clubhouse after 10 weeks. The race as I see it:
1. Drew Brees, QB, New Orleans. Last week: 2. On pace for a 37-touchdown, two-pick season, and for the best passer rating of all time (123.8), and for the most accurate (.773) season a passer has ever had. Put up 45 and 51 points the last two weeks against winning teams. Saints have won eight straight. I don't demote Mahomes lightly. He could still win it, as others could too. But it's beginning to look a lot like Brees' first MVP year.
2. Patrick Mahomes, QB, Kansas City. Last week: 1. A meh game in the 26-14 win over the Cards. Mahomes, in his 10th game, broke the Chiefs' record for touchdown passes in a season. Might not be an exaggeration to say next week's game against the Rams in Mexico could tilt the MVP race for good. A great game by Mahomes against the best team left on the Chiefs' schedule will put him right back with Brees, 1 and 1a, for MVP.
3. Philip Rivers, QB, L.A. Chargers. Last week: 4. Joey Bosa hasn't played a snap and the Chargers are 7-2. QB is the biggest reason.
4. Todd Gurley, RB, L.A. Rams. Last week: 3. He has a touchdown in 13 straight games. That seems good.
5. Ben Roethlisberger, QB, Pittsburgh. Last week: Not ranked. MVPs won by the veterans on this list: Brees 0, Rivers 0, Roethlisberger 0. End of the schneid coming?
I
"It canceled out the weed smell we usually get in Oakland."
—Chargers defensive lineman Corey Liuget, to Mike DiGiovanna of the Los Angeles Times, on the strong smell of the California fires wafting into the Oakland Coliseum on Sunday during the Chargers-Raiders game.
II
"That's what happens when you go cheap. You get your ass kicked."
—Titans running back Dion Lewis, who the Patriots chose not to re-sign after last season. Tennessee creamed the Patriots 34-10 on Sunday.
I know what quote will be on the Patriots' whiteboard before the Tennessee-at-New England divisional game in January.
III
"This was a total team breakdown. A Kotitian disgrace."
—Steve Serby of the New York Post, writing on the Jets' 41-10 loss to the Bills.
"Kotitian" is one of the best adjectives in NFL history, crafted by one of the best makers of adjectives in NFL media history, Serby. It refers to Rich Kotite, who coached the Jets to a 4-28 record in 1995 and 1996.
IV
"This was a good game, but it wasn't a perfect game."
—Saints coach Sean Payton, after the 51-14 road win over the Bengals.
Darn close.
V
"I felt like it was worth it. I thought it would be more. It was a momentum-changer in the game."
—Tennessee safety Kevin Byard, on the NFL fining him $10,026 for his act of running to the middle of the Cowboys' home field and dancing on the large star emblem there during the Titans' win Monday night.
VI
"My son was in Las Vegas with a lot of his friends and he came home. He didn't come home last night, and I don't want prayers. I don't want thoughts. I want gun control."
—Susan Schmidt-Orfanos, the mother of Thousand Oaks murder victim Telemachus Orfanos, one of 12 young people massacred inside a nightclub in California Wednesday night.
I
On Nov. 5, 2007, Ben Roethlisberger threw five touchdown passes with zero interceptions, averaging 13.1 yards per attempt in a night game against the Ravens at Heinz Field. The Steelers, winning their sixth game of the year, beat the Ravens by 31 points. Roethlisberger's passer rating: 158.3.
On Nov. 8, 2018, Ben Roethlisberger threw five touchdown passes with zero interceptions, averaging 13.1 yards per attempt in a night game against the Panthers at Heinz Field. The Steelers, winning their sixth game of the year, beat the Panthers by 31 points. Roethlisberger's passer rating: 158.3.
II
It's possible that the incompetence of the Buffalo passing game—temporarily derailed Sunday with a quite competent performance by Matt Barkley—could be its own category weekly. Let's show you the most interesting ones this week:
• In their last 11 games, the Bills have started five quarterbacks (Tyrod Taylor, Josh Allen, Nathan Peterman, Derek Alexander, Matt Barkley). In their last 11 years, the Chargers have started one (Philip Rivers).
• In 2018, 42 quarterbacks have started at least one NFL game. Among those 42 quarterbacks, Buffalo passers are ranked 40th, 41st and 42nd. Allen (61.8), Anderson (56.0) and Peterman (30.7) are those bottom three.
• Matt Barkley's 12th NFL game was the first in which he had a rating of more than 100. (His rating against the Jets was 117.4.)
• The Bills started Barkley 12 days after signing him. Last month, the Bills started Derek Anderson 12 days after signing him.
Monday, 1:11 p.m., Penn Station subway platform, New York City:
Living in New York City, I find it not particularly odd to see a man in a Superman costume playing the electric violin for money on a subway platform.
Would you believe Mike McGlinchey and Da'Shawn Hand as NFL offensive and defensive rookies of the year?
This week, having just passed the midpoint of the season, I asked Eric Eager of Pro Football Focus, the data-driven analytics firm that contributes to this column weekly, to rate the top 20 rookies in football through midseason. The rating is a combination of three things: impact, level of play, and playing time. (Cleveland running back Nick Chubb is on the list, but not high because he played just 146 of Cleveland's 670 snaps through nine games.)
The list is heavy on defense, as you'll see:
1. Da'Shawn Hand, DT, Detroit (114th overall pick). Ninth among all defensive tackles in pass-rush productivity, per PFF.
2. Jessie Bates, S, Cincinnati (54). First-team PFF safety at midseason, allowing just a 21.7 QB rating through eight games.
3. Derwin James, S, L.A. Chargers (17). Four sacks, a pick, 10 QB disruptions. First-day impact on solid D.
4. Darius Leonard, LB, Indianapolis (36). NFL tackles leader through nine weeks (66, per PFF numbers, in just seven games), and a very sure tackler.
5. Leighton Vander Esch, LB, Dallas (19). PFF tracks the number of run-stops for every defender, and Vander Esch is fifth in the league in run-stop percentage.
6. Jaire Alexander, CB, Green Bay (18). Five pass breakups, a pick, and allowing a rating of 74.1 in his coverage area.
7. Mike McGlinchey, T, San Francisco (9). Through nine weeks, PFF has him as the league's best run-blocking tackle.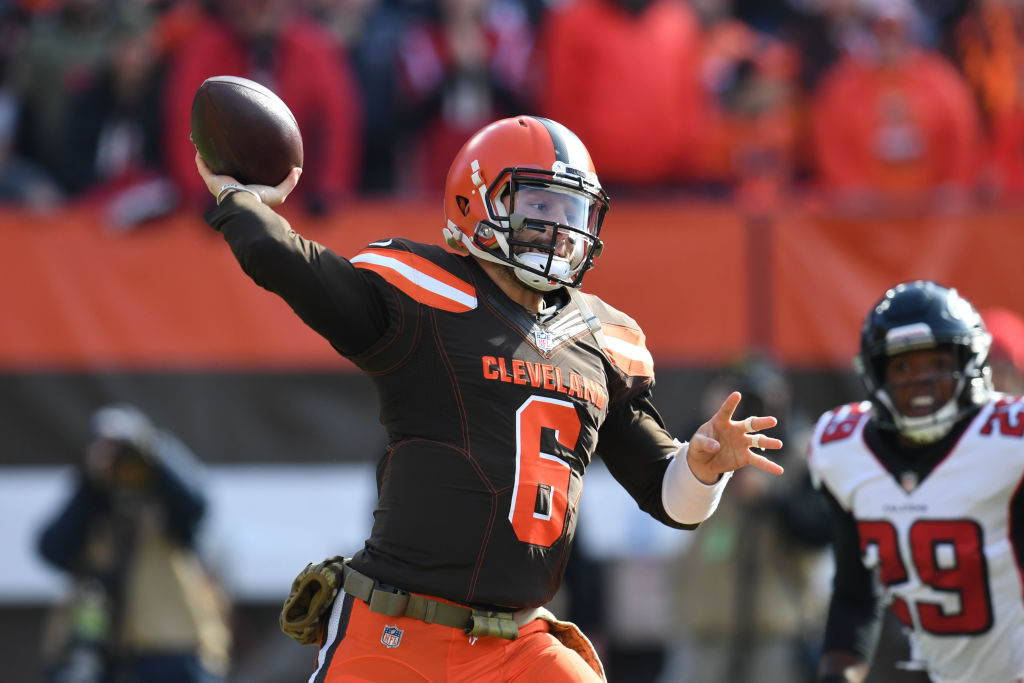 8. Baker Mayfield, QB, Cleveland (1). The Browns' MVP, inconsistent on a shaky franchise, has been worth a win above replacement. Big potential.
9. Denzel Ward, CB, Cleveland (4). Though heavily targeted, Ward has allowed a 73.3 rating in his coverage area. Three picks too.
10. Saquon Barkley, RB, N.Y. Giants (2). His line hasn't helped, but Barkley has powered through it: He's second in the league with 54 tackles broken.
11. Kerryon Johnson, RB, Detroit (43). We've said something similar about 67 backs post-Barry, but Johnson (3.1 yards after first contact) could be the long-term back the Lions have needed for two decades.
12. Taron Johnson, CB, Buffalo (121). Good all-around DB. Has come off the edge for three pressures, and he has two pass breakups and a pick.
13. Justin Reid, S, Houston (68). Morphed into the starter at free safety and played well (two picks, three pressures) after being the Texans' top pick in a depleted draft last April.
14. D.J. Moore, WR, Carolina (24). Some shaky moments, but he's been an important piece (164 yards after the catch) to a rising offense.
15. Maurice Hurst, DT, Oakland (140). Lasted till the fifth round because of health concerns, but he's turned into a building block who is very hard to move.
16. Calvin Ridley, WR, Atlanta (26). Got dinged out of Alabama because of mediocre separation speed, but he's been a professional, mature-beyond-his-years wideout. Second in NFL with seven TDs
17. Nick Chubb, RB, Cleveland (35). Added value to the Browns last month, allowing them to deal Carlos Hyde for a fifth-round pick next year. Plus, 49.1 percent of Chubb's yards have been gained on explosive (15+ yards) runs, third-best among running backs.
18. Michael Dickson, P, Seattle (149). The Aussie has justified the hype. Turned into the league's fourth-rated punter, and engineered the fake punt of the year, running for a first down deep in his territory in Seattle's win over Detroit.
19. Tremon Smith, DB, Kansas City (196). PFF's top-rated return man in the league, and his monster return very nearly lifted the Chiefs over New England.
20. Jason Sanders, K, Miami (229). Missed only two kicks through midseason and produced 35 touchbacks. Great value for a seventh-round investment.
A PFF Elite subscription gives you access to performance metrics the pros use.
How the final two picks of the first round in 2007 spent this past week:
• The 31st overall pick, Greg Olsen, 33, caught four passes and played 45 snaps as a tight end for the Panthers at Pittsburgh.
• The 32nd overall pick, Anthony Gonzalez, 34, a Republican, was elected to the U.S. House of Representatives, getting 56.8 percent of the vote in Ohio's 16th District in suburban Cleveland. Gonzalez, a wide receiver, played five NFL seasons for the Colts before retiring in 2012.
I
II
III
From a couple years ago, but it resurfaced this week. Worth a watch.
IV
V
To comment on the column, or to say anything about anything, you can reach me by email.
The heir to Bowles. From Edward S.: "Who would be your top three choices to replace Todd Bowles if he gets fired?"
I'd interview a load of smart young offensive guys—Vikings offensive coordinator John DeFilippo, Stanford coach David Shaw, Oklahoma's Lincoln Riley and Purdue's Jeff Brohm. May the best man win … if there was one to fall in love with, and he would come.
A schedule idea from Turkey. From Abdullah O., of Konya, Turkey: "I can't understand the NFL schedule. Why not eliminate divisions? Each team plays one game against every team in its conference and the last game with any team from opposite conference? This way all teams have an almost equal schedule, and playoff teams would be the best six teams in each conference, since there would be no favor for the division leaders."
Abdullah! Writing all the way from Turkey! Thanks. So I see two problems with your idea. One: Team A from the NFC would play Team B from the AFC once every 16 years. Not sure that's a good idea—it means, for instance, that the Giants and Jets would play once every 16 years, and that, say, Andrew Luck and Drew Brees, in another era, might never play against each other. The other factor that most teams would lobby to retain is the home-and-away tradition of playing teams in your own division annually. I do like the fact that the playoff system would be cleaner because all 32 teams would have essentially an egalitarian schedule.
10 Things I Think I Think
20
1. I think these are my quick-hit thoughts of NFL Week 10:
a. I don't say this nearly enough: Pro Football Reference is the MVW—Most Valuable Website. I love it. I use it five times a day, and maybe 20 on Sunday nights writing this column. If that was a public company, I'd buy stock in it.
b. Nothing stranger in any NFL game this year: Chicago kicker Cody Parkey hit an upright on two PATs and two field goals against Detroit, missing all four kicks.
c. Hard for even the most ardent Dirk Koetter backers to say he should return in 2019. His fault or not, the Bucs were abysmal in so many ways Sunday against Washington, not the least of which was going scoreless on their first four red zone visits.
d. Just watch this Khalil Mack sack of Matthew Stafford. He owned Lions left tackle Taylor Decker, steamrolling him on the way to Stafford.
e. The win over Detroit was Mitchell Trubisky's first division win. He lost his first six NFC North starts.
f. The Cardinals are dragging down David Johnson, who led the NFL in scrimmage yards in 2016. He hadn't rushed for more than 75 yards in a game all season before Sunday's 98-yard performance in K.C.
g. Raiders have seven sacks in nine games. If there was just some way they could have had a pass rush this year.
h. Ryan Tannehill has missed 24 of the last 29 games for Miami.
i. Logan Ryan sacking Tom Brady on the last play of the first half. Now that must have felt weird … for both.
j. Chiefs/Saints 96, Bengals 24.
k. Same old Bengals. Imagine your defense averaging 12 points allowed per quarter over two games. Yikes. And they've allowed more than 500 yards three games in a row. Grim times in Bengaldom.
l. Seattle defensive tackle Jarran Reed is going to be thinking about that dropped pick deep in Seahawk territory, down two points in the fourth quarter, for a while.
m. Seattle's Rashaad Penny finally justified his draft status with a productive game at L.A., including a 38-yard run and an 18-yard TD run.
n. Andrew Whitworth is one of the best free-agent signings ever.
o. I mean that about the Rams left tackle, signed from Cincinnati last year. It's not hyperbole. A month shy of turning 37, Whitworth is a road-grader at a position that's vital in today's game, and he's turned into the kind of leader every team longs for.
p. Ndamukong Suh is still a huge factor, even if Aaron Donald sucks all the defensive attention (rightfully so) out of the Ram room.
q. Not saying Cam Heyward gets no respect, because he clearly gets some. But he is a major factor in every game for Pittsburgh.
r. Is lowering the helmet and contacting an opponent even a penalty anymore?
s. Aaron Jones (15 carries, 145 yards) is just what Aaron Rodgers needs to take some of the heat off him. Jones will be needed in a big way Thursday night in Seattle for Green Bay.
t. Regarding the Eric Reid ejection: It was borderline, but I thought he deserved it. The game doesn't need 220-pound human projectiles flying through the air, uncertain where the tip of the projectile will contact the runner. If the NFL is going to exist well into the future, that's the kind of play that should not be in the game.
u. Losing by 31 to anyone is not a good thing. (Surprise!) But Carolina is 6-3, and I'd still give the Panthers an inside track at a playoff spot in the NFC. Next four games: at 3-6 Detroit, 4-5 Seattle at home, at 3-6 Tampa Bay, at 3-6-1 Cleveland.
v. NFL players need to be as vocal as NBA players about supporting gun reform in America.
2. I think this is a vital time in the young reign of Matt Patricia in Detroit. His team is hurt. His team stinks. (Lions were down 26-0 Sunday in Chicago.) They've surrendered 16 sacks in the last two games. Matthew Stafford doesn't have a chance. Now, beginning next Sunday, they've got three playoff contenders in a 15-day span—Carolina, Chicago and the Rams. All three are at home, but the way the Lions are playing, it could soon turn into a home-field disadvantage if the crowd turns on them. Big challenge for Patricia midway through his rookie year.
3. I think in the span of two hours, Dante Fowler Jr., went from goat to semi-hero in Los Angeles. He gave the Seahawks new life with two awful penalties early, then sealed the Rams win with a strip-sack of Russell Wilson, leading to the needed insurance touchdown. That's going to turn out to be a smart trade by the Rams—and Fowler is going to be an important part of the Rams' chances next Monday against the Chiefs.
4. I think Tennessee's going to be in the pennant race in late December, for one important reason an NFL GM enunciated for me the other day: "Playing against them makes your offense feel like it's playing in quicksand. Just hard to get anything going consistently against them." New England had won six straight. The Pats had scored an average of 35.5 points a game in that streak. And Tennessee's front just throttled the Patriots, who had zero points in their last nine possessions. For a Josh McDaniels/Tom Brady offense, that's borderline unprecedented.
5. I think it's hard to envision anyone beating out Aaron Donald (10 games, 12 sacks, rushing from all over the Ram front) for his second straight Defensive Player of the Year award.
6. I think I like Brandon Marshall to the Saints a lot—if that's what happens in the wake of Dez Bryant's unfortunate Achilles tear in his first practice in New Orleans last week. The 6-foot-5 Marshall, given 15 snaps a game, will be the kind of jump-ball-winning weapon Drew Brees would use wisely every week. For the Saints' sake, I hope it happens.
7. I think this is my weekly advice to Jerry Jones: Stop storming toward an extension for Dak Prescott. Not yet. Great guy, great teammate … average-at-best QB for the last 1.5 years. Wait. You want him to be the future; anyone who roots for the Cowboys is rooting like crazy for him to be the future. But you can't be sure he is, yet.
8. I think I'm pretty sure Jerry Jones is not listening to my weekly advice.
9. I think I'm not too fired up about Aaron Rodgers' completion percentage hovering around 60 percent. (It was a career-low 61.1 percent after nine games.) Why? He is on pace to set a yardage record (he has never thrown for 5,000 yards, and he was apace for 5,084 entering Sunday's game against Miami), and his TD-to-pick ratio was 15-to-1. Plus, his yards-per-attempt was 7.8; it hasn't been higher in a season since 2014. He's been playing with a patchwork receiver corps, and with a strained knee. I don't think it's time to worry about Rodgers.
10. I think these are my other thoughts of the week:
a. Heartbroken for the California shooting victims, and continue to be heartbroken, too, for the tens of thousands fleeing the fires there. Amazing that people as far north as San Francisco were being told to stay indoors over the weekend because of unhealthy levels of smoke and particulates in the air—from hundreds of miles away.
b. Kudos to the Los Angeles Times for its expansive coverage of the murders at the country bar, and the fires. Two stories, either of which could be the California story of the year, happening within 36 hours, and the paper of record came through with strong work. Read the paper's excellent blog on the fire and the fire-fighting efforts.
c. Writer Liam Dillon, on the scene at a church where many of the evacuees have temporarily settled, writes this tough scene:
Standing next to his white truck in the church parking lot, Markham Odell recalled escaping from his property along the Feather River Canyon in Paradise on Thursday morning. The sky, Odell said, became as black as midnight at 9:30 a.m. and as he was preparing to leave, a dead bird fell out of the sky and hit him in the shoulder . He felt overwhelming heat from the fire.
"I'm 61," Odell said. "I've never panicked at any time in my life. But I felt it start to come."
Odell, a prospector who works in Nevada, has lived on his property since 1987. A friend of the family sent him a photo after the fire came through. His home, greenhouse, barn and shed where he kept his tools were gone. "We're homeless," he said. "Most of our friends are homeless. Our family also."
d. Op-ed of the Week: From the widow of Pat Tillman, on protesting NFL players, and people who would try to divine Pat Tillman's thoughts about the actions of today's players.
e. From Marie Tillman: "Patriotism is complex, like Pat himself. It is not blind or unquestioning. And it's a fool's errand to argue over who's allowed to claim sacrifice. Many of the kneeling athletes say they are protesting as American patriots who want the nation to be better than it is. When I look around at the vitriol aimed at them for expressing their beliefs, and at the compulsion to simplify complicated issues to pit people on opposing sides, I want to kneel, too."
f. I stand with Jim Acosta of CNN, April Ryan of American Urban Radio, Yamiche Alcindor of PBS, Abby Phillip of CNN, Peter Alexander of NBC and those doing the citizens' work of asking questions—and countering false claims when need be—at the White House.
g. The pushback from those (including scores on Twitter when I posted similar thoughts after the president demeaned reporters at a White House news briefing) who support the president will not go away. All are entitled to their opinion in this country. But ragers on social media and at political rallies can't and won't prevent reporters from doing what reporters have done for decades: question authority, investigate what needs to be investigated, and act as the collective watchdog for the citizenry. It's a part of the Constitution.
h. If there'd been Twitter in 1973, Bob Woodward and Carl Bernstein would have felt the ire of the Nixon-right-or-wrong crowd as bad as, or worse than, Jim Acosta's feeling it now. There's something Woodward and Bernstein can be thankful.
i. Story of the Week: by Stephanie Carnes, a clinical social worker in upstate New York who has worked with Central American immigrant students, for Huffington Post, on the goals of those in the caravans surging north from central America. Stark, and real.
j. Sports Column of the Week: I don't agree with much of this piece by Greg Cote of the Miami Herald, but I admire him a lot for writing against the grain and making some good points about the relentlessly slammed Bill James opinion the other day that all athletes are replaceable.
k. Food for thought, for sure. But my point is this: Sure the Red Sox or the Packers or the Warriors or the Canadiens would continue to field their teams if every player on their teams suddenly walked away or left in free-agency, and they had to invent new teams tomorrow. But it's a foolish premise. Teams change all the time. But it's a particularly demeaning thing to say that the franchise is more important than the players, and it's just dumb. There are no teams without players, and no players without teams. So what's the point in arguing either side?
l. Bob Gibson turned 83 the other day. Bet he can still throw 85. After warming up, that is.
m. Coffeenerdness: Best hotel Starbucks in America: the expansive lobby location in the Sheraton in downtown Seattle. Not only is the workspace desirable (long, spacious bar with power at every seat), but in the evening there are six beer choices, six wine choices and two cider choices. I believe if the stools were 20 percent more comfortable, I could live there.
n. Hey Nick Ahmed! Congrats on the Gold Glove!
o. Bryce Harper probably could hit 45 homers a year playing for the Yankees, 35 to 38 playing in most other parks. I suppose everybody should be lusting over trying to get him, but he's got a little too much Giancarlo Stanton in him for my taste. Last season showed he can have some serious dry spells.
p. Manny Machado is great. Truly. But he scares me for other reasons. Not running hard too often, those suspect "accidents" on first-base bags.
q. You're talking about paying those guys $30 million to $37 million a year, I assume. Seems overly risky to me, but I'm sure they'll get it somewhere.
r. Seattle to Kansas City, nonstop, Alaska Airlines, 9:50 a.m. Saturday. Mimosas ordered by my seatmate in first 105 minutes of the flight: six. Waking minutes in last 100 minutes of the flight: zero.
s. I haven't caught on to that morning drinking thing. Maybe one day.
t. On the same flight, I lost count how many times the woman in the row behind us sing-songed to her teacup Yorkie: "Do you wanna see Grandpa? You're going to see Grandpa!"
u. Yes you are!
v. Good boy!
w. I am thinking seriously of emptying out both of my email mailboxes. I mean, going down to zero in each, and then purging them daily. Whatever I miss, I miss. Something freeing about that thought. Anyone ever done that? And just starting from scratch?
San Francisco 27, New York Giants 12. The Legend of Nick Mullens grows. And on the other side, for the second straight year, the Bay Area swallows Eli Manning. Last year, it was the (correct) Ben McAdoo benching in Oakland. This year, in Santa Clara, Manning could be making his last start for a while, or ever, in blue. If Pat Shurmur doesn't see competence out of his offense tonight, the Eli Watch will be on.
Today, Tuesday … Pittsburgh. Le'Veon Bell watch in Pittsburgh.
Tuesday … Tampa. Happy 55th birthday, Vinny Testaverde. That happened suddenly.
Thursday … Seattle. FOX lessened the potential quality of its Sunday doubleheader games this year by letting the league schedule a stronger slate of Thursday games. Last week: Carolina at Pittsburgh. This week: Green Bay at Seattle. Rodgers-Wilson should be fun … if both teams enter remotely healthy. Rough turnaround for the Pack, from Sunday afternoon to a 1,900-mile Wednesday flight and a Thursday game in the Thunderdome, particularly after trips to Los Angeles and Foxboro in the last 16 days. It is downright odd that, through mid-November, the Packers do not have a road win this season.
Saturday … Indianapolis. Happy 40th birthday, Reggie Wayne.
About Le'Veon …
Covered out the wazoo. Just
wake me when he plays.