Peter King/NBC Sports
NEW ORLEANS — "This is the first time in NFL history a play like this has been run from this formation! Ever!" jovial Saints coach Sean Payton called out to his offensive team Saturday night in a second-floor ballroom at the Ritz-Carlton on Canal Street. This was a man in love with his job.
The NFL's state-of-the-art offense was doing a final walk-through in the Salon II ballroom before facing the Eagles on Sunday in the Superdome. (New Orleans embarrassed Philadelphia, 48-7, the worst loss ever by a defending Super Bowl champion.) Quite a sight, as the players lined up and walked/slow-jogged through the first 15 plays they planned to run. Alvin Kamara, wearing flip-flops, black socks and a red hoodie obscuring much of his face. Brees, in shorts, untied sneakers and a black T-shirt pumping his FNA co-ed flag football league.
Payton, in a blue pullover, playing defense.
Payton called out the name of Sunday's bizarre play: "Q stop, G snug. Right empty. QB 38 Z Crush Alley." On cue, Brees joined two wideouts to the left in a bunch formation (three receivers, snug to each other), while jack-of-all-trades-quarterback Taysom Hill joined the same type of bunch formation to the right.
Damndest thing I ever saw: Five linemen up front. Three receivers left, three receivers right.
No quarterback.
As instructed, Brees trailed two bigger wideouts on the left side of the formation. The coaches lined up as Eagle defensive players.
"I got Drew!" Payton said, crouching a bit across from the left bunch, like a press corner. "And don't screw up the cadence, Taysom!"
The 11 offensive guys got set, and at the last minute, Hill motioned left to a shotgun position and called out the signals. Center Max Unger snapped it to him, and Hill powered right in a slow jog behind a slew of blockers. The play would be a power run, and it would fit into exactly what Payton told his players in this meeting: "Our emphasis in this game is to run at 22 [cornerback Sidney Jones]. He's coming off a hamstring, and we don't think he can hold up."
No fooling around. All business, even on this weird play. Strange seeing football players practice at 30-percent speed in hoodies and jeans and whatever, with coaches playing Fletcher Cox and Malcolm Jenkins. After 15 minutes, each play run the same way, Payton said, "Let's break it down," and they gathered in a circle, said something I couldn't understand, and the players went to team snack. (More than a snack, actually; it was a full-blown buffet meal.)
In the wide hallway outside Salon II, I asked Payton: "How'd you think of the double-bunch play?"
"Thursday night," Payton said. "Just doodling. Just thinking. I just thought of it, and I said to the coaches, 'Will this work?' And [quarterbacks coach] Joe Lombardi said, 'Why not? We can do anything we want.' When I told Troy Aikman about it [in the FOX production meeting], he said, 'Who's getting the snap?' I said, 'No one. Yet.' "
Payton thought for a minute, giving a John Nash look into the distance. "Part of it, really, is thinking of something that they [the Eagles] haven't seen. That's the job of a game-planner. You want eight heads to turn to [smart Eagles veteran safety] Malcolm Jenkins and be like, 'What do we do?' "
Payton took my notebook and drew out the formation. He said sometime later in the game, they'd reverse the call. It'd be Brees who'd go behind center at the last second and take a snap. Only this time it wouldn't be a power run. Brees would throw it—maybe a quick stop route to the left, or a post from a receiver in the right bunch.
By that time, the players had all relocated to the ballroom with the food. Except for one player. That player was playing a grand piano—and playing it very, very well.
We looked over, and I asked Payton who it was.
"Austin Carr," Payton said. "Wide receiver. President of his class at Northwestern. He'll be the president of the United States when he retires."
Carr played for a while, beautifully. I went over to ask him about playing.
"Just relieving some tension," said Carr, talking while his fingers moved over the keys. He said he loves the music of John Legend. This music is what you'd hear from someone coming out of Juilliard.
"The song's beautiful," I said. "What's it called?"
"I haven't named it yet," he said.
Lots of composers in this Saints group.
---
Intermission: This is not the usual Football Morning in America column. Last week, I asked Sean Payton if one weekend this year I could write about his Saturday night meeting, and about the relationship between he and Drew Brees, who is having the greatest year of his life (and one of the greatest years a quarterback's ever had, regardless of age) at age 39. Payton agreed, and so Saturday night around 7, Payton's assistant, Kevin Petry, took me onto the second floor of the Ritz-Carlton for the Saints meetings, which ran from 8 (Payton actually kicked it off at 7:59) till about 10:40. This is the story of that evening.
I will get to the news of the day, just perhaps not in the depth that you're accustomed because so much of my energy this weekend was devoted to something you're not going to be able to read anywhere else.
I should tell you that the coaches seemed to get a kick out of an interloper among them. The evening began with the coaching staff in a smaller room, the LaSalle Room, at the end of the hall, with 17 men sitting around a large U-shaped table with a white screen at the top of the "U." I sat in back behind the table, next to the side wall. "You're embedded in here tonight, right?" Payton said, looking at me. "That the right word, Peter? That's what they used to have in wars, right? Don't see that anymore."
Lombardi piped up: "Not quite the same hardship here at the Ritz."
This is what I learned about the best offense in this offensively explosive period of football: It's a more democratic group than I thought. This isn't an autocratic Payton dictating plays. Drew Brees has a ton of input in plays he wants to run. Brees' historically accurate season (he's a 67-percent career passer, completing 77 percent this year) has a lot to do with his symbiotic relationship with Payton, and with both of them knowing what works best for an offense that's quite complex. But it's an offense they've nurtured and expanded since both came to the Saints in 2006. As Carr told me: "I can attest to the democratic process here. There's an ethos of leaving your ego at the door. Lots of teams say that, but you don't always see it. Sean's OK when Drew says, 'I don't want to do that,' and same with Drew about Sean. They've found the sweet spot in dealing with each other."
I saw that in the final meeting of the night. More about that later.
First, let me explain what the night is like. It has six segments: a short all-coaches meeting, maybe 10 minutes; a 20-minute discussion about the first 15 plays Payton intends to call; a very short (maybe five to 10 minutes) all-team meeting, with a message mainly from Payton; the walk-through with the offense; the all-team snack (and, on this night, piano-playing); and finally, a meeting of about 40 minutes with Brees telling Payton, offensive coordinator Pete Carmichael and Lombardi what he likes and doesn't like in the game plan.
The all-coaches meeting has a discussion of injuries and who will be active and inactive, and a message from Payton. Two things tonight: "We gotta run right at 22 [Jones] and we gotta throw at 22. We're gonna make him defend the run on the first play. We're going after him on three of the first eight plays."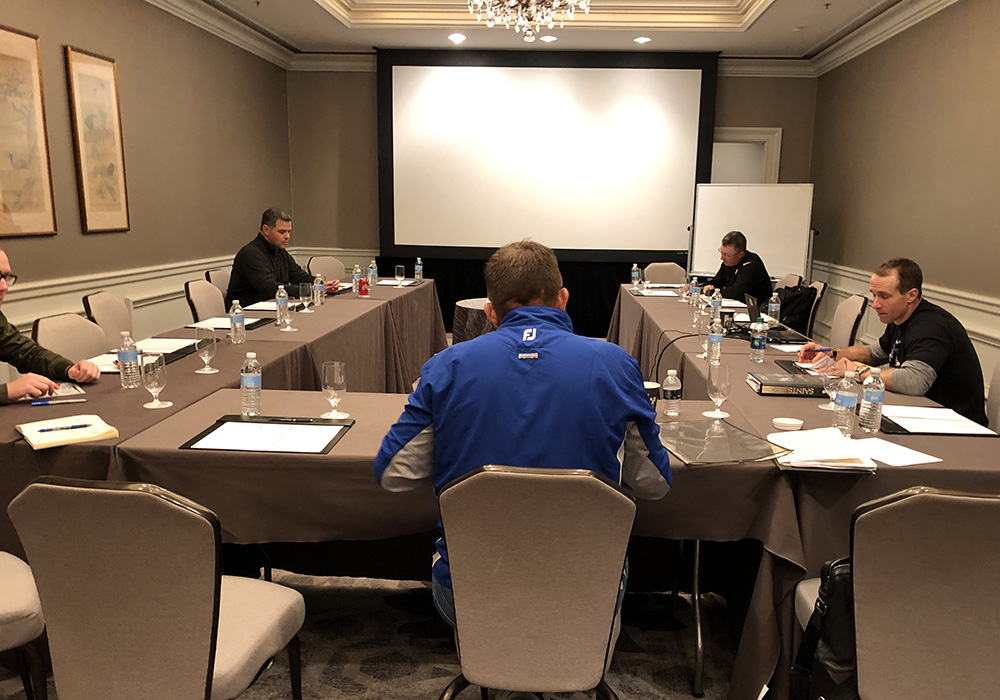 And then, a bit of a surprise. "We want to put the game on [Eagles quarterback Carson] Wentz," Payton said. Payton likes Wentz as a player, but his player-personnel analyst, Ryan Herman, gives him trends and numbers every week, and Payton tells the group two interesting ones about Wentz, from Herman: The Eagles are 1-11 when Wentz plays and they allow more than 26 points. And he's 0-9 when he passes for between 308 and 364 yards, the point being if he does that, the Eagles likely won't be running the ball well, and the Saints feel they can beat a one-dimensional offense.
Then the defensive coaches left to work on their own, and the offensive coaches work on the opening plays. On the screen, Payton's opening plays come up … and the double-bunch is number five. Clearly, it's going to be called early in the game. Payton wants to see the big-bodied Hill steaming around right end at number 22. (He never calls him "Sidney Jones." Just "22.") For a stranger who doesn't know the Saints' vernacular, listening to the discussion of each play is like listening to Dutch. One of the reasons Payton isn't paranoid about me sitting in, I'm sure, is that when I hear, "Snug left, Y fly, P 35 Stab dog F rail," I'm not going to know what it means—and that's just the way they like it.
"Ball security in this game is everything," Payton said. "They've got a great front. They'll come after us. They have to win this game. Let's go win another one.
"Because it's the next one."
---
Then the short team meeting with the message, again, about 22. Then the defensive players leave to move next door to have their own meeting. Then everyone in the room, coaches and offensive players, pick up the conference-room chairs and stack them by either side of the room, to make room for the walk-through. This walk-through is a test, to see if every player can remember his job on every play (and for 15 straight plays, there are no mental errors, only the warning from Payton to Hill about his cadence).
One interesting thing: Players are drilled in the precision of spacing, and who is on the line and who is off a step. So several times, Michael Thomas lined up wide left, on the line, and almost reflexively waved his hand to the receiver to his left, as if to say, 'Get a step back.' One of the coaches told me the receivers take care of each other like that.
Then the snack. In the big room with stations scattered throughout, Payton gets spaghetti and explains the week and the importance of continuing to mine information. "This year, because of Taysom's development, we talk a lot during the week about how to use Taysom,'' he said, digging into what for him is dinner, not a snack. "But we meet late most nights during the week. I want to go over everything. I want to see it, write it, feel it, discuss it. Last night, I put on the Football Life with Mike Holmgren. He used to be a third-grade teacher, and I think that's great training for what we do. We gotta put a plan together with who is in the building—not with who we wish was in the building. We gotta evolve with who we have."
R and D is big in the job. "I look at the league a lot," Payton said. "I look at all the scoring plays every week. I look at [Bill] Belichick and New England. I look at Sean McVay. I found a good one last night. I hadn't watched all of New England's offensive plays in the Super Bowl against Philadelphia in a while, and so last night, I put the tape on and I found something. Gronk [tight end Rob Gronkowski] caught a ball inside the 10 and scored, but it's how he caught it. It was like catching an inbounds pass, using your body to keep the defender off you. That's perfect for us. I told Mike Thomas, 'This is a touchdown.' We practiced it today. I think we'll use it."
By 9:55, Brees and his coaches sit back in LaSalle, and now it's Brees' turn to weigh in on the game plan. Payton has approximately 18 sections of the game plan: play-action, screens, quarterback-movement plays, empty-backfield, two-minute, and more. All the men in the room have a copy of the play sheet. Payton asks Brees, for instance, "Red zone, 20 to the 11, what do you got?" In other words, "What do you want me to call?" To each section, Brees said between one and six plays. In this section, for instance, he said six plays. Payton, using a black Sharpie, placed a dot on each play Brees liked and wanted called.
And it was the way Brees said the plays. Deliberately, with reasoning when need be. Like: "22 paint Y shock, X Harvey." Four or five seconds to look at the next play and envision it. Then onto the others. "52 Z Hank." And more.
In the tight Red Zone category (5-yard line to the 3) Payton asked Brees, "How are you with Bloodhound 21?" Good, Brees said. Payton liked this—it was a way to take advantage of a young and inexperienced secondary, calling the play quickly and using fast tempo to rush to the line while the defense might be swimming.
At 10:37, Brees was done with his recommendations. There'd been, by my count, 46 of them. One would pay dividends early in Sunday's game.
After the meeting, Payton and Brees sat with me to discuss imagination and their bond. "The evolution from where we were, call it 13 years ago, when we all first got here in '06 to now, is pretty amazing" Brees said. "It's an exciting process. It's a bit nerve-wracking early in the week I think because you're sitting there watching film after film and you're trying to identify all the ways that you can attack that defense, right? I think some of our best ideas at times come on a Saturday or Saturday night, or even Sunday morning."
Said Payton: "This week, it started with me drawing it on the board saying, what if we just lined up with no quarterback and one of the two of them came back depending on the play. Part of the install sometimes is to have some fun and have some levity with something like that. The first day we're doing it in walk through. Max [Unger, the center] turns around. There's no one to snap to. Drew and Taysom are kinda looking at each other like, is it me? Or is it you? And—
Brees interrupted: "Rock, paper, scissors."
There's Brees, finishing Payton's sentence.
---
Gameday. All I can think of waiting for this to kick off is I hope this poor Sidney Jones doesn't get steamrolled. How the story lines from Saturday night played out on Sunday afternoon:
• 22 lasted 22 plays. Jones went out with a hamstring injury again. When he was in, he wasn't good. On the first snap of the game, as promised, Mark Ingram, with a 35-pound edge on Jones, headed through the right side of the line right at Jones. Ingram blew through an arm tackle and rumbled for 38 yards. Saints settled for a field goal.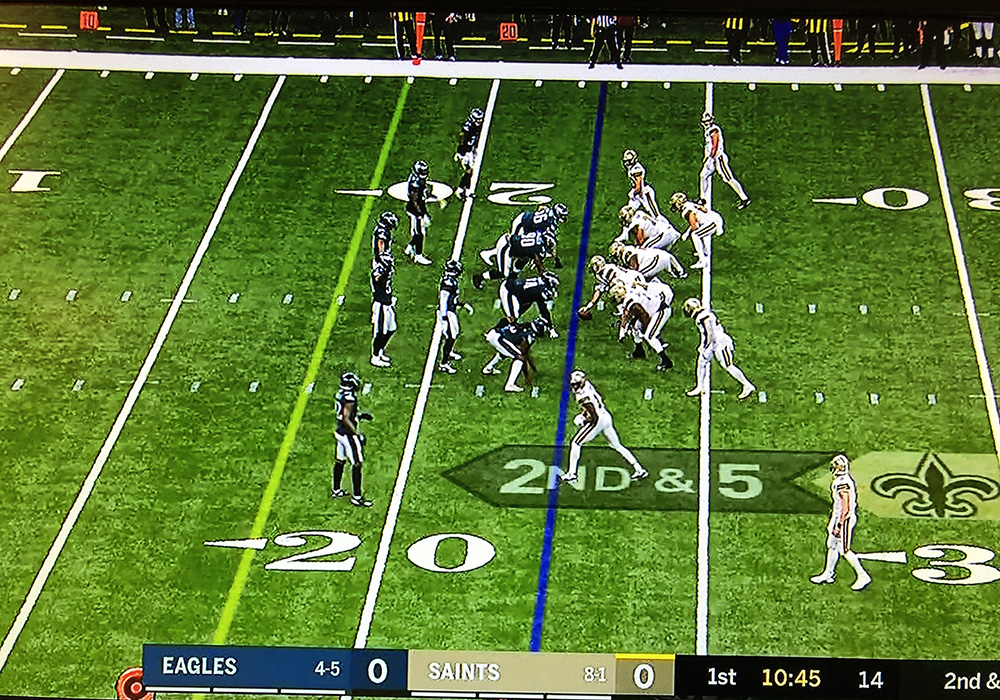 • The no-QB offense. Five plays after Ingram's run, here it came: the double bunch. For four seconds, no quarterback. It wasn't eight Eagles who turned around, confused, wondering what to do. There were three, including Jenkins. No matter. The ballyhooed-inside-the-Saints play busted when Taysom Hill didn't take a wide-enough rush outside. Stalled in traffic. Gain of one.
• Bloodhound 21. Boy, did this one work. It became the first NFL touchdown of Carr's life, and the 510th of Brees' career. On the Saints' second drive, Brees rushed the team to the line, all Eagles weren't totally ready, and, from three yards out, Carr nestled between two Eagle defenders and Brees lasered one to him.
• Gronk. Thomas' first catch of the day was a classic Gronk box-out, pivoting to turn his body away from the defensive back while bodying up the defender on a 30-yard gain. In the third quarter, Brees called the play, and it might have worked … except for a defensive holding call that put the ball at the Eagle 1. Ingram ran it in from there.
• Adjusting on the fly. "I've never seen the Eagles play as much man," Payton said after the game. With significant doubling of Alvin Kamara and Thomas, Brees had to go to his four least-experienced pass-catchers more than he's planned. Four receivers—Carr, Tre'quan Smith, Dan Arnold and Keith Kirkwood, who entered the game with 25 NFL catches combined—caught 16 passes for 218 yards and two touchdowns. I told Payton the combined numbers after the game, and he cackled in glee. "Sean loves that because he's such a football nerd," Carr said. "He's the football equivalent of a coder."
Moral of the Week 11 story in New Orleans: You don't know when a play's going to work and when it's going to bust. Payton will drag out the No-QB look again, and he'll think of something else weird in time for the Thursday-nighter against Atlanta (8:20 p.m. on NBC and the NBC Sports app). We're living in fun times, with coaches like Doug Pederson and Sean McVay and Kyle Shanahan and Matt Nagy and Andy Reid who wake up most mornings wondering what's new under the sun. By the time the sun sets, they've usually found something.
"The ideas can be good, but they have to include a Kamara or a Tyreek Hill," Payton said. Maybe, but this New Orleans team just beat the Super Bowl champs by 41 with four NFL neophytes contributing 218 yards and two touchdowns. That's the genius of Brees' game, helped by the Payton's imagination. The football equivalent of a coder. This is a great time to be alive and to be an NFL fan if you love offense, because there's such a surplus of greatness in the league. But what I love about this league right now was on display Saturday night in some meeting rooms on Canal Street in the French Quarter. Payton wants something new, and he wants it now, and when he finds it, he can be pretty sure Brees is going to execute it like he has Payton's brain in his head. Which he nearly does.
When we last left Indianapolis, in the middle of October, it was already wait-till-next-year time in Indiana. The Colts were 1-5, they'd just given up 42 points to the abysmal Jets, the rest of the year was going to be target practice for Andrew Luck so he (and the franchise) could feel better about 2019. But they've won four straight (by an average of 19.3 points), and they totally undressed one of the league's hot teams, Tennessee, 38-10 Sunday in Indy.
In the last four games, the Colts are scoring 36.5 points a game (only the Saints have been more explosive over that time), and Luck, a punching bag when he last played in 2016, has not been sacked. The turn of events has been so stunning that Reich, when this rout was over Sunday, walked into his office at Lucas Oil Stadium, closed the door, sat quietly and found himself near tears.
This is why: A year ago, Reich, then 56, was the offensive coordinator in Philadelphia and thought there was a good chance that his dream of being an NFL head coach would never happen. When all the head-coaching jobs for 2018 got scarfed up by the middle of January, Reich thought he'd have to wait (at least) another year. But then the Eagles went on their Super Bowl run, Josh McDaniels told the Colts he was staying in New England two days after the Super Bowl, Reich got interviewed, and Indianapolis chose him as coach. And wouldn't you be emotional if circumstances finally turned in your favor and you got the job of your dreams, and you had a franchise quarterback playing like one?
That's why Reich was overcome Sunday.
"Sitting there," he told me from Indianapolis after the game, "I was overwhelmed with gratitude. I was so emotional. I really connect with this place and these people and this quarterback, and I just thought how great it was that it worked out that I'm here."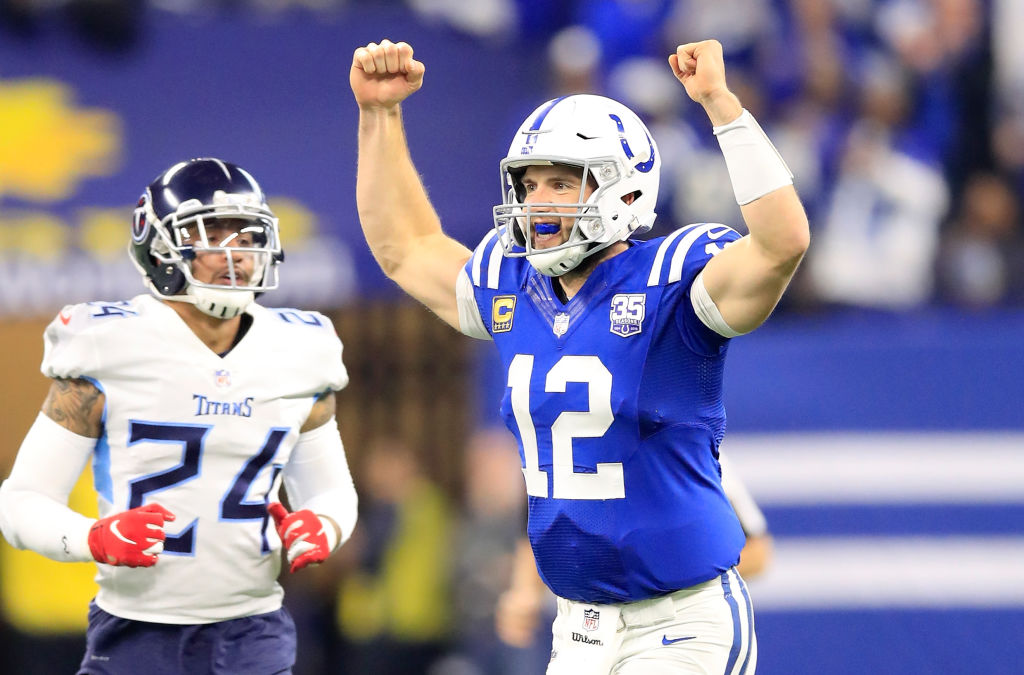 Luck's a 67-percent passer under Reich, with seven straight games of at least three touchdown throws. Something Reich learned from Doug Pederson in Philadelphia last year is to run a democratic process—to listen to your coaches and to your quarterback about what works best. Collaborating with Luck has been easy. "He's got a level of tenacity in every part of his preparation that's special," Reich said. Also, it's pretty important to run for 200 yards a game, which the Colts have done three straight weeks now.
One of the things Reich has stressed with his team is the ethos of incremental gains. Some call that getting one percent better every day. That's a Reich mantra. Winning games makes players believe in that. Getting to 5-5 makes them believe they're progressing. As did this piece of imagery he created for his team after the game: "I told them we've climbed out of the deep hole, but now we've got a mountain to climb. We got a long way to go." At least now the Colts can see where they're going.
Normally, the 9-1 Chiefs at the 9-1 Rams would be the game of the year—it probably still is—and we'd be celebrating it breathlessly. And we still may, in the hours before the game; I'll help in a moment. But two things have overshadowed it.
Moving the game out of Mexico City makes the NFL look like a bunch of slightly progressive pikers. "Pikers" because how can the league take a game that we've all known would be hugely attractive since it was announced on Jan. 31—two defending division champs with brainy offensive minds—and not properly supervise field conditions in the weeks leading up to the game 10 months later? It's inexcusable. If the field was in trouble a month ago, which apparently it was, why didn't the NFL throw its weight around then and insist on a new surface or tell officials there the game wouldn't stay in Mexico? "Slightly progressive" because they did the right thing after all and moved the game instead of trying to force the players to play there—which, I am told by a player leader from one of the teams, they would not have done. And what a scene that would have been, players boycotting the Game of the Year.
The Rams are playing for a wide swath of southern California. They will remember tonight the families of those murdered in the Nov. 7 massacre at the nightclub four miles from their facility in Thousand Oaks, Calif., and for the police officer murdered in that tragedy, and also the first responders and those impacted by the fires that got as close to three miles from their facility and forced 90 Rams employees and family to evacuate their homes. Tonight, coaches and staff from both teams, instead of wearing Rams and Chiefs hats on the sidelines, will wear hats from local fire and rescue departments; all jerseys from the game, plus the hats, will be auctioned off to raise money for the victims. ESPN will show the anthem and the emotional pregame observances. The Rams have given away about 4,000 tickets to public servants and victims of the tragedies, and their players have gone the extra mile. Andrew Whitworth of the Rams gave his suite to the game to first responders, one of several donations made by players to reach out.
It's going to be emotional night at the Coliseum. And there will be fans. Because this game was not on the team's home schedule, they began selling tickets late Tuesday night, and in just a few days, they sold about 71,000 tickets. So along with the 4,000 donated ones, there should be roughly the same crowd as attended the red-hot Packers-Rams game at the Coliseum three weeks ago (75,822).
Now for the game. This is just a hunch, because nothing will surprise me in this game, not even a little defense being played. But in a game of tremendous offensive weapons—for both teams at quarterback, for both teams at running back, for both teams at wide receiver—the one player who I think has the best chance to be the game-breaker is Tyreek Hill. There is simply no player like him in football right now. I was in Kansas City last Sunday, and it took Hill (and Patrick Mahomes) 52 seconds to produce a touchdown against a secondary flailing to keep up with this freak of nature. Patrick Mahomes to Hill down the left side for 38 yards on the first play of the game. Mahomes incomplete to Hill. Then Mahomes to Hill, who ran past his man and had the corner pointing at the late safety, for a 37-yard touchdown. By the end of this game, my gut feeling is Rams defensive coordinator Wade Phillips will really be missing Aqib Talib.
On Saturday, talking to Sean Payton during my time with the Saints, I mentioned to him that I'd been in Kansas City last Sunday, and I didn't think there was a player like Hill in football. Payton smiled and nodded, and looked around to find Drew Brees.
"Hey Drew, tell Peter who's the most dangerous player in football right now," Payton said.
"Tyreek Hill," Brees said.
Payton beamed and nodded.
It's dangerous to predict which of the intergalactic talents will most influence this game. Todd Gurley is such a touchdown machine that he could more than make up for the loss of Cooper Kupp in offensive production. Patrick Mahomes could get on fire, and with the way Andy Reid spreads the field (his widest-split receivers line up so close to the white-striped boundary that I swear one time they're going to start a play with a foot out of bounds), an accurate Mahomes could strafe the Rams for 350 yards or more. I'm just excited that it's going to be a game played on a good field, on a 60-degreee evening with just a puff of wind, and we can judge two superb teams going head to head on fairly equal footing, with each missing a good receiver, Sammy Watkins (Chiefs) and Cooper Kupp (Rams). Bring on the spectacle, and the game. (For my prediction, scroll down to the Monday, Monday section.)
Much folderol about the Packers' decision that may have cost them the game at Seattle on Thursday night. I want to focus on it here analytically, because coach Mike McCarthy said after the game, in making the decision he did, that "we played the numbers."
The situation: Green Bay, down 27-24 with 4:20 to play in the fourth quarter, had a 4th-and-2 at its 33-yard line, with one timeout left. Key defenders Kenny Clark and Mike Daniels were out with injuries. McCarthy decided to punt.
McCarthy doubled down Friday, back in Green Bay. "Three-and-out there, I think, puts us right about the two-minute [warning]," he said. "I have great confidence in our two-minute offense, especially with Aaron … It's a solid decision."
I asked the analytics pros at Pro Football Focus on Friday to run their numbers for me, and for their opinion on the McCarthy call.
"It's very difficult for me to conceive of a sound mathematical process that concludes punting was the right decision here," said George Chahrouri, the director of research and development for PFF.
According to the PFF numbers:
• Green Bay's chance of converting on 4th-and-2: 60 percent.
• Green Bay's chance of winning after punting: 21 percent.
• Green Bay's chance of winning after converting the fourth down: 38 percent.
• Green Bay's chance of winning if they don't convert the fourth down: 20 percent.
Translated, the PFF numbers say the Packers would convert fourth-and-two six out of 10 times, and the number say if they convert, they'd have nearly 4 in 10 chance to win the game. But a punt there, per PFF, gives Green Bay a 2 in 10 chance of winning.
Extrapolating further: If Green Bay punts, Seattle likely needs two first downs to run out the clock.
If the Packers go for it and make it, Aaron Rodgers needs to go about 60 yards in four minutes to score the go-ahead touchdown—or about 40 yards to try a field goal to tie. If they fail to make it, and they hold Seattle on its possession, a Sebastian Janikowski field goal (no sure thing) would give Seattle a 30-24 lead—and would give Rodgers the ball back, needing to go the length of the field in, say, two minutes for the win.
With a defense that allowed 77 and 75-yard drives on Seattle's previous two possessions, and with a defense playing without two of its best players on the front seven, McCarthy—seriously—might want to examine how he calculates whether to go for it or punt in that case. It's odd to put the burden on a faltering defense to stop Seattle, instead of putting the burden on Rodgers to make a manageable fourth-and-two. Neither "the numbers" nor common sense seems to back up McCarthy. However, this losing is not all McCarthy's fault. In Seattle, Rodgers made some exquisite throws in the game, but his worm-burner incompletion on what should have been an easy third-and-two play forced the fourth-and-two decision. Mason Crosby missed his seventh kick in seven games, a 47-yarder wide left early in the game, that factored late.
McCarthy and staff have done a good job getting unknown young running backs and receivers up to speed this year. It's not all bad, certainly. But the Packers just feel like a team going in the wrong direction. And with a quarterback as good as Rodgers, club president Mark Murphy and GM Brian Gutekunst have to decide whether a team that's stumbled with and without Rodgers in the lineup needs a coaching change and a fresh voice in 2019.
Former Dallas Cowboys linebacker Jeff Rohrer, 59, who recently came out as gay and was scheduled to get married to Joshua Ross on Sunday in Los Angeles, on what the experience of coming out late in life (to the New York Times and Outsports) has taught him:
Note: Rohrer was the Cowboys' second-round pick in 1982, out of Yale, and played 83 games over six seasons with the Cowboys. In 1987, when the Cowboys swept the Super Bowl champion Giants, Rohrer had a sack of Phil Simms in both games, per Pro Football Reference.
"Wow. What have I learned? A lot of things. The one big thing I learned recently that maybe I didn't know is that if you're a good person, and you have had good relationships with people, and you've treated people with respect, you're going to get that back. That is what has happened to me, and it's been wonderful.
"How incredibly nice my friends and teammates have been to me! I don't deserve it!"
[Over the phone from Califormia, Rohrer got emotional and began crying.]
"My high school friends, my Yale friends, my Cowboys teammates, my friends from the film business in California, it's because of the press this week that they found out. No one knew before that. I didn't tell anyone. It is shocking how well everyone has reacted to me. They're saying, We're so happy for you—so happy for your family, and we can't wait to meet Josh. Things like that. I've had like 150 texts, and I've got it down to 30, but more keep coming.
"The world is a great place today.
"You know what I learned from it? We are moving forward as a society. The train has left the station, and you can either be on that train and move forward, or you can sit at the station. Your choice.
"It's hard for anyone to understand what it was like for me growing up, and in the NFL. Now that I'm out, I know that you're either born gay or you're not. And when I was growing up, it simply couldn't be a part of my life. I was a scholar-athlete in high school, and being gay did not fit into that profile. I was a scholar-athlete at Yale, and it did not fit into that profile. I was a Cowboy, and it didn't fit into that profile.
"My life was suppressed and managed. So, I got drafted by the Dallas Cowboys and I'm gonna be gay now? No. I don't think so. Not with the Dallas Cowboys in 1982.
"My life just went on. I was gay, but that was not a part of who I was then. I got married. I loved my wife [Heather]. Still do, even though we are divorced. I still live with my ex-wife and my two kids and Joshua. We're the happiest family ever. We've got the happiest house in town.
"And now I'm gonna be who I am. I am so happy. I'm not Jekyll and Hyde anymore. I'm not the monster.
"So … what would I say to young people who might be in my shoes today? I would say, everybody has their own situation, their own clock, their own calendar. Some people today might say, 'It's better now. Come out tomorrow.' For some people that's the right thing; you're happy and you're free. But people have to make their own decision. It's a very personal decision. Ultimately, it's taking me most of life, 59 years, to make this choice. But I can't make it for anyone else."
"You played for Tom Landry—the only coach you had in your NFL career. What would he have thought about you today?"
"Tom Landry was one of the most amazing people I've ever had in my life. He was all about love and understanding with his players. I loved Tom Landry. He was a man of the Bible, and a good Christian man. So he probably wouldn't have liked this. But I think he would have loved me no matter what."
Alan Page: What a Life
30
Two Pro Football Hall of Famers received the highest honor a U.S. citizen can get, the Presidential Medal of Freedom, from President Trump. Dallas quarterback Roger Staubach and Alan Page, the defensive tackle who played for Minnesota and Chicago, had the medals fastened around their necks in a White House ceremony Friday. Not to deflect any praise from Staubach—who has had an incredible and selfless life of achievement and service—but I think Page is far less known nationally than Staubach. Page is a player, and more notably a man, who should be a beacon for all future players to study and appreciate.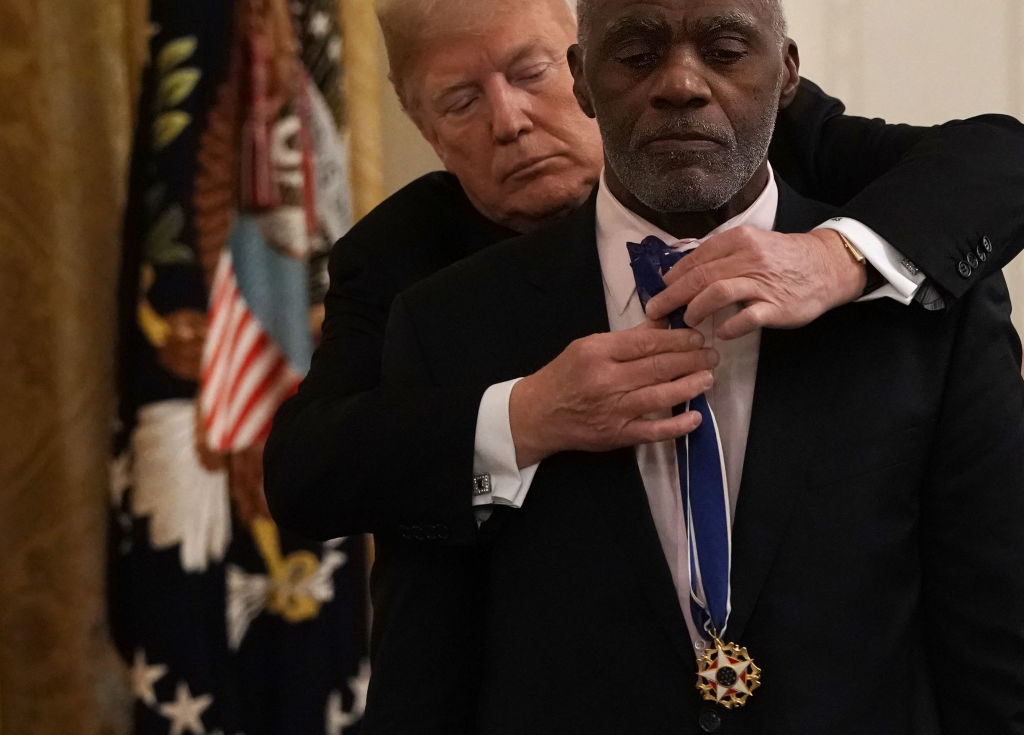 Playing 15 seasons, from 1967 to 1981, Page never missed a game. In 1971, he became the first of only two defensive players to win Most Valuable Player. In 1976, Page had 18 sacks, rushing almost exclusively in traffic from the inside. In the 70s, he became the first active NFL player (it is believed) to run a marathon; he loved running so much that his weight dropped to 225 pounds and was a major factor in the Viking releasing him—he wouldn't quit running, and Minnesota didn't think a modern defensive tackle could play so light. The Bears disagreed, and Page still had some good days in Chicago. In his last NFL game, in December 1981, he sacked Denver quarterbacks three-and-a-half times.
Page fought for rights of players as a key member of the NFL Players Association. He passed the bar and began to practice law late in his career. In 1992, he was elected a justice to the Minnesota Supreme Court, and re-elected to three additional six-year terms.
Over 30 years, the Page Education Foundation he founded with wife Diane Sims Page helped provide more than $14 million in scholarship money to 7,000 Minnesota students of color; in exchange, the recipients had to perform community service. Later in life, he took joy in serenading runners in the Twin Cities Marathon by playing a tuba along the route … which caused scores of runners to stop, whip out cell phones, and take mid-race selfies with the most respected man in Minnesota.
Page has been critical of Trump's politics, but wouldn't engage in that when he went to Washington last week. "We live in a time when people would like to shed more heat than light," he told the Minneapolis Star Tribune, "and I am more interested in shedding light."
That is a life incredibly lived.
Offensive Players of the Week
Ezekiel Elliott, running back, Dallas. What a stat line for Elliott—23 rushes, 122 yards, 1 touchdown; 7 catches, 79 yards—in a crucial win for the Cowboys, who now sit just one game back in the NFC East race. And Elliott's impact wasn't just when he touched the ball either; his block on a Michael Gallup 10-yard reception in the final drive helped Dallas convert a key third down. Elliott now has four games with 200-plus yards from scrimmage, which ties him with Emmitt Smith and DeMarco Murray for most in franchise history.
Lamar Jackson, quarterback, Baltimore. Hey rook. We know you went to the hospital with a stomach ailment on Thursday, but would you mind making your first career start Sunday? Against a team that hates us? Oh, and stop a three-game losing streak too? That was what was facing Jackson as he stepped in for injured Joe Flacco (hip) and started Sunday's game against the Bengals. Jackson set a single-game record for a Ravens QB with 117 rushing yards, tacked on 150 yards in the air on 13-of-19 passing and simply played "winning football," according to coach John Harbaugh. He also kept Baltimore's feeble playoff hopes alive for another week.
Defensive Players of the Week
Kyler Fackrell, linebacker, Green Bay. It's fashionable to trash Ted Thompson for his last few drafts and for his lax free-agency history, but he did replenish a few slots on defense, including this third-round pick from Utah State. Fackrell had three sacks of Russell Wilson in the 27-24 loss in Seattle, and it should have been four. Wilson, millimeters from being tackled by Fackrell in the second half, had a borderline intentional-grounding on a throwaway that easily could been called for being down or grounding. Fackrell's game was still a gem.
Khalil Mack, game wrecker, Chicago. I've lost count how many times we've lauded Mack in this space this season. The ex-Raider was at it again Sunday night against Minnesota, registering a sack, a tackle for loss, a fumble recovery and just being a flat-out difference maker every time the Bears defense was on the field.
Von Miller, pass rusher, Denver. He made the biggest play in the Broncos' come-from-behind win over the Chargers in Los Angeles on Sunday. With the Broncos down 12 in the third quarter, Miller smartly sniffed out a screen pass and returned it 42 yards to the Chargers' 18-yard line. Denver's offense woke up after that and the team pulled off the upset.
Special Teams Player of the Week
Anthony Myers, sophomore punt-returner, Berks Catholic (Reading, Pa.) High School. After being diagnosed with a stage 3 malignant brain tumor Oct. 22, Myers got permission from his doctor last week to play in a Pennsylvania state playoff game Saturday against Milton Hershey High. Myers is an all-purpose weapon with a Christian McCaffrey body type, a college prospect capable of breaking games open even at 16. In the first quarter, he took a Jet Sweep pitch from the quarterback and scored from a yard out. Later in the quarter, lined up at his 20 to receive a punt, Myers took a low punt, broke right, sprinted down the right sideline, cut back and scored on an 80-yard punt return to give the Saints a commanding lead.
The crowd went crazy, knowing what is on the line for the young Myers. Berks Catholic won the game, and, just like in the movies, Myers was carried off the field after the game on the shoulders of teammates. Afterward, talking to local sportswriter Bruce Badgley, Myers spoke like someone five times his age. "You never know when the last snap is going to be," he said. "I was just playing my heart out every single snap."
Funds are being raised for Myers' treatment, in the form of a GoFundMe page and T-shirt sales.
And Saturday night, from one Saint to another, Sean Payton delivered this message to Myers:
Coach of the Week
Sean Payton, head coach, New Orleans. See the lead section.
Goat of the Week
Mike McCarthy, coach, Green Bay. Much blame to go around for the Packers, with Aaron Rodgers starting all 10 games, being 4-5-1 at Thanksgiving, heading into a very tough Sunday-nighter at Minnesota. But McCarthy needs to take his piece of responsibility after the 27-24 loss to Seattle, in part because of what I wrote earlier about his decision to punt, down three, on fourth-and-two with 4:20 left at the Green Bay 33. In a larger sense, Green Bay lost all three road games (Rams, Pats, Seahawks) in this crucial run of play that ends next Sunday night at Minnesota with crummy fourth quarters of competitive games—any of which the Packers could have won. Green Bay is 0-5 on the road for the first time since 1979, and with Aaron Rodgers starting every game.
Cam Newton, quarterback, Carolina. Newton did have a good game (357 passing yards, three touchdowns), but his mistake on the two-point conversion pass with the game in the balance is the difference between Carolina being 7-3 or being 6-4 today. And they're 6-4 because Newton threw the two-point pass way over the head of a wide-open Jarius Wright in the end zone.
I
"It's not the first time. I doubt it will be the last time."
—Raiders quarterback Derek Carr, on his sideline spat with coach Jon Gruden, during Sunday's game against the Cardinals. Coach and QB were visibly upset with each other after Carr was penalized for trying to call back-to-back timeouts. Both Carr and Gruden downplayed the confrontation after the game, which Oakland won to improve to 2-8 on the season.
II
"I think Russell Wilson would be a good life coach."
—FOX's Joe Buck, in the third quarter of the Green Bay-Seattle game.
I think he is already.
III
"He is putting Father Time in a chokehold and giving it a noogie."
—Kay Adams of NFL Network's "Good Morning Football," on 35-year-old Dolphins running back Frank Gore.
IV
"We just went in and yelled at each other."
—Seattle coach Pete Carroll, asked what the Seahawks coaches and players, trailing to Green Bay, did in their locker room at halftime on Thursday night.
V
"If I had told the Dallas Cowboys in the 1980s that I was gay, I would have been cut immediately. It was a different world back then. People didn't want to hear that."
—Jeff Rohrer, the Cowboys' second-round pick in 1982, a linebacker, to the New York Times' Vincent M. Mallozzi. Rohrer, 59, came out in recent days to the Times, and to Cyd Ziegler of Outsports.
With two big candidates on the field tonight in Los Angeles, here's my week-11 MVP ballot:
1. Drew Brees, QB, New Orleans. Last week: 1. The absurd greatness of the soon-to-be-40 Brees continued Sunday, when he put up 48 points in the first 53 minutes of the rout of the Eagles. He was 22 of 30 (.733) for four TDs and a no picks and a 153.2 rating … and his 2018 completion rate decreased.
2. Patrick Mahomes, QB, Kansas City. Last week: 2. If Mahomes throws 57 touchdown passes (he needs only 26 in his last six games; a cinch, obviously), I have a feeling I know what else he'll win besides a lifetime supply of ketchup.
3. Todd Gurley, RB, L.A. Rams. Last week: 4. Easily could move up on this list. And by the way, you think he's happy Sean McVay got the Rams job in 2017? In Gurley's 25 games with McVay running the offense, the Rams runner is averaging 139.3 scrimmage yards a game, and he's scored 39 touchdowns. Thirty-nine TDs, 25 games. That's pretty good.
4. Ben Roethlisberger, QB, Pittsburgh. Last week: 5. Revenge (over the Jags) is sweet, and he was superb in the fourth quarter when great players win big games.
5. Philip Rivers, QB, L.A. Chargers. Last week: 3. Bad loss to Denver at home, obviously, and Rivers did not play to his level. But he's gotten the Chargers to a Patriot-like 7-3 record entering the last six weeks.
Green Bay's regular-season record since Christmas Day 2015: 21-22-1.
Aaron Rodgers has started 35 of the 44 games. The Packers are 18-16-1 in the games he's started in that period.
I
Rams receiver Cooper Kupp had surgery in Los Angeles last week to repair a torn ACL. His surgeon was noted orthopedist Dr. Neal S. ElAttrache. Kupp, wife Anna and their son, displaced by the wildfire near the Rams practice facility in Thousand Oaks, Calif., needed a place to stay. Their new host, for a while: Dr. Neal S. ElAttrache, who has opened his home to the Kupps.
II
In his two post-game TV interviews (with FOX and NFL Network) totaling 10 minutes and 15 seconds, after Seattle beat Green Bay on Thursday, Russell Wilson used the phrase "stay the course" seven times and "remain the course" once.
That is called "staying on point" in the quarterbacking business.
III
Syracuse reserve basketball player Buddy Boeheim is the son of Syracuse coach Jim Boeheim.
This is Jim Boeheim's 43rd season coaching Syracuse; he took the job two years after Richard Nixon was impeached. Jim Boeheim was elected to the Basketball Hall of Fame in 2005.
At the Syracuse-UConn game Thursday night at Madison Square Garden, on national TV, the back of the jersey of Jim Boeheim's son read BOHEIM.
In my time in New Orleans last week, I went to dinner one night at a casual seafood-and-gumbo place near the Gleasons' home, Station 6. Ridiculously tasty gumbo, with fat gulf shrimp and blue crab. Paul Varisco, a local restaurateur and Steve Gleason's father-in-law (and his partner in the fight against ALS), told me an incredible piece of foodie news that seemed quite encouraging about the future of the city—or at least restaurants in the city.
He gave me these stats:
• 2005 (pre-Hurricane Katrina)—Greater New Orleans had 465,000 people and 984 restaurants.
• Today—Greater New Orleans has about 395,000 people and just over 1,200 restaurants.
We were out on a Tuesday night, eating early, and this place was 80 percent filled.
"New demographic of people in New Orleans," Paul Varisco said. "Young, millennials, new neighborhoods, a need for restaurants. Plus, food is in our blood. Most people eat to live. Here, we live to eat."
So we've all been wondering: How is it, after years of horrible offensive line play, that the Colts are protecting Andrew Luck so well? Using Pro Football Focus research, the Colts have kept Luck sack-free in four of the last five games because:
• The interior line is significantly better. PFF uses a pure win-loss grade for all linemen on every play; if the lineman keeps the passer clean, he gets a win, and if he allows pressure or a sack, it's a loss. The tackles are actually slightly worse than last year, but the two guards (Quenton Nelson and Mark Glowinski) have been markedly better, as has center Ryan Kelly. On average, they are winning 3.9 percent more … at a 95.9 percent rate.
• Luck is faster on the draw. He's throwing after 2.49 seconds, on average, which is third-fastest in the league through 10 weeks. In 2016, his last season before this year, Luck's average was 2.88, which was 26th in the league.
• Cleaner pockets. This is a combination of the first two factors. In 2018, Luck has had about seven more pass plays per game from a clean pocket than he did in 2016.
Add this up, and you see why Luck, through 10 weeks this year compared to his 2016 season, is seven percent more accurate, with a passer rating 17 points better.
A PFF Elite subscription gives you access to performance metrics the pros use.
I
II
III
IV
How on God's green earth, with everything he did to build the Panthers into a strong NFL franchise, did Jerry Richardson never put an indoor facility, or even a relatively cheap-o bubble, somewhere near his stadium in Charlotte? To say that's a competitive disadvantage is an understatement.
To comment on the column, or to say anything about anything, you can reach me by email.
Blame the NFL for Mexico City. From Louis P.: "It is hard to believe the NFL could have been caught so flat-footed by the poor condition of the field at Estadio Azteca for the Rams-Chiefs game. I have to assume the back-to-back concert and futbol match had been on the calendar for a long time, but there were no preventive steps taken to assure the field would be ready? Good for the players for standing up for themselves; bad for the NFL and its efforts to expand the brand internationally."
Perfectly stated, Louis. Nothing to add here. The NFL dropped the sod on this one.
This is the nicest email of all time. From Peter V.: "I have been reading your column for many years, and each and every Monday morning, I am aghast. I'm 83 years old, and while I am not a Rhodes Scholar, I am also not the Village Idiot. I retired from a profession in which I had to do considerable writing, and for the life of me, I cannot even begin to wrap my mind around the logistics of how you produce that column, ready to go, by a reasonably early hour on Monday morning. The sheer amount of information you provide is staggering. It would take me the better part of a month to produce anything that came close to the providing the quantity of information that you churn out every Monday morning. So, how?"
Peter. Wow. I am so moved by your note. When it's 3:22 a.m. one of these Monday mornings, and I'm drooling on the laptop, wondering how I'm going to invent one last thing I think, I am going to open this email again, and read it. It'll be like a jolt of adrenalin. Thank you. It would be impossible to write this column in a day, so most often I start on Thursday or Friday. Myron Cope, the late Steelers broadcaster, used to call the little tidbits he'd use on the air "shirtpocket notes," things he'd gather during the days prior to him being on air, and then he'd pull out the notes and refer to them when he had the microphone in front of him. So, if I read a good story during the week or come across a smart thing someone said or think of a strong opinion, I'll email it to myself and then throw it in the word salad on Friday or Saturday, when I do maybe 40 to 50 percent of the column. On Sunday, it's usually a race to the finish. It's not Faulkner, but I've never been a wordsmith. Thanks again.
10 Things I Think I Think
20
1. I think these are my quick-hit thoughts of Week 11:
a. If I could choose one quarterback to rally my team, down 10 in the second half, it'd be Russell Wilson. Man, he's the best there is at ignoring what's happened on the last play and making something happen on the next one.
b. Got the feeling, on Jacksonville's first scoring drive of the game against Pittsburgh, that coach Doug Marrone said, "I've had it. We're doing it all my way now." Twelve straight runs. Twelve! Runs of 4, 11, 4, 5, 6, 2, 4, 7, 6, 1, 3, 5. More where that came from.
c. First 25 minutes: 25 runs by the Jags.
d. Awful throw by Marcus Mariota, picked by cornerback Quincy Wilson in Indy, in a surprise. The Titans had gone three straight games without a turnover, and they can't afford those plays.
e. Adrian Peterson had a perfect, young-back's jump-cut on the way to a touchdown around left end against Houston. "That is not the cut of a 33-year-old,'" said Trent Green on CBS.
f. I really hope the Steelers were mostly kidding around and didn't maliciously steal stuff from Le'Veon Bell's locker after his tenure with the team ended last week. Just not cool.
g. Now I heard that most of the stuff taken was just shoes and free stuff delivered to Bell this summer and fall. I suppose I should laugh it off too. Seemed a little creepy. I mean, those are not Bud Dupree's belongings. Why is he taking them?
h. RIP Ron Johnson. My first football hero. The Giants running back came to my hometown, Enfield, Conn., in 1970, on a free fall night during the first 1,000-yard rushing season in New York Giants history, to sign autographs at the mall in my town. To be able to touch and talk to an NFL star was very cool—and teams and players of today should never forget what it's like for 13-year-old kids to press the flesh with guys they look up to.
i. Watch the strength and moves of Kenny Golladay, who ripped an interception out of Panther corner James Bradberry's arms, and what a good all-around running back Kerryon Johnson is, and you understand why the Lions think they've got franchise players at each spot. They're 25 and 21, respectively, by the way.
j. The Cowboys drive 85 yards on their first drive of the game, and Dak Prescott throws a perfect ball on a simple out route to Cole Beasley, and he drops the easiest target he'll have all year. And the Cowboys settle for three. Can't drop those, Cole.
k. Malcolm Butler's not worth the money. I do not say that lightly, or without evidence.
l. Andrew Luck to off-the-street wideout Zach Pascal, with a perfect back-shoulder completion … Luck, with the 68-yard deep strike to T.Y. Hilton, which traveled 49 yards in the air (and he was supposed to be restricted by a shaky arm). Luck looks so good right now.
m. Perfect pass defensed by Julio Jones in Atlanta, breaking up what would have been a clean pick by Cowboys safety Jeff Heath. Jones even broke it by 2018 NFL preference, keeping his head out of the play and hitting Heath with all shoulder.
n. For such an accurate passer, Russell Wilson overthrowing a wide-open Doug Baldwin in the end zone—lasering the ball a good six feet over his head—was a stunning misfire against the Pack.
o. I'd say he made up for it.
p. What an unaware play by rookie safety Raven Greene of the Packers, gifting the Seahawks a 48-yard pass-interference penalty by plowing into Tyler Lockett like a bull seeing a red flag. Man, who taught Greene how to defend the deep ball?
q. Terrelle Pryor has been dropped (or not been pursued when his contract expired) by eight teams since the start of 2014, now that his two-week trial in Buffalo imploded and he got cut there. Amazing. Oakland, Seattle, Kansas City, Cincinnati, Cleveland, Washington, New York Jets, Buffalo. Next: Calgary Stampeders.
2. I think I am sick for Alex Smith. Any injury is awful. A serious injury—Smith suffered two broken leg bones when sacked against Houston on Sunday—to such a selfless player and person just feels worse.
3. I think Adam Schefter is eminently trustworthy, which is why I am fairly sure there was something to his report Sunday that the Browns may be interested in interviewing former Secretary of State Condoleeza Rice for their head-coaching job. Notice the wording there: interested in interviewing. Schefter wrote the Browns "would like to interview" Rice. He did not write, the Browns "would like to hire" Rice. Why would Cleveland want to do this—if indeed the Browns ever did? I am reminded of an old Al Davis story. When I asked someone in the Raider organization once about Davis' tendency to talk to six or eight people every time he had a coaching opening (and to do long, painstaking interviews), he told me Davis loved milking information and ideas from smart people in football, sometimes in the guise of being interested in hiring them. My biggest problem with the concept is, as Rice admitted in a statement Sunday, she is "not ready to coach." Right. The idea of her being anything other than a consultant-type interview is asinine. Let's let a cadre of women who love football make their way in it.
4. I think you'll see me on TV Thursday night, if you wish, at halftime of Falcons-Saints doing a story on former Saints special-teamer Steve Gleason, who has ALS. My story is about his drive to raise money for the Answer ALS cause, which seeks to pool all ALS research information and raise money, while being a dad and husband. Eight years after he was diagnosed, Gleason and wife Michel had their second child, Gray, to go with seven-year-old son Rivers, with the help of a frozen embryo and … well, let Michel tell it: "We had this one embryo left and I knew I was about to turn 40, and so we talked about it, and I wanted to be able to look Rivers in the eye when he got older and say, 'I did everything I could to be able to give you a sibling.' That's how important I think siblings are." You'll see the story of a determined man and his family Thursday evening. A quick video teaser:
5. I think, as you may recall by reading this column over the years, I despise the spot foul on defensive pass interference. It's unfair to be able to have a 48-yard penalty on the defense when the receiver and corner are jousting for the ball, compared to a max of 10 yards for an offensive pass-interference infraction. It's beyond stupid. It's flat-out unfair. But I digress.
There's another call I detest. That's the call when, on a kickoff or punt, a ticky-tack hold or block in the back that wouldn't have ended the play negates the entirety of the play. Case in point: Thursday night, Trevor Davis had a kick return of 53 yards for Green Bay, to the Seattle 47. Negated. The officials called a hold on Green Bay linebacker Korey Toomer. The replay showed Toomer with his hands on the outside shoulders of Jacob Martin, the Packer linebacker he was blocking. Was Toomer holding Martin? Hard to see, but I saw no jersey tugging, and it didn't appear to be a hold. But this is the issue: Martin had zero chance to make the play on Trevor Davis.Martin was five yards away from the play as Davis sped through a big hole; Martin could not have impacted the play. It's just crazy that because of the ticky-tackiest of penalties, the Packers started that drive at their 10-yard line (after the penalty is assessed) instead of the Seattle 47. That's a 43-yard difference because of a penalty that might not have been a penalty, on a man who could not have made a difference in the outcome of the play. Lord, help us all on this over-officious officiating.
6. I think the final scorecard on guard T.J. Lang—assuming he is cut after his second straight injury-marred season in Detroit, instead of the Lions picking up his 2019 salary of $9 million—will be this: 19 games played, $19.5 million earned. Not bad for a guard, making a million a game. (Lang allowed but two sacks in those 19 games, per Pro Football Focus.) Not blaming Lang, 31, at all for missing so much time and being put on IR Wednesday by the Lions. But Packers GM Ted Thompson gambled the team would be okay without Lang's weight on the team's salary cap, and he gambled right, as it turned out.
7. I think I am going to give you a little timeline here, and then I am going to ask you if can possibly understand why an extraordinarily smart man did this:
• Thursday, Nov. 15—With snow covering the Detroit Lions' practice field in Allen Park, Mich., coach Matt Patricia, in shorts on a 34-degree day, puts the Lions through their normal Thursday practice.
• Sunday, Nov. 18—Lions play Carolina indoors, at Ford Field.
• Thursday, Nov. 22—Lions play Chicago indoors, at Ford Field.
• Sunday, Dec. 2—Lions play the Rams indoors, at Ford Field.
• Sunday, Dec. 9—Lions play Arizona, likely indoors (and if not indoors, under a retractable roof on a nice day), in Glendale, Ariz.
• Sunday, Dec. 16—Lions play Buffalo, outdoors, in Orchard Park, N.Y.
So, 31 days after practicing in foul weather, and 31 days after letting the team's $40-million indoor facility sit idle, and after playing four consecutive games in temperate conditions, the Lions will play a football game in what could well be wintry conditions in western New York. It is well known that Patricia was an aeronautical engineering major at the brainy Rensselaer Polytechnic Institute, and served on the Patriots staff under Bill Belichick. I am sort of struggling with why any coach would do what he did.
8. I think I can give one idea about Patricia's move, and that comes from four years covering Bill Parcells in the eighties, and then three decades of covering the league as a whole … and I pass this along not to say I think it's true, or that it's good or right, but only to suggest that some coaches feel a need to do this early in their tenures. Sometimes coaches do things not because a particular decision is the best thing for today, but it's best for the long haul. Patricia inherited a franchise that hadn't won a playoff game in 27 years. Maybe Patricia feels he wasn't getting the buy-in from players he wanted. Maybe he feels he needs to show players, Your way hasn't worked here in years, and we're going to try my way, and part of my way is to toughen up and for you to follow the leader. Whatever, I have a feeling this is more than just a coach calling an apparently silly outdoor practice in the snow.
9. I think it will be downright ridiculous to pick only two wideouts this year on the AP All-Pro team. I mean, how do you do that? How do you pick, say, DeAndre Hopkins and Tyreek Hill, and then leave off Michael Thomas (Michael Thomas!) and Adam Thielen (Adam Thielen!) and Julio Jones and Brandin Cooks and Davante Adams? And Odell Beckham Jr., who can explode any week? It's nuts. I'd probably go Hill and Thomas as we speak, but I'd feel absolutely sick to not pick Thielen, and slightly less sick to leave off Hopkins. The Associated Press, curator of the team, has added a Flex position on the team, which is a good idea. But in the day when 70 percent of the game is played with three wides or more, I would recommend three wides on all-pro teams, and five defensive backs as well.
10. I think these are my other thoughts of the week:
a. Newspaper Video Story of the Week: Valuable work from the Sacramento Bee, showing what it's like to sift through the wreckage of the fires in Butte County, where an entire town, Paradise, was lost to the inferno.
b. Lord help those in northern California.
c. Scariest thing of all: One local official tells the Washington Post that it is "certainly within the realm of possibility that we will never know" how many people were killed in the blaze.
d. Inspirational Story of the Week: by Walter Ford of The Union, In Nevada County, Calif., on one high school volleyball team doing an extraordinary act of kindness for another in the path of the Camp Fire.
e. Idea of the Week: From GQ, on the value of being bored. A really smart piece, quoting Manoush Zomorodi of the New York Public Radio podcast "Note To Self" thusly: "I learned this really amazing thing that actually when you get bored and you're not focused on an activity but you're either lounging or you're folding socks—something super repetitive that doesn't need your brain to be engaged—that's when you ignite this network in your brain called the default mode. Now neuroscientists know that the default mode is when you do your most original thinking. You do your problem-solving. It's where you have imagination, where you have empathy. Your mind does something that's kind of like time traveling. You go back and you think of things that happened and you make sense of them and then you extract lessons from them."
f. In other worlds, screen time 24/7 (of, if you actually sleep, then 17/7) wipes out your imagination.
g. Column of the Week: from a trauma surgeon in Maryland, Jacques Mather, writing in the Washington Post: "To the mother whose son I couldn't save." An emotional piece that, no matter how you feel about firearms and their place in our society, I strongly recommend.
h. Mather writes: "When a life is lost, I alone must corral parents and siblings into a private room to inflict the last salvo. The bullet destroyed your son's life; my words will destroy yours. Our gazes locked together in that private room, and I watched the hope disappear from your eyes as your son's demise became your new reality. The sadness filled the shrinking room as though I were watching an explosion with the sound muted. You sat still while others in the room yelled and cried. And then you said something under your breath — a whisper in the mayhem: 'How many more?' The last three words were left unsaid: ' . . . have to die.' These words are what prompted this letter."
i. Newspaper Story of the Week: from Emily Lane of the New Orleans Times-Picayune, regarding a supposed bomb threat in the city. A passage: "A man accused of threatening to blow up Willie's Chicken Shack Tuesday night (Nov. 13) claimed to police when confronted about the allegation that his words were merely a reference to a bowel movement, the man's warrant states. Arthur Posey, 30, was booked on charges in connection to a bomb threat after his story was not corroborated with the restaurant's employees … Posey claimed to the officer he told a male employee he was going to 'blow the bathroom up,' in reference to a bowel movement.' However, police say a Willie's Chicken Shack employee told officers, 'Mr. Posey never told him anything about a bathroom.' "
j. My only question: Did Emily Lane write that story doubled over in laughter?
k. UConn's going to have a good men's basketball team. The new coach, Danny Hurley, obviously coaches defense. I watched 10 minutes of UConn-Syracuse, and that's all you need to see to know that if you don't play D, you're not playing for Danny Hurley.
l. Kyrie Irving the basketball player reminds me of Le'Veon Bell the football player. Patient. Really good.
m. I'm not a big basketball guy, but watching Kawhi Leonard of the Raptors and Irving of the Celtics duel is a lot of fun.
n. Congrats, Mike Greenberg and Mike Golic, on the "Mike and Mike" election to the Radio Hall of Fame. You guys got the job done, for a very long time.
o. Coffeenerdness: Quite pleased with your drip coffee, PJ's of New Orleans airport, a strong brew, and just as pleased with the quality of your servers.
p. Beernerdness: Lucky enough to sample Canebrake Louisiana Wheat Ale (Parish Brewing Company, Broussard, La.), and I strongly recommend if you see it somewhere on the Gulf Coast. Delicious, refreshing, sort of sweet (from Louisiana sugarcane, the brewery says), with a touch of citrus. Outstanding beer.
q. Fantastic 39-year run at William & Mary, Jimmye Laycock. He coached Mike Tomlin and Sean McDermott, and McDermott and Dan Quinn both coached on his William & Mary staff. Saturday's finale: a 10-0 loss to Richmond.
r. If you'd told me that Maryland scored 51 points, I'd have responded, "This season?"
s. Mookie Betts just finished a year when he was American League MVP, World Series champion, American League batting champion, American League Gold Glove right fielder, American League Silver Slugger outfielder. He led the major leagues in slugging percentage. He led the American League in extra-base hits despite missing 26 games. He made one of the throws of the year, gunning down Tony Kemp of the Astros trying to stretch a single into a double (looked like it would be an easy make for the speedy Kemp) with a 140-foot laser to second base. He had the highest WAR of any player since 2002. He is 26. He seems Mike Trout-humble. What a future he has.
t. That Elton John holiday commercial for John Lewis, the British department store? Wow. Just wow. You must have seen it, but if not, here you go:
u. The look on the little boy's face when he came down the stairs on Christmas morning … that slayed me. Awesome.
v. When I was a kid, I loved Elton John. (Still do.) I was 19 on the day of the Bicentennial, July 4, 1976. It was the summer after my freshman year at Ohio University, and I went with a couple of friends to see Elton John in Foxboro at the old stadium there, Schaefer Stadium. We got there the night before and camped out. What a night. Elton came out dressed as the Statue of Liberty. Late in the show, here came Billie Jean King, and they did a "Philadelphia Freedom" duet. Cool stuff.
w. Finally, congratulations to my friend Branislav Vukojevic on becoming an American citizen Friday in Orange County, Calif. Branislav emigrated from Serbia to New York in 2006, established himself as a personal trainer, and we met at a gym in Manhattan in 2011. We trained together for four-plus years. Focused, intense but friendly, wonderful at his job, and a terrific husband and father. He transferred to an Equinox gym in Irvine, Calif., this fall, and that's where he passed his citizenship test Friday morning.
x. Branislav, on his journey, is something we all should read, because we live in a pretty great country, and part of being great is we're fortunate to be able to add people like Branislav Vukojevic to our citizenry. Sometimes it's good to get that reminder. In his own words:
"I came in 2006 because I felt that Serbia cannot fulfill the ambitions that I have. I used to tell my Mom, 'One day I am going to live in America.' I was a big dreamer. Living here, I understand that everything is in my power. I create my own reality. The U.S. offers me to be the best I can be. When I passed the test and I was a citizen, I took a moment with myself. I am a little teary. I am so grateful.
"It feels amazing. One of the things I am so proud of is I have the right to vote. I can help make a change.
"Here in California, the beaches are paradise. I really have to pinch myself that I live here. I am very grateful. I work hard, and I work with passion because I love my work. This country will reward you even more for your work and your passion. That is why I love America."
Kansas City 37, L.A. Rams 33. Think of this: One of the great NFL games in years was not scheduled for Los Angeles six mornings ago. And tonight, 70-something thousand people will be in the stands in the storied Los Angeles Coliseum watching it. Quite an invention by the Rams. Regarding the score: Chiefs have the ball last. That kind of game.
Monday … Los Angeles. Regular-season game of the year, matching the Rams and Chiefs with twin 9-1 records. Fair warning: Don't miss the burgeoning Rams' tradition, the lighting of the torch, at the Coliseum.
Wednesday … Dallas. Happy 52nd birthday, Troy Aikman.
Thursday … Everywhere. Chicago-Detroit at 12:30 p.m. ET for, presumably, indoor football (though Matt Patricia might petition to play in the snow). Playoff implications for the NFC North-leading Bears … Washington-Dallas at 3:30 ET, when the Cowboys try to take the NFC East lead away from Washington. Playoff implications for both … Atlanta-New Orleans at 7:20 ET, Falcons lead the all-time series, 52-47, and that just might be the score on this night. Playoff implications for both—and probably the last chance for Atlanta to keep January hope alive.
Friday … Leland, Miss. Happy 60th birthday, Johnie Cooks. One of my favorite names (one "n" in "Johnie") from one of my favorite drafts (Marcus Allen 10th overall, Oliver Luck 44th, Morten Andersen 86th). Cooks was the second pick in 1982, by the Baltimore Colts. After picking Cooks, the Colts traded huge fan favorite quarterback Bert Jones to the Rams in a package that included the fourth pick in the draft. With that pick, Baltimore selected Ohio State quarterback Art Schlichter, and in less than a year, Schlichter was suspended by the NFL for a year for gambling. And then John Elway was the first-round pick the next year, and again the Colts failed to secure a quarterback of the future because they traded Elway … and, well, I don't know how Johnie Cooks begat Art Schlichter and John Elway, but there you have it.
Condoleeza Rice
will be Browns coach when I join
the Trump Cabinet.