Getty Images
We're just on the cusp of thinning the playoff herd. Come next Sunday night, we'll be in December, and the schedule will be 75 percent done, and we'll be able to figure out exactly who's nearly in and who's on the way out.
As for today, I can tell you which team had the best Week 12: Seattle.
The Seahawks won the kind of game they won four and five years ago, when they seemed dynastic, in beating Carolina 30-27 in Charlotte. Now, in the middle of New Blood City, the playoffs seem real to the 6-5 'Hawks, not just a dream. Even though they're the current seventh seed, the Seahawks play four of their last five game at home—three against bottom-feeders Arizona and San Francisco—and own positive tiebreakers against fellow 6-5ers Dallas and Carolina.
And Seattle has a quarterback who wants the ball in his hands the way the great ones do when it gets loud and impossible on the road. Bill Walsh once said he loved taking his team on the road, because it was 45 men against a team, a city and a region, and when it got close at the end of the game, it was the kind of impossible that you gained strength from, not that you shrinked from. Or, as Boomer Esiason once told me, There is nothing better in sports than shutting up the loudest crowd in the NFL.
Bank of America Stadium in downtown Charlotte is not the loudest venue in the NFL, but when there is blood in the water, and when the fans anywhere can smell a win, it's a tough place to play, and to conquer. That's what Russell Wilson faced on fourth-and-three, down 27-20 with 3:33 left, late Sunday afternoon. Blood in the water. Cacophonous crowd.
"You either look forward to the moment, or you fear it," Wilson told me from Charlotte afterward. "I know me, and I look forward to the moment—to the moments like we had today out there."
Today in FMIA, it's a variety show:
• The Browns are thinking playoffs. I'm serious.
• Josh Allen is too young to be smug, but he sure sounded it when I asked him about his good friend Jalen Ramsey after the kind of game a franchise quarterback wins.
• The Colts will never lose again. The Jags will never win again.
• Philip Rivers is not of this earth.
• The Packers are 1-9 in their last nine road games. They haven't won a roadie in 50 weeks. They're quite mortal. It's beginning to look a lot like a job search, unless Mike McCarthy goes 5-0 in December.
• The Niners are in position to get the first pick in the 2019 draft, but they had too much to be glum about to go down that road Sunday.
• Leonard Fournette's a dunce. The good thing is, he knows it.
• I think, next spring, the Lions should trade Matthew Stafford to the Jaguars.
• The late Bob McNair had one big gaffe at the end, but he leaves behind an attitude the league, and his fellow owners, should never forget.
Back to the crucial play of the year for the significantly retooled Seahawks and Russell Wilson. You want to keep the chains moving, in part because you don't want to too much time left for Cam Newton when/if you tie the game and play for overtime.
Except before this drive started, Wilson told his offensive huddle: "Have no fear. Let's go get it." So on third-and-three from the Panther 35, he floated one deep down the left side for Jaron Brown; no safety net there. And on fourth down, he saw no good first-down option in the middle of the field, so he scanned deep. Again down the left side. This time, GM John Schneider's seventh-round pick in 2017, David Moore, from mighty East Central Oklahoma, had a step on his man, Carolina corner Corn Elder, and Wilson rainbowed a perfect throw in Moore's arms. Arm, actually; Elder held Moore's right arm as the ball came down to earth, and Moore had to mostly catch it one-handed. Tie game.
"You're exactly right—playoff hopes on the line," Wilson said. "Just thinking we have to make a play. That's the play I saw."
The throw was about 46 yards in the air, and it landed right on Moore. Just beautiful. After Carolina's Graham Gano missed the go-ahead field goal, Wilson had a chance to win it before OT. Third-and-five, Seattle 47-yard line, 67 seconds left. "So I had it in the back of my mind this week, studying Carolina, on scramble drills, there's big opportunities to make plays downfield. Gotta have no fear," Wilson said.
Know the scramble drill? It's the play an offense improvises when the quarterback is on the move, out of the pocket. In this case, Wilson was only flushed left a bit, but the idea was the same for all the receivers in the route: find an open route and hope Wilson sees you.
Pushed left by the rush, Wilson saw Tyler Lockett streaking past Carolina's Captain Munnerlyn. He threw it up for him and Lockett caught it easily at the Panther 10. Sebastian Janikowski kicked the 31-yard winner as the clock hit :00.
"We're gonna be good for a long time," Wilson said. "Days like today are great for our confidence." Also great for the confidence: a fearless quarterback.
I like the way Gregg Williams thinks, at least this week. The Browns enter December with a pulse. They're 1.5 games out of the sixth playoff seed.
I cannot believe I just wrote that short paragraph. Is Sam Rutigliano the coach? Paul Brown? Blanton Collier?
Before flying south to Cincinnati to try to break a seven-game losing streak, the Browns got a playoff primer from coach Gregg Williams. The interim coach told me he showed his players they were still in the race. "I showed them who was alive," Williams said. "And we are. I also showed them the remaining teams on our schedule, and how five of the six were still alive. I wanted them to see we're in it." Actually, every team left—first the Bengals, and then Houston, Carolina, Denver, Cincinnati again and Baltimore—was alive. And still is. "But my big thing is: One day at a time. One practice at a time. One game at a time. One meeting at a time. And they've listened well. They stay in the moment."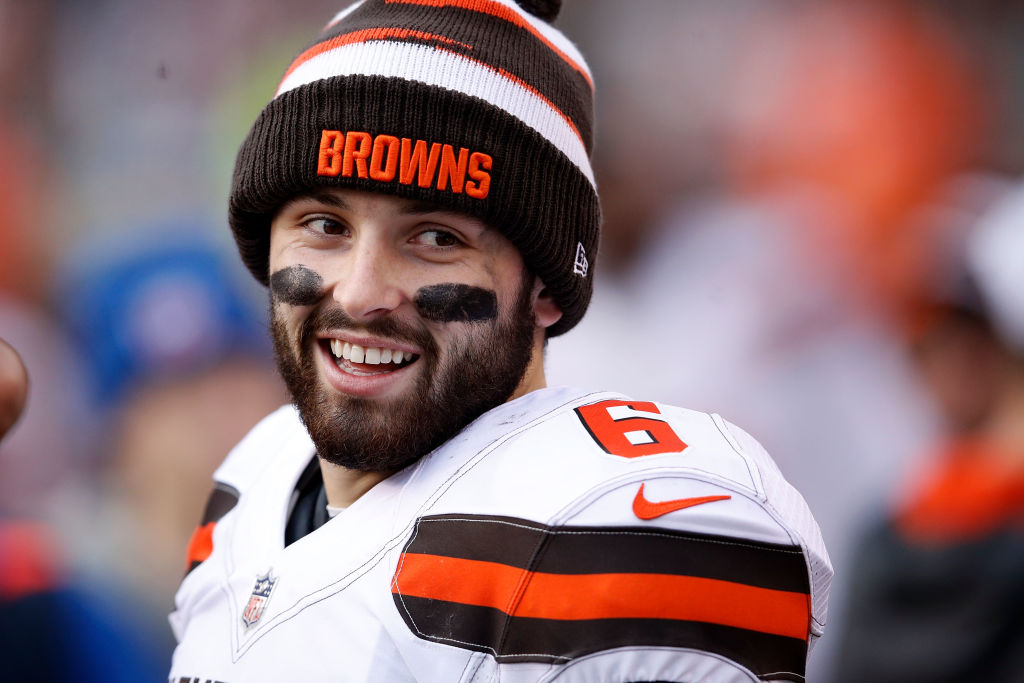 Baker Mayfield was very good at that Sunday, leading the Browns to their biggest lead since mastodons roamed the earth, 28-0 late in the first half. It's interesting watching Mayfield. He's got a lot of Russell Wilson in him. When things are going great, he comes out with confidence, and you think he's going to make a play. When he's down big, he comes out with confidence, and you think he's going to make a play. He's not overly celebratory. He threw four touchdown passes Sunday, and he didn't go batcrap after a single one of them. He's happy, and he'll high-five or hug his mates, but he doesn't go whirlygigging around the field. It's because Mayfield expected what just happened. He's not particularly surprised.
"I don't want to put too much pressure on him," Williams told me. "But I've had the luxury of being on teams with excellent quarterbacks, and I've gone against Hall of Fame quarterbacks in my 29 years coaching. And Baker has the innate leadership that shows me he belongs. Grown men can smell whether you belong. They know he does. In his mind, already, he can play the game at a slo-mo pace. I see the similarities to a young Drew Brees."
Gregg Williams is given to hyperbole. But watching Mayfield play for three months, I see he might be on to something here.
The Bills should never move. Buffalo's home-field advantage rivals Seattle's. It's cold, and extremely partisan, and extremely loyal, and woe be the fool who comes in and challenges your manhood or your team. Prior to Sunday's Bills-Jags game, Jacksonville cornerback Jalen Ramsey trashed rookie quarterback Josh Allen in a GQ story last summer. Ramsey got booed all day. Then, Jags running back Leonard Fournette got into a brawl when the game was tied late in the third quarter, and Jacksonville's only offense weapon got tossed.
This game was Jacksonville's season. The most disappointing team in football (and it's not close for second) was 3-1 in the first month of the season and was 0-6 since. Make that 0-7, because Jacksonville's formidable front couldn't intimidate or win against the rookie quarterback from Wyoming. Allen made one of the sweetest plays he'll make as a pro late in the first quarter, waiting till just the precise moment, just before getting crushed, to unleash a 75-yard strike to undrafted wideout Robert Foster. And Allen ran/lumbered for 99 yards through the fast Jacksonville defense.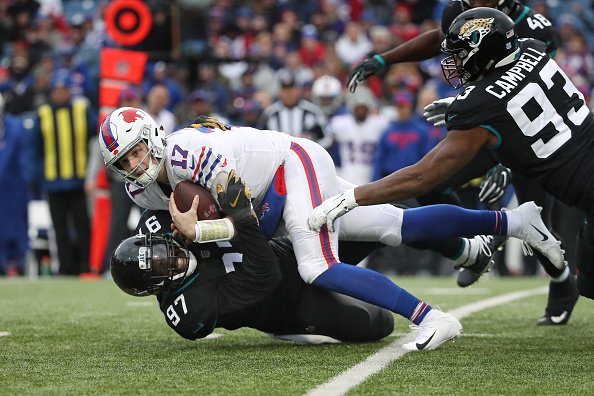 "Ever think you'd run for almost 100 yards in an NFL game?" I asked Allen.
"Never," he said. "Never in a million years. Not once in my life."
Said Allen: "We knew it'd be a chippy game. Jacksonville likes to talk. The fight hurt them, because they lost their running back [Fournette] for the game, and they missed him."
Allen had some good moments in his first six pro games, but he had much to learn coming from Wyoming with suspect accuracy. It was probably a blessing in disguise for him to miss the previous four games with an arm injury, because he got to learn. And though he was only eight of 19 Sunday, Allen looked more athletic than we thought in running the ball, and he didn't turn it over. After the game, Ramsey surprised Allen by approaching him from behind, getting his attention and shaking his hand.
"It didn't mean much, to be honest," said Allen. "I just want to win football games. Everyone's entitled to their opinion, but I don't pay much attention to him."
But Ramsey's comments about Allen being trash were relayed to Allen so many times he had to hear them, and feel them. And the handshake had to stun him a bit.
"I guess it was a sign of respect," said Allen. It should have been.
Rivers: Almost Perfect
20
When Chargers offensive coordinator Ken Whisenhunt came out of the locker room for the second half at the StubHub Center, he caught the stats up on the scoreboard. "19-19," he saw next to Philip Rivers' name.
"That's not right," he thought to himself. Whisenhunt thought he misread it. And he went out to coach the second half, not thinking of the supposedly faux 19 for 19.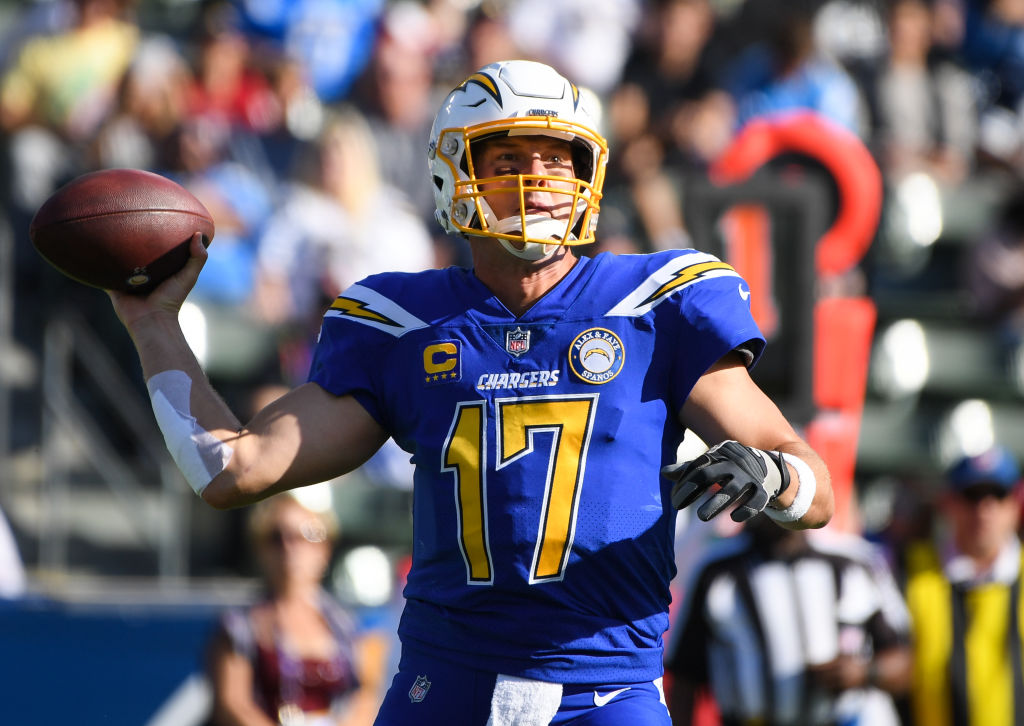 But as the half went on, he discovered Rivers was indeed perfect … for 25 throws. Then the Chargers quarterback, on his last series of the game, was trying to avoid a sack when he threw the ball away toward running back Austin Ekeler. He finished 28 of 29, an NFL-record 96.6 percent accurate on the day. A few minutes after coach Anthony removed Rivers from the 45-10 rout of the Cardinals, Rivers realized he was one throw from perfection.
"I remember exactly what he said," said Whisenhunt, who has coached Rivers for four years. "'GOSH! The one I missed the guy had me on the leg! SHOOT!'"
That's about as profane as the devoted Catholic gets.
"You could feel it today," Whisenhunt told me from California. "He's been playing at an incredible level for a while now. Remember—this started, really, in this week last year, when we played the Thanksgiving game at Dallas." Rivers completed 82 percent that day, for 434 yards. In the 17 games since, he's had the best year-plus of his life: 68.2 percent accuracy, 5,120 yards, a 37-9 touchdown-to-pick ratio, and a crazy 9.08 yards per attempt.
It's one crazy coincidence that Rivers and the man who was let go to make way for him to play in 2006—Drew Brees—are playing this well so late in their careers. Brees turns 40 in six weeks. Rivers turns 37 in two weeks. And now Rivers leads the Chargers to a prime-time game at Pittsburgh on Sunday, another test in a long line of them for him and this Chargers team that's 13-4 since last Thanksgiving. "Him and Ben [Roethlisberger] again," said Whisenhunt. "It's going to be fun. It always is."
A few years ago, Bob McNair was having breakfast with a friend at a Super Bowl when the subject of franchise values came up. The value of some teams had raced past $2 billion and were approaching $3 billion, but McNair wasn't all that excited about it. First, he had no desire to sell and couldn't see a day when he would. Second, he thought the value was secondary to the real importance of owning a franchise.
"The real value is in the goodwill," McNair told his friend that day. "Teams are really worth a hard value of maybe $150 million to $200 million. It's what you can do when you own a team that's important."
McNair, for instance, was affected by the shooting in 2015 at the Mother Emanuel Baptist Church in Charleston, S.C., paying for the funerals of the nine victims, and later contributing $1 million toward a memorial on the site of the shooting. That, of course, stands in contrast to his most controversial moment in recent years when, 13 months ago, ESPN quoted McNair in a private league meeting as saying the NFL couldn't have "the inmates running the prison." The quote angered players and even one top league executive, Troy Vincent. McNair apologized and said he wasn't referring to players when he said it, but his reputation was tarnished by the incident, and those who knew him thought the controversy bothered him till his death last week at 81.
I knew McNair—though not well—as a thoughtful and caring man about his team and the league. It was easy to talk to him for 20, 30 minutes at a time; he never seemed in any hurry and was as gentlemanly as any league owner I met. He always put his money where his good will was. Reportedly, he gave away as much as $500 million in his life. He did things other owners wouldn't do, such as naming Amy Palcic the first woman to be in charge of an NFL team's football and off-field communications department. More than once, he told current coach Bill O'Brien, "Go home," when he saw him in the office at night. He didn't think he had all the answers, even when the Texans would have a good season. I remember him asking me about the old Giants' teams I'd covered, and what made Bill Parcells successful.
I think the league will miss him, a lot. Pittsburgh owner Dan Rooney, who died in April 2017, was the league's compass. But McNair, who'd been on the scene only 19 years since being awarded the Texans franchise in 1999, was part of a cadre of owners, led by Rooney, who were exceedingly conscientious about the game. That group of owners was league-first, more concerned with the NFL's long-term future than short-term money ventures. Now it'll be up to people like his son and presumed team heir, Cal McNair, to carry on the kind of tradition Art Rooney II is trying to carry on after the loss of his father. It's a heavy burden with all the winds buffeting the NFL.
I'm not going to get into a screed about the death of football as we know it—particularly defensive football—as we sit here after 12 weeks … even though the three marquee games of the season have seen 80 points (Saints 45, Rams 35), 83 points (Patriots 43, Chiefs 40) and 105 points (Rams 54, Chiefs 51) scored. By the way, for those saying the huge defensive plays last Monday in Kansas City's loss to the Rams make all this a moot point, I say: There were three defensive touchdowns scored in the game, so would you say that a game with 84 points scored and 1,001 yards produced was big on D?
A couple points about the week in football.
• Think of a rule that has been made with the defense in mind in the last few years—I mean, a major rule. There isn't one. But let's look at the effect of the defenseless-player rule. Which, in principle, everyone should support because of safety factors. There was a play on the first series of Rams-Chiefs that showed how truly preposterous the defenseless-play rule has become. Jared Goff threw a short pass over the middle to Robert Woods, who appeared to catch the ball at about the 7-yard line, with Kansas City cornerback Kendall Fuller in pursuit. Poised to tackle Woods at about the 3-yard line is safety Eric Murray. Murray pauses for a moment, lowers his head, and appears to hit Woods somewhere in the chest region—there is not a clear view of the play on TV, or on the replay—and the ball is dislodged. In the old days, maybe 10 or 15 years ago, the safety would have blown up the receiver. Today, Murray made a perfect play, hitting Woods with his shoulder in what appeared to be his chest, and not at all violently. The ball bounded away. And a flag fluttered in.
Fifteen yards, ref Clete Blakeman ruled. "Unnecessary roughness. Hit against a defenseless receiver," he announced in the stadium.
This is not an indictment of Blakeman, or the back judge who appeared to call it, Tony Steratore. They are enforcing the rules on the books. Even in a day when the safety of players rightfully is paramount, this call simply has to be revisited after the season. What Murray did is precisely what a defensive player should do in this case. He should lower the strike zone. He shouldn't use excessive force. He should use his head.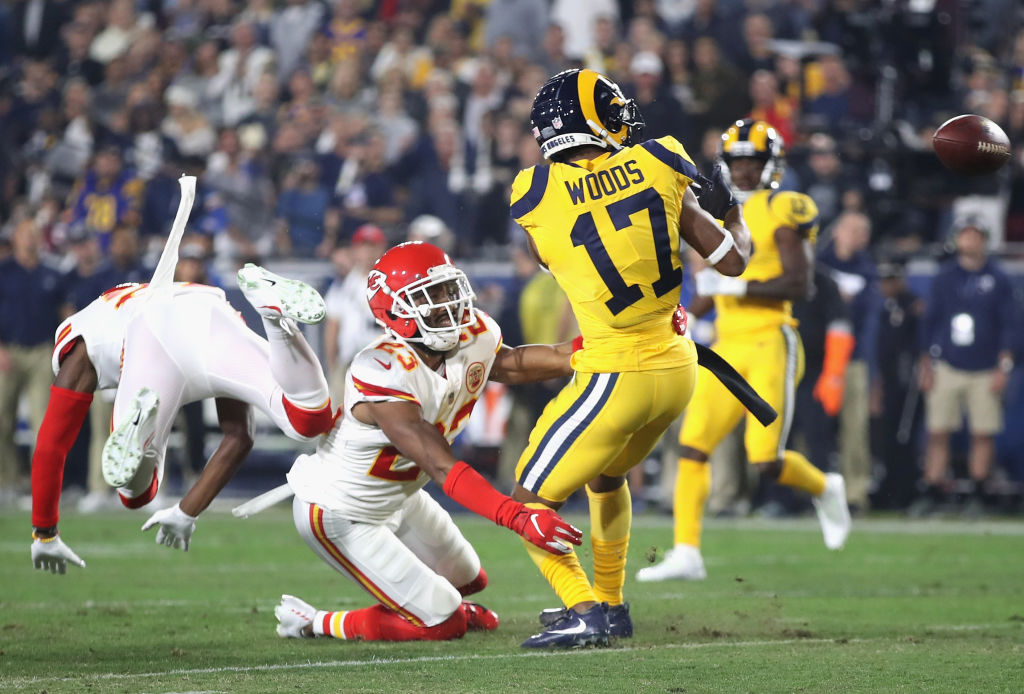 Quite literally, the legal NFL alternative to what Murray did is to allow Woods to catch the ball, wait till he turns upfield, and then attempt to tackle him. At that point, on this play, there's a good chance Woods would either be in the end zone by then or close to it.
I called Hall of Fame quarterback Kurt Warner, in the radio booth Westwood One that night, and asked him about the call. He was borderline apoplectic. "It was picture-perfect football by Murray, exactly what you're trained to do," Warner said. "And you can't do it. I mean it just it's absurd to me, the way they call this whole defenseless receiver penalty. As much as I love offense … the defenseless receiver play I can't get behind it. It's just hard for me to watch football and see a great defensive play and he gets 15 yards for it. How do you play pass defense now? A guy throws it across the middle to your zone, you knock the ball out however you have to knock it out, and if you do that, you're creating a penalty on yourself."
"There was beauty in the game the other night. Back and forth, and I love offensive football. But to me the greatest part of any team sport is the competition. It's knowing I get to go up against the best in the world and they have every opportunity to win as I do. You just don't feel like that's football."
• The league's fine system is crazy. For that hit, Eric Murray, a third-year safety who makes $630,000 a year, was fined $26,739 by the league. His weekly gamecheck is $37,058. So it turns out for making a conscientious hit, Murray got 72 percent of his weekly earnings taken by the league. Fines should be for egregious hits or penalties, not for borderline, run-of-the-mill calls.
It's truly unconscionable. When the league's Competition Committee meets to massage the rules beginning in February, something has to be done about the defenseless receiver call. I say make it interpretive, and make it reviewable. And while league fathers are at it, they should give Murray his money back.
San Francisco GM John Lynch, on his experience with linebacker Reuben Foster over the past 19 months—first as a rookie GM, rating him the third overall player on his draft board, then moving aggressively to trade for him late in the first round, and then to Sunday, when Lynch announced the team was cutting Foster after his arrest Saturday in Tampa for domestic abuse:
"Was I shocked when I heard about it [Saturday night]? Yeah. Absolutely. This just totally came out of left field. But when [head coach] Kyle Shanahan heard about it, we knew what we had to do. That didn't make it easy, but we knew. We went to ownership; they were thoughtful, supportive, and all on the same page.
"More than anything, I think what I have learned is that these players we pick are young, and they are all human beings. It's much easier to have some controls on players when they're in college versus being in the NFL. We can't be with them or watch over them 24 hours a day. If we were all Nostradamus in the front office, maybe things like this would not happen. But we are fallible.
"We exhausted a lot of resources to try to help Reuben, and one of the saddest things is that this offseason—and even in just the last couple of weeks—he'd been making some real progress in his life. [Foster was acquitted of a past domestic violence charge when this same female acquaintance recanted her charges against him last spring. The 49ers made it clear to the troubled Foster that he would no longer be given the benefit of the doubt by the team.] One of the things the case earlier this year allowed us to do was have some crystal-clear and very direct conversations with Reuben about what was expected of him going forward, and if he did not comply, we would have to part ways. And here, he just made a very poor decision.
"I try to learn from every experience in my life, and I certainly have learned a lot as a general manager so far. In this case, I've learned about things I can control and things I can't control. I've learned you have to take some chances. Honestly, looking back, we didn't think taking Reuben was a very big chance at the time—I sat in on all the meetings, obviously, when we talked about the players, and you might be flabbergasted about this, but Reuben's [off-field record] was fairly clean.
"You can't play scared in this business. We won't play scared. We won't draft scared."
Offensive Players of the Week
Philip Rivers, quarterback, Los Angeles Chargers. For having the most accurate game by a quarterback in NFL history: 28 of 29 (.966), with three touchdowns and no picks, in a 45-10 rout of the Cardinals in southern California. In a 22-minute span midway through the game, Rivers shredded the Cardinals for 35 points.
Russell Wilson, quarterback, Seattle. Wilson has made some lovely, well-placed and gutsy throws in his NFL life—the 35-yard game-winning strike to Jermaine Kearse in overtime to beat Aaron Rodgers in the 2014 playoffs comes to mind—but to win this important game to stay in strong playoff contention game Wilson needed two. The first was a 35-yard drop-in-the-bucket touchdown to wideout David Moore on fourth-and-three with 3:26 left in the fourth quarter, tying the game at 27. The second: a 43-yard strike to Tyler Lockett with a minute left, leading to the winning field goal by Sebastian Janikowski. Virtuoso performance when his team needed it most. Seattle (6-5) wins the important tiebreaker with Carolina (6-5) by virtue of Wilson's heroics.
Baker Mayfield, quarterback, Cleveland. The first pick of the 2018 draft, in a 15-minute first-half span, threw touchdown passes of 13 yards (Antonio Callaway), six yards (David Njoku) and 14 yards (Nick Chubb, miraculously, pilfered off a DB's back) to post the most shocking score of the first 12 weeks of the season: Cleveland 28, Cincinnati 0, at Paul Brown Stadium. For the day, in a 35-20 win, Mayfield completed 19 of 26 throws, with four touchdowns and no interceptions. Mayfield's the real thing, if you have not been watching.
Amari Cooper, wide receiver, Dallas. First three games in Dallas for Cooper: 169 yards receiving, one touchdown. Fourth game (Thursday versus Washington): 180 yards, two touchdowns. In five minutes of the third quarter on Thanksgiving, Cooper caught a 40-yard touchdown from Dak Prescott, and on Prescott's next pass, Cooper's catch-and-run of another touchdown was the longest pass completion of the year—90 yards. If he keeps producing like this, Cooper will be worth the first-round pick Dallas paid to acquire him from Oakland. 
Defensive Players of the Week
Matthew Judon, linebacker, Baltimore. A third-year relative unknown from Grand Valley (Mich.) State, Judon got the pass rusher's version of the natural hat trick: sacks on three consecutive snaps on Oakland quarterback Derek Carr. Baltimore had a 27-17 lead midway through the fourth quarter when Judon, in the snap of one minute, finished the game. First he strip-sacked Carr, and Terrell Suggs returned the fumble for a 43-yard touchdown. On the first two plays of the next series, Judon got Carr for sacks of seven and five yards, and with 3:59 left, Oakland punted the ball and raised the white flag.
Eddie Jackson, safety, Chicago. I struggled with whether to make Jackson the Defensive Player of the Week for his game-winning pick-six off Matthew Stafford, or whether to make Stafford the Goat of the Week for not seeing Jackson lurking, waiting to pounce on the mis-timed pass. I did both. I do not excuse Stafford's error, but I must credit Jackson. For the second time in five days, he had a pick-six for the decisive points in a division game. In the Sunday-nighter against Minnesota, Jackson intercepted a Kirk Cousins throw with 8:30 left in the game and returned it 27 yards for a score; the Bears led 22-6 and won 25-20. With 6:09 left in the game four days later, Jackson returned a Stafford throw 41 yards for the winning points in a 23-16 game. Nice value pick for GM Ryan Pace, getting Jackson in the fourth round last year.
Special Teams Players of the Week
Cyrus Jones, punt-returner/cornerback, Baltimore. The beauty of Jones' 70-yard tightrope-sprinting first-half punt return for a touchdown was in three steps along the right sideline. Jones might have been an inch from the white stripe on those steps, and how he stayed inbounds is hard to figure. A tremendous return.
Tress Way, punter, Washington. Way is so good at pinning teams inside the 20, and he showed the nation Thursday in Texas. His five punts generated no return yards and forced the Cowboys to start at their 19, 4, 40, 8 and 9-yard line. For the year, he's putting 59.6 percent of his punts (31 of 52) inside the 20, which is far and away the best percentage in the league.
Coach of the Week
Danny Smith, special teams coach, Pittsburgh. Smith's a 'burgher through and through. Born in Pittsburgh 65 years ago, played college ball at Edinboro (Pa.) State at the time of the birth of the Steelers dynasty, and now in his sixth year coaching the kicking game with the Steelers. He is perpetually hoarse from coaching, coaching, coaching. He made one heck of a call with the Steelers down 10-3 with three seconds left in the first half, and lined up for a chip-shot field goal with the ball at the Denver 2-yard line. Long-snapper Kameron Canaday executed a perfect direct snap to kicker Chris Boswell. Right tackle Alejandro Villanueva somehow crept through the Denver defensive front (hard to do; Villanueva is 6-foot-9) and stood alone in the end zone. Boswell threw a perfect spiral 18 yards in the air, hitting Villanueva right in the chest. Instead of being down 10-6 at the half, Pittsburgh was tied at 10. Those four points? Danny Smith's. It looked like those three Steelers players could make that play in their sleep.
Matt Nagy, head coach, Chicago. "They accepted my challenge of going 3-0 in 12 days against three division opponents," Nagy said after the Bears beat Detroit 23-16, following up on home wins over the Lions and Vikings. Nice job by Nagy, too, in getting his team ready to play a Thursday road game at 11:30 a.m. body-clock time after winning an emotional Sunday night game with the Vikes at home, walking off the field at 10:30 p.m. body-clock time … and waking up Monday morning know you might have to get your backup quarterback ready to play because the starter's hurt. Winning a division game on the road with a backup quarterback is pretty cool, especially with the shortest of weeks to prepare.
Goat of the Week
Leonard Fournette, running back, Jacksonville. This was the Last Chance Saloon for the Jags, who entered the game 3-7 and would see their playoff hopes disappear with an eighth loss. With 18 minutes left in the game, and the game tied 14-all and a replay determining whether the Jags would have a touchdown or the ball at the Bills' 1-yard line, a skirmish started. Fournette, who was not in the game at the time, ran from the far end of the field, the Jacksonville bench, to the side of the end zone where the fight was in full flower. Here came Fournette, who appeared to throw a punch in the melee. Fournette and Shaq Lawson of the Bills were thrown out. So here's why I give Fournette the goat horns. In a game of this magnitude, in a game this close, in a game with another horrible performance by quarterback Blake Bortles (74 yards passing in the first 42 minutes of the game), Jacksonville's only offensive weapon starts playing Mike Tyson. He had to know he'd be thrown out. At least he admitted how dumb he was for doing it. "This loss is 100 percent on me," Fournette said afterward. "I take full responsibility. You can't have that. I apologize to all the kids who look up to me. We should have won this game, hands down." Shuda, cuda, wuda. The story of the Jacksonville season.
Matthew Stafford, quarterback, Detroit. Two points before I start: In dealing away Golden Tate and with Kerryon Johnson hurt, Stafford was at a disadvantage Thursday against the defensively stout Bears. And this might be more about 9.5 seasons than one play by a quarterback who is everything as a man and a civic presence that you want in a franchise-billboard player. But I'm a little tired of hearing how great Stafford is, and how he'd be so much better with an offensive line and a supporting cast, and how formidable he'd be with a running game. A great player—even an above-average one—can see the safety cheating down, waiting to pounce on a quick out to a tight end running a short route into the left flat. Bears safety Eddie Jackson plucked it easily and went in for the winning touchdown. Not blaming Stafford for the final pick, in the end zone with 67 seconds left going for the tie, but the lack of communication on the play was a fitting end to another egg laid by the Lions on Thanksgiving. This likely will be the 27th straight season without a playoff victory for the Lions, and Stafford was drafted to end it. Nothing doing so far. 
I
"You trash! You trash!"
—Jags cornerback Jalen Ramsey (I'm lipreading here), who called Bills quarterback Josh Allen trash to GQ last summer, verbally jousting with the Buffalo bench late in Jags-Bills on Sunday. 
Uh, Jalen? You 3-8.
II
"Roethlisberger, off his back foot, in the end zone … Wow! That was almost a safety!"
—CBS' Tony Romo, on the amazing 97-yard Ben Roethlisberger-to-JuJu Smith-Schuster touchdown pass, with the Steeler quarterback under heavy pressure in the end zone from Denver defensive tackle Shelby Harris.
III
"Didn't feel like talking. Yeah, it was brief … He left Cleveland, goes down to Cincinnati. Somebody who was in our locker room, asking us to play for him, and then goes to a team we play twice a year. Everyone can have their spin on it. But that's how I feel."
—Baker Mayfield, on his brusque post-game handshake Sunday with former Browns coach Hue Jackson, who took a job on the Bengals' staff 14 days after the Browns fired him in late October. Mayfield was cryptic, but you get his drift: He's ticked off that Jackson went behind enemy lines.
IV
"They all suck."
—Carolina running back Christian McCaffrey, asked if the 30-27 last-second loss to Seattle hurt more than the Panthers' other four losses this season.
V
"I've never known anyone I respected more than Bob McNair."
—The Houston Chronicle's John McClain, who has covered the NFL for the past 40 years, on the late Texas owner.
VI
"Knowing they were struggling in the secondary, personally I would have loved to attack them. But that wasn't in the game plan."
—Giants WR Odell Beckham Jr., after the 25-22 loss to the Eagles, who had a beaten-up secondary playing several inexperienced corners. The Giants completed one pass of longer than 30 yards among Eli Manning's 37 attempts. 
I
Evolution of Football Dept.:
In five-year intervals, here is how many quarterbacks finished the season with quarterback ratings of 90 or higher:
1993: 3 quarterbacks rated 90.0 or better.
1998: 6.
2003: 6.
2008: 9.
2013: 11.
2018: 22 (through 12 weeks).
II
At some point, Christian McCaffrey is going to take his place with the best all-around backs in the game. Soon.
Todd Gurley, scrimmage yards per game entering December: 134.9.
McCaffrey, scrimmage yards per game entering December: 133.2.
I
The NFL's Final Four in 2017 (Philadelphia, New England, Minnesota, Jacksonville) has a combined record of 22-21-1.
II
As you watch Bears safety Eddie Jackson rise to stardom with two straight games with crucial fourth-quarter pick-sixes, consider that he was the 10th and final Alabama Crimson Tide player chosen in the 2017 NFL Draft.
III
Journalism Factoid of the Week, and an explanation …
The three words never uttered in my three hours inside the New Orleans Saints' Saturday night team meetings a week ago: "off the record."
In fact, there was only one implicit bit of understanding when I walked onto the floor of where the meetings would be held at the Ritz-Carlton Hotel in New Orleans. Kevin Petry, Payton's assistant, wanted to be sure I would not record the meetings. Payton made it clear in allowing me inside that I would be able to sit in the rooms with my pad and pen, and whatever I saw and heard was fair game. It wasn't until the meetings ended at about 10:40 p.m. that I pulled out my recorder and taped Payton and Brees for my column, and for my podcast last week.
For those in or around our business, you'll understand what never saying "off the record" means—that a team talking freely and openly and without fear of giving away secrets is a confident group, and what coaches and players are saying won't compromise the security of their game plan. Payton and Drew Brees were unfraid of letting an impartial eye-and-ear-witness tell the story of how the Saturday night preparation goes for one of the best teams in football. For me to tell what I saw, and in particular some of the visuals I saw in the team's walk-through, and to tell that story after a game against a non-division opponent, would not endanger the security of what they do. I had one veteran assistant coach text me last week saying he was shocked the Saints let me do that. I texted back: "Why? Read what I wrote. If you're playing the Saints next week, what did you learn that you can use to your competitive advantage?"
For those who don't know the rules of journalism, "off the record" or "you can't use this" have become more and more common as NFL coaches and GMs guard everything they do as if they're CIA agents. When I first covered the NFL, in Cincinnati, the coach, Sam Wyche, told me to knock on his door any night in training camp if I had any questions about the team. I don't remember one time Wyche saying "off the record." But I don't cry over spilled loss-of-access; it won't do any good. I fight to get as much of it as I can, with as many teams/players/officiating crews as I can.
One last thing about that story. Many of you have emailed or DM'd on Twitter saying something like, More of those stories, please. There's a reason why they're hard to do—teams are fearful of what might be revealed. That's why I appreciate Sean Payton and Drew Brees allowing me the freedom to do a story that I hope increases your appreciation of the work a smart team does to prepares for a game—and the appreciation of the relationship of confidence between two of the men at the top of their professions. The players and coaches and groups who have allowed access, I've found, are the ones totally confident in what they do, and how they do it.
I am not exactly the scientist of Thanksgiving Weekend travel. We traveled to central Illinois to meet and enjoy Thanksgiving with the family of daughter Mary Beth's fiance (a wonderful day in Brimfield, Ill., with the Bureks), and we had a dinner to attend Friday evening in New York City, so we planned to fly home to LaGuardia at 10:30 a.m. Friday from O'Hare.
The airport was 178 miles from our hotel in West Peoria. I figured we better leave at 5:15 to be sure to get to the car rental place by 8:45. That should give us time to get to the gate by 9:30-ish.
Left at 5:10. Cruised at a steady 75 to 80. I bet I touched the brakes six times in two and a half hours. Got to the car-rental facility at 7:44. Got through security at a ghost-town O'Hare by 8:10.
Midway through the day, what I would have given for that extra hour of sleep.
I
II
III
IV
V
VI
Five full weeks left in the NFL regular season, and there's an interesting entry for the first time this year on my MVP ballot:
1. Drew Brees, QB, New Orleans. Last week: 1. Brees had two touchdown passes dropped Thursday night against Atlanta, still threw four, and, if anything, continued to separate himself from the pack of worthy candidates. The biggest reason is not that the Saints are the clear front-runners to play in their second Super Bowl of the Brees era. It's because no matter who the Saints play out on the flanks, Brees adapts. Recipients of the last 10 touchdown passes thrown by Brees: Mark Ingram, Mike Thomas, Austin Carr, Tre'Quan Smith, Thomas, Alvin Kamara, Tommylee Lewis, Carr, Dan Arnold, Keith Kirkwood. In the last 11 quarters, Brees threw 10 touchdown passes to eight different receivers. Pretty valuable quarterback, considering six of those TD passes were produced by guys the Saints viewed as either roster marginalia or not worthy of making the team in early September.
2. Patrick Mahomes, QB, Kansas City. Last week: 2. Still time to make up ground; the race is certainly not over. But seven Mahomes turnovers in the Chiefs' two losses this year has pushed him down from number one to a contender in a crowded field chasing Brees.
3. Jared Goff, QB, L.A. Rams. Last week: Unranked. Goff and Gurley could eat up support, leaving neither close to winning. And that doesn't include the best defensive player of the season, Aaron Donald.
4. Philip Rivers, QB, L.A. Chargers. Last week: 5. Having his best season, and he turns 37 in two weeks, and the Chargers are going to be a matchup problem, a big one, for whoever they play in January.
5. Andrew Luck, QB, Indianapolis. Last week: Unranked. May have already clinched Comeback Player of the Year, but with eight straight games with at least three touchdowns passes, and by saving the Colts' season, he lands on this list for the first time.
To comment on the column, or to say anything about anything, you can reach me by email.
Wondering about the scripted plays that some coaching staffs prepare. From Josh B., of Rochester, N.Y.: "I've got a bunch of questions about the scripted first 15 plays that many coaches use. How religious are they to it? Is there a specific reason they script the first 15? Why 15, instead of, say, the first series or 10 or 20? Do players generally appreciate it? Why is it only for offense?"
Good questions. I first experienced this with the Packers in the nineties, when coach Mike Holmgren would script the "openers," or first 15—he was a disciple of Bill Walsh, and Walsh always did it. Very rarely would a coach call the plays consecutively, because, for instance, if the seventh play on the script is a power-running play, and it's third-and-13, the coach wouldn't call it there. There's no real reasons for it being 15, other than the fact that it's a good sampling of the plays a coach likes best entering a game, when he and his staff feel confident about the defensive schemes they'll see in the first two or three series of the game. Players like it, I think, because it gives them specific plays to focus on entering the game; they can visualize exactly what plays are coming and mentally prepare for them overnight. Why not defense? Because defense has to react to what an offense is doing, not vice versa. A defensive coordinator would be foolish to call for a play until he sees the down and distance and, most often, the offensive personnel on the field.
Excellent question. From Matthew K.: "Really enjoyed reading about your experience with the Saints and Sean Payton. Understanding what an innovative coach does in the run-up to a game was fascinating. My question is: Why would an owner ever want to hire a defensive coach in this day and age?"
I wonder that myself, Matthew, and when we hear the candidates for the 2019 class of the new head coaches, the only defensive coach I hear consistently is Vic Fangio, a superb defensive mind who now coordinates the Bears D. That is, of course, assuming Nick Saban doesn't come out, but I doubt he will; he's the king of Alabama, and may be on his way to being the best college football coach of all time. I think most owners want to follow the innovators of the day with the Rams, Chiefs and Saints, and like what they see early in Matt Nagy in Chicago, Kyle Shahahan (despite the record) in San Francisco and Doug Pederson (despite this year) in Philadelphia. That's the way I'd go right now too.
Joe thinks defensive pass interference must remain a spot foul. From Joe L.: "I hear a lot of people voicing their displeasure with the spot foul, but what is the viable alternative? If the spot foul were to be replaced with, say a 10 or 15-yard penalty, what would stop any defensive player who is slightly beaten by the receiver to simply grab him, tackle him, push him, etc. and concede the 10-yard penalty while preventing a 50-yard gain? I don't see a fair alternative to the current system."
"A lot of people" would start with me, Joe. To me, this is a fallacious argument. You are right—there is a chance the system would be abused by beaten corners. But in college football, DPI is not a spot foul. It is a 15-yard penalty from the line of scrimmage. Last year, I asked Stanford coach David Shaw about how often the penalty is taken advantage of by beating defensive backs. He said very seldom. And I would ask you, Joe, assuming you watch college football: When is the last time you saw a college cornerback, beaten on a double-move or trailing a receiver hopelessly, tackle the receiver with the ball in the air? Does it happen once on a college football weekend? Less than that? I think you're assuming it would occur a lot in the NFL, but there's no evidence it would. What the NFL Competition Committee could do—as it does with rules proposals that have arguments on both sides—is make DPI a 10 or 15-yard flag for one season, then judge after that season how useful the penalty has been. And if it gets abused, then just kill it and go back to the old system.
Hmmmmmmm. From Peter H.: "If you were to travel from San Diego to New York with four other NFL players in an RV, who would you take and why?"
Okay. So a couple of ground rules. I would want to take unselfish people, guys who would share the driving and be able to handle the adversity that comes with a five-day journey in close quarters. And I would want to take curious people. So, give me these four: Jets quarterback Josh McCown, Seattle wideout Doug Baldwin, Cards wideout Larry Fitzgerald and Tom Brady. McCown is a classic blue-collar guy who can talk about anything and is good company. Baldwin is so multi-faceted and so sincere that the conversations on the RV would always come back to reality. Fitzgerald is the most well-traveled player in NFL history; I lost count at 97 countries. Brady? It's not me taking a star turn. It's wanting to delve into a compelling figure for a few days to see what makes him tick. Plus, I know we'd eat right, work out a lot, and listen to Dalai-Lamaisms.
10 Things I Think I Think
20
1. I think these are my quick-hit thoughts of Week 12:
a. Cincinnati at Cleveland, Dec. 23, 1:05 p.m. ET. Four weeks away. All eyes, and a few dedicated cameras, on Hue Jackson that day.
b. Officiating Miss of the Week: the most obvious helmet-initiating-contact call of the year, Dallas safety Xavier Woods at full speed using his helmet to slam into Washington tight end Jordan Reed's facemask. How possibly do you miss that? I mean, just hearing the noise would be enough to draw the flag, wouldn't it?
c. Missing an extra point, remember, is the same as missing a 33-yard field goal. Which is a gimme. How are these kickers missing so many?
d. Browns running back Nick Chubb, with the catch of the day off a DB's back in Cincinnati. Touchdown.
e. Raiders tight end Jared Cook, with the one-handed scoop-catch of the day in Baltimore. Touchdown.
f. Charger blue: the most beautiful uniform color in sports. (Second: Charger powder blue.)
g. Dalvin Cook, if he can stay healthy, can be the same kind of damaging force as Alvin Kamara in a football game.
h. Watching Jaire Alexander play corner in his early games, I think he's going to become the kind of player Antoine Winfield was—both physical corners who can cover in the top quartile of their position.
i. I hope Andrew Luck, book lover that he is, is keeping notes on this season, because this is shaping up as one memorable year in Indianapolis.
j. Maybe Dan Bailey got his confidence kayoed on I-35 between Dallas and the Twin Cities. He's not the same kicker as he was with the Cowboys.
k. Good to see Joey Bosa back in the swing of things.
l. Where'd that 2.5-sack game come from, Robert Nkemdiche?
m. The Giants are stumbling to another ignominious finish, but kudos to Aldrick Rosas, who has missed one of 42 kicks this year.
n. And I have given short shrift to Saquon Barkley, who is only on course for a 2,051-yard rushing/receiving season. He is such a versatile weapon, and so fun to watch cut.
o. I kid you not: Lamar Jackson threw into quadruple coverage to get picked by 35-year-old Oakland safety Reggie Nelson. Don't be surprised if a play like that factors into John Harbaugh's decision in who to play when Joe Flacco is healthy.
p. Wideout Robert Foster, 6-2 and 200 pounds, played for Nick Saban at Alabama, ran a 4.34 40-yard dash on-campus and then a 4.41 at the scouting combine … and went undrafted. Reunited with ex-'Bama aide Brian Daboll in Buffalo, Foster is a factor now, and streaked downfield on a 75-yard TD bomb from Josh Allen. Beautifully executed.
q. What a play by Seattle defensive tackle Nazair Jones, knifing through the Carolina line and erasing Christian McCaffrey for a three-yard loss, forcing an early Carolina field goal.
r. I can only imagine Todd Bowles' amusement/semi-disgust when he was handed a hoodie to wear before the Jets-Pats game with a script "Gotham City" (for some ridiculous reason known only to marketers at NFL Properties).
s. I live in New York. I can tell you there isn't a soul who has ever referred to the New York Jets as "Gotham City." I can also tell you I will be shocked if I'm walking in Manhattan anytime around the holidays and see anyone wearing a sweatshirt with "Gotham City" in Jets script.
t. Funniest Line in Recent Pregame Show History: On FOX NFL Kickoff, Dave Wannstedt called the older New York franchise "the red-hot Giants." The red-hot Giants needed a last-minute TD pass to beat the 2-9 Niners by four points. The red-hot Giants gave up four touchdowns in the last 17 minutes to the 4-7 Bucs and hung on to win by three.
u. Trey Quinn was best known as Mr. Irrelevant (last pick in the 2018 draft) till the SMU kid was the best Washington weapon in the loss to Dallas, with a 10-yard TD reception and a 30-yard punt return. He looks very much like he belongs in the big leagues.
v. The agony of Detroit fans. Lions: 4-11 on the last 15 Thanksgivings.
w. Those 11 losses are by an average of 17.2 points.
2. I think I'm not sure which game Jim Harbaugh would rate as the worst loss of his coaching career—the 34-31 Super Bowl loss (as Niners coach) to his brother five years ago, or the 62-39 total embarrassment (as Michigan coach) to Ohio State on Saturday. My money's on Saturday's game, as weird as that sounds. He had to feel like he let down his mentor, Bo Schembechler, by blowing a chance to finally beat Ohio State and also get the Wolverines back in the national championship picture.
3. I think in an era of offensive explosions, this is how I know the Bears should own the NFC North over the next five weeks. They're the only team that can play any consistent defense in the division. They've gone from being tied for the cellar at 3-3 five weeks ago to having a three-game lead in the win column with five to play—and trips to play the Giants and Niners in the next month. Not saying those are gimmes, but Chicago should win the North. Amazing, isn't it, that the team with the 26th-highest-paid quarterback by average compensation (Mitchell Trubisky, $7.25 million) is in the driver's seat over teams at one, three and five in compensation—Aaron Rodgers, Kirk Cousins and Matthew Stafford, all at $27 million or more.
4. I think the best game in the last five weeks of the season, for many reasons artistic and strategic, is Rams-Bears at Soldier Field in 13 days. Can't wait for that one.
5. I think Mike McCarthy made the right call in a 14-14 game, midway through the third quarter, going for it on fourth-and-a half-yard near midfield. What I do not like—at all—is slamming Aaron Jones into the middle of the line on third-and-two, and again on fourth-and-short. While I'm at it, the Green Bay clock management is awful. I get that McCarthy would be ticked off the play clock was running down before the ball was spotted and ready. But the ball was spotted, clearly short of the first down, on fourth down with 29 seconds left on the play clock. You have got to be able to get a play called and run in 29 seconds. You just do.
6. I think Harrison Smith combines instinct with physicality better than any safety since Troy Polamalu.
7. I think if I were Jacksonville GM David Caldwell, come March and the new league year, I'd offer Detroit first and fourth-round picks for Matthew Stafford.
8. I think if I were Lions GM Bob Quinn, I'd probably take it.
9. I think in late October, around the time of the trading deadline, it looked like Oakland could have three top-15 picks next April. Doesn't look like that anymore. The Raiders' first-round pick should be a top-five choice in 2019. But the Dallas pick (for Amari Cooper) and the Bears pick (for Khalil Mack) are looking more and more like picks in the bottom third of the round. Dallas and Chicago look like playoff teams right now.
10. I think these are my other thoughts of the week:
a. Story of the Week (and highly recommended): by Corina Knoll of the Los Angeles Times, on one of the most dramatic phone calls one could ever make, or receive. Perfect headline: "As deadly flames approached, a mother called her daughters to say goodbye."
b. Incredible work, Corina Knoll.
c. I don't want to give anything away, so I'm not even going to tease it.
d. Radio Story of the Week: from NPR, covering the Camp Fire in northern California, a simple and harrowing conversation between host Rachel Martin and 59-year-old survivor-of-the-fire Jeff Evans, talking about what it's like to have survived with nothing but ruination for miles around him.
e. Evans, from Concow, Calif., to Martin: "I've gotten emails from people from Portland to Sacramento that live here that had to evacuate. And they're emailing me instructions on how to break into their house without actually breaking anything just so that I can rob their pantry and take their gas and their propane. Incredible people. Incredible people. You know, one case, I got an email last night. He says, hey, I saw one of the pictures you took of my house that doesn't exist anymore. And he says, and I noticed in the picture there's a red gas can on the side of my small trailer. It's full of gas. It's yours."
f. So many stories like those from the Camp Fire. Such noble Americans.
g. My sincere thanks to NBC producer Phil Parrish for his work on this Steve Gleason feature from halftime Thursday night.
h. Thanks, too, to Gleason, for his indomitable spirit and his fairly cool sense of humor. This was a fun, life-goes-on piece, and Gleason and wife Michel, and all of Team Gleason, gave our crew the times and space needed. Good luck to Team Gleason in working toward a cure for ALS, and progress with technology toward living productive lives with the disease.
i. Another former player, ex-Falcon Tim Green, discussed his ALS diagnosis and fate on "60 Minutes" with Steve Kroft in an excellent story eight days ago. FOX did a terrific job in this piece with Green and his family on Thanksgiving.
j. I'll always appreciate the honesty, humility and humanity of Green, 53, the Falcons' first-round pick, early in my career at Sports Illustrated. What a renaissance guy. Graduated summa cum laude from Syracuse, and got his law degree after finishing with football in 1993. Practiced law in upstate New York. Wrote books. Playing for Jerry Glanville in an era when one had to prove manhood on the practice field three days a week (and every day in training camp), it wasn't so easy to be well-rounded and be a reader and writer and love the arts. But Green found a way. One of the best gentlemen I've covered over the years. We emailed back and forth the other day, and he seems in great spirits, given his diagnosis. You can help contribute to Green's fight against the disease by visiting his Facebook page or the Tackle ALS site. Facebook will match the donations up to $250,000 made by Tuesday.
k. I have a Tim Green Quiz for you. Green had 24 sacks in his eight-year NFL career. The last two came in 1992. Which two quarterbacks did Green sack for his last two? (Answer at the bottom of this section.)
l. Newspaper Profile of the Week: from Meredith Colias-Pete, Lolly Bowean, Ese Olumhense and Anna Spoerre of the Chicago Tribune, a moving and inspiring and sad profile of the Chicago doctor murdered allegedly by a jealous ex-boyfriend. Such a loss.
m. A piece of the story about Tamara O'Neal: "As a black medical student, O'Neal made it her mission to connect with other African-American medical students so they could support each other through the notoriously grueling learning process, said Dr. Breana Taylor, a vascular neurology fellow at the University of Washington School of Medicine who attended medical school with O'Neal. The summer before she started school, O'Neal rounded up about seven other black students and told them they would get through it, together. "She'd make sure everyone had the notes that we needed," Taylor said. "She'd put together our study group. She'd send you a text to wish you good luck. She was a source of continuous encouragement at a time when life seemed tough."
n. How sad, losing a life that would have impacted hundreds of lives—people she would have treated, students she could have mentored.
o. Sports Story of the Week: from Master Tesfatsion of Bleacher Report, on Adrian Peterson the player and Adrian Peterson the dad. Really insightful.
p. So much good journalism last week
q. Coffeenerdness: Blue Bottle Coffee! Upper West Side! Thank you.
r. Beernerdness: How lucky am I that a place in my neighborhood stocks Woods & Waters (Maine Beer Company, Freeport, Maine), an American IPA that you must try if you can find it. It's got barley and wheat grown in Maine, and is quite piney. Very good.
s. Godspeed, Anthony Myers. The Berks Catholic (Reading, Pa.) High School football player, highlighted here last week after returning a punt for an 80-yard touchdown despite being diagnosed with stage 3 brain cancer, will undergo surgery on the tumor in his head today in New York City. Myers has become a national story, and Drew Brees sent him an autographed football with good wishes last week. Now let's hope his treatment and recovery can become a national story.
t. Tim Green's last two sacks, on consecutive Sundays in 1992, came against Brett Favre (in Favre's second NFL start) and Dan Marino.
Houston 30, Tennessee 19. Scheduling Factoid of the Week: This will be the Titans' second Monday night game in November in Texas. That's weird. (Nov. 5, in Arlington: Tennessee 28, Dallas 14.) Houston is aiming for its eighth consecutive victory, which would mark the longest win streak in franchise history. Playing at home against a recovering Marcus Mariota, and against an offensive line that's allowed some leakage this year, I like the Texans.
Wednesday … Owings Mills, Md. Interesting call for coach John Harbaugh, who was hired 14 weeks before Joe Flacco was draft in 2008. They've always been an item. For 10.5 years, Harbaugh has never had a decision to make at starting quarterback. If Flacco was healthy, he was the man. Now, after rookie and likely heir Lamar Jackson won his first two games in the hotseat, Harbaugh will have a decision to make—likely after seeing how Flacco (hip) moves around on this practice day and the two subsequent ones. My gut feeling: Flacco gets the job back when he's healthy. Baltimore's next two games—at Atlanta, at Kansas City—will need passing-game efficiency to be won, and right now, Jackson's too shaky in the pass game to give Baltimore a chance at Arrowhead. Just a gut feeling, but I'm trying to think along with Harbaugh here.
Thursday … Arlington, Texas. Strange memories here, I bet. In 2009, the Saints were on a 13-game winning streak (longest in franchise history) and confronted Dallas in a prime-time game … and the Cowboys stunned Payton's team. In 2018, the Saints are on a 10-game winning streak (second-longest in franchise history) and confront Dallas in a prime-time game. Should be fun.
Sunday … Pittsburgh. Sunday Night Football and it might be the first of two meetings between Roethlisberger and Rivers five weeks apart in Pittsburgh. Chargers versus Steelers, Heinz Field, Dec. 2. And if the standings stay the same as they are now: Chargers (fifth seed in the AFC) versus Steelers (fourth seed), Heinz Field, Jan. 5 or 6, wild-card round.
The Browns. I'm agog.
Better than: Jags, Jets, Giants,
Raiders, Bucs, Falcs, Cards.