I like what the Packers did, and I like when they did it.
What would have been accomplished by letting Mike McCarthy lame-duck his way through the next four weeks, other than keeping the franchise's 65-year streak of never making an in-season coaching change intact? Management knew McCarthy was getting whacked, and McCarthy would have had to be blind to not know. You don't go 4-10-1 in your last 15 games, look as listless as the Packers have looked, watch Aaron Rodgers play borderline disinterested football, and think there's some way to salvage an era gone bad. There wasn't. It was just time.
Quite a day, all around. The Sunday of Week 13 started with Kareem Hunt telling Lisa Salters on ESPN he's not really a bad guy, all video evidence to the contrary. It ended with three straight offside flags on the same player in what could be a transformative game for the Chargers. In the middle of that was a lot of weird: Andrew Luck losing a 6-0 game, the Falcons gaining 131 yards in a home game, Bill Belichick screaming an obscenity at All-American Boy Adam Thielen, Cam Newton throwing the Panthers out of the playoffs … and, let's see … there's also the Texans, who will never lose again.
And Matt Millen's on the clock, waiting for a heart transplant in a New Jersey hospital. There's that.
The news of the day felt biggest in Green Bay and Oakland. It would be hard to eclipse the reigning NFL rushing champion, the 23-year-old Hunt, getting fired when he looked to be on the doorstep of a Marshall Faulk career, but Packers president Mark Murphy trumped the Hunt news two hours after the Pack's embarrassing 20-17 loss to the two-win Cardinals. In the snow. Against the warmest-weather team in the NFL. Murphy made the first coaching change by the franchise during the season since Hugh Devore and Scooter McLean took over for Gene Ronzani—what, you don't remember the Ronzani Era in Packer lore?—with two games left in 1953.
It was a mission of mercy.
"The 2018 seasons has not lived up to the expectations and standards of the Green Bay Packers," Murphy said in a statement. "As a result, I made the difficult decision to relieve Mike McCarthy of his roles as head coach, effective immediately."
Five things I feel confident of this morning:
1. Aaron Rodgers was not involved in, or consulted about, the decision. There's been speculation about a chilly relationship between McCarthy and Rodgers, and that chilly relationship affecting the production of the Green Bay offense. Possible; probable, I think. But football's a production business. This was based on the Packers losing with more regularity than they had since Rodgers was a rookie in 2008. In Rodgers' 37 starts since Christmas Day 2015, Green Bay is 18-18-1. Unacceptable.
2. Murphy and GM Brian Gutekunst, the deciders-in-chief, had to see how stale this team was getting. Time to hear a different message from a different coach. And Rodgers, for whatever reason, wasn't playing like Rodgers. He wasn't himself. In fact, in the first 11 games this year, Pro Football Focus had Rodgers on track to make the most throwaway passes since the analytics firm has been collecting data in 2006. His 47 throwaways means he's dumping it once every 10 throws, which no quarterback has done in the 13 years PFF has mined the passing numbers. The NFL average is once every 28 passes. Either he's unhappy with the calls, feels too much pressure, or is giving up on some plays too soon—or a combination. That helped the Packers to a bizarre year in which, with a healthy Rodgers, they blew out only two of 12 foes. This is a very subjective statement, but it just doesn't look like Rodgers is having much fun playing football.
3. The Packers are giving themselves a head start on their search, and I'm pretty sure they think McCarthy will be well-served by the same early start. Green Bay will be competing for a coach with Cleveland, Tampa Bay and the Jets at least, and maybe two or three other franchises. The Green Bay job will be highly desirable, because of the history—"I still get a thrill driving to the same place Vince Lombardi drove to for work," McCarthy told me last year—and the quarterback. As for McCarthy, he could land in Cleveland with former Packers scout John Dorsey (they are not tight, but they are friends), and the Jets could want the guy who coached Brett Favre at the end and Aaron Rodgers at the beginning to mentor Sam Darnold. Having December off gives McCarthy a chance to recharge and prep for a round of early-January interviews. I don't think McCarthy wanted this to happen now, because he's a coach and wanted a chance to coach his way out of this. But coaching the next four weeks would have been (mostly) a frustrating daily reminder of how underachieving this team is, and would have given pause to prospective employers wondering why a team with Aaron Rodgers at quarterback stinks.
4. All things being equal, I believe the Packers would like to find a young offensive coach who could challenge and improve Rodgers. Sunday was Rodgers' 35th birthday. In July, he told me: "I'd love to play till 40 … That's my aim." That gives an enterprising and imaginative coach five years, theoretically, to work with one of the greats. The list has been picked over in the last three years, with Doug Pederson, Sean McVay, Kyle Shanahan, Matt Nagy and Frank Reich gone. The best guys left are probably Patriots offensive coordinator Josh McDaniels, Minnesota offensive coordinator John DeFillippo and maybe college candidates like David Shaw of Stanford (not likely to leave Palo Alto) and Lincoln Riley of Oklahoma—who also could get a look from Cleveland. Could some team try to match the magic of McVay with, say, a young quarterback mentor like Philly's 30-year-old QB coach Press Taylor? Doubtful, but just as McVay was a highly speculative choice by the Rams, we could see another one. "Everyone's looking for the next McVay," one GM told me last month. It's just that no one is sure who he is.
5. It wasn't just a feel. The McCarthy decline, and Rodgers' part in it, was factual. Over the last two seasons, PFF had McCarthy the league's 36th-best play-caller out of 44 coaches. The complex formula had the passing game rated 22nd and 14th in the last two seasons. A layman could look at Green Bay's passing offense and think it's just not imaginative, at all. It's stale. Compare it to, say, Chicago's. On the biggest play of the fourth quarter in New Jersey on Sunday, Bears coach Matt Nagy called a reverse to Tarik Cohen, and a touchdown pass from Cohen to Anthony Miller that forced overtime against the Giants. That's something the Packers need.
McCarthy deserves his due, and credit for lasting 13 years and making the playoffs nine times. He's the longest-serving Green Bay coach since Curly Lambeau. He loved everything about the job and the place. Amazing, really, that he lasted four years longer than Vince Lombardi (nine years), and six years longer than Mike Holmgren (seven).
But even those who hadn't been around the Packers could sense the end was coming. In her story for The MMQB last week about the Packers' troubles, Kalyn Kahler quoted ESPN analyst Booger McFarland on the relationship between Rodgers and McCarthy: "I find it very [unusual] that you get two people who really enjoy working together and enjoy being around each other, but you can't sense or see that [they do]. I didn't sense that from either Aaron or coach."
The divorce should give the Packers a chance to find a new voice for Rodgers and a sputtering team. And McCarthy, still only 55, is a coach who wants another 10-year job. He's a coach. He wants another shot. Both sides should get what they want in the next five weeks. The suddenness of Sunday's decision was surprising, but not the decision itself. It's best for the Packers, and best for McCarthy.
Tony Dungy used to tell his players—and he did not invent it—that nothing good happens after midnight. For Kareem Hunt, nothing good happens after 3 a.m. In February, Hunt was alleged to have been in an altercation with a woman in a hotel in Cleveland, where he's from and where he lives in the offseason. The Chiefs heard the report and coach Andy Reid called him to ask about it. Hunt denied he did anything wrong. He denied it again when the story came up again. Because there was no other evidence uncovered, Hunt played and he and the Chiefs thought the matter was dead … until Reid walked off the practice field Friday afternoon in Kansas City. He was sitting in his office, five minutes after practice, when a staffer came in and told him: "TMZ has a tape of that incident with Kareem." Reid watched it. GM Brett Veach watched it. Owner Clark Hunt watched it.
Four hours later, Hunt had been fired. The tape showed Hunt pushing and then kicking a woman in a Cleveland hotel, disturbingly and graphically. The football part of it is bad enough; Hunt (see Numbers Game, below), through 27 games, had started his career the way Marshall Faulk and Le'Veon Bell started theirs. Hunt's speed was top-receiver-like, so much so that Reid played him as a wideout often in his spread offensive sets. He had toughness and the ability to make the extra half-yard inside.
But everything else about the case showed the kind of mismanagement that has haunted the NFL's handling of domestic-violence cases since the explosive Ray Rice episode in 2014.
The NFL, even after the initial reports said Hunt was involved, and an aggrieved woman gave an exacting report of the incident, did not talk to the woman (who the league said refused their requests for an interview). The league did not talk to Hunt either. As Adam Schefter reported Sunday, several owners were angry that the league never spoke with Hunt. My understanding is the league usually tries to build cases from the outside in, talking to everyone involved in the case and then debriefing the player last. In this case, the league could never get to the woman. So without stories to implicate Hunt, and without the Cleveland police pressing the case, the league didn't act to meet with Hunt.
The hotel video ended up in the hands of TMZ, and TMZ released it Friday.
Questions:
• Why didn't Cleveland police look at the video, especially after, as USA Today reported, the victim pleaded with police to watch it? A police spokesman told the paper it follows up on potential felony cases, not a misdemeanor case like this one.
• Why didn't the NFL ever see the tape—which is the league's claim? The NFL says it attempted to get the tape, but neither the hotel nor police would release it to the league. It might be time for the NFL to get into the same business as TMZ, which presumably found someone in the hotel and either paid for the tape or was given it. Maybe it's time for the NFL to buy tapes from luxe hotels where players stay. One of the front-office people in the league I trust the most, a veteran team operative who's been in the league longer than I've covered it, suggested that to me Saturday. If you can't beat 'em, join 'em.
• Why didn't the NFL, even if it couldn't speak to the woman or see the tape, speak to Hunt? He had already denied to the Chiefs that he'd done anything wrong, so it's likely the league wouldn't have been able to pry anything good out of him. But even if Hunt lied to the league, the attempt must be made. The league investigators might have been able to get more out of him than Reid did. There's only one word for the league's inaction here: inexcusable. It's inexcusable that the league let the case drop, and inexcusable the league didn't think it could learn anything in an interview with Hunt.
This is a complex story, with many fault lines. But my overriding point is something Doug Pederson actually said over the weekend. There's no privacy anymore. No real freedom. There's cell-phone America. "Everybody's a reporter," Pederson said. "Everybody has, obviously, a cell phone and can take videos. Understand your surroundings and where you're. Your job [as a player] is to help us win games, number one, and that needs to remain the focus and then just protect yourself when you're away from the building."
I ask myself how any male can hit a woman anyway. But in a public place like a nice hotel, you've got to assume it's all being recorded. Imagine Hunt thinking he can bury this. Not much can be buried today, particularly if you're a local guy, a big star who just led the NFL in rushing. Once found out, throw yourself on the mercy of your team. I firmly believe that, even with a tape, Reid would have tried to save Hunt's career in Kansas City. Maybe it couldn't have been saved, but Reid's history shows he's not afraid of trying.
So the Chiefs and Hunt move on. Reid discussed the story with his team in a meeting Saturday morning. He told them Hunt messed up. He made one decision that could ruin his career, and it's real, and it can't be erased, and Kansas City has to go in a different direction now. Reid's been through a lot as a coach and a person; a son died of a drug overdose, and another former drug-using son is on the right path now. Reid went out on a limb and signed and then fired Terrell Owens. He brought Michael Vick back into football from his dog-fighting prison stay. He traded Donovan McNabb. In other words, he's not afraid of the tough calls. In this case, once he saw the video—I know there are some who say, He must have seen the video, but I don't believe that—and armed with the lies Hunt had told him, Reid knew Hunt had to go.
Reid, I'm told, wants Hunt to forget about football for the foreseeable future. I'm told he wants Hunt to get help and change the life that would ever even entertain kicking a woman when there's a dispute of some sort. It's a smart thing. Hunt needs to take his medicine, listen to the lessons of people like Ray Rice, and spend the next year or so concerned only with his mental well-being. He'll have plenty of time to make amends if he's legitimately remorseful. And he's just 23. If he's sincere, we're a country of second chances, particularly with people who are talented. Hunt is.
It seems flippant to talk football, but the 40-33 victory in Oakland on Sunday was temporary balm for the Chiefs. Four more touchdowns for Patrick Mahomes, and a decent but not explosive sub job by backup Spencer Ware. The good thing going forward for KC? Three of the last four at home, including a short-week Thursday game in 10 days against the hot Chargers. The bad thing? There's no Kareem Hunts on the street in December. The Chiefs will have to improvise, and it won't be easy.
With one game (Washington at Philly) left in Week 13, we're down to the last 65 games of the regular season. Here's how the conferences look in seeding as of today:
AFC
Division Winners: Kansas City (10-2), New England (9-3), Houston (9-3), Pittsburgh (7-4-1).
Wild Cards: L.A. Chargers (9-3), Baltimore (7-5).
In The Hunt: Miami (6-6), Indianapolis (6-6), Denver (6-6), Tennessee (6-6).
• Beating the Vikings was great for the Patriots, but the next two games—at Miami, where they often struggle, and at possible desperate Pittsburgh—will be bigger because they're AFC games, and New England is 6-2 in the conference; just okay.
• Houston doesn't play a team with a current winning record in the last four weeks. They lose a tiebreaker with New England, but the Texans have the schedule edge.
• The Chargers and Steelers look like they could be headed for a Heinz Field rematch five weeks from now on wild-card weekend; they've got the best shot to be seeds six and five, respectively in the AFC.
• Denver's suddenly intriguing, at 6-6 and with the Niners, Browns and Raiders in the next three weeks
• With Baltimore quarterback Lamar Jackson (3-0 as a starting passer) likely to play Sunday in Kansas City, we'll see if the Ravens' impressive defense can win a game for them the way the old Ravens D could win games.
NFC
Division Winners: L.A. Rams (11-1), New Orleans (10-2), Chicago (8-4), Dallas (7-5).
Wild Cards: Seattle (7-5), Washington (6-5, with a game tonight).
In The Hunt: Minnesota (6-5-1), Carolina (6-6), Philadelphia (5-6).
• Bears had a bad loss, because it kept the Vikings alive for the division. Bears have the Rams Sunday night at Soldier Field. The Vikings have a tough one at Seattle.
• Seattle has the Niners and Cards left to play, and it's hard to fathom a nine-win Seattle team not making it …
• Carolina, on a four-game bender, has the Saints in Week 15 and 17. Not the Panthers' year …
• Rams look like the one seed, if only by looking at the near future; after the Bears Sunday night, L.A. has three sub-.500 teams left.
• Dallas, with a decisive win Thursday night, has four .500-or-below teams left. Looks like the Cowboys have saved their season—and Jason Garrett's job.
On Friday, I spent a couple of hours with Matt Millen in a hospital in New Jersey. He's been there so long he knows the names of every nurse on the floor. They cook for him—real meals from home, so he won't have to eat hospital food all the time.
Friday was day 65 waiting for a heart transplant. The guy next door on his floor got a heart and kidney the other day, and Millen was happy. I asked him if he had heart envy when a neighbor on the floor got one, and he said hell no—he hopes they all get theirs.
I'll tell the story of Millen and his heart transplant Wednesday on my podcast, which you'll be able to find here.
Millen needs a transplant because he has amyloidosis, a disease that attacks the heart with a rogue protein, amyloid. When I saw him last May, he knew the disease was advancing quickly, but he couldn't have known it would be this quick. At 60, he needs a transplant fairly soon; problem is, he doesn't know what "fairly soon" means. He feels fine now, but he'll be in the hospital till, he hopes, he gets a heart to replace his sick one.
So he has a nice, small corner room, looking out at a working-class Jersey neighborhood. He watches every football game he can find on TV. He reads a lot. He likes Mike Lombardi's "Gridiron Genius" book. He's onto Churchill now. He knows he's had a good run, and he hopes he has a long life left. But you'll hear him on my podcast: He is pragmatic to the core, and he has loved his life, the football life with the four Super Bowl wins and the real life with his property out in Durham, Pa. I'm pulling hard for him. If you'd like, send me an email for Millen and I'll forward them along. 
By the end of their lives, Bob McNair and George Bush (the elder) spent a lot of time together—on the golf course, at each other's homes, in a box at Texans games. It's pretty heavy that McNair, the Texans owner, died on Nov. 23, and Bush, the 41st president, died exactly seven days later. Both in Houston.
How happy they would have been Sunday, watching the Texans throttle Cleveland, watching the Texans take control of the AFC South after an 0-3 start … because they both loved football, and loved this team.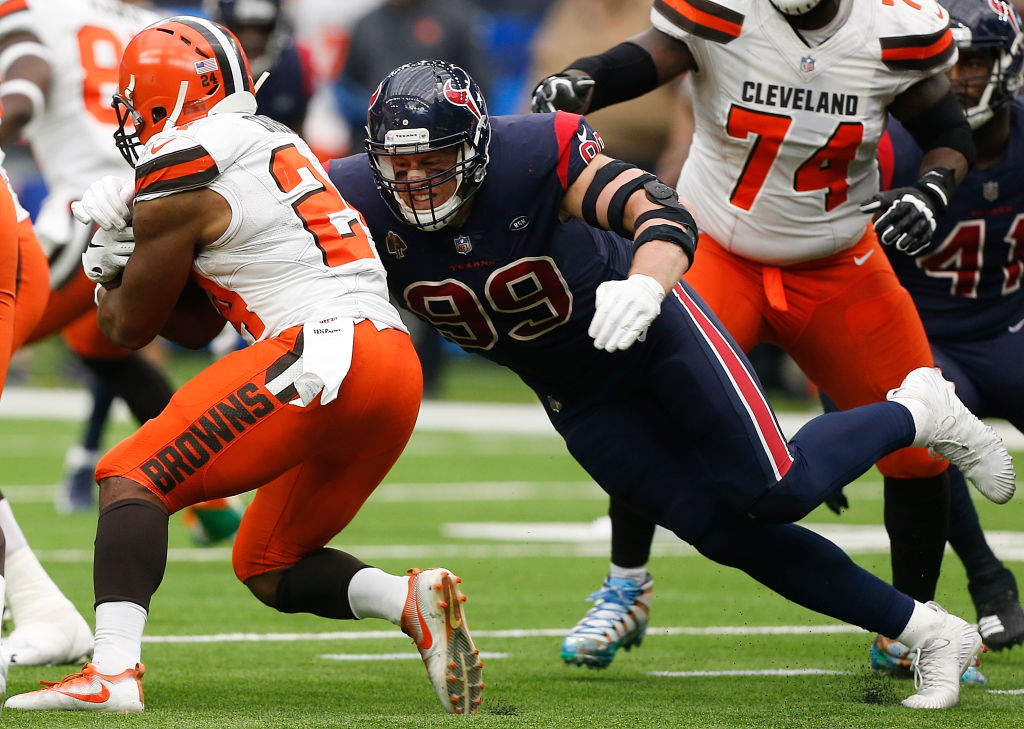 "I've been thinking about that a lot," Houston coach Bill O'Brien told me Sunday, after the Texans' ninth straight win. "When I first got here, Bob brought my wife Colleen and I over to meet the president. We got a photo of the two of us and the president, and now, just think of where we are. Two legendary Houstonians, gone, and such great people. I'm lucky I had the chance to know them."
One other thing about the short chat with O'Brien. He's absolutely nutty about the one-day-at-a-time thing that coaches harp on. Some harp on it; O'Brien seems to live it
"We cannot take the cheese—WE CANNOT," he said. "I've told the team, it's a short walk from 0-3 to where you are now. We don't think about anything else, like the playoffs. We think about the next day. We think about Monday. Lift at 10, watch the tape at noon, flip the script and get ready for Indy next Sunday. We've got good guys who love football. When you do, they'll follow what you're emphasizing."
Houston defensive star J.J. Watt, who became good friends with the Bush family, on what he'll take into the rest of his life from times with the late president, George H. W. Bush:
"I came to Houston seven years ago wondering if I'd even fit in to the NFL, and my time here has been just incredible. I got to know and feel pretty close to the president of the United States and his wife. What wonderful people. When I got to Houston, I never imagined meeting and getting to know a president and going to his home. But it happened. He and Mrs. Bush welcomed me and my family into their home, several times.
"What I really take from it is how kind they were. So extremely kind. I learned what it is to be a person of high character from watching the president. It was the simple things—something as simple as pushing a wheelchair for someone, or opening the door for someone. President Bush talked to everyone in the room. He made everyone feel welcome. He was a great joke-teller. Lighthearted. Fun. He set a great example for me to follow for the rest of my life.
"One other thing I remember: the cookies. Their home was so warm, so welcoming. There would be cookies, warm cookies, when I was there. When you were there, you were family.
"I can't speak to anything political, really. That's not how I knew him. But his legacy … I'll remember him as a kind man who treated everyone well. That's a good thing to leave with people."
This Phillip Lindsay story is getting serious. And it's crazy. On Sunday, in Cincinnati, he did something that is pretty rare in any level of football: He scored on a 65-yard run, and he was never touched by a Bengal. At the end of the 157-yard rushing day—the best of his young career—Lindsay now has 937 rushing yards through 12 games, and stands 168 yards away from breaking the NFL record for rushing yards by an undrafted player in his rookie year (Dominic Rhodes, Indianapolis, 2001, with 1,104 yards).
I don't mean to get all podcast-promotional on you this week, but I had a good one with the breakout star Lindsay, and the best safety in football, Minnesota's Harrison Smith. I don't recall being as surprised with a guest in the three years I've done this podcast as I was with Lindsay. He's magnetic and real and a pretty damn good player. The Cliff's Notes version of his life is really interesting.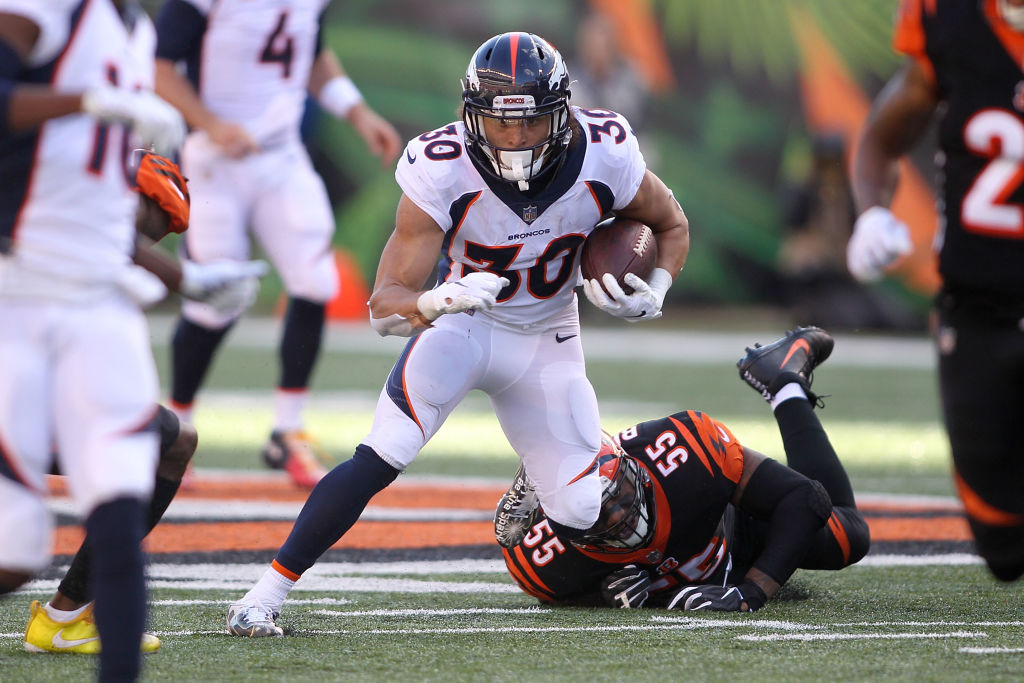 • HIGH SCHOOL. His dad, Troy Lindsay, rushed for a record 4,400 yards in the 70s at a Denver high school, and Phillip, at South High in Denver, broke his dad's Denver Public High School rushing record as a senior. The game was stopped, Phillip got a standing O, and the game continued, and minutes later, he blew out his ACL. "Minutes later, man," he said. Still, Colorado coach John Embree made an in-house visit later that season and offered him a scholarship, telling him he could red-shirt and rehab as a Buff freshman. "Well," Lindsay told me, "right after he got done with me, he was driving in the car, I get a call from my uncle saying, 'Did you see the news? Coach Embry got fired!' I was left kinda dead, kinda just there. Didn't know what I was gonna do. I was 160 pounds wet. Not even that. I was probably 155." The new Colorado coach, Mike MacIntyre, honors the scholarship offer.
• COLLEGE. After rushing for 3,770 yards and 4.9 yards per carry as a Buffalo, Lindsay was bypassed for the combine. His reaction? "Shocked. I was angry … I used it as motivation. I worked my ass off to train for my pro day. My pro day was my combine." He ran a 4.38-second 40 in Boulder, and he figured, OK, that's got to get me drafted. Of course, he wasn't drafted.
• THE NFL. Cool thing about this podcast: Lindsay used it to send messages and to thank people in his life. Like this: "This is for kids getting ready for the draft. One thing I wanna say is you're gonna hear a lot of things. A lot of things end up being bulls—. And if you're not mentally prepared, mentally ready, it will mess with you. That whole three days of the draft was hell. It really was. It wasn't hell just for me but my family. Just sitting there waiting for a phone call." I asked: Did you cry? Lindsay said: "Not gonna lie. I did. I was in the room with my father and I did cry. I did cry because I sit there and my family's there and I'm looking at my family and they're crying. They're crying with me."
No time to mourn, though, because right after the draft there's a frenzy of team trying to sign the undrafted guys. "All 32 teams wanted me! They couldn't spend a seventh-round draft pick on me? … Mainly I was angry with the Broncos, I ain't gonna lie … They picked two running backs in front of me. At the end of the day, they're probably two of my best friends now, which is funny. By this point I was mad! I don't wanna go here for somebody that doesn't want me. At that time, I'm sitting there like I don't know where I wanna go and I got 15 minutes to decide. Family's going crazy. My agent's trying to tell me what's best for me and I'm just running with a lot of emotion at that time. Well, through all that chaos, my mother just sits there. My mother's a real quiet woman and she observed a lotta things. And she gets a lot of feelings and a lotta times when her feelings are right you go with them. If it means you need to stay home tonight, you stay home tonight 'cause something ain't right. So I'm sitting there, everybody's going crazy, whole family kinda arguing where I should go. And it gets quiet. My mother kinda sits there and my mother looks around the room. She says, 'Phil, you needa stay home. You needa go to Denver Broncos.' I called my agent and I say, 'Let's go with Denver.' "
• THE LIFE. I feel pretty sure he is the only top-10 running back in the league living at home with his parents. That's part of the story, part of the ethos that he hasn't arrived. "One thing I'll tell you: When you're dealing with a lot of rookies, you're dealing with kids, a bunch of young men, that really don't know what they're getting themselves into. We don't care. We go out there. We're playing football just to play football. We don't understand the rivalry of the Broncos and Oakland. We haven't been around long enough in the NFL to understand it like that, so we're out there playing for each other. And I think that helps you. That helps 'cause you're not looking at the helmet. You're not looking at the person that's wearing it. You're just out there playing football."
• THE MORAL OF HIS STORY. "I mean, I can't give you a moral of the story because the story's not done."
• HIS MOTTO. "I'm still not sh–!"
If I'm a high school coach, in any sport, that 30 minutes with Lindsay is something I play for my team. So many good lessons in it. And on the back end of the pod, show the replay of that 4.38 speed on the 65-yard touchdown run. It's impressive.
Offensive Players of the Week
Travis Kelce, tight end, Kansas City. So in the stunning 45 hours before the game—between the waiving of Kareem Hunt and the opening kick in Oakland—everyone inside and outside the Kansas City locker room wondered who would supply the offensive juice that Hunt would have provided. Spencer Ware? Tyreek Hill? On this day, it was a combo platter at tight end, led by Kelce with an assist to Demetrius Harris. Kelce caught 12 balls for 168 yards and two touchdowns, and after a third Kelce TD was overturned, Harris backed him up by catching a 13-yard laser from Patrick Mahomes. Combined, the tight ends caught 15 balls for 207 yards and three TDs.
Phillip Lindsay, running back, Denver. In the great tradition of unknown Denver running backs, Lindsay is trying put the Broncos on his back on the way to an unlikely playoff run. His 157 rushing yards on 19 carries made him Denver's most important player Sunday in Cincinnati, and you can make the case he's been the key to their three-game, season-saving winning streak.
Tarik Cohen, running back, Chicago. What a weapon. It's not often I give one of the POTWs to a losing team member. Cohen was a fixture in the receiving game as Chase Daniel's most reliable weapon (12 catches, 156 yards). And in one of the coolest plays of Week 13, Cohen took a pitch on a reverse with :00 showing on the clock in the fourth quarter and the Bears down 27-20. Cohen threw a nifty one-yard touchdown pass (touched, it appeared, by an onrushing Landon Collins of the Giants) to Anthony Miller, forcing overtime. The Giants won it in OT, but that was some afternoon by Cohen.
Defensive Players of the Week
The Baltimore defense. Can't pick one guy. This was a tremendous defensive effort in Atlanta. Holding the seventh-rated offense in football to 131 total yards? To 2.9 yards per play? Holding Julio Jones and Calvin Ridley to 40 yards? Holding Tevin Coleman to 8? Great days for Marlon Humphrey, the former first-round corner, and … well, lots of guys on that D. It was a suffocating unit Sunday.
Aaron Donald, defensive tackle, L.A. Rams. Two more sacks in Detroit, giving him a league-high 16.5 for the season, and very nearly clinching a second straight Defensive Player of the Year. His quickness and strength are right now unmatched by any front seven player in the NFL.
David Onyemata, defensive tackle, New Orleans. The Saints have had good luck with Canadian college players. Remember Akiem Hicks? Onyemata's on the same path. Not a lot to cheer in the Saints' loss at Dallas, but the interior pressure from Onyemata, a Nigerian still fairly new to football, was vital in keeping the game close. He had his first three-sack game as a pro.
Special Teams Players of the Week
Desmond King, cornerback/punt-returner, L.A. Chargers. King made the signature play in a remarkable comeback on Sunday Night Football. With his team down eight, King took a line drive punt, made the first two guys miss and ran 73 yards for a touchdown. The Chargers converted the two-point conversion and the game was tied, thanks to King.
Sam Koch, punter, Baltimore. Beautiful pass by Koch early in the second quarterback against the Falcons. On fourth-and-seven at the Atlanta 46, Koch threw a perfect spiral 28 yards in the air to wideout Chris Moore, cutting across the middle. You wonder how the Falcons didn't converge on Moore when he ran across the middle, instead of sprinting downfield in coverage. The 21-yard gain on a cool play design was the best special-teams moment of the weekend.
Ka'imi Fairbairn, kicker, Houston. Five for five in field goals, from 35, 42, 48, 53 and 38, in a 16-point Texans win. Having a nice year—26 of 29 from inside 50 yards.
Coach of the Week
Anthony Lynn, head coach, L.A. Chargers. Give Lynn credit for having the guts to go for two twice in the second half of his team's thrilling comeback win over the Steelers. And give him credit for whatever he said in the locker room at halftime; L.A. came out a different team. And don't shortchange the longview either. In the middle of all the San Diego-to-L.A. moving mayhem, Lynn has the Chargers on the verge of a playoff spot and is 18-10 in his young head-coaching career. Remarkable road win. This was a game, down 16 in the second half, the Chargers of the past would have lost.
Wink Martindale, defensive coordinator, Baltimore. Stats speak volumes for what Martindale has done with a young and energetic D. In the Ravens' three-game winning streak (all without Joe Flacco), the defense has allowed 255, 249 and 131 yards to Cincinnati, Oakland and Atlanta (and 21, 17 and 16 points). This might not quite by a Ray Lewis-led Super Bowl D in its brutality, but the quickness and speed of these young guys is being used wisely by Martindale.
Goat of the Week
Cam Newton, quarterback, Carolina. In a must game for the Panthers' playoff hopes, Newton threw two interceptions in the first half at Tampa, leading to 10 Buc points. In the fourth quarter, trailing 24-17, Newton threw two more picks in the last 11 minutes to further doom the Panthers. Now 6-6, Carolina probably has to run the table to play in January. Newton has been significantly more accurate under Norv Turner, but his seven picks in the Panthers' four-game losing streak have really hurt.
I
"I'm very embarrassed about it. I'm ashamed of myself."
—Kareem Hunt, to Lisa Salters of ESPN on Sunday.
II
"Peer-to-peer, I would definitely try to help him figure out, 'How can we start dealing with the underlying problems in your life?' Because he has a long life to live, this will be a defining moment, but it shouldn't be the moment that defines you."
—Ray Rice, on the advice he'd have for Kareem Hunt, to Ian Rapoport of NFL Network.
III
"The Washington Redskins are an embarrassment to the NFL."
—Boomer Esiason, on CBS' The NFL Today show Sunday, after Washington claimed linebacker Reuben Foster—cut by San Francisco after he was arrested for domestic abuse—on waivers.
IV
"There's a give and a take. There's pushback, there's conflict. But the biggest thing is, there is resolution. We are closely connected on game plan. We are fiery competitors and there is a lot of trust. We've evolved."
—Aaron Rodgers, on his relationship with Mike McCarthy, as relayed from ESPN's Joe Tessitore, in Kalyn Kahler's story about the struggles of the Packers at The MMQB.
V
"He's unlike anything I've ever seen."
—Rams quarterback Jared Goff, on his defensive teammate Aaron Donald, who has 16.5 sacks in 12 games.
In, say, the last 30 years of football, a new hybrid running back, as dangerous in the passing game as he is running the ball, has prospered in the NFL. From day one in the NFL, Kareem Hunt has been that back. (He had a 246-yard, three-touchdown debut against New England in 2017, including a 78-yard wheel route-turned-touchdown reception. The Chiefs split Hunt outside, often making him the widest receiver in a five-receiver formation. Clearly, how Kansas City copes without that part of its offense is going to be a major factor in how far the team goes in January.
Hunt played 27 games with the Chiefs. I researched the backs I consider to be much like him, using the invaluable Pro Football Reference, to compare his first 27 games to the backs of the past 30 years who he seems most like. I looked at touches, total yards from scrimmage, average per touch, and touchdowns.
The five backs I examined through 27 games: Thurman Thomas, Marshall Faulk, LaDainian Tomlinson, Le'Veon Bell and Hunt.
Combined rushes and receptions: Tomlinson 695, Bell 627, Faulk 615, Hunt 532, Thomas 511.
Scrimmage yards: Bell 3,304, Tomlinson 3,060, Faulk 2,990, Hunt 2,984, Thomas 2,694.
Average per touch: Hunt 5.6, Bell 5.3, Thomas 5.3, Faulk 4.9, Tomlinson 4.4.
Touchdowns: Hunt 25, Faulk 23, Tomlinson 20, Bell 18, Thomas 15.
I think, if you polled GMs and coaches of this extended era, they'd probably say Faulk was the best all-around back in this generation-plus. How interesting to note that, early in their careers, Hunt was more productive overall in 83 fewer touches than Faulk.
Hunt is 23. If he plays his cards right (a big if), I would guess he'll play football again, and some team could be getting a generational player when he returns. 
I
At 23, Brandin Cooks recorded a 1,173-yard receiving season for New Orleans in 2016. He was traded to New England the following spring for a first-round pick.
At 24, Brandin Cooks recorded a 1,082-yard receiving season for New England in 2017. He was traded to the Rams the following spring in a package for a first-round pick.
At 25, with four games left, Cooks has recorded a 1,026-yard receiving season for the Rams in 2018.
I predict he will not be traded in the spring of 2019—having signed a five-year, $80-million extension with the Rams in July. But it's pretty weird that a young, consistently productive wide receiver got thrown overboard by good teams in successive years. (Even though the Saints have a very good right tackle, Ryan Ramczyk, to show for it. The Patriots used the pick on tackle Isaiah Wynn, who tore his Achilles in August and won't play till next summer.)
II
Great factoid from ESPN's Mike Reiss: The Patriots end 2018, in order, at Miami, at Pittsburgh, Buffalo at home, Jets at home. They ended 2017 at Miami, at Pittsburgh, Buffalo at home, Jets at home.
III
Artie Burns of the Steelers was offside on the final three snaps of the Chargers-Steelers game Sunday night, all field-goal tries by the Chargers.
IV
On his first carry in the NFL, Kareem Hunt lost a fumble against New England.
On the remainder of his 531 touches for the Chiefs, Hunt never lost a fumble.
Five weeks in the books after tonight, and here's my MVP ballot today:
1. Drew Brees, QB, New Orleans. Last week: 1. Mulligan in Dallas. Can't have many more of those, though. Race is tight.
2. Patrick Mahomes, QB, Kansas City. Last week: 2. Crisis time. So how does the first-year starting quarterback respond? By putting up 40 points on the road, with four more touchdown passes. Man, Mahomes is special.
3. Todd Gurley, RB, L.A. Rams. Last week: Not ranked. I continue to vacillate between Gurley and Jared Goff and maybe eventually Aaron Donald. But another huge day for Gurley—26 touches, 165 yards, two more touchdowns—puts him back in the running.
4. Philip Rivers, QB, L.A. Chargers. Last week: 4. Down 23-7 at the half Sunday night in Pittsburgh, Rivers rallied the Chargers for what seems like a franchise corner-turning win.
5. Russell Wilson, QB, Seattle. Last week: Not ranked. Supposed to be a rebuilding year, but no one told Wilson, who has a 29-to-5 TD-to-interception ratio, and a 115.5 rating.
New York Scene of the Week, a week in which I did not leave the metropolitan area:
Tuesday, 12:50 p.m., 7 Subway train from Times Square to Grand Central, sparsely populated—maybe 10 people in my car. The guy sitting across from me, alone, maybe 35, dressed smartly, reaches into his pocket and pulls out a dollar bill. He folds it once, then again. He brings the tightly folded dollar to his mouth and with the corner of the folded bill he digs between two of the teeth on the right side of his mouth for five, 10 seconds. He gets something out of there—a sesame seed from his noon bagel, perhaps?—and then takes the dollar and puts it back in his pocket.
I have now, over the years on planes and trains, seen people putting on makeup, clipping nails and painting on nail polish. Now I can add tooth-picking with a dollar bill.
I
II
III
IV
V
VI
VII
To comment on the column, or to say anything about anything, you can reach me by email.
Did you actually read the top of my column before I wrote it? From Jeremy A.: "This narrative that letting McCarthy go early is a sign of low respect seems odd to me. If all involved know that a parting of ways is inevitable, who benefits from playing it out? McCarthy now has a low-stress month to find his next gig and make arrangements for his family (and to enjoy the holidays with them). The team can get on with the search."
Right you are, Jeremy. Seems pretty humane to me.
JT blames Mark Murphy for the McCarthy failure. From JT: "Mark Murphy will never admit it [but] don't you believe he purposely set Mike McCarthy up for failure this season in the same way Ted Thompson set Mike Sherman up for failure? It is my contention Mark Murphy decided to fire Mike McCarthy to take the spotlight off him for going from absentee landlord to micro-manager over the last off-season. His interjection was a monumental failure UNLESS he was purposely setting McCarthy up for failure."
I think you're giving Murphy way too much ego credit here. He gets no personal benefit, or benefit for distracting from a bad season, out of this firing. Murphy does not want to waste the 35th year of Aaron Rodgers' life with a crummy season, just so he can make a coaching change to someone he wants for 2019 and beyond. Murphy saw a deadness in his team, I believe, and acted.
Ticked off at Odell. From Travis G.: "Please don't let the lack of effort or lack of guts, whatever you want to call it, on Odell Beckham's onside-kick performance slide. Everybody loves the long touchdowns and the spectacular plays that a talent like him can produce, but it's the little plays that make the difference between a winner and a loser in professional sports."
Couldn't have written it better myself, Travis. If the Giants had lost, even though Beckham did throw and catch touchdown passes Sunday against Chicago, I would have seriously considered Beckham for Goat of the Week.
Very good question. From Boyd: "How does TMZ keep getting these videos (Ray Rice) that the NFL cannot? It's the second time now the NFL, a multi-billion corporation, looks foolish after trying to get the incriminating film."
Agreed. As one longtime front-office person told me Saturday (and he was not kidding), "The NFL might have to get into the video-buying business. This is getting too embarrassing." I wrote a bit about it earlier, but the way TMZ gets the videos is very simple, from the appearances of it: I'm guessing TMZ finds someone in a position of authority at some of the high-falutin' hotels where athletes stay, and they made it worth the while of that employee to share the video of controversial events. It's shady, but I'm not sure it's altogether illegal.
10 Things I Think I Think
20
1. I think these are my quick-hits thoughts of Week 13:
a. Not only is the locker room seemingly behind Lamar Jackson keeping the job in Baltimore, but I've got to think John Harbaugh's exactly the same this morning. He's not yanking a charismatic quarterback on a three-game winning streak.
b. Seattle GM John Schneider took a mountain of crap in the offseason, some shoveled on him by departing players and one he didn't pay in Earl Thomas. But Schneider was prescient in his off-season decisions, knowing that you simply don't pay players for what they have been, but rather what they will be.
c. Seattle at Dallas or Chicago in the wild-card round would be a tough match for either home team. Not saying the Seahawks would win, but they'll be a tough out if they don't turn it over.
d. Feisty game, Raiders. Impressed with your effort.
e. Oakland's Jared Cook, at 31, is a top five NFL tight end. What an impressive player.
f. Sort of a tainted win because the Packers are so messed up. But the Cardinals are playing hard, even in their hopeless state.
g. "That play should have been killed from the start," Cris Collinsworth said, correctly, on the Chargers false-start-that-wasn't-called on the long Philip Rivers touchdown bomb. "That play should have never happened." Good point. Bad reffing.
h. Pretty soon, I'm going to have to admit I was wrong about Josh Gordon to the Patriots. Not quite yet, but soon.
i. Same old Jets.
j. Odell giveth: The Odell Beckham Jr. touchdown throw to Russell Shepard was such a thing of beauty. First: It traveled 50 yards in the air. Second: Beckham's feet weren't set; he was scrambling in the pocket. Third: It was a perfect spiral, on target, to a wide-open receiver. Just lovely. Smart play design by Pat Shurmur, perfect execution by Beckham, waiting for a receiver to get free.
k. Odell taketh away: Dive for the onside kick, man. That could have cost the Giants the game.
l. Uh, Vic Fangio … you need to cover Beckham in the end zone. That's in the NFL rule book. Plays like that are hazardous for a very good defensive coordinator's head-coaching prospects, no matter whose fault it was.
m. Josh Rosen had a 33-yard run in Green Bay.
n. That is not a misprint.
o. Those Lions fans, even in the midst of another lost season, care so much. Sounded like a loud Ford Field in the loss to the Rams.
p. Dying to know what caused Adam Thielen to scream at Bill Belichick, and dying to know to what caused Belichick to tell Thielen to shut the heck up. (Sort of.)
q. Nice tackling by Jason McCourty on the key stop of the Vikings midway through the fourth quarter.
r. Saquon Barkley can run against any front.
s. How bush league is Jalen Ramsey? Approached Andrew Luck when Luck was on the ground after a scramble. Ramsey held his hand out, as if to offer to help him up. Luck went to take his hand, and Ramsey yanked it back. What a chump.
t. The conditioning of Christian McCaffrey is marvelous. Early at Tampa, he broke through the line for a 53-yard run sprint down the left sideline. Walked back to the huddle. Lined up in the backfield. Not even breathing hard. Took a pass in the flat, sprinted to the right pylon, dove for the pylon. Touchdown. That was an impressive two-play series.
u. I don't know how you can play the wide receiver position better than DeAndre Hopkins. The hands, the strength on competitive catches, the grace on sideline catches, the speed … Hopkins has it all.
v. Kind of cool, Bill Clinton calling Jim Nantz to give him condolences on the death of his friend, the former president.
w. Some good reporting on Sunday morning from the TV guys—Adam Schefter and Chris Mortensen revealing the league never spoke to Kareem Hunt after the incident in Cleveland, Ian Rapoport getting Ray Rice to dish on lessons to share with Hunt, Jay Glazer on the Saturday morning meeting at which Andy Reid told his team about why the organization made the Hunt decision, and Peter Schrager on the Rams trying to make a deal for Kliff Kingsbury to join the staff as a consultant.
x. Special-teams coaches: Teach your gunners to seek the punt-returner and wrap him up on the tackle the way Dallas safety Kavon Frazier does. Great mechanics on that guy.
y. Be proud, Ryan Tannehill. Heck of a game in beating the Bills. In two games, he's thrown five TDs and one interception since he came back from his month off.
2. I think this can't be understated: Patrick Mahomes has 41 touchdown passes with four games left in his first starting season in the NFL. That's a wow right there. (Record: Peyton Manning, 55, 2013. Just FYI.)
3. I think it's time to sit, A.J. Green. It's just not worth it, trying to gut out meaningless football. The important time for you begins next September, not this December.
4. I think I don't care technically how the rule reads about forward progress. I think the Colts got robbed of a final play at Jacksonville when line judge Jeff Bergman ruled Eric Ebron, who clearly landed out of bounds with about four seconds to play, was inbounds at the end of the play. Nonsensical.
5. I think this has to feel pretty good for all the Chicago Cardinal fans in my reading audience. The Chicago Cardinals beat the Packers in Green Bay in 1947, 14-10. That was the last year of two significant things: the last time the Cardinals won an NFL Championship, and the last time the Cardinals won a game in Green Bay. In the next 12 seasons, the Chicago Cardinals went 0-1 in Green Bay (though they did win twice in Milwaukee, where the Packers played several home games every year). In the 28 seasons of the St. Louis Cardinals, they went 0-4 in Green Bay. In the first 30 seasons of the Cardinals in Arizona, they went 0-3 in Green Bay. So the franchise went 71 years between wins in Green Bay—and how unexpected it was to win Sunday, and how perfectly indicative of the state of the Packers it was to see a bad Arizona team, on a snowy day, knock the Packers out of any sort of playoff contention, 20-17.
6. I think if that's how Greg Olsen goes out, rupturing his plantar fascia Sunday in Tampa and apparently being lost for the year, what a career he's had. (And I have no idea if he plans to try to play in 2019. I'm just saying at 33 and having been beaten up recently, you've got to wonder if he wants to come back—and if the Panthers would want him.)
He has 666 catches, fifth all-time among tight ends. The four above him (Tony Gonzalez, Jason Witten, Antonio Gates, Shannon Sharpe) are either in the Hall of Fame or very likely to be there.
He just passed Ozzie Newsome (662 catches) for fifth on the tight end list.
He could walk into a TV booth tomorrow. Olsen's highly regarded by the networks.
7. I think I've got one thought about Alabama coming back from 14 down in the last 20 minutes to beat Georgia for the SEC Championship, mostly with a quarterback who hadn't played much this year, and there's a Bill Belichick tributary to it. There's a reason why Nick Saban drives his coaches and his players to work so hard, and to work on every possible scenario, and to stress over-conditioning (if there is such a thing) with his players. Because you're going to get to a game sometime during the season when the extra sprints and weights are going to be needed. That game felt lost late in the third quarter, with the emotion and the energy expended by the trailing team in the league championship game enough to defeat most teams. Saban, like Belichick, preaches that players have to be ready for extreme adversity, because it's going to come up at some point during the season, and even when you're blowing teams out by 40 every week, you've got to be ready for that game when you're behind by double-digits with 20 minutes left. Alabama was. It's admirable.
8. I think you've got to lasso Michael Irvin, NFL Network. I know him, and I like him, but even on the NFL's channel, there's got to be some modicum of professionalism. This Irvin screed after Dallas upset New Orleans went, in part, something like this, though I have to admit some of the syllables coming out of his mouth were hard to transcribe on the Cowboys' victory:
"Are they able to compete at the top of the conference? I'm gonna tell you something: The answer is yes they are! And IT'S A FUTURE SO BRIGHT I HAVE TO WEAR MY SHADES OR IT WILL BLIIIIIND ME! … WHO DAT SAY GONNA BEAT DEM SAINTS!!!!!!!! WE DID! WE SAID IT! AND WE DID IT!!!!!" Then Reggie Bush, on set, said: "You picked against the Cowboys today."
To be charitable, this is the theater of the absurd. Maybe 20 or 30 seconds later, Irvin said, "OAAAAAHHHHHHHHHHHHHHHHHHHHHHHHH!!!!!!!!!!!" He was out-of-control screaming.
9. I think Irvin's a smart guy. Bringing him back to earth can be done, and it should be done.
10. I think these are my other thoughts of the week:
a. Admittedly I'm not much of a college football watcher, so take my 1 through 4 with a shaker of salt, not a grain: Alabama, Clemson, Georgia, Notre Dame.
b. I understand the injustice of it all, Oklahoma and Ohio State and UCF. But if you're picking the four best teams, hard to see how Georgia's not in there after considering this: In its first 12 games of the season, covering 720 minutes, Alabama trailed for a total of 70 seconds. On Saturday, Alabama was tied or trailed for 58 minutes, 55 seconds. That's an accomplishment that cannot be ignored.
c. Dumb fake punt call by Georgia with three minutes left in a 28-all game, on fourth-and-11 for crying out loud, and Alabama ready for it.
d. Football Column of the Week: by Michael Lombardi of The Athletic, a takedown of Washington president Bruce Allen over the Reuben Foster acquisition by the team.
e. What makes the column so effective is that Lombardi, who, like Allen, formerly worked for the late Al Davis, is able to explain why Davis would not have signed Foster, and why Allen was reckless in doing so.
f. Story of the Week: Kalyn Kahler's piece in The MMQB about things don't feel right in Packerland.
g. A story like that is hard to do. Very hard. The Packers are buttoned up from top to bottom and run a tight ship. And you might read it and say, "Well, there's no smoking gun—no Aaron Rodgers saying really bad stuff about Mike McCarthy, or vice versa." Which is right. But there's just a feeling that something's not right there, and Kahler probes around the edges of the story enough to give you the feel that something's coming to a head there.
h. Book Excerpt of the Week: The Wall Street Journal had an insightful piece Saturday on former Browns owner Randy Lerner's experience over a decade owning the Aston Villa franchise of the EPL. The excerpt, by Joshua Robinson and Jonathan Clegg, is smart and detailed. (It's behind a paywall. I bought the paper on Saturday and found it.) It's from an upcoming book called "The Club: How the English Premier League Became the Wildest, Richest, Most Disruptive Force in Sports."
i. Lerner paid $118 million for Aston Villa in 2006, sold it for about $80 million in 2016, and the club's operating losses, according to Robinson and Clegg, totaled more than $250 million. Insane business. Great quote from Lerner: "It would be very easy to say the Premier League chewed me up and spat me out. But I like to think I put my finger down its throat and said, 'Now puke me up.' "
j. Such interesting stuff in there about relegation. Cool read.
k. Looked up at the TV on Saturday afternoon, and there was a punter for Georgia wearing "90." I love college numbering. Then I see the kicker is 98, and the punter, who is also the holder, is 90. Beautiful.
l. Speaking of numbers, this something you probably don't need to know about me. When I go to the gym, and I get a locker with a number under 100, I always remember which locker I have by thinking of a player who wore that number. Over 200, a U.S. area code. (I struggle with locker numbers in the 100s.) The other day, I had locker 62. Darrell Dess, Giants guard of my youth. Next day: 318. Louisiana area code. In fact, a couple of current players are in my phone list from 318.
m. TMI about Peter King. I know.
n. Beernerdness: Nobody's doing it better than Maine Beer Company right now. At least of the beers I taste, Maine has the best. Mo Pale Ale, and Peeper Pale Ale … just fantastic. I realize they're pricy, and it's not for every-week drinking. But I had a Mo on Saturday, and it was incredible, again.
o. Memories of the late president … my favorite quote from George Bush the elder: "Politics does not mean you have to be mean and ugly."
p. Gotta love "60 Minutes" mobilizing lightning-fast on Saturday and getting the three presidents who came after Bush—Bill Clinton, George Bush the son and Barack Obama—for a segment Sunday night.
q. Of all the things I heard over the weekend about George H.W. Bush, easily the best was Michel Martin's interview Saturday evening with Joe Bonsall of the Oak Ridge Boys, on NPR's Saturday "All Things Considered." Bonsall told a story of the band being on Air Force One late in the 1992 campaign, when it was apparent Bill Clinton was going to win the election, and the young George Bush coming to the back of the plane to ask the band: "Fellas, Dad's feeling kind of down. Can you come up and play a song for him?"
r. The Oak Ridge Boys sang "Amazing Grace." As Bonsall told Martin: "It was one of the most moving things I've ever been a part of. How do you even come to grips with a memory like that?"
s. It is six minutes of radio well worth your time.
t. How absolutely wonderful it was to read the letter President Bush left for incoming President Clinton on Inauguration Day 1993. Talk about the definition of class and selflessness: "Your success is our country's success. I will be rooting hard for you."
u. Pretty awesome.
Philadelphia 30, Washington 22. Week 7 2017: The coming-out party for Carson Wentz (four TD passes) and the Eagles, a 34-24 win over Washington, getting the Eagles to 6-1. This year: survival of the fittest at the Linc for 6-5 Washington and 5-6 Philadelphia. The Eagles have a ridiculous road to nine or 10 wins and a playoff prayer in their last five: Washington, at Dallas, at the Rams, Houston, at Washington. Not looking good.
Tuesday … Foxboro, Mass. Happy 70th, Randy Vataha. If you're a person of a certain age, man, that one really ages you.
Friday … Los Angeles. Happy 45th, Terrell Owens.
Saturday … Duluth, Ga. Happy 60th, George Rogers. The answer to this sports trivia question: Lawrence Taylor was the second pick in 1982 NFL Draft; who was the first pick?
Cautionary tale.
If you don't learn from Kareem,
you're just not too bright.