That was a fun day of football. Reviewing:
Early window—Within two minutes, between 4:10 and 4:12 p.m. ET, Miami's Kenyan Drake drives a stake through Patriots hearts and the Colts cap an upset in Houston, breaking the Texans' nine-game winning streak … Meaningless games were not meaningless to the New York rookie heroes drafted 2-3 last April. Saquon Barkley and Sam Darnold beat Washington and Buffalo, respectively … Cleveland won again. Kept rallying. Beat Carolina. THE BROWNS HAVE WON FIVE GAMES … Patrick Mahomes has a slightly nice day; Chiefs survive Ravens.
Late window—The Cowboys, who will never lose again, win on the most painful play for the Eagles in a long time … Speaking of a franchise's most painful play: How about your kicker slipping on a banana peel, or the equivalent of it, to cost your team a game in the Black Hole, and then slithering onto an airplane and having a five-hour flight back to Pittsburgh, mulling it over the whole way? … Bad loss for the Broncos, made possible by a good half for Niners tight end George Kittle. A very good half, in fact—210 receiving yards in two quarters.
Night window—Either the Rams don't like playing in 25-degree wind chill, or the Bears' defense is going to make Chicago a threat to play into February. Or both. Bears 15, formerly explosive and wildly entertaining Rams 6.
In December, the storylines get more dramatic, with so much more at stake. I could start anywhere, but I'll go where I haven't been much this year. It's the same place Jack Nicklaus was on Sunday: Miami 34, New England 33. "I've witnessed a lot of great sports moments in my life," Sir Jack tweeted Sunday night, "but as far as football goes, I can't say I have EVER seen anything quite like that."
Twenty-nine minutes after making the play of the year in the National Football League (and oh, there was some competition for it, even Sunday), man-of-the-hour Kenyan Drake of the Dolphins picked up the phone and told me a story about the weekend he was drafted in 2016. Miami plucked him in round three. When Drake got to team facilities after the draft, rookie coach Adam Gase greeted him with a smile.
"When I met Coach Gase," said Drake, "he told me, 'We drafted you to beat the New England Patriots.' "
Now isn't that convenient? What happened at 4:10 p.m. in south Florida, on a play the Dolphins call "Boise," was so weird and so unlikely that the NFL didn't even know what to call it. On the official National Football League Game Summary, the play that beat the aforementioned New England Patriots 34-33 with :00 left on the clock was listed thusly:
K.Drake 69 yd. pass play by R.Tannehill (1-69, 0:16)
Drake was credited with 55 receiving yards on the play, and a 52-yard touchdown, somehow, and you get the feeling everyone in Hard Rock Stadium was trying to figure out exactly what just happened. Including Drake, who was left on the phone trying to process the incredible play and the enormity of its meaning.
"Could you imagine ever making a play like that, to beat Bill Belichick and the New England Patriots?"
"In my dreams," Drake said, with a lot of mayhem in the background from the Miami locker room.
"Really. In my dreams."
Remember: This was not only a cool play to beat the Goliath of the division. Miami has a trip to dangerous and likely desperate Minnesota coming this week, and if the Dolphins had lost, they'd have been 6-7, tied for ninth with Denver in the AFC playoff pecking order with three games to play. In other words, they'd have been on life support with a loss. "It was do-or-die for us, and we knew it," Drake said.
"What helped us," Drake told me, "is how much we practiced this exact play. We actually walk-through or jog-through the play every week. We go, like, half-speed. So we all knew what to do. It's just a matter of doing it, and hoping it goes your way."
"Why 'Boise?' " I asked.
"You know, as a testament to that Boise State-Oklahoma game," Drake said. The 2007 Fiesta Bowl, you may recall, when Boise use a hook-and-lateral play, a 42-yard miracle, to upset the Sooners.
https://twitter.com/NFL/status/1071875175887466496/
Here, Sunday: Patriots 33, Dolphins 28. Ball at the Miami 31, seven seconds left. No timeouts. Ryan Tannehill took the snap, dropped to his own 21, and threw a strike to Kenny Stills at the Miami 45; he advanced it two yards and lateraled to DeVante Parker back at the Miami 45, and Parker ran to midfield. There he saw Drake, romping up the right sideline, with ace patriot linebacker Kyle Van Noy in close pursuit. Van Noy dove and caught Drake at the heels, but it was only enough to make him stumble, not go down.
"Then," said Drake, "I was just looking for someone to toss it to. That's the way we practice—there's always someone for me to toss it to."
Uh-oh. No one there, and no clear lane up the sideline. Drake cut inside, looking for daylight, and still looking for a pitchee. Unless you count Patriot defenders Adam Butler and J.C. Jackson, there were no good options for pitches. Miami guard Ted Lawson hustled downfield to make a key block on Patriot safety Patrick Chung at the New England 30.
And then, space.
"I was still looking for one of my guys, but then I had some open space," Drake said. "That was amazing."
Inside the 20, and here, at about the New England 12-yard line, came Rob Gronkowski, who was in the game at deep safety because New England had its Hail Mary hands team in the game. A rare mistake by Belichick; tackler extraordinaire Devin McCourty was not on the field for the play. But surely, Gronk would stonewall Drake.
Wouldn't he?
"I saw him," Drake said. "And I know how great he is. I know he's going to the Hall of Fame. Awesome player. But regardless of who was there, he wasn't stopping me. That I know for sure." Gronk stumbled and never got a clear shot at Drake. Amazingly, with the division title on the line, after Van Noy, no Patriot had a legit chance to tackle Drake.
Drake threw the football half-a-section into the stands. Surrounded and pummeled in the end zone, all he remembers is a loud hum. "No words, just the hum. Dumbfounded. I am still in awe. Greatest play of my life."
Well, what play could ever compete with that?
As for what it means, it gives Miami life; the Dolphins are one of four 7-6 teams in the conference now, and very likely only one of those will make the playoffs. Regarding the Patriots: It would take a very non-Belichickian collapse for 9-4 New England to lose the division, with a two-game lead over Miami with three to play, and the Patriots exit Sunday the number two seed in the conference. So they still have a good shot at the two seed and an outside shot at the one seed entering Sunday's game at Pittsburgh.
Knowing the Patriots, they'll be able to erase the bitterness by Sunday in Pittsburgh. Just don't expect it to go away in the next day or two.
"Sniper vision. Patrick's got sniper vision. He sees like a great fighter pilot. You can't coach that."
—Kansas City coach Andy Reid to me, on Patrick Mahomes
---
The more I watch Patrick Mahomes, the more I find myself saying, as I did Sunday night: Relax now. Fourteen starts. That's all he's done. Fourteen games.
Mostly, I'm OK doing that, OK with respecting the process. No quarterback is great after 14 games. But then I listen to what Andy Reid says about him, and then I watch fourth-and-nine with the undisputed lead of the AFC West on the line, and I think maybe it's okay to speed up on the road to greatness for the kid. Because Mahomes was Favre-in-his-prime spectacular Sunday at Arrowhead in the 27-24 win over Baltimore. This kid can throw from every angle with accuracy—over the top, three-quarter, pure sidearm, and even no-look jobs. He's got some Omar Vizquel in him. Fitting that, last month, when I talked to his dad, former big-league pitcher Pat Mahomes, he told me these weird and accurate throws are the same types younger Patrick would make playing shortstop as a Texas teen.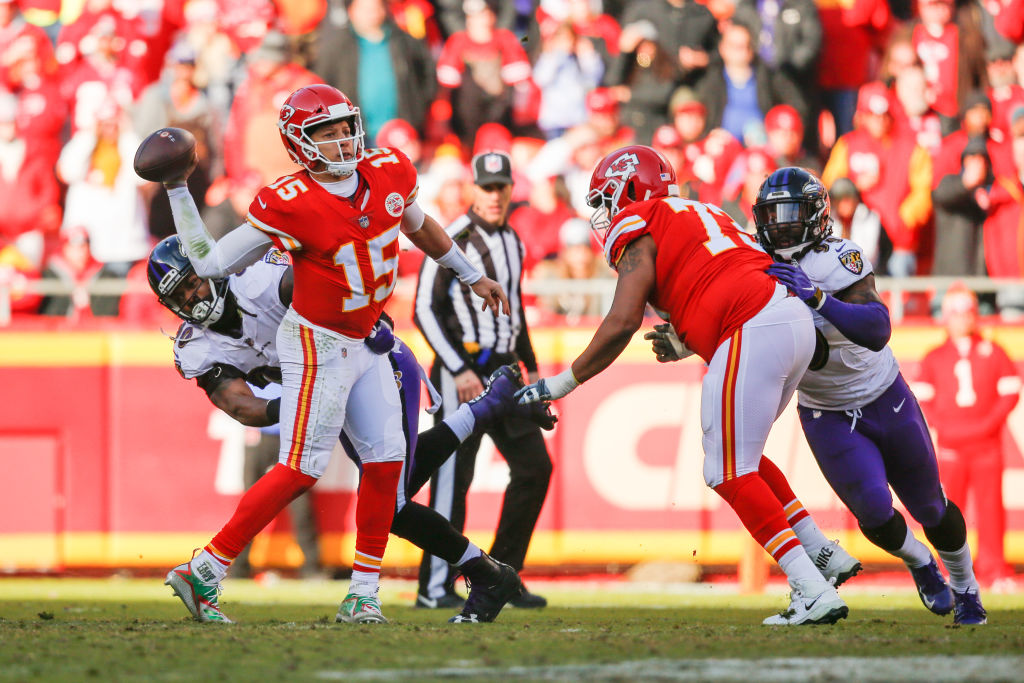 That play first. The fourth-and-nine play, down 24-17, with 1:29 left in the fourth quarter at the KC 40-yard line. I've seen it 25 times by now. I can recite it by heart. Mahomes, flushed from the pocket back around his 30-yard line, chased by Za'Darius Smith and Brandon Williams of the Ravens, now running laterally toward the right sideline at the 28. In a dead sprint, actually. Smith, surprisingly fast for 275 pounds. Mahomes, at the 30 yard-marker on the field, veered slightly upfield as he wound up to throw on the run, to throw somewhere. "His eyes connected with my eyes," Hill told me afterward. "In that situation, you're just thinking, 'Stay alive, stay alive! Let him see you.' "
Crazy thing was, 39 yards downfield, and just approaching the left hashmark running a crosser to get within range, Hill had two Ravens on him. And Hill was a wounded animal. "My foot's bad," he'd say after the game.
Mahomes pulled the ball way back. As Smith's hands were inches from beginning a hard shove of Mahomes out of bounds, Mahomes flung the ball with a strong flick to a target about 39 yards downfield and another 30 yards to his sharp left, past the center of the field, aiming for a spot right near the left hash.
"I knew he had a chance," Mahomes said of Hill. "I always say he'd be the best center fielder of all time from the way he tracks the ball."
Splat! Down went Mahomes, hard, at his own 37-yard line near the right boundary. Desperation heave. The ball was coming down just inside the left hash at the Baltimore 27-yard line. Linebacker C.J. Mosley dove at Hill as the ball hit his hands. But Hill, even with the bum foot, was too quick for Mosley and the trailing corner, Jimmy Smith. Hill skittered toward the right sideline and went out of bounds, limping on the bum wheel, at the 12-yard line.
Gain of 48.
"Our people did a tremendous job wrapping my foot," Hill said. "I was still feeling my heel, but at the same time, I knew that man, if you want the W, if you want to be a great receiver, this is your moment to make plays."
Felt like a formality after that. Chiefs tied it on a short TD strike by Mahomes with 53 seconds left, then won it in overtime on a Harrison Butker field goal.
There were other ridiculous throws from the shortstop. The no-look throw across his body to the left, to wideout Demarcus Robinson for 17 yards late in the first half, elicited this from the CBS broadcast team:
Tony Romo: "It's almost a no-look! That's incredible!"
Jim Nantz: "No-look sidearm!"
Romo:"Watching him … [giddy Romo voice] How do you not like watching him play!"
Just then, on the next snap, Mahomes evaded three Ravens and spied Kareem Hunt-replacement Spencer Ware gamboling up the left sideline. Mahomes pushed a sidearm laser into a small gap, right into Ware's hands. Gain of 31.
"The things he does, it's hard to practice that," said Mosley.
Last month, I spent time with Reid after a win over Arizona. We went back to the Favre days, when he was the gunslinger's quarterback coach for a time in Green Bay. History's repeating. "I was lucky enough to coach Brett Favre, who was able to throw from every angle possible. I've seen it done before. But [now I] just go, 'Whoa,' a lot during the game, as you did. You just have to remind yourself that it's a football in his hand because he does it so easy with grace.
"Certain guys just know where everybody is on the field. And he has that. He can just go on a play, and he sees. They talk about Ted Williams and that feel. He's got that … He can see everything, feel everything."
You got the feeling Sunday that this win meant a little more to the Chiefs. On one snap, Mahomes saw 11 Ravens within three yards of the line. Cover zero and then some. Who does that? Who says, We're going to blitz the tar out of you. Complete it downfield if you have time—and you won't. Baltimore did. On one of those plays, Mahomes just folded himself into a spot just behind the line, surrendering. But not for long.
This game will be terrific for Mahomes, because he had to play in a very uncomfortable situation. Seems like he loved it, because it forced him to learn. Other teams—starting with the 10-3 Chargers on Thursday night at Arrowhead—will go to school on what made Mahomes uncomfortable. Mahomes knows. It's part of the chess games.
"These are the best wins," Mahomes said. "These are the wins that satisfy you the most."
They get bigger as it gets colder, kid.
The 10 things you need to know about Week 14:
1. Chicago is going to be trouble in January. I'd say "big trouble" if Mitchell Trubisky was as trustworthy as a playoff quarterback needs to be. He might play well in January, but he hasn't shown enough to make Bears fans confident that he will. Until he is, this team will have to win with defense, and it showed it can against one of the league's most explosive offensive teams. This was a Butkus/Singletary type of performance. The first 10 Rams possessions ended in: field goal, punt, pick, field goal, punt, safety, punt, pick, missed field goal. Yikes. It was 25 degrees at Soldier Field Sunday night, with virtually no wind. But the Bears gave the Rams no room to breathe. And that was without dominating performances from the best two Chicago defenders, Khalil Mack and Akiem Hicks (two sacks, six tackles between them). What makes this D so imposing? The fact that pressure comes not just from two men. The Bears now have 25 interceptions, by the way. They had 24 in the previous three years combined.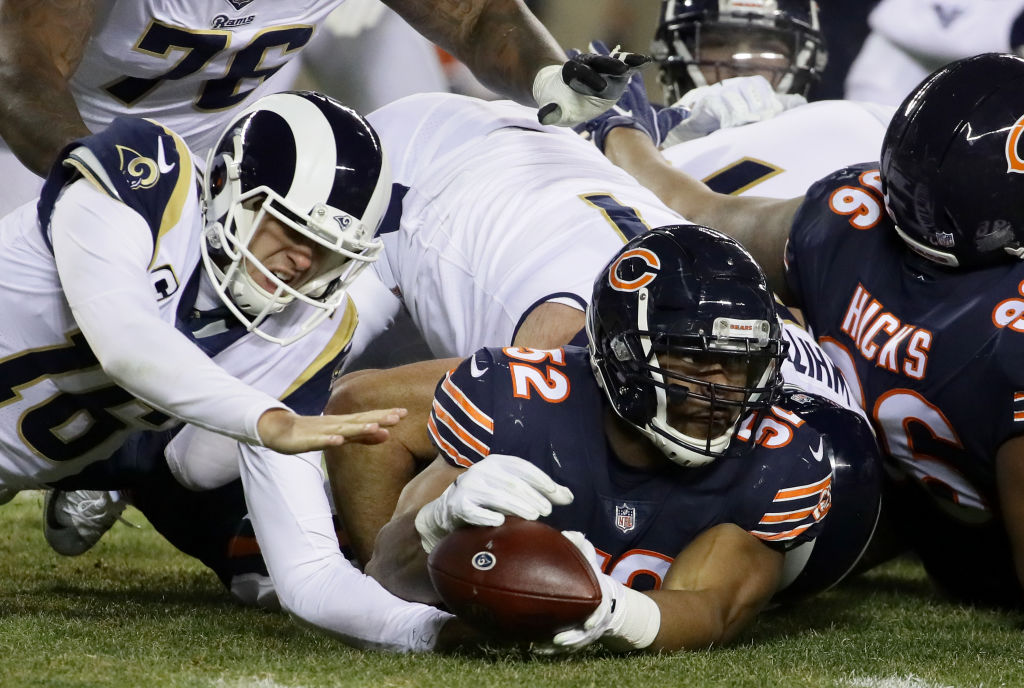 2. Don't buy Sean McVay falling on the sword. When your offense stinks, the popular thing to do is for the coach and/or play-caller to take all the blame. "Certainly don't blame Jared for the bad spots I put him in," McVay said. What should we blame him for, exactly? In the last two games, at Detroit and at Chicago, Goff has stunk it up: 48-percent passing, 193 passing yards per game, one touchdown, five picks. Maybe the weather bugged the California kid Sunday. It's not time to panic, certainly. But Goff's got to be much better for this team to win big in the playoffs.
3. The hottest team in the NFC is … Your Dallas Cowboys. They all but clinched the NFC East on that overtime tipped touchdown pass to Amari Cooper to beat Philly 29-23. With a two-game lead in the division and games at Indy and the Giants sandwiched by Tampa Bay at home, the Cowboys should have a home playoff game on wild-card weekend. What a weird year. Started 3-5, the fifth loss being a nail-in-the-coffin loss by two touchdowns to Tennessee on Monday night five weeks ago. They haven't lost since, though the wins have all been tight—by 7, 3, 8, 3 and 6 points. Dallas is using the right formula. Great ground game (Ezekiel Elliott had 192 yards in 40 rushes/receptions in the win over Philly on Sunday), burgeoning passing game behind Dak Prescott and trade-deadline acquisition Amari Cooper (we were wrong, Jerry) and a rising-star defense. I was talking to the former Lions GM and longtime NFL analyst Matt Millen last week, and the subject turned to the Cowboys young linebackers, Jaylon Smith and Leighton Vander Esch. "Best young linebackers playing together in football today," Millen said. They led the Cowboys against in tackles Sunday, combining for 15.
4. Requiem for the Eagles. If Philly wins out—tough task, considering the Eagles travel to the Rams next week—a 9-7 record might be good enough for the wild card. But this team doesn't have the same feel as last year. It's got to be bitterly disappointing for Carson Wentz, who was an MVP contender when he tore two knee ligaments in a December game at L.A. last year, and just hasn't returned to the same form this year. In his last nine starts last year, the Eagles scored 30 or more points seven times. In his 11 starts this year, they've scored 30 or more once. Sunday was a perfect example. Wentz and the offense stumbled around for 54 minutes, putting up just 88 yards passing before rallying late to almost pull it out. Even against a good defense such as Dallas, for Wentz to have 88 yards passing in 54 minutes of a game is awful. He's having a nice season, but there's something missing. The partnership of departed coaches Frank Reich and John DeFilippo? A leakier offensive line? Not having the confidence in his knee that he had last year? Philadelphia has lots of offseason work to do on Wentz, and on an offense that's just not that good.
5. The standings say the Ravens didn't have a good day. I beg to differ. Baltimore's crafty defensive coordinator, Wink Martindale, got the Chiefs' attention, and their respect, with a potfull of weird fronts just daring Patrick Mahomes to throw against zero coverage and other schemes he hadn't seen. Offensively, I'd expect Lamar Jackson (if healthy) to keep playing. The locker room backs him, and though he's still a work in progress in the passing game, Jackson gives the defense so many different looks to adjust. Baltimore would open the playoffs with a wild-card game at Houston if the standings looks the same in three weeks. Whoever the Ravens play if they're in, I could see them pounding out a win or two on the ground in January.
6. The Saints aren't worry-proof, despite winning their second straight NFC South title. Taysom Hill's key punt block turned the tide for New Orleans in Tampa Bay on Sunday, and the Saints rebounded from an 11-point lead to win going away. They also moved into first place in the conference playoff structure. But the offense that looked peerless around Thanksgiving has gained 176 and 298 yards in the last two weeks. Drew Brees is getting pressured more. Maybe the solution is giving it to Alvin Kamara in space more.
7. The AFC's sixth seed is a logjam; I like Baltimore to come out of it. Baltimore, Indy, Miami and Tennessee are 7-6. But Baltimore's not home free. After Tampa on Sunday in Baltimore, the Ravens travel to play the Chargers and then finish with Cleveland at home. If Baltimore stumbles, the last game of the season, the week 17 Sunday-nighter, could be Indy at Tennessee for that sixth spot.
8. The NFC could finish just the way it looks now. In order, the NFC seeds are New Orleans, the Rams, Chicago, Dallas, Seattle and Minnesota. Hard to argue that those aren't the six best teams in the conference today.
9. Prediction of the Week: The Browns will have four prime-time games next year. They're fun, they're dangerous to play, they've got an exciting quarterback, and they should have an exciting young coach. Cleveland finishes thusly: at Denver, Cincinnati, at Baltimore. Imagine a 7-8-1 record. Winning two of their last three would do it.
10. The most worrisome injury I see. It's the foot problem Tyreek Hill has. With Kareem Hunt gone and Sammy Watkins sidelined with a foot issue, the Chiefs can't afford to lose Hill and be anything like the explosive team they've been. Not good that there's a very short week this week, with the big game Thursday at home against the Chargers. Football's a game of attrition, and it's showing in Kansas City with the offensive skills players.
Now that Mike McCarthy has been fricasseed from coast to coast, and gotten fired by the Packers with a quarter-season to go, I'd like to take a moment to praise McCarthy's accomplishments in his 12.75 seasons as coach of one of America's teams. Did he win enough? Probably not, particularly with Brett Favre and Aaron Rodgers as his quarterbacks. But he won a lot, and he continued the Packer rebirth that Ron Wolf and Mike Holmgren (and Favre and Reggie White) began 27 years ago.
• McCarthy won 135 games, averaging 10.4 wins per season, and stands 25th on the all-time NFL wins list (playoffs included). He is nestled between Hall of Famers Hank Stram with 136 and Weeb Ewbank with 134—though admittedly they coached in partially 12-game seasons, not the 16 of McCarthy's era.
• No coach other than Bill Belichick has won more than McCarthy's six division titles since 2006. (Mike Tomlin also has six, and could win a seventh this year.)
• McCarthy's teams were 35-16-2 against the Packers' two arch-rivals, Chicago and Minnesota.
• As a third-year, 44-year-old head coach in 2008, he navigated (along with GM Ted Thompson) the ugly and rocky transition from a legendary quarterback who wanted his job back, Brett Favre, to the unproven Aaron Rodgers. I remember his stolid voice over the phone on the crucial weekend when McCarthy and Thompson decided to move on to Rodgers: "This is the way it's going to be." Like, next question.
• Curly Lambeau, part of the founding of the Packers almost a century ago, coached the team for the first 29 years of the franchise. In the 69 seasons since 1950, Green Bay has had 15 coaches. McCarthy's tenure, 12-and-three-quarters years, is the longest of any coach since Lambeau.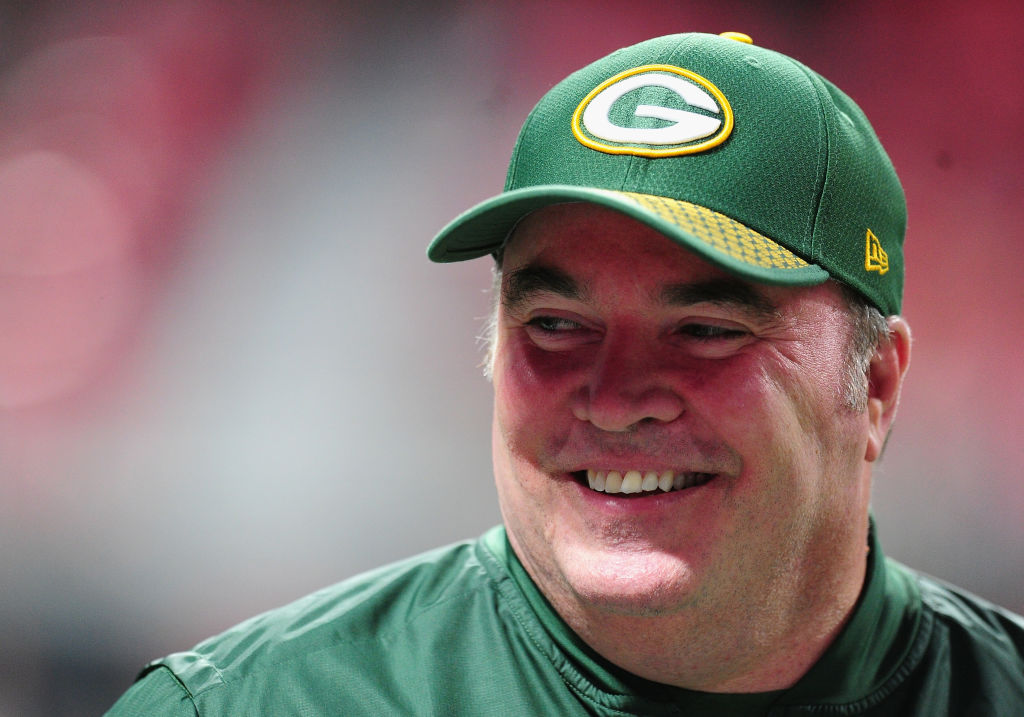 Last Wednesday, the Packers wisely let McCarthy return, three days after a firing he did not expect, to address the team. "We've got a guest coming in today," interim coach Joe Philbin told the players at the morning meeting. In strode McCarthy, who got a standing ovation. "It was very emotional," said left tackle David Bakhtiari. "He brought it all back to Green Bay—the community, the organization, what a privilege it was for us all to be here, and the great opportunity we had here. It was deep. Walking out of that meeting, I thought it was great closure for the team, and for him."
Bakhtiari on McCarthy's legacy: "Sustaining success in the NFL is very hard, month to month, season to season. His ability to coach, his ability to lead, his character, is what I'll remember. I was fortunate to play for him for six seasons. He treated the players so well. Every year, either in training camp or minicamp, he'd break up the monotony and bring the whole team to his farm, his house. We'd have the McCarthy Olympics. That was a great day of team-building."
I've been bothered by the rush to either discredit McCarthy for not winning enough with Rodgers, or by the tendency to jump on Rodgers for whatever part he played in McCarthy's firing. I don't like either (although I have said I think McCarthy could have and should have been more imaginative in his game plans and play-calling). The team had gotten stale. Was it McCarthy's fault? Should Rodgers have been more aggressive, or could he have done more? You could see Rodgers wasn't himself, for whatever reasons, this year; he's good at keeping private things private, so I can't answer the question. But the storyline of Rodgers got McCarthy whacked, I believe, is dangerous and unfounded.
"Things have been a little tainted in the media," Bakhtiari said. "Through my experience with both of them, they're both strong guys. You're going to have differences of opinion. But I don't see the things between them that people on the outside are focusing on. I guess it grabs headlines; so be it. I can just tell you how many times I'd see them with chuckles and grins, walking out after a private meeting."
Offensive Players of the Week
Patrick Mahomes, quarterback, Kansas City. His finest game as a pro, which is saying something, burnished Mahomes' MVP case. On a day he faced defenses he'd never seen before at any level, Mahomes completed 35 of 53 passes for 377 yards, two touchdowns and one interception. Amazing he was sacked only three times. It felt like the Ravens could have had nine. Mahomes is Brett Favre with quicks. What a superb football game by the kid.
Amari Cooper, wide receiver, Dallas. I will never, ever, ever question the Jones boys' trading acumen again. (Fingers crossed there.) What is turning out to be a very good trade for Dallas—a first-round pick to Oakland for Cooper in late October—got an exclamation point Sunday in an overtime win that all but clinched the NFC East for the Cowboys. Ten catches, 217 yards, three touchdowns, including the fluky game-winner eight minutes into overtime in Texas.
Saquon Barkley, running back, N.Y. Giants. This is a ridiculously talented back, and I am beginning to question my football knowledge, never mind my sanity, for thinking the Giants should have taken the second-best quarterback in the draft, not Barkley, at number two overall last April. In the Giants' 40-16 shredding of Washington, Barkley rushed 14 times for 170 yards and a 78-yard touchdown, and added 28 yards receiving. He had 166 of those 198 yards by halftime, when the Giants had built a 34-0 lead. He can run past people, and he can run through them.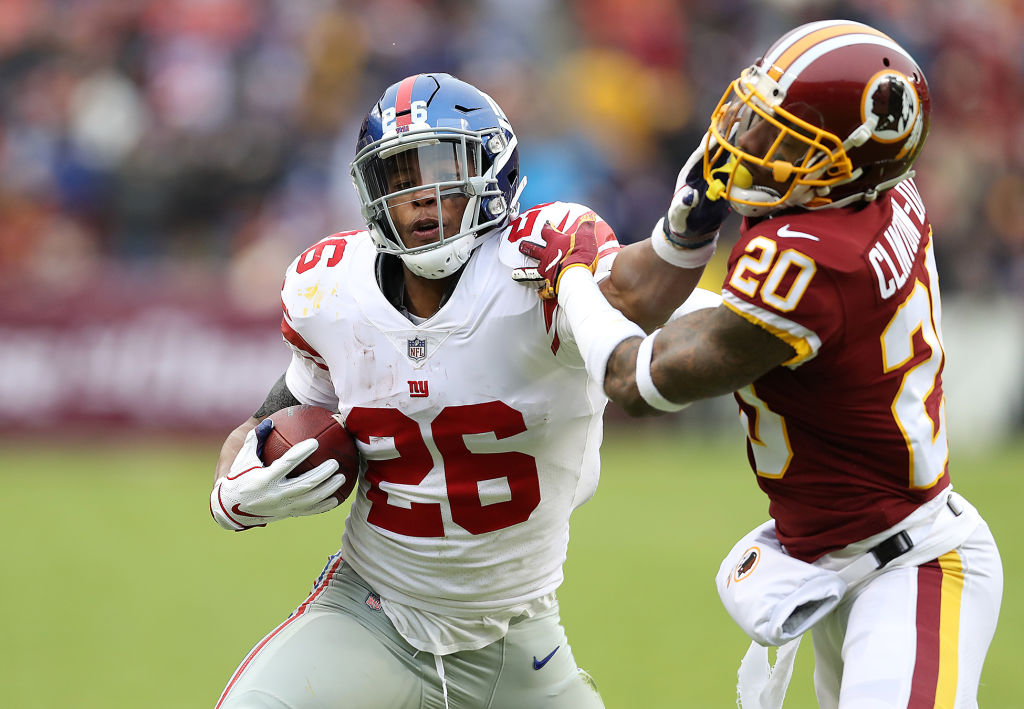 Jarvis Landry, wide receiver, Cleveland. This guy is a heck of a player. Physical, feisty, highly competitive, and the kind of receiver who can mean so much to a roster with what he says and what he does. (Strong arm too. Almost threw a touchdown pass in the 26-20 win over Carolina.) He scored on a three-yard Jet Sweep, a 51-yard contested TD catch, and his 111 total yards wounded the Panthers in a game they had to have to keep slim playoff hopes alive.
Derrick Henry, running back, Tennessee. The 2015 Heisman winner from Alabama and 2016 second-round pick of the Titans, Henry managed only 1,234 yards in his first two NFL seasons, and lumbering toward 500 yards Thursday night against the Jags. He didn't even start the game. But midway through the second quarter Henry took a handoff at his 1-yard line and stiff-armed his way through four Jaguars down the left sideline. The 99-yard touchdown run tied Tony Dorsett for the long run in NFL history, and sent him on his way to a 17-carry, 238-yard, four-TD night. He averaged 14.0 yards per rush. It's one of the best games an NFL running back has ever had. And he didn't start. Did I mention that?
Defensive Player of the Week
Justin Houston, linebacker, Kansas City. For two huge plays. One: 44 seconds left, fourth quarter, 24-all tie with the Ravens, ball on the Baltimore 36. Houston swoops in, chops the ball out of Lamar Jackson's right hand, and recovers the ball at the Baltimore 23. That should have been enough for the win, but Harrison Butker shanked the potential game-winner. Overtime. Two: Chiefs up 27-24, 1:52 left, Ravens ball at the Baltimore 45. Jackson looks downfield … and Houston hits him first, Dee Ford second, and the four-yard sack makes it third-and-22, and that's the ballgame. On a day the Chiefs needed some plays from someone on D, Houston gave the team 1.5 sacks, the forced fumble, the recovered fumble, another hit on Jackson, and six tackles.
Special Teams Players of the Week
Albert McClellan, linebacker, New England. Two blocked punts in a 16-minute span for the journeyman. Pretty amazing. It's not often you see 32-year-old special-team mavens, because most of the special-teamers cycle through teams and the league pretty quickly. (Well, except for 33-year-old Matthew Slater of the Pats.) McClellan knew only one organization from the time he signed as an undrafted free agent with Baltimore in 2010—and never played for any other team till the Patriots signed him off the street on Nov. 6. The reward came Sunday. McClellan, on the Patriots' punt-block team, broke through the Miami front late in the first quarter to smother a Matt Haack punt, leading to a Patriot touchdown. Late in the second quarter, McClellan did it again, deflecting another Haack kick and giving the Pats another short field. They couldn't capitalize. But McClellan had the game of the day among NFL special-teamers.
Taysom Hill, utility player, New Orleans. Hill, the most intriguing player in the NFL because he plays everywhere, made the play that saved the Saints on a frustrating day in Tampa. With New Orleans trailing 14-3 and 7:23 left in the third quarter, Hill, a regular on the Saints' punt-rush team, burst through the line to stuff Bryan Anger's punt at the Bucs' 30. That led to the first of the Saints' three touchdowns in the next 15 minutes. Kudos, too, to special teams aide Mike Westhoff for recognizing what Hill could do and pushing hard for him to be added to the active roster last year.
Coach of the Week
Freddie Kitchens, offensive coordinator, Cleveland. This team does some wild stuff, and you can tell the players love Kitchens doing the Jet Sweeps and wide-receiver passes and overloaded-receiver sets. "It's great what you see Freddie and those offensive guys scripting up and planning to give our guys a chance to make all those plays," interim coach Gregg Williams said. Since taking over the offense, Kitchens' offense is producing 24.6 points a game and the Browns are 3-2.
Goat of the Week
The turf, Oakland-Alameda County Coliseum. Steelers kicker Chris Boswell lined up for an overtime-forcing 40-yard field goal with five seconds left at Oakland. He took his normal run-up to the ball, planted his left foot … and the foot slid like it was on ice on the loose turf of the Coliseum. All's fair in love and natural grass, but the NFL has played with fire with this surface for years, and maybe Boswell should have accounted for it, but the condition of the grass should not be a major factor in determining the outcome of an NFL game with playoff implications.
I
"This was Patrick's best game for a lot of reasons. Their defense was a huge challenge. Those son-of-a-guns were really good and had a really good package and they unloaded at him, and he kept bringing it."
—Chiefs coach Andy Reid, on quarterback Patrick Mahomes in the 27-24 overtime victory against Baltimore.
II
"I just stayed with ball and thank God. Thank God."
—Dallas receiver Amari Cooper, to Erin Andrews of FOX after catching a deflected touchdown pass in overtime to beat Philadelphia.
III
"It was just kind of sucky."
—New England tight end Rob Gronkowski, on missing the tackle on the miracle Miami play that ended the 34-33 loss to the Dolphins.
IV
"He is under contract to play baseball. That is not a determination to make. It's already done."
—Scott Boras, agent to Heisman Trophy-winning quarterback Kyler Murray of Oklahoma, to Ian Rapoport of NFL Network, seemingly eliminating the chance that Murray would play football.
We shall see.
V
"I think when you go look at the film, I don't think you're going to see the effort."
—Jacksonville coach Doug Marrone, on the 99-yard touchdown run against his defense by Tennessee's Derrick Henry, who stiff-armed four Jaguars defensive away like he was swatting flies.
It gets worse every week for Marrone.
VI
"It means a lot to me, because Jerry Rice came from an HBCU also. I just want to keep showing people that there are players at HBCUs, so everybody should scout them more."
—Tarik Cohen, the Bears' running back, on being the second player in league history to have at least 12 receptions, 150 receiving yards and a passing TD in a game, joining Jerry Rice. "HBCU" is historically black colleges and universities. Cohen is from North Carolina A&T, Rice from Mississippi Valley State. 
Writer's Note: When I began working for NBC in 2006, one of the crew members on "Football Night in America" was Frank Edgerly, the young coach at Red Bank (N.J.) Catholic, who helped the talent on the show dissect and analyze key plays from the games for the Sunday night highlights. He got spotted by a couple of NFL front-office people and took a job as a college scout from the Patriots under Bill Belichick from 2009 to mid-2013, and then as a pro scout in 2013 with Cleveland, then in 2014 as a Browns' defensive assistant and pro scout (working weekly with offensive coordinator Kyle Shanahan on the scouting report), then in 2015 as a Browns' offensive assistant. He returned to coach Red Bank Catholic in 2016. Two weeks ago, Edgerly led Red Bank Catholic to the New Jersey state title with a 14-10 victory over Mater Dei Prep.
Frank Edgerly, on what he took from his NFL experience back to high school:
"Everyone always asks me, 'So what did you learn from Coach Belichick?' More than anything, it's his core principles. If you looked at the T-shirts our kids wore under their jerseys in the championship game, you'll find these three words on them: Do Your Job.
"It's hard to ignore the noise and establish a culture, but when you walk into the Patriots facility, the core principle is to manage expectations, ignore the noise—there's a lot of that in New England—and just do your own job. We defined roles on our team—with a Sharpie, not in pencil. Players know where they stand. Also: When you're a kid today, you're worried about what people are retweeting, what people are saying about you, who is liking what you're posting … and I just emphasize with them: Ignore it!
"What's the most important play? The next one. What's the most important practice? The next one. What's the most important game? The next one. We'd win by a big score, and everybody thought I was this perpetually grumpy guy, because I'd be picking out the little things we hadn't done well. But I'm thinking about what we needed to fix if we want to win a championship. That's the way Bill thought. And I can attest to the fact that it works.
"One of the big benefits for me in New England, even though I was on the road most of the time, was the exposure to different things schematically. How do you teach it? How do install it? And knowing how to practice. The science of the game, the recovery aspect, was huge. Early in my coaching career, pre-New England, we'd be in full pads every day, all season, building toughness. That's what I thought. This year, we had the same starting lineup in our opening game as we did three months later in the championship game. We were not in full pads much. We'd have a lot of jog-throughs. I came to understand the science of the athlete so much more.
"When I got to Cleveland, I watched Mike Pettine and Kyle Shanahan coach every week. I learned you can't bang the same drum. Some weeks you're going to flip the script. If there was a critical red zone week, maybe we'd practice that every day, not just one day, in Cleveland. So I adopted that when I got back to Red Bank.
"I thought Kyle was brilliant. He used to tell the players, 'Be who you are, but find out who you are.'
"I can honestly say being around both programs helped us with big plays in our championship against Mater Dei. We were up 14-10 with under five minutes left. They were driving on us, and they got it down to fourth-and-goal at our 3-yard line. Game on the line. Championship on the line. Bill was always big on situational football, and practicing for anything that could happen. We had an extra week before this game against Mater Dei. We had seven games of tape on them. We broke down everything they did, and we looked hard at situational football. They had a great back, but the one thing we found when they had a third down or fourth down and short yardage, they'd always put the ball in the hands of their quarterback, and they'd get him out on the edge—usually to the right. What did Bill always say? Take away what they do best.
"So when we practiced coming into the game, we'd slide our defensive end on our left side down the line and try to get penetration from him, thinking we'd want to cut off the quarterback being able to run to his left. We had a strong left side of the line. No creases for that quarterback to get through. We practiced that a lot. Our kids were really comfortable with it. So when it happened in the game, we called that defense, their quarterback took the snap and moved right, and there was nothing there, and nothing inside either. We stopped him.
"Now we had to find a way to run the clock out, or flip the field. I thought about Kyle. His aggressiveness is what separates him from a lot of play-callers. Josh McDaniels is like that too. We got the ball at our 1. They had our number. We hadn't moved the ball. We lined up double-tight-end, power set. Starting to rain. Everybody thinks we're just going to try to ram the ball out of danger for a couple yards, keep the clock moving.
"We go play-action. Our quarterback goes up top, 56 yards to the tight end. No one covering him. It was complete. It flipped the field. That was one of those, Hit it, you're a genius. Fail, and you're gonna get your walking papers.
"I'm lucky I got to learn from great coaches—and I think our kids are lucky for that too."
It's difficult to figure a segment of a contending team that's gotten better in 2018 over the recent past than Seattle's running game. The Seahawks—25th and 23rd in running the ball in the last two seasons—dumped offensive line coach Tom Cable for Mike Solari last offseason, and installed a more ground-conscious offensive coordinator in Brian Schottenheimer at the same time. The result: Seattle's got the best running game in football with four games remaining (including tonight's Vikings-Seahawks clash in Seattle). Comparing the last three years of Seattle running the football, in yards per rush, carries per game, and rushing yards per game:
2016: 3.9 yards, 25.2 carries, 99.4 yards per game.
2017: 4.0 yards, 25.6 carries, 101.8 yards per game.
2018: 4.7 yards, 31.7 carries, 148.8 yards per game.
Seattle ran the ball on 39.8 percent of the offensive snaps in 2016, and 40.6 percent last season. The rushing percentage this year: 51.1 percent. No other team in football entered the weekend running more than passing in 2018.
But I like this Seattle rushing stat best:
• In 16 games last year, Mike Davis and Chris Carson, 1-2 in rushing among running backs on the Seahawks, rushed for a combined 448 yards.
• In 12 games this year, Carson and Davis, 1-2 among Seattle backs, have rushed for a combined 1,100.
So Much For Tanking Dept.:
The four teams in Metro New York and the Bay Area, entering Sunday: 11-37, .229.
The four teams in Metro New York and the Bay Area, on Sunday: 4-0, 1.000.
The Giants, Jets, Raiders and Niners won by a combined 37 points.
If you find yourself in New York City, I highly recommend the Intrepid Air and Space Museum. It's a great relatives-are-in-town-so-what-are-we-going-to-do-with-them way to spend one to three hours, depending on your love of history. We did it with visiting family Friday. You can walk there from Times Square in about 20 minutes. I'd highly recommend taking the $33 guided tour of the aircraft carrier, which was commissioned in 1943 and helped the United States win World War II. I love living history, and the huge ship is filled with it. To stand where kamikaze fighters (five of them) plunged into the deck of the ship, and to hear the tale of the ship's survival in the Pacific is the kind of stuff I knew happened but had never heard tales. It's inspiring to hear how the ship took five of those hits and kept going. And then to see some of the Japanese plane parts from the crashed planes on display … just a vivid display of history that I loved.
Regarding the debate over the MVP, and whether defensive tackle Aaron Donald should be a legitimate prime candidate for the award, I have three thoughts:
1. The name of the award is "Most Valuable Player," not "Best Player, Regardless of Position," or "Most Outstanding Player." And it's hard to think that a defensive tackle, even one as incredibly good as Donald, would contribute as much to a very good team as a top quarterback would to a very good team.
2. Putting emotion aside, ask this question: What would the record of the Rams—11-1 after 12 games—be without Donald, versus the record of the Saints (10-2) without Drew Brees or the Chiefs (10-2) without Patrick Mahomes? (Or even the Rams without Jared Goff or Todd Gurley?)
3. I asked Pro Football Focus to calculate the WAR (Wins Above Replacement), the metric showing how many wins each player is worth to his team versus an average player at the position, in the NFL after 13 weeks. The PFF list of WAR for the candidates most often mentioned as MVP candidates, and including Donald:
Patrick Mahomes, 6.22
Drew Brees, 6.22
Philip Rivers, 4.55
Jared Goff, 4.37
Russell Wilson, 3.59
Deshaun Watson, 2.20
Aaron Donald, 1.82
Todd Gurley, 0.56
Interesting that the value of the defensive tackle for the Rams is higher than the value of the running back, in the eyes of PFF.
Donald's WAR is significantly higher than any other defensive player; Bobby Wagner (1.49) is next.
A PFF Elite subscription gives you access to performance metrics the pros use.
The forecast is cloudy for the 2018 MVP with 49 games left in the regular season. How I see it three weeks out:
1. Patrick Mahomes, QB, Kansas City. Last week: 2. A couple times Sunday, Mahomes was clearly confused by the weird fronts Baltimore was using. So maybe he'd surrender and give away a play. But not many. Mahomes wasn't explosive against Baltimore, as he'd been so often this year. He was indomitable. He led drives of 12, 11, 11, 10, 9, 9, 8, and 8 plays against the number one defense in football. Since Kareem Hunt exiled himself from football, Mahomes has put up 67 points and two wins. He's taken the top spot, at least this week, from Drew Brees.
2. Drew Brees, QB, New Orleans. Last week: 1. I can't blame Brees for dropping from 1 to 2. After six muddy quarters against Dallas and Tampa Bay, Brees warmed up in the second half Sunday and led the Saints to a 28-14 win. Still time left for him to climb Mount Mahomes.
3. Philip Rivers, QB, L.A. Chargers. Last week: 4. Rivers has led the Chargers to a 9-1 record in the last 10, and they've scored 104 points in the last three. Big one Thursday night at Kansas City. Very big.
4. Russell Wilson, QB, Seattle. Last week: 5. Probably impossible for Wilson to win it, especially with an offense running the ball more than any team in football. But he's the glue, and he's impervious to pressure.
I
WHAT?! "Flow of game?" That is nonsensical.
II
III
IV
V
To comment on the column, or to say anything about anything, you can reach me by email.
On Ron Rivera and a five-game losing streak. From Dan C.: "Two questions: Is Riverboat Ron on the hot seat already? If Coach Rivera is fired, in your opinion, does he get a quick head coach job and, if so, where is he a good fit? Thank you for all your GREAT columns in the past, present, and future."
Well, thank you, Dan. Rivera has coached 65 games since opening day 2015 and, even with the current five-game losing streak, he is 40-25 in those games. The new owner, David Tepper, doesn't strike me as a kneejerk guy, and I would be very surprised if he pulled the trigger on Rivera in the middle of a suddenly mediocre year. Now, if he got fired, where would he fit? You'd have to tell me who his offense coordinator would be. I get the feeling that Green Bay and Cleveland, at least, will be looking for the best available offensive mind. Tampa would be an interesting spot for him, because the Bucs won't want to pay a jillion dollars for a coach, and would be most interested—I think—in a coach who would establish a program and ethos.
On stiff-arms. From Michael E.: "Why is it okay for a running back to stiff-arm to the face during a run? Everybody was praising Derrick Henry's 99-yard run on Thursday night but he grasped the facemask of the first guy who tried to tackle him. Even without the grasp it would have been illegal hands to the face for anybody else who did it."
Excellent question, and I asked the league's officiating department for the answer. First, it's a judgment call. I went back and watched the play three or four times, and this is one of those calls that could have been made and it wouldn't have been a downgrade for the official if he'd made the call, but the rules says, "No player shall grasp and control" the facemask—and it's very close whether Henry did that. I would say he did, but I wouldn't like to have to prove it in a courtroom. Regarding the hands to the face, a running back may contact a foe's helmet unless he grabs and controls the facemask, or unless he hits the helmet with a forcible blow.
On the abuse of humans. From Michael G.: "Not really a criticism of you but I wish we could get past the point of 'how can any male can hit a woman anyway' to 'how can any person can hit another person.' Right now the first statement seems to imply that all women are weak, because apparently it is okay for a male to hit a male."
Obviously, Michael, it's not okay for a person to hit any other person. And maybe it's sexist for me to think it's worse for a man to hit a woman than for a man to hit a man. But I just think that a man punching or kicking a woman is significantly worse than two men fighting, say, in a bar.
10 Things I Think I Think
1. I think these are my quick-hit thoughts of Week 14:
a. Terrible offensive pass interference call on Dallas Goedert, negating the touchdown of the year for the Eagles. Awful. Goedert was being jammed in the five-yard bump zone and simply forced his way through it. Not a chance that was a foul on Goedert.
b. Every time I watch Jared Cook put his imprint on a game this year, as he did Sunday with a 116-yard torching of the Steelers, I think he's right now a top five NFL tight end. The Raiders need to make the 31-year-old Cook a cornerstone of the Jon Gruden program.
c. Speaking of top five tight ends, how about 2017 day-three draft choice George Kittle? Last five weeks: 519 yards. He's on pace for a 1,358-yard receiving season in year two of his career.
d. Congrats, Larry Fitzgerald, on his 1,282nd catch as a Cardinal on Sunday, in that desultory loss to the Lions. Fitzgerald has more catches with one team than any player in the 99-season history of the NFL.
e. The weirdest last month in football? Easy. Atlanta's. Here's the worst thing of all on a wounded defensive unit: Atlanta is 0-5 in the last 30 days, and has not scored more than 20 points in a game. There's one word for an offense with Matt Ryan, Julio Jones, Calvin Ridley, Mohamed Sanu and Telvin Coleman scoring 88 points in five games: disgraceful.
f. I doubt Dan Quinn is endangered, but I wouldn't bet the house on it.
g. The NFL has become a league with coaches who regularly go for it on fourth-and-one inside the 35. It's getting to be an upset when they don't, and I'm only very slightly exaggerating.
h. Just a guess, but Damien Williams is going to get a lot of action down the stretch as the Kareem Hunt replacement. Hunt is 5-11 and 216; Williams is 5-11 and 222. Hunt runs very hard between the tackles; Williams got shot out of a cannon on the first Kansas City touchdown of the day against the Ravens—and he sent Ravens safety Eric Weddle flying from the collision.
i. What a waiver-wire find Carl Nassib was for the Bucs. The former Cleveland defensive end (the Browns are not good enough on the defensive to have cut Nassib, and he has shown it most of the season) makes a play every time I watch him.
j. Officiating consistency? I think not. Check out the hit by Saints safety Marcus Williams, who lit up Bucs wideout Adam Humphries as he caught the ball and began to look upfield. A split-second into that beginning, Humphries got rocked by Williams. Textbook defenseless receiver. No flag. Missing that call simply cannot happen.
k. Stirring performance, Sam Darnold. Jets fans (and Jets management) needed that late brilliance heading into an offseason of change.
l. Stunning brainlock by Tom Brady, not throwing the ball away with a down to waste and no timeouts left, in easy field-goal range, at the end of the first half at Miami. A waste of three points.
m. And I do not see how that Julio Jones catch, the first one challenged by Joe Philbin at Green Bay, was a catch. Looked like an awful upholding of the catch. And I do not see how a coach, interim or permanent or standing on the moon, challenges two receptions in the first 90 seconds of the game, loses both, and spend the last 58:30 without the ability to challenge.
n. Good thing Washington opted for the quarterback who knew the system better than Colin Kaepernick.
o. Nice analysis by Ronde Barber on his hometown team, on Saints-Bucs on FOX: "If there's one continual weakness on the Bucs offensive line, it's been Donovin Smith against speed rushes."
p. I've gotten into this show "Backstage: Chargers," an inside look at the 2018 Chargers season shown on Spectrum SportsNet in southern California and Facebook Watch everywhere. Lots of sideline-wired stuff, and features about players off the field. The offday feature on one of the Chargers' rising young defensive lineman, Isaac Rochell, was particularly illuminating.
q. It's the kind of show I'd expect other franchises to copy, with some elements of PR-type "Hard Knocks" moments. For me, it's been a good way to follow a team that, off the field, you don't see a lot of.
r. Last nine games: Jacksonville is 1-8, has 13 offensive touchdowns, has rushed for more than 105 yards as a team in a game twice, and has scored more than 21 points once.
s. Here's another one: Jacksonville is 4-10 since holding a 10-point lead at New England in the fourth quarter of the AFC Championship Game.
t. I guess I'd pay Marcus Mariota if I were Tennessee GM Jon Robinson. But I'd be conservative on the guarantee. We still don't know if he's even above average as an NFL quarterback. That interception in the first half Thursday, when he threw way high … scary.
u. I thought Dede Westbrook was the best player on the field for Jacksonville on Thursday night. Great hands, good physicality.
v. In another life, on another team, Jurrell Casey would be a consistent Pro Bowler, and be on his way to a borderline Hall of Fame life. He's a poor man's Aaron Donald.
w. Myles Jack: 13 tackles, one sack, one lousy effort "trying" to tackle Derrick Henry on his 99-yard touchdown run.
x. Nothing personal against the Titans, but did the NFL overexpose them when scheduling back in April? I think so. National TV for games 7 (versus the Chargers from London), 8 (Monday night at Dallas), 11 (Monday night at Houston), 13 (Thursday night versus Jacksonville) … That's four times in eight weekends. Seems a bit much.
y. The Giants can't let safety Landon Collins—out for the year now with a shoulder injury—walk after the season. He should be part of their defensive identity for the next five years, a football-lover and lifer who doesn't accept losing. A second contract for Collins should be one Giant priority in the off-season.
z. Turned on the Army-Navy game, late, long enough to see the longest replay in the history of mankind OVER A TWO-YARD RUN THAT THEY LOOKED AT FOR AT LEAST SEVEN MINUTES. No wonder fans want replay trashed. If you can't get the thing fixed in 90 seconds, play on.
2. I think it sounds like Kyler Murray needs to have a conversation with Russell Wilson. Murray, the ninth player picked in the MLB draft, is an undersized quarterback with a good arm and speed to make things happen rolling out of the pocket. He is also a field player with speed who has gone through stages in his life when he loved baseball more than football. Sound familiar? Call Wilson. As his agent, Scott Boras, told Ian Rapoport, Murray has a contract that restricts him to pro baseball. But hearing Murray talk about his desire to play both sports, Baseball America had a wise column on this over the weekend: Murray, today, is probably nine years away from a big free-agency payday if he were a very good baseball player. In football, if he were a very good player, he could get a huge deal in the spring of 2023. Of course, both are big ifs. As Baseball America wrote: "If Murray is even an average NFL quarterback, he will make more than he will as anything other than an All-Star outfielder."
3. I think what stuck out to me about the Heisman Trophy ceremony, and what it means for the NFL, is not just about the person who won. But it is how Murray spoke in his acceptance. He was warm talking about his mother, or his father, or his university, or his offensive line, or the coach who recruited him. He got a little emotional talking about the man who has coached him for the last two seasons—Sooners coach Lincoln Riley, who is now on a two-QB Heisman winning streak. (Baker Mayfield won it last year.) "Coach Riley," Murray said haltingly, addressing his coach. "You are my family. Through it all, you pushed me, kept me going, kept me focused … You pushed me harder than any coach ever has, and I just want to say thank you." For all those who wonder which coach would be a good fit with Baker Mayfield or Aaron Rodgers or Sam Darnold or whoever quarterbacks Tampa Bay, you've got to spend significant time investigating the brainy Oklahoma coach whose phone number Sean McVay has programmed into his cell. We'll see if Riley has any interest; maybe he will be the Nick Saban of Oklahoma, the guy who stays in college when the NFL consistently comes knocking. Good for him if he does.
4. I think there was a hidden yet significant internal announcement by Roger Goodell on Thursday: the appointment of Chris Halpin as the league's new EVP and Chief Strategy and Growth Officer. Halpin's a rising star, trusted by league and club officials alike. It'll be interesting to see if he can one day be a candidate to replace Goodell.
5. I think—and a hat-tip to ESPN's Ian O'Connor for pointing it out—that the Robert Mueller report into the Ray Rice assault on Janay Palmer contained an important bit of foreshadowing on the Kareem Hunt "investigation" by the league before the TMZ video of Hunt surfaced 10 days ago. As Adam Schefter reported last week, the league didn't interview Hunt after evidence arose that Hunt was alleged to have assaulted a woman in Cleveland last February. This is from the Mueller report:
"League investigator [in the Rice case] did not contact any of the police officers who investigated the incident, the Atlanta County prosecutor's office, or the Revel [hotel] to attempt to obtain or view the in-elevator video of to obtain other information. No one from the league asked Rice or his lawyer whether they would make available for viewing the in-elevator video they received as part of the criminal discovery …"
Roger Goodell, I'm sure, has already asked this question of his investigative department: I understandwanting build a case around Hunt before interviewing him, but once you couldn't build an airtight case, why would you not speak to Hunt? The least you could have done is allow him to implicate himself further with another lie.
6. I think I hope for his sake that Kareem Hunt gets some help, and begins to manage whether being out after midnight and finding so much trouble after midnight is worth the cost of an NFL career.
7. I think I don't want to totally tear down the guy, and the Chiefs after all are 2-0 without him, but I cannot emphasize what a giant weapon Hunt was and would have been over the next four or five years for Andy Reid. Imagine the numbers a mega-back and legit real wideout talent could have put up playing alongside Patrick Mahomes. If he had stayed healthy and a Chief, Hunt, no question, would have had a historic career. He still might, but it won't be in the place that was made for him. Hunt was so dangerous split wide, and the biggest play in his first NFL game, the Chiefs' upset of New England in 2017, was a wheel-route 78-yard touchdown. But the cost of that lie (at least twice) to his employers is a cost he will feel for the rest of his life.
8. I think I'm trying to imagine the kind of cancer Kelvin Benjamin must have been inside the Buffalo Bills to have been cut 13 months after GM Brandon Beane sent third-round and seventh-round picks to Carolina for him. Beane and coach Sean McDermott worked in Carolina prior to moving the Buffalo. They had to know much about Benjamin. And yet Beane, to whom draft picks are absolute gold, handed the 85th and 234th picks in the 2018 draft to Carolina for a guy who ended up producing 40 catches and two touchdowns in 19 Buffalo games. I hope Beane learns from that. Pricy lesson.
9. I think no one should be surprised that Sammy Watkins, who signed the extravagant (and that's putting it mildly) million-dollar-a-game contract—actually three years, $48 million—appears poised to miss the rest of the regular season at least with a chronic football injury. Watkins had missed eight of his last 16 games in Buffalo in 2016 with football problems, and one game with foot issues in a disappointing 39-reception 2017 season with the Rams. If he's out for December, that means he'll miss six games this year with the Chiefs. And it would mean missing 18 games in four years. The Chiefs are a smart team. That contract always was hard to understand.
10. I think these are my other thoughts of the week:
a. Throwback Interview of the Week: On the 38th anniversary of John Lennon's death, Rolling Stone published an interview of the Beatles legend, conducted three days before his murder in December 1980. If you're a person of a certain age, I strongly recommend it. Just 72 hours after doing the nine-hour sit-down, Lennon was gunned down by a stalker, Mark David Chapman, in front of the Lennon's apartment building, the Dakota, on Manhattan's Upper West Side.
b. Lennon was already bugged by those in the media and the public who nipped away at his greatness and were critical of his life choices after the Beatles were no longer. To me, this was the most stark thing John Lennon said on that December day 38 years ago (of many notable things): "God help Bruce Springsteen when they decide he's no longer God. I haven't seen him, but I've heard such good things about him. Right now his fans are happy. He's told them about being drunk and chasing girls and cars and everything, and that's about the level they enjoy. But when he gets down to facing his own success and growing older and having to produce it again and again, they'll turn on him, and I hope he survives it."
c. John Lennon, talking about Springsteen, demi-god, in 1980 … and Bruce still is one. Wonder what Lennon would think about Springsteen, in 2018, selling out a Broadway show of his riffing and singing about his life, and getting up to $1,500 a seat (not his pricetag; the scalpers) for doing it.
d. The Lennon assassination happened late on a Monday night, and much of America found out about it from Howard Cosell, with three seconds left in a Patriots-Dolphins game and New England kicker John Smith lining up for a field goal. I can tell from first-hand memory: This was one surreal deal. https://www.youtube.com/watch?v=5gcdz1IRVoM&app=desktop
e. Investigative Story of the Week: by Kevin Van Valkenburg and Michael Rothstein of ESPN.com, the story of the night that led to Kareem Hunt's firing by the Kansas City Chiefs:
f. The story fills in a sordid evening well, including the arrest of a man who appeared to be simply a good Samaritan trying to help the assaulted woman involved.
g. Football Story of the Week: from Bob Hohler of the Boston Globe, a sad tale revolving around CTE and ALS-afflicted former NFL fullback Kevin Turner. A year before death in 2016, Turner married his caregiver, and two days before he died, signed over the entirety of his NFL pension to the caregiver. Those two events left his three children from his first marriage to be in significant financial distress, and they are fighting to get the money.
h. "It's a big, tragic mess," first wife Joyce Turner told Hohler.
i. His nurse, marrying him when he is in decline? And Turner signing over his pension just before dying? How is that remotely legal, and remotely ethical? How do his children NOT win that suit in a slam dunk?
j. Thanks to Matt Millen, Howie Long, Sarah Zimmerman, Arthur "Artie Snaps" Frank and Linda Bailey Zimmerman for your contributions to the Paul Zimmerman memorial service the other day. Thanks to the athletic department at Columbia University for the use of your facilities. Thanks to Liz Gramling for a tasteful four-page program. Thanks to the families of Paul and Linda for traveling from as far away as San Diego to make the service so good. And thanks to Brooklyn Decker, Ira Miller and Don Banks for their own day-long travels to make it to New York to honor Paul.
k. Good day, with some very good memories.
l. Coffeenerdness: Starbucks Italian Roast tastes 146 percent better on one of these frigid northeast December mornings, when you need it not just for taste and caffeine, but for warmth.
m. Beernerdness: Please, if you have a chance, and you're in a bar somewhere in North America this winter, look for a Sierra Nevada brew that is being made by brewers all over America to help with the Camp Fire relief efforts in northern California. This Resilience Butte County Proud IPA is a mission of mercy for Sierra Nevada, which brews in Chico, Calif., and as Sierra Nevada said on its website: "More than 1,400 breweries signed up to brew Resilience. Our suppliers donated ingredients to every brewery nationwide. Wholesalers and retailers agreed to carry the beer and donate every dollar they received. All of them agreed to do this for free to behefit people they had never met."
n. Makes you want to quit your job and brew beer!
o. Wouldn't it be a nice idea if, next year, the Heisman Trust would appoint a trustee who could pronounce Tua Tagovailoa's name at the nationally televised award ceremony?
p. Honestly, mispronouncing one of the three finalists, and the one who before last weekend was the favorite, is a disgrace.
q. Last one out of the White House, turn off the lights.
r. Love the way you played, Mike Napoli. A pleasure to watch your career.
s. Good luck at NPR, Sacha Pfeiffer. Quite a run at the Boston Globe.
t. Rest in peace, Tim Rossovich. The Eagles' first-round pick in 1968, a daredevil to say the least, was the subject of one my favorite SI profiles when I was in high school. John Underwood wrote it, and wrote about how crazy Rossovich was, including the time Underwood visited Rossovich and wife Mikey, and Tim had just finished drinking a glass of iced tea.
His visitor said he had only heard of people eating glass, that he'd never seen it done. Rossovich took the empty tea glass and bit down through the lip. The glass shattered. Faint pulverizing noises could be heard as he chewed on it perfunctorily. Mikey screamed. "Timmy! I've been saving those glasses!"
Seattle 26, Minnesota 23. Love the game. Love the matchup. The key, to me, will be whether the Vikings can stop Seattle from owning the game on the ground. Could be a good sign for the Vikes: In the last seven games, their defensive front has been stingy, allowing only 3.57 yards per rush. But there's something about the multiplicity of the Seattle offense lately. I think Russell Wilson's going to figure a way to win, despite getting beat up by a strong Minnesota front.
Tuesday … Kansas City. Pretty big day for Chiefs safety Eric Berry, who has been out all season with a heel injury. KC thinks he should be able to practice well in the final hours before an important game Thursday against the Chargers, and if he does, Berry should be in the lineup as the last line of defense against Philip Rivers.
Saturday … Denver. You know the regular season's drawing to a close when the invented Saturday games begin. After the Houston rout of the Jets at the Meadowlands at 4:30 p.m. ET, there's an intriguing game in Colorado: Cleveland at Denver, 8:20 p.m. ET, with the 7-6 Broncos fighting for their playoff lives and the Browns just fighting, period.
Sunday … Pittsburgh. For the second straight season, it's New England spending the late Sunday afternoon window of Week 15 at the confluence of the Three Rivers, with good friends Jim Nantz and Tony Romo watching from on high. This year, the Tomlin/Roethlisberger tandem tries to break a five-game losing streak against New England, and the Steelers come in 7-5-1, a far cry from the 11-2 mark they had last year entering the matchup.
How amazing would
an all-L.A. Super Bowl
be? It's still alive.